It's hard to stand out from the crowd as an automaker today. Just about everyone and their mother now have at least one SUV in their lineup, ranging from the cheap and cheerful, to the wonderfully obscene.
So when Audi's designers and engineers were given the task of making a flagship performance off-roader that would set the benchmark for all other vehicles in this prestigious class, they made sure the bar was set high. Very high.
And thus, the SQ8 was born. Sharing many components with the ultra-posh Bentley Bentayga and Lamborghini Urus and a significant step up from the already-sexy Q8, this is by far one of the marque's flashiest vehicles to date that is not a two-door coupé.
But believe me when I say that this is more than just an Audi in fancy clothes with an S badge slapped on to its grille, because it actually defies convention in just about every way imaginable.
Not Just a Posh High-Rider
First impressions matter the most, and the SQ8 excels in this regard. It's a behemoth visually, breaking the mold of what an SUV should look like. 
Despite its powertrain having been lifted straight from the SQ7, it's a much more invigorating-looking vehicle than the seven-seater, sure to resonate with younger buyers or the young at heart. The SQ8's tapered roofline slopes down dramatically to the back, at the same time accentuating its bulging muscular rear arches, as though it's been training hard for a spot in Mr. Olympia.
Perhaps the most striking element of this supersized Audi is, well, its dimensions. Measuring at just under 5.1 metres bumper to bumper, 2.2 metres across, and 1.7 metres in height, this behemoth is not exactly the definition of stealth when sitting in traffic –even with its all-black paintwork and trim. 
Massive 23-inch alloy wheels, also finished in gloss black paint, also contribute to the SQ8's imposing stance. They prop the vehicle up significantly, putting the driver at the same eye level as the bus captain driving around in his green-liveried MAN bus.
It's not all vulgar, though. Audi's designers have somehow managed to make the SUV's design still look cohesive and daresay elegant. A strong character line stretches across from the sides and throughout the tailgate, with a sleek LED lightbar running parallel just below it.
The tail lights themselves look positively high quality, with six claw-like strips to add to the visual pizzazz. It's the same case in front, where the all-LED head lights bear a similar design motif. 
Audi has a habit of rehashing their cabin design across their entire lineup, and it's more or less the same deal once you step inside the SQ8. Most of the components – down to the MMI system and control switches – can be found on other models such as the A8 L and S8 that I had tested last year.
But this should not be interpreted as Audi simply phoning it in and calling it a day. Fit and finish is unsurprisingly excellent, and the button layout is intuitive as always. Based on the Editorial team's previous experiences, Audi's cabins have always been one of the best in the business, and I'm glad that they did not try to change a proven formula for the sake of it.
While there's no ostentatious gimmick to be found inside the SQ8 that caters to the nouveau riche demographic, it's far from boring. The rich leather upholstery is well-padded and comes with a dark red tone, much like the ones you find in the RS e-tron GT.  It even comes with quilted stitching, thick lumbar supports, and embossed Audi S emblems. 
Four-zone climate control is available on the SQ8, which means rear passengers have the freedom of setting their preferred temperatures should the cabin get too chilly or hot. And a pair of USB Type C charging ports at the back will definitely come in handy on longer journeys. Those who value privacy can also revel in the fact that the Audi's outfitted with retractable blinds on the rear doors.
Where space is concerned, the rear cabin is best described as living room-like. Even with the sloping roofline, occupants at the back will not find headroom (or legroom, for that matter) an issue, thanks to the SQ8's wheelbase and overall length that match the equally gargantuan SQ7.
This also means that cargo space is downright cavernous, with 605 litres and a shallow load lip for all your storage needs. Press the buttons found on the side panel to your left (or pull on the lever found next to either side seats), and you can immediately fold down the 40:20:40 seats to unlock 1,755 litres of loading space.
In other words, you can more than easily fit several full-size luggages for your family, and still have some room to spare  for a weekend bag or two.
Monstrous Power at Your Fingertips
It's not an Audi performance model without some ridiculous headline figures, and those mad hatters at Ingolstadt made sure not to disappoint. The SQ8 does away with the turbocharged V6 engine found on the Q8, and instead uses a more riotous – and therefore more appropriate – bi-turbo V8 motor, outputting 500 horsepower and a whopping 770 Nm of torque.
These numbers are well beyond what's needed for Singapore roads, but what's wrong with having them at your disposal? Coupled with Audi's excellent Quattro all-wheel drive system, the SQ8 pulls away from the starting line in merely 4.1 seconds, which just about enters supercar territory. And on wide open roads, you can bring this 2.2-tonne German sledgehammer to 250 km/h. 
Sustaining high speeds for prolonged periods of time is not an issue for the SQ8, as the adaptive air suspension constantly adjusts and recalibrates itself to suit the present road conditions. The result is a ride quality that is soft enough to soak up most undulations and bumps, but stiff enough to eliminate body roll when the straight roads evolve into technical corners and sweeping bends.
Which leads me to the SQ8's steering, which is nothing short of magical. There's plenty of feedback being sent to the driver via the grippy steering wheel, much like one would expect from a more lithe sports car. Input is just as immediate and sharp, and with all-wheel steering at work, the Audi SUV corners like a much smaller and much lighter vehicle. 
This also translates to a surprisingly pleasant and fuss-free experience in multi-storey carparks here in Singapore. While the SQ8 is ridiculously long and wide, it's still nimble enough to navigate itself up and down the tight ramps, all without scraping against the concrete walls. 
The only issue is that when it comes to parking, it oftentimes finds itself jutting out of the parking space. Clearly, our residential estate carparks are not designed for such land-based aircraft carriers. With that said, self-parking comes as standard in this Audi, which makes it a much less arduous affair.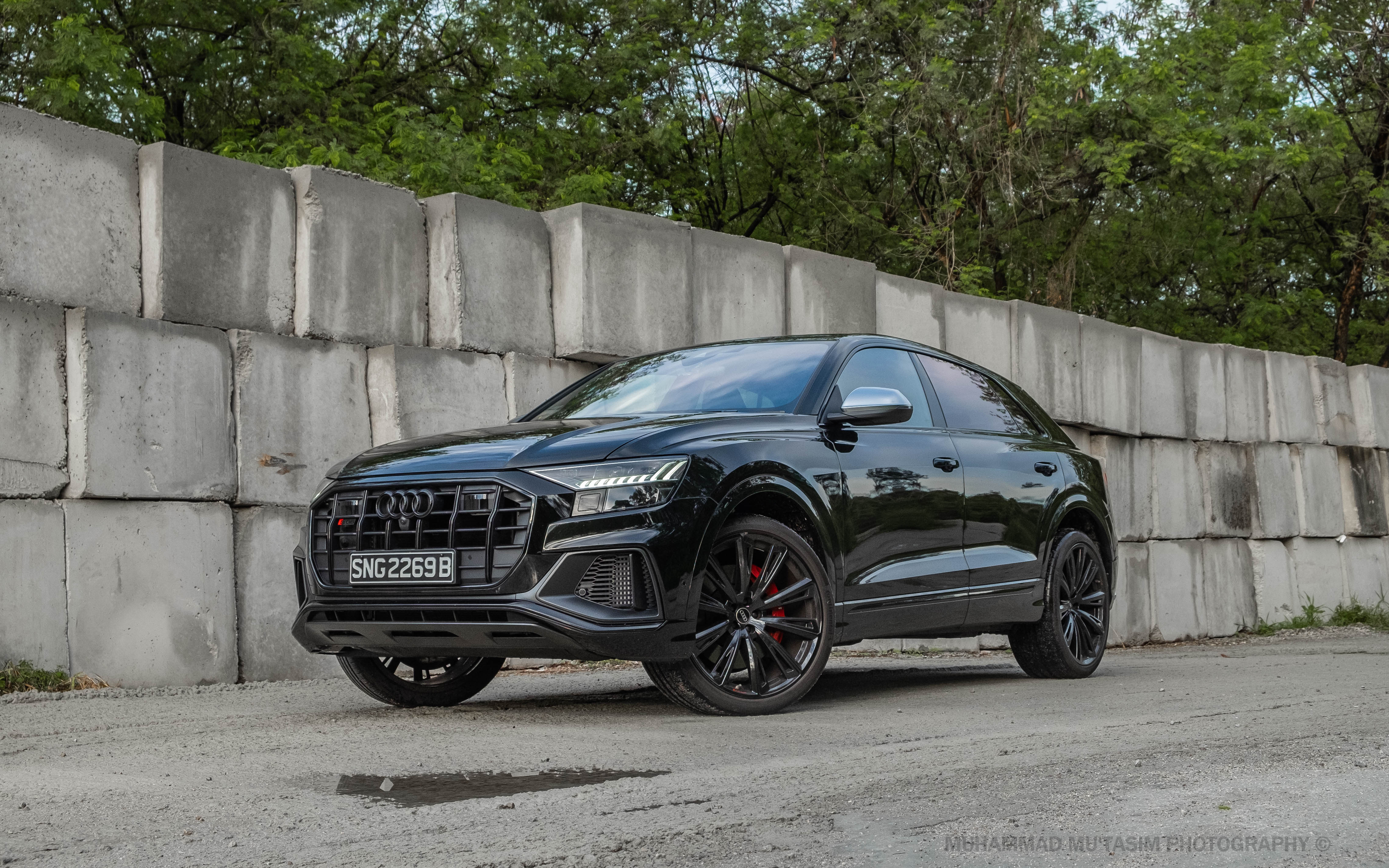 Efficiency is also not exactly a strength of the SQ8. It's designed for maximum fun and practicality, and if my math is mathing correctly, something has to give: the resulting fuel economy.
Even with gentle prodding of the throttle, the Audi returns about 7.6 km/l, which means you'll be spending time at your local petrol station a fair bit. Want to throw caution to the wind and enjoy the soulful sounds of the V8 engine at full tilt? Expect that fuel economy figure to freefall to the 5 km/l range or less.
It's not engineered for absolute efficiency (leave that to the A3 and Q3), and does not pretend to be one. But if you're looking for pure driving enjoyment, this is undoubtedly the right fit.
Premium Jetliner on Four Wheels
For all intents and purposes, the SQ8 is supposed to be the ultimate Audi SUV that provides a good balance between driving enjoyment and all-round practicality, superseded only by the more insane RS Q8. 
And for just under $600,000, you are pretty much getting an Urus with a (slightly) less fancy-pants design, but with all the Teutonic sensibilities that Audi has perfected in recent times. And in my book, that makes the SQ8 a clear winner.
Audi SQ8 4.0 TFSI Specifications
Price: $597,112
 VES Band: C2

Motor:
Bi-Turbo V8

Capacity:
4.0 litres

Power:
500 bhp, 770 Nm


Transmission:
8-Speed Tiptronic

Driven Wheels:
All-Wheel Drive

Consumption:
7.6 km/L

0-100km/h:
4.1 s

Top Speed:
250 km/h

Fuel Tank Capacity:
85 L


Dimensions:

5,006 mm x 2,190 mm x 1,708 mm

Cargo Capacity:
605 L
Photo Credits: Muhammad Mu'tasim (@mutasimdrives)
Download the Motorist App
The easiest and smartest way to manage your vehicle in Singapore.
Download Now
Read More: mReview: 2022 Audi SQ7 - Brutalist Looks, Butch Performance
---
Download the Motorist App now. Designed by drivers for drivers, this all-in-one app lets you receive the latest traffic updates, gives you access to live traffic cameras, and helps you manage LTA and vehicle matters.
Did you know we have a Motorist Telegram Channel? Created exclusively for drivers and car owners in Singapore, you can get instant info about our latest promotions, articles, tips & hacks, or simply chat with the Motorist Team and fellow drivers.