I was flabbergasted by the sheer size of the SQ7 when I was first handed the keys to it. It gives you a sense that it'd be difficult to place and challenging to manoeuvre.
Though on the dimension-front, it really is a case of all bark and no bite. Sure, there's no getting away from just how large the vehicle actually is. But good all-round visibility does mean there's little trouble in steering the car even in confined spaces.
As a luxurious performance SUV, and outright space alone isn't sufficient to justify its price tag. Which is why there's legitimately so much more to the SQ7 experience than first meets the eye.
The Almost Brutalist Design
Let's start with the almost Brutalist design of the exterior. It may lack the same sleek, low-slung silhouette of the other Audi offerings, but the almost-slab-sided profile of the vehicle actually really suits the SUV form factor.
The size of the vehicle is enough to deter lesser mortals from hogging the roads, so it's not that the car's road presence factor needed any additional bolstering anyways. Still, these design cues, as well as a prominent shoulder line and wheel arches, all help to further remind the drivers around you that there are levels to the depths of your pockets.
That doesn't mean that Audi rested on the SQ7's luxury SUV laurels, banking on just mass to shift units. There's a sense that the Germanic obsession with engineering and craftsmanship has been lathered (quite liberally at that) on the headlights, grilles and even on the air intakes on the lower bits of the front bumper.
It's by no means a traditionally sophisticated or good-looking car, but there's a charm to the overall execution. And yes, the car does scream money, especially in the deep wine red our press car is finished in.
What's Inside?
The SQ7 continues to impress on the inside. Space is in no short supply here, even if you're unfortunate enough to find yourself relegated to the centre seat in the second row. Material selection and quality is, expectedly, excellent, with leather, aluminium, alcantara and carbon fibre being used across the bulk of the cockpit.
Thankfully (and unlike some of my automotive journalist peers), I found the massage seat function on the very first day of my press drive. The chairs up front are also heated and/or cooled, and calling them mere car seats, especially considering the functionality built into them, would unfairly be underselling them.
There is a third row, though space is really lacking even if you are smaller than average in stature. If there's no real need to use the last row, you'd be better off keeping them folded flat, and using the additional space to lug around items of your choosing.
How is it Like on the Move?
This German luxobarge-on-stilts actually packs a decent punch. It actually feels like a much smaller car when you are behind the wheel for this very reason. The 4.0 litre turbocharged V8 will convincingly win you that Top Trumps game, developing 500 bhp and 770 Nm of torque. Despite its heft, you'd be able to reach 100 km/h from a standstill in just 4.3 seconds.
Power is sent to all four wheels via a ZF-sourced 8HP90 eight speed automatic transmission. And It's probably the only transmission durable enough to handle the sheer mass and torque that this car produces.
But its straight line prowess flatters its performance credentials. It is no sports car, at least not in the twisties. Response from the motor is strong, with plenty of torque right through the rev range. Power feels very linear, and the car makes a really good noise. You'd be constantly tempted to make a beeline to roads that have walls and/or tunnels, just so you can open up the taps and hear that glorious V8 sing.
It even crackles on downshifts too. Whilst far from being the sharpest tool in the shed as an out-and-out-driver's car (it's a luxury SUV, what did you expect?), it actually conducts itself very well through a sequence of bends if you do not drive the proverbial pants off the vehicle.
A Capable (But Thirsty) All-Rounder
There's no doubt that with its advanced Quattro four-wheel drive system, the SQ7 would be able to go anywhere you so desire, if you have the right tyres fitted. Not that you'd want to take this vehicle off road in the first place, because it costs a lot of money for one, and the expensive alloy wheels and low profile tyres would seriously hamper its ability to handle the rough stuff.
Where the SQ7 really excels, is in its ability to haul around a family in relative comfort. The sheer size also gives you additional reassurance that you'd be fine should you be involved in a collision of sorts.
And it really isn't all that difficult to drive too. A good view out, further complemented by Audi's excellent 360 degree camera system, really helps you to accurately thread your way through even the tightest of car parks.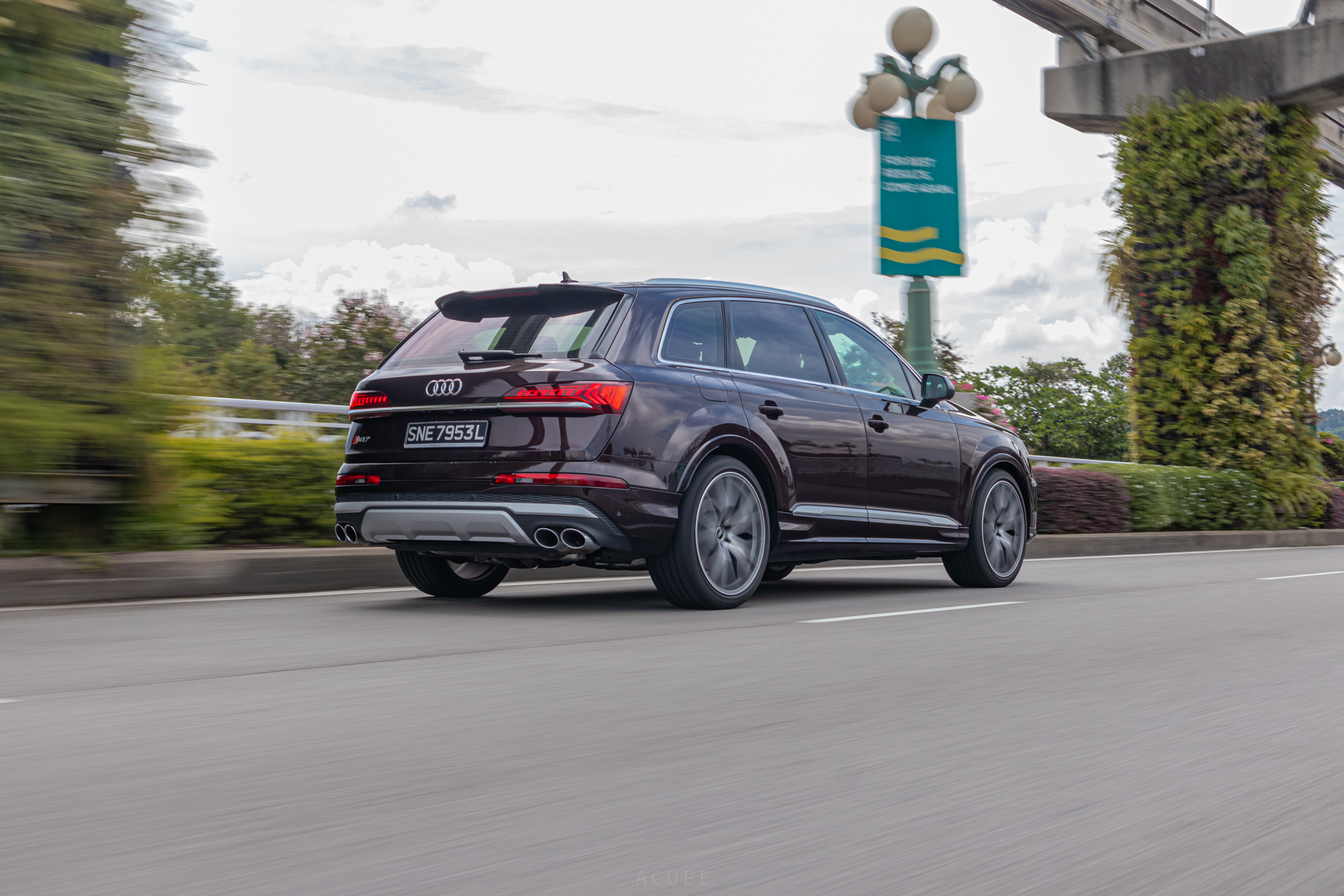 What you have here is a large, luxurious SUV that is bonkers quick, has oodles of torque and all the space a growing family will ever need. Sounds tempting, till you realise that you need a sizable chunk of change to buy one in the first place. And you'll then need additional chunks of change to keep the car on the road, as you'd be constantly refuelling the vehicle too.
Audi SQ7 Specifications
Price: $530,951
 VES Band: C2

Motor:
Turbocharged V8


Capacity:
4.0 Litre


Power:
500 bhp, 770 Nm

Transmission:
8-Speed Tiptronic

Driven Wheels:
All


Consumption:
7.5 km/l

0-100km/h:
4.1 secs

Top Speed:
250 km/h

Fuel Tank Capacity:
85 L


Dimensions:

5,067 mm x 1,970 mm x 1,743 mm

Cargo Capacity:
705 L
Photo Credit: ACube Creative (@weareacube)
Download the Motorist App
The easiest and smartest way to manage your vehicle in Singapore.
Download Now
Read More: mReview: Audi e-tron S Sportback - The Good Kind Of Excess
---
Download the Motorist App now. Designed by drivers for drivers, this all-in-one app lets you receive the latest traffic updates, gives you access to live traffic cameras, and helps you manage LTA and vehicle matters.
Did you know we have a Motorist Telegram Channel? Created exclusively for drivers and car owners in Singapore, you can get instant info about our latest promotions, articles, tips & hacks, or simply chat with the Motorist Team and fellow drivers.