mReview: Audi R8 V10 Performance RWD - A Truly Grand Finale
Published by
Mutasim
on
4 Jan 2023
. Updated on
5 Jan 2023
The word's out: internal combustion engines are no longer in fad, and electricity is the way forward. But after more than 160 years of relying on petrol power, how does one pay tribute to it in the best way possible?
For German carmaker Audi, the solution is as simple as it is dramatic – take their arguably most sensational engine from the last decade, tune it to high heaven, and drop it into their most advanced supercar which just happens to have a rear-wheel drive architecture. 
It's called the R8 V10 Performance RWD, and it's said to be Audi's farewell letter to the I.C.E., with 10 cylinders of pure fury and nothing else held back.
For a closing chapter, this is possibly the most insane and emotional one yet by them – or from anyone else whose cars we have tested in the last 12 months. And we love it.
All Show, All Go
As one might expect from a halo car of such significance, there is nothing banal about the R8 V10's looks. While it shares a largely similar silhouette with its mould-breaking predecessor from 2006, just about every corner of it has been sharpened up or redesigned to keep up with modern times.
Strong character lines define the R8 V10, paying tribute to its motorsports racing genes and contemporary design language. The front fascia now sports far more aggressive and angular creases, in line with the aesthetics of its race-going LMS GT4 sibling. 
Apart from the Singleframe element with the honeycomb grille that sits front and centre – which does an effective job at accentuating the wideness of the R8, by the way – the supercar also sports triple slats above it, a clear homage to the legendary Quattro Coupe from the 1980s.
The lighting arrangements are all-LED, down to the daytime running lights, which follow the sharp contours of the glass housings. 
Various smaller vents and intakes make up the rest of the R8's front end, channeling air in all the right places to ensure that the car slices through the wind efficiently and quickly. Unlike many other performance cars, they are fully functional and not merely masquerading as aero components.
This can be seen throughout the rest of the car. Its famous side blades also feature honeycomb grilles, there to route air to the engine bay at the back for cooling purposes.
Also aiding in engine cooling is the massive rear grille that dominates the entirety of the R8's rear end. You get the same honeycomb pattern, with the added thrill of seeing intricate piping that goes on behind it. Complementing it is an equally massive rear diffuser, along with twin exhaust pipes that provide the distinct V10 soundtrack once the car's in motion.
Speaking of which, the glorious 10-cylinder engine is displayed under the glass rear hatch, which is unfortunately blocked partially by an X-brace. 
Party tricks are limited to the rear spoiler, which is automatically extended outwards at high speeds, or manually via a button in the cabin.
No detail has been spared in keeping the R8 V10 as lightweight as possible. Its body parts are made up of mostly aluminium and carbon fibre reinforced plastic (CFRP), down to the embossed aluminium fuel tank cap. 
Its resulting kerb weight stands at just 1,590 kilograms, making about 50 kilos lighter than the iconic 911 Turbo S and only 60 kilos heavier than the McLaren GT.
The R8 V10 presented to me comes in a flashy shade of Vegas Yellow, with five-double-spoke alloy wheels and a steel braking system. It's also equipped with a rather sticky set of Michelin Pilot Sport 4 S tyres on all four corners.
A Delight to All Five Senses
Climbing into the R8 V10, you are immediately reminded that this is a no-nonsense supercar. Yes, you still get soft-touch materials, supple leather upholstery with an RWD plaque on the dashboard, and a logically laid-out switchgear arrangement; all part for the course for an Audi.
But that's about as fancy as it gets. The R8's infotainment system is relegated to the 12.3-inch digital instrument display in front of its steering wheel, and controls are through the button-and-dial controls on the carbon fibre-rich centre console.
For those used to fiddling around with radio or media settings via a helpful touchscreen, this might feel like a step back, although I'm quite happy with this return to physicality. Alternatively, you can key in letters or numerical values via a touchpad that's located on the centre dial itself.
The Nappa leather sports seats themselves are surprisingly plush (for a car of this category, at least), with many powered adjustment settings available. Regardless of whether you're cruising down expressways or on the track, the seats provide reassuring levels of support and prevent you from sliding around.
Also grippy is the flat-bottomed sports steering wheel, with dimpled patterning along the rim to ensure that your hands stay locked on to it even as your palms get sweaty. 
Apart from the usual steering-mounted controls, you get two control satellites – one to toggle through the various driving modes, and the other to turn the engine on or off.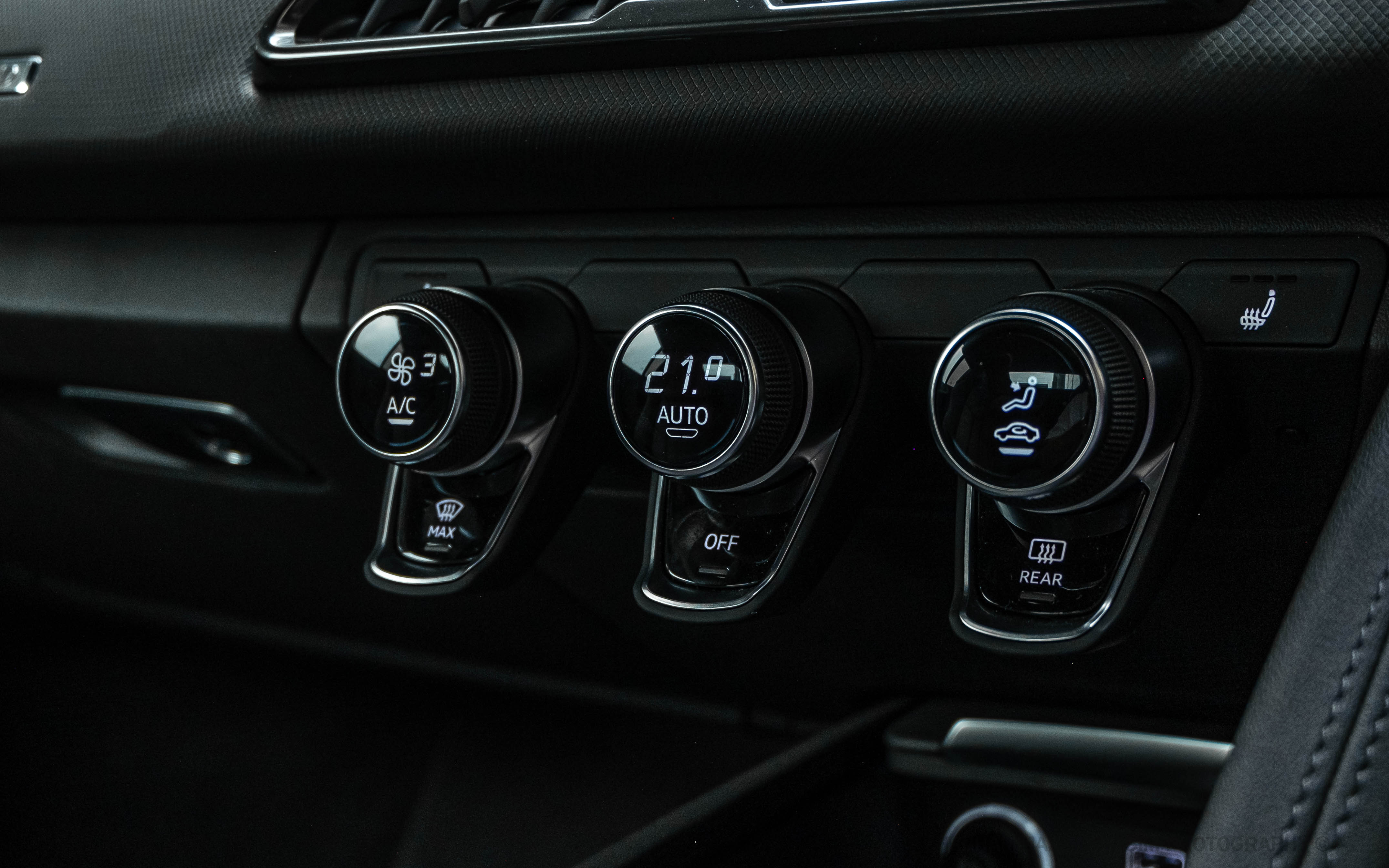 Physical controls in the cockpit also include the HVAC, with circular displays and toggle switch-like buttons below. You can also find multi-stage controls for the seat heaters, although I can think of no reason for anyone to fiddle around with them in Singapore.
A decent sound system, courtesy of Bang & Olufsen, comes with the R8 V10, with its plaques proudly inserted on the sides of the seats. While they do a bang-on (excuse my pun) job in reproducing your favourite tunes without much distortion, I'd be satisfied even if the car did not come with a radio, simply because of the V10 that's positioned right behind the cabin.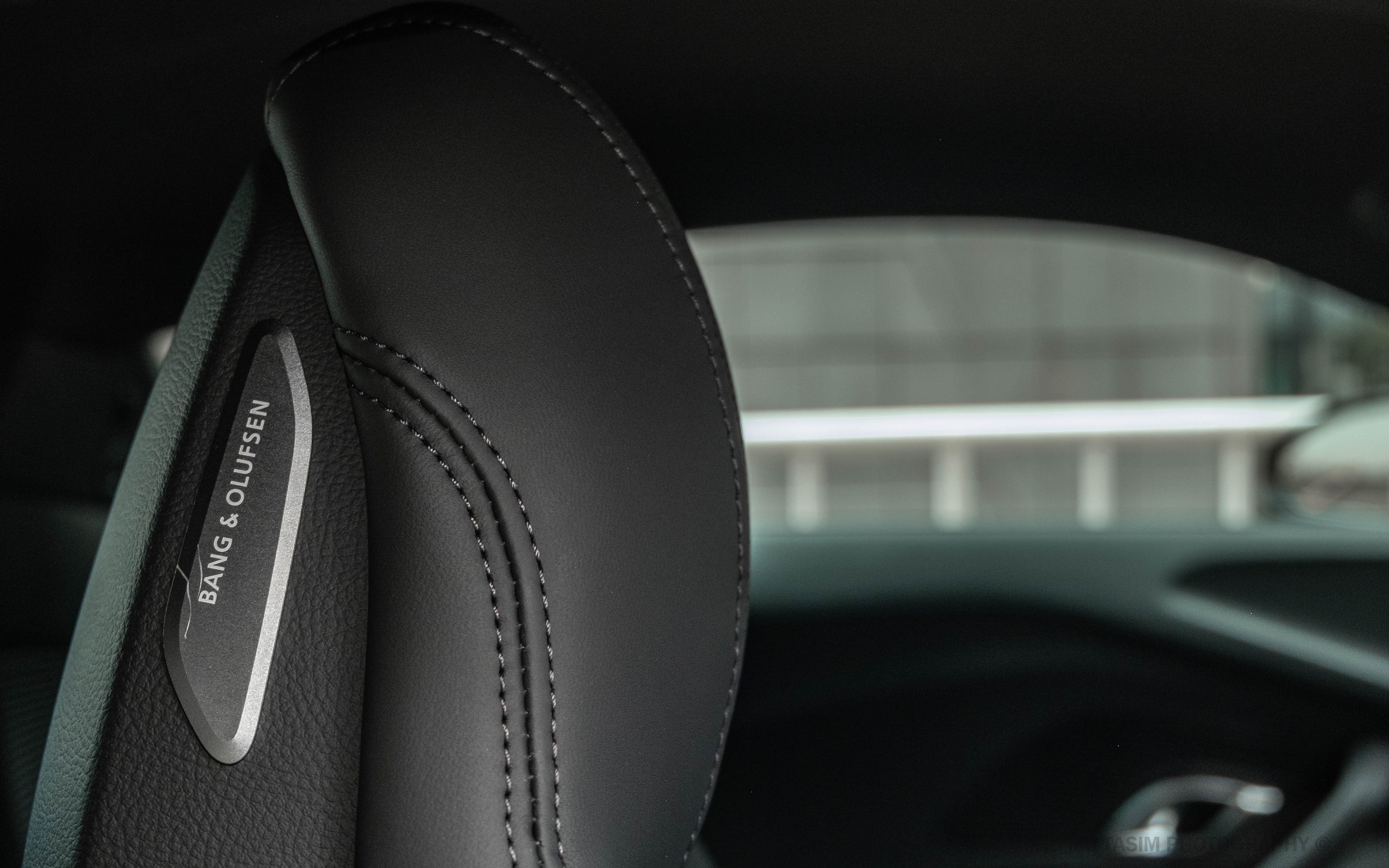 Connectivity-wise, you still get modern refinements. A wireless charging pad, two USB Type A ports, as well as a good ol' auxiliary port can be located just below the HVAC controls, together with a cigarette lighter; all illuminated along the perimeters.
You also get decent amounts of storage space for a supercar. A storage net and shelf can be found just behind the seats, while a rather deep boot with up to 112 litres of space can be accessed by opening the bonnet. There, you can also access the window washer fluid reservoir cap.
If you're in the business of transporting chilled food or beverages, do note that the front boot can get awfully hot after driving around.
Once you've acquainted yourself with the R8 V10's ins-and-outs, there's only one thing left to do: bring the German beast to life.
Sensational Firepower
Press the big red button on the steering wheel, and the R8 immediately awakens in stunning fashion. During a cold start, its deep and bassy note is enough to disrupt the quiet peace and tranquility of the entire neighbourhood, and possibly the town next door. 
Select "Comfort" or "Auto" mode to close the exhaust valves, or leave it open on "Dynamic" for the full V10 experience. No prizes in guessing which one I preferred during the testing period.
Once in motion, the R8 V10 performs flawlessly as a city cruiser. Apart from the occasional cabin shake along bumpy roads (even with Comfort settings enabled), it is decently comfortable. NVH levels are low, and external noise is virtually non-existent.
I can confidently say that the V10 engine is even civilised at city speeds, barely making any more noise than the car next to you. Couple that with a well-weighted wheel plus a generally good forward and side visibility, and this could almost be a sensible daily driver.
That is, until you flick "Dynamic" on, and put the pedal to the floor. The V10 FSI unit responds in kind, climbing up the tachometer with unspeakable amounts of urgency and fury. You feel all 550 horses being sent in a linear fashion, with no blips of sudden surges in between.
And with 572 Nm of torque at your disposal, you can reach 100 km/h from a standstill in just 3.7 seconds, and ultimately reach a top speed of 329 km/h. While it's just a tenth of a second slower than its electric RS e-tron GT sibling in a century sprint, it still feels brutally quick, and just as nimble.
Flick it around the bends and you get ultra-precise feedback from behind the wheel, thanks partly to the double-wishbone suspension setup and a dynamic steering system. It is remarkably composed, allowing you to carve through corners with ease. And with a ridiculously low centre of gravity, body roll is nearly zero.
Its naturally aspirated powerplant means that you get a linear throttle, which also means that you will not be getting any rude shock from turbo lag when flooring it. 
However, an element of respect needs to be paid. This car punishes lesser drivers without hesitation, and on full-madlad mode with the stability control system disabled, one wrong move means ending up facing the wrong side of traffic, or worse.
Do it correctly, however, and you are rewarded with sideways action that would make Audi's engineers proud. Getting its tail out is easy but you will also need to be exceptionally quick in applying counter-steer manoeuvres lest you bin it. 
The driving experience is best felt with manual mode on, where you flick through the paddles and across all seven gears through the stupidly fast S Tronic 'box yourself. Here, you can let the engine truly sing all the way to the other end of the gauge. Let go of the throttle, and you are rewarded even more with accompanying pops and bangs that delight the inner child in you.
With all 10 cylinders firing in perfect harmony, you start experiencing two distinctive emotions coursing through your body.
The first is obviously pure joy. During the first 4000 rpm, the sensation is akin to piloting the equally insane RS 3 Sportback, with accompanying noises that sound nearly identical as well. It then graduates into a slightly lower octave, before screaming towards the 8,700 rpm redline. The experience is unlike any other, which brings me to the next emotion.
Which is one of sadness. This is the final V10 – the last hurrah – before Audi transitions to an all-electric lineup, and we will likely never see something quite like this ever again. As far as swan songs go, it's by far the most emotionally gripping one by a far mile, and hearing it through the soulful pipes of a 10-cylinder masterpiece makes you want to rescind your Greenpeace membership card.
Don't Go Gentle Into That Good Night
It's one heck of a way to say goodbye, and the R8 V10 RWD is certainly giving both the V10 and I.C.E. the respect that they rightfully deserve.
As it crosses the checkered flag for the final time and into the history books, the R8's contributions to the automotive world and how it has inspired generations of enthusiasts remain etched in our hearts for years to come. And most importantly, we'll remember Audi for paying tribute to the breathtaking V10 in the most extreme (and poignant) way possible.
Long live the V10, long live the I.C.E.
Audi R8 V10 Performance RWD Specifications
Price: $774,785
 VES Band: C2


Motor:
V10

Capacity:
5.2 litres

Power:
550 bhp, 562 Nm


Transmission:
7-speed S Tronic

Driven Wheels:
Rear

Consumption:
7.4 km/l

0-100km/h:
3.7 s

Top Speed:
329 km/h 

Fuel Tank Capacity:
73 litres

Dimensions:

4,429 mm x 1,940 mm x 1,236 mm

Cargo Capacity:
112 litres
Photo Credits: Muhammad Mu'tasim (@mutasimdrives) & ACube Creative (@weareacube)
Download the Motorist App
The easiest and smartest way to manage your vehicle in Singapore.
Download Now
Read More: mReview: Audi S8 - Closing The Chapter on ICE Cars With a Proper Bang
---
Download the Motorist App now. Designed by drivers for drivers, this all-in-one app lets you receive the latest traffic updates, gives you access to live traffic cameras, and helps you manage LTA and vehicle matters.
Did you know we have a Motorist Telegram Channel? Created exclusively for drivers and car owners in Singapore, you can get instant info about our latest promotions, articles, tips & hacks, or simply chat with the Motorist Team and fellow drivers.