They say that if you want to figure out what a carmaker is truly capable of, you simply take a peek into their line of flagship vehicles for some clues. 
More often than not, these opulent cars are packed with some of the latest and greatest technologies that serve to significantly elevate the in-car experience for both driver and passenger. From advanced suspension systems to intelligent self-parking systems, these progressive features seek to challenge convention and constantly raise the standards of what a car should be like down the road.
Consequently, these feature-rich halo cars cost a pretty penny and are usually reserved for the wealthy and powerful. That is, until the economies of scale trickle down such gizmos over time to the carmakers' bread-and-butter mass market offerings.
Which brings us back to the main point: what is Audi truly capable of, and what can we expect from them through the lenses of their current flagship?
Traditionally Modern Visuals
As one might expect from the folks at Ingolstadt, Audi cars are fairly conservative when it comes to design. They are neither outlandish not crass, unlike a certain competitor of Bavarian origin whose current automotive offerings only serve to optically shock and confuse just for the sake of it.
And that's a good thing. There is a sense of familiarity that comes with a traditional design language, and consumers are not left scratching their heads with polarising visual elements.
What you get with the A8 L is what you expect from a "traditional" luxury car: a standard three-box design, acres of space, and an abundance of chrome-finish bits strewn across without going overboard.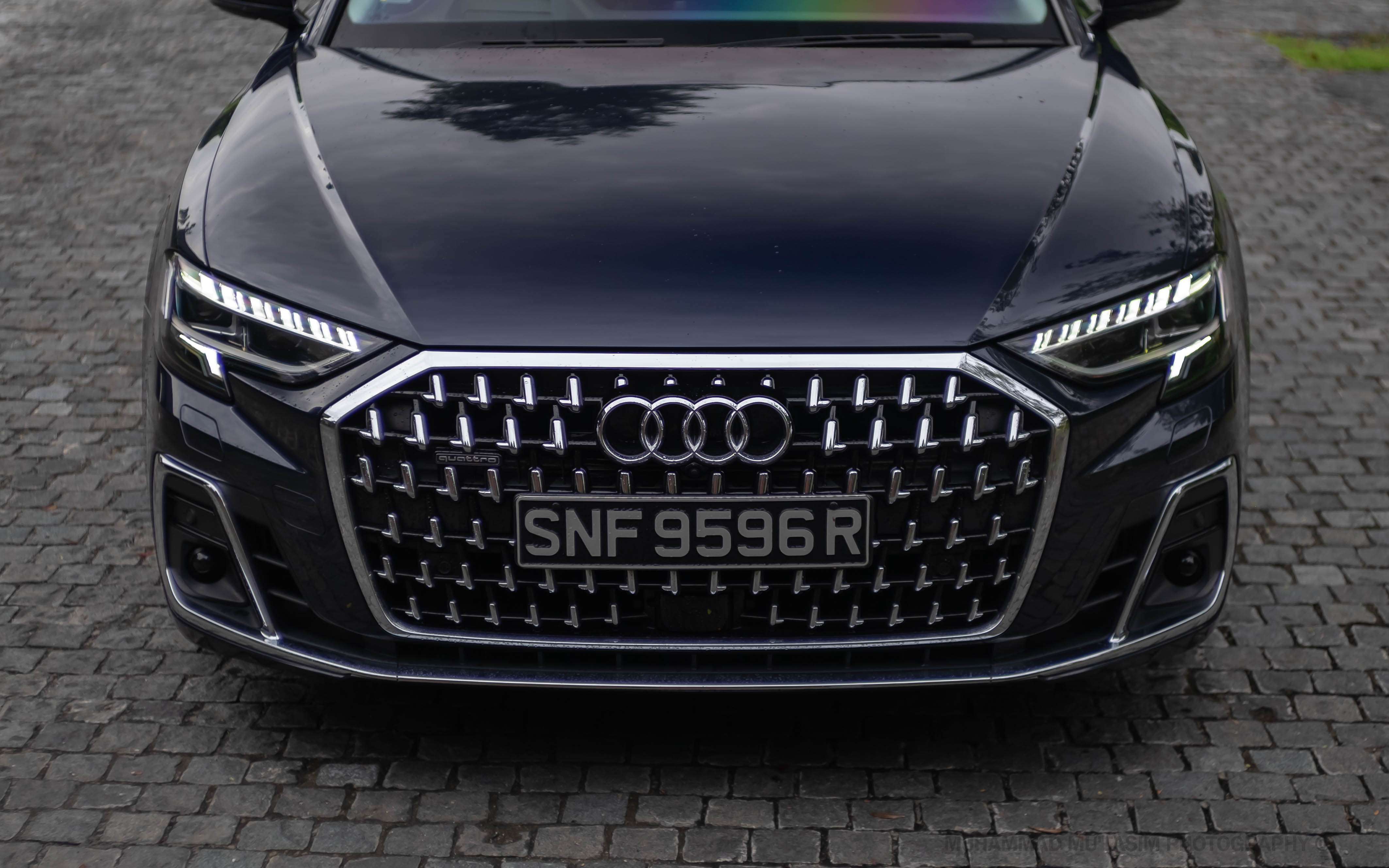 That's not to say that the A8 L is unnoticeable in traffic. Quite the opposite, in fact. At 5.3 metres end-to-end and 1.9 metres across, one cannot help but be enthralled by just the majestic dimensions of this luxobarge, even with the stealthy shade of Manhattan Grey that our press car was finished in.
It makes its presence known rather clearly on other road users' rearview mirrors, with its borderline-decadent Singleframe grille. Its wide profile is accentuated by the vertical chrome slats that are gently angled towards the centre.
You also get a myriad of well-hidden cameras and sensors up front, as well as revised front intakes to aid in aerodynamics and cool the monstrous V8 heart that lives under the lightweight bonnet.
Only the long-wheelbase model is made available for the Singapore market, which equates to a slightly longer wheelbase – 3.1 metres vs 2.9 metres – than its standard brethren, most noticeable by looking at the bank vault-like rear doors.
To put it into perspective, you could almost fit an entire Honda N Van between the wheels of the A8 L.
Several very subtle character lines break the monotony of the side profile, all gently swooping towards the rear fascia. There, you're greeted by ultra-crisp full OLED taillights, a central lightbar, and a horizontal chrome piece in between. 
Again, there's no reinventing of the wheel here; just product design done right with plenty of sensibility around.
A Mobile Presidential Suite
Things get even more boujee once you open the characteristically German solid doors. Supremely soft and supple Valcona leather adorn the cabin upholstery, and you can almost sink into the cosseting seats, regardless of whether you're up front or at the back.
Having 22 ways of seat adjustability for all four seats means that absolute comfort is guaranteed for even the fussiest of occupants, with the ventilation function effectively being the cherry on top.
There's nothing much to write home about when it comes to the front dash and centre console, which is somewhat expected. After all, you buy an A8 L to be driven in, first and foremost.
With that said, the front half is still well-appointed, and then some. You have access to a trio of digital screens, one of which serves as a hub for the vehicle's HVAC controls. You get crisp resolution on all three of them, and I've not experienced any instances of the MMI infotainment interfaces lagging at all. 
I'm not fond of the capacitive "buttons" for the driving controls and demisters, however. And they do require more prodding than expected before they respond to my inputs.
As mentioned before, this is a car for folks to be driven in, and as such, the real fun begins at the back. You are treated to obscene amounts of legroom here, and can easily stretch yourself out without accidentally kicking the folks seated in front.
Two 10.1-inch full HD seat-mounted displays come as standard for the rear passengers of the V8-powered A8 L, with various connectivity options (including audio accessories and media sources) to play around with.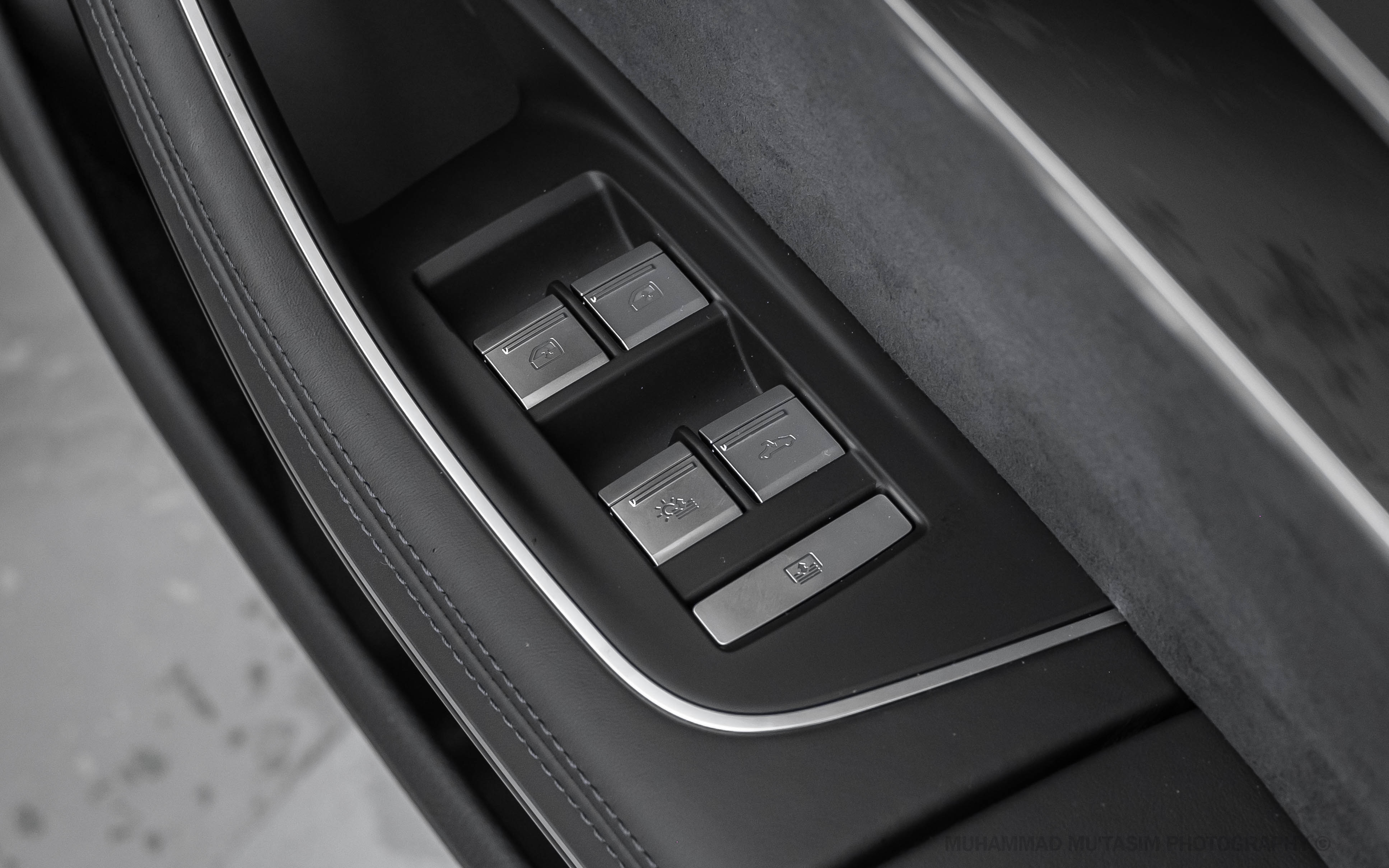 Get down to work (or indulge in entertainment) in complete privacy, as this Audi flagship comes with powered window blinds for the rear passenger windows & windscreen. A comprehensive control panel located on either door card allows the rear occupants to control all three of these sunshades.
The seats are also ventilated, just like the front ones, so instantaneous cooling is assured. There are also AC blowers on the centre console as well as on the B-pillars. Talk about being fully loaded!
While the second row can technically carry three people, it's best experienced with the rear centre console flipped down. This armrest-cum-control panel allows the occupants to control just about everything in the car. 
From adjusting the seat massage functions to opening/closing the dual sunroof, to even controlling the in-cabin lighting settings while choosing your favourite music to blast through the Bang & Olufsen premium audio system, you have absolute power at the back.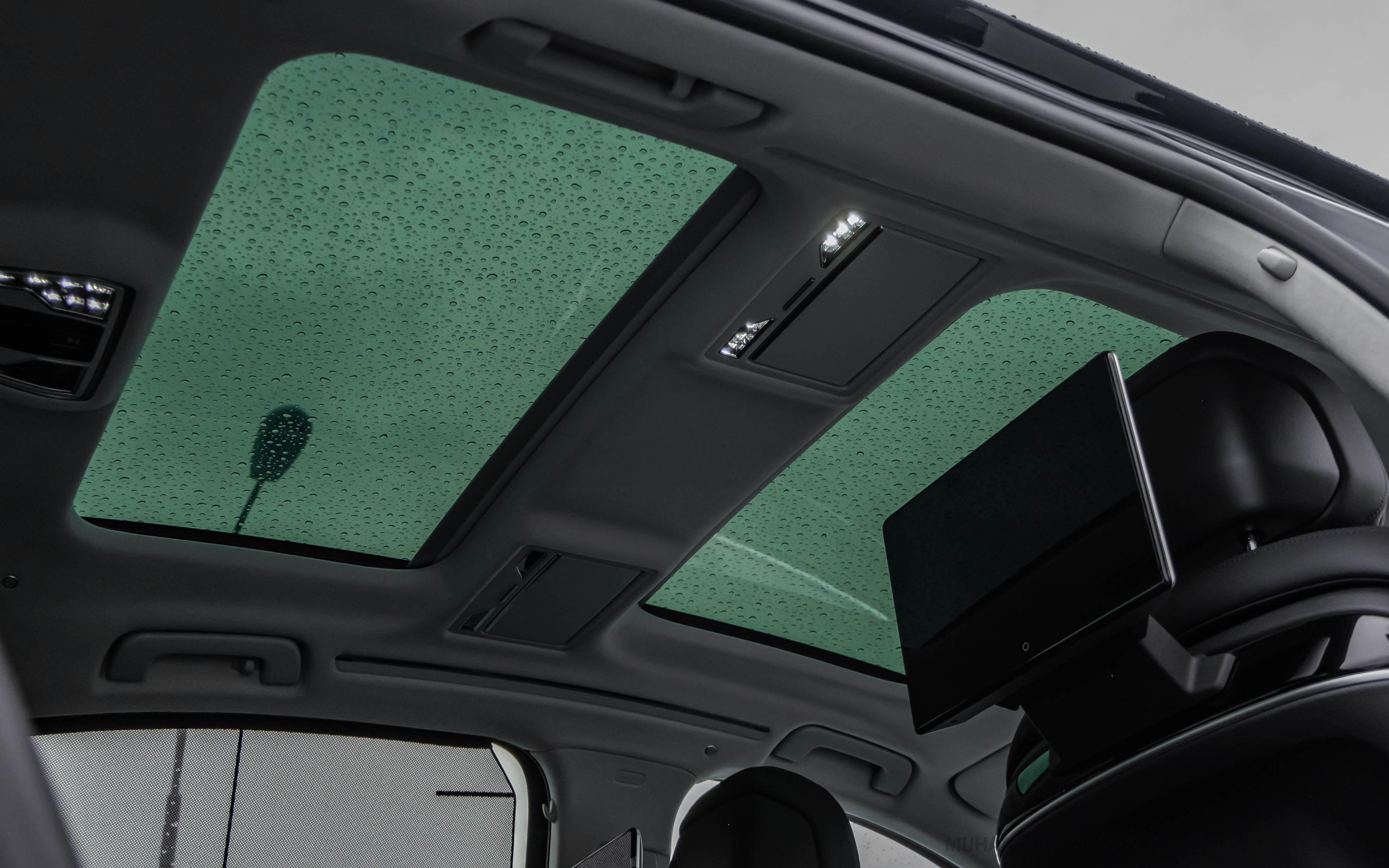 Speaking of power, the storage compartment located just below the rear AC blowers open to reveal a cigarette lighter and a 150 W / 230 V power socket, should you ever need to use them.
Want some open-top fun while in motion? The A8 L's tinted sunroof even slides open to let fresh air in, with a wind deflector raising up in tandem. Unfortunately, this is only applicable to the front panel, while the rear sunroof is fixed.
A voluminous boot completes the in-car experience, with 505 litres of cargo space available and multiple latch points to keep items in place when the car's on the move. It's not class-leading (the S-Class beats it by 45 litres), but it's more than sufficient in ferrying your golfing equipment and holiday luggage in one go.
A Suave Bahnstormer
Keeping the A8 L ticking is the same EA825 biturbo unit that powers the S8 that we'd tested recently, albeit detuned for increased levels of comfort. You get 460 horses and 660 Nm of torque, with some assistance from a 48 V mild hybrid system.
While those figures are hardly enough to restart a planet, they are more than adequate in bringing you from Point A to Point B very briskly. And if you're wondering, nought to a hundred takes only 4.5 seconds.
The V8 rumble is kept to a bare minimum, with only a hint of it being audible once the pedal's to the metal; a testament to the A8 L's incredibly silent riding experience. Wind noise is also virtually non-existent until you're well into triple-digit speeds, although for legal purposes, we have done no such testing.
Keeping the A8 L glued to the tarmac is a set of sticky Pirelli P-Zero 265/40 R20 tyres and 20-spoke diamond-turned alloy wheels. The Audi refused to lose traction even in extremely slick conditions (thanks, Quattro!), and gave both driver and passenger complete assurance of its stability in all sorts of environments.
Four-wheel-steering and adaptive air suspension also contribute to the A8 L's impressive driving dynamics. Despite being 5.3 metres long with a kerb weight that tips just under 2.1 tonnes, the limousine feels surprisingly agile and smaller than it really is, which is immediately noticeable when thrown around a series of bends.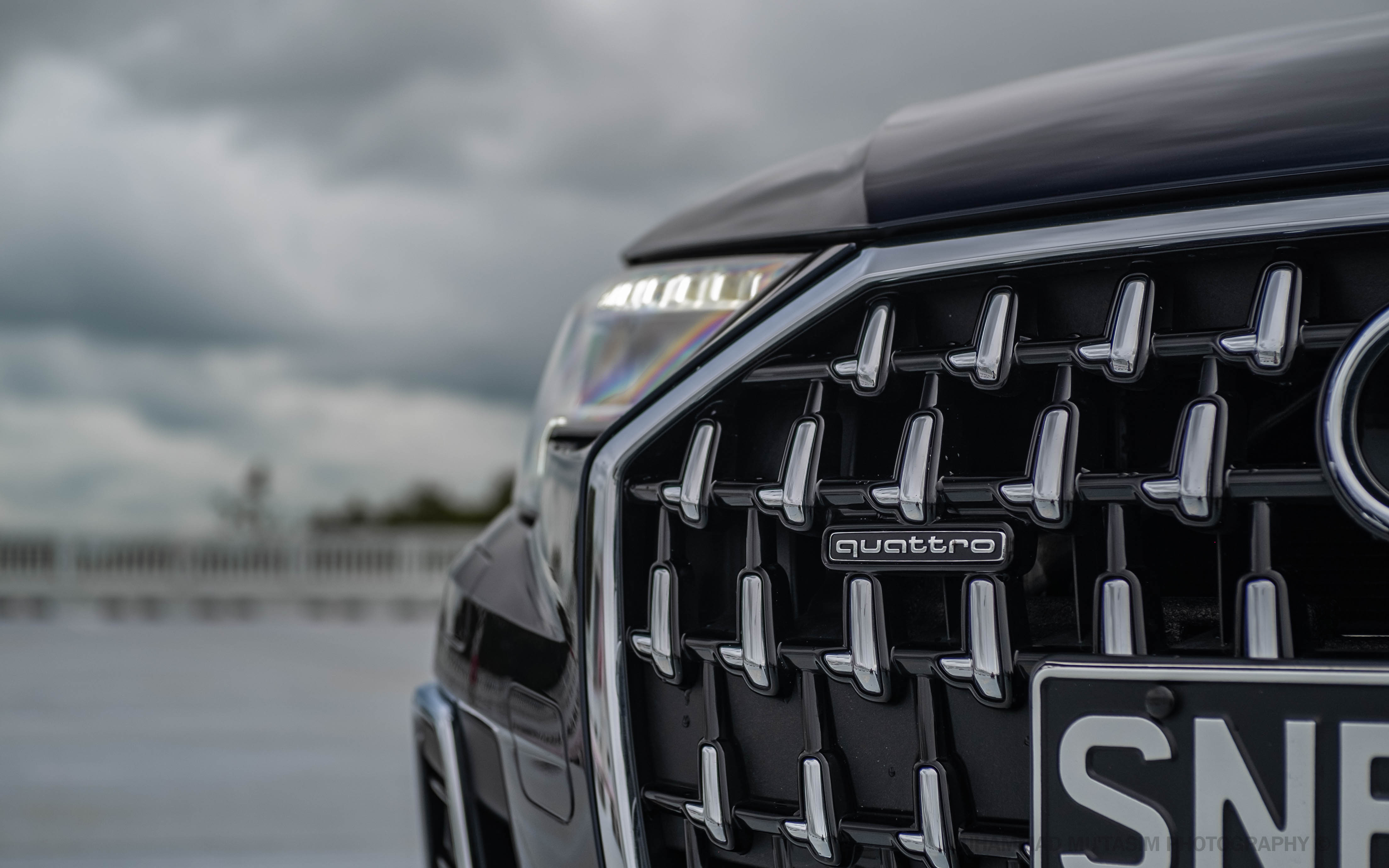 Body roll is kept at a minimum regardless of the driving mode selected, and even when you're facing rough patches of tarmac, the A8 L simply glides over them with minimum fuss.
Manoeuvrability around tight multi-storey carparks is also commendable, with the only issue being its length when you attempt to slot it into a parking space. Even so, the 360-degree camera function makes the process infinitely easier especially when the surroundings are dim.
The Pinnacle of Luxury
Is the A8 L the carmaker's best luxobarge that isn't electric, then?
Some may label the A8 L as being too clinical in its approach towards luxury motoring. Others may lament about finding it even a tad underwhelming and not deserving of a flagship status.
But true luxury is not about recklessly pushing out today's latest techno-gizmos or throwing caution to the wind in terms of design. It's about refining existing technologies while introducing new ones that effectively solve today's problems without overwhelming the user, and about perfecting an already-good design without going full-on kitsch.
The A8 L ticks all of these boxes and sometimes even exceeds them, ensuring that every occupant gets treated to a proper luxury car experience with the works.
 And because of that, it more than deserves the top spot as Audi's flagship.
Audi A8 L 4.0 TFSI Mild Hybrid Specifications
Price: $704,675
 VES Band: C2

Motor:
Biturbo V8 with Mild Hybrid

Capacity:
4 litres

Power:
460 bhp, 660 Nm


Transmission:
8-speed Tiptronic

Driven Wheels:
All

Consumption:
8.1 km/l

0-100km/h:
4.5 s

Top Speed:
250 km/h 

Fuel Tank Capacity:
82 litres

Dimensions:

5,320 mm x 1,945 mm x 1,488 mm

Cargo Capacity:
505 litres
Photo Credits: Muhammad Mu'tasim (@mutasimdrives) & ACube Creative (@weareacube)
Download the Motorist App
The easiest and smartest way to manage your vehicle in Singapore.
Download Now
Read More: mReview: Audi S8 - Closing The Chapter on ICE Cars With a Proper Bang
---
Download the Motorist App now. Designed by drivers for drivers, this all-in-one app lets you receive the latest traffic updates, gives you access to live traffic cameras, and helps you manage LTA and vehicle matters.
Did you know we have a Motorist Telegram Channel? Created exclusively for drivers and car owners in Singapore, you can get instant info about our latest promotions, articles, tips & hacks, or simply chat with the Motorist Team and fellow drivers.