There was a time when super saloons were all the rage. Every example, regardless of manufacturer, was in essence a version of the company's latest and greatest, except with a dollop of steroids pumped into its veins. 
Cars from this almost completely forgotten era that come to mind include the V10-powered BMW M5 from 2004, or the podium-finishing Mercedes-Benz 300 SEL 6.8 AMG from 1971. And who could forget the original Audi S8 from 1996, which had a starring role in the Hollywood blockbuster Ronin, chasing down baddies and trading paint across Southern France?
Decades have passed since these cars were first unveiled, and now we face a potential future where obnoxiously powerful and loud luxury performance cars are relegated to the history books, in favour of largely soulless hybrid and/or electric cars. 
The writing's on the wall already as you read this, but it seems that German carmaker Audi still has something to say about it.
Old-School Formula With a Modern Twist
The choice of timing for the S8's launch is certainly a curious one. While the rest of the industry is speeding towards a greener future with electric powertrains and whatnot, Audi remained adamant on blessing their flagship ICE saloon with a massive 4.0-litre V8 powerplant (albeit with some help from a 48 V mild hybrid system).
Its headline figures are certainly fitting for a super saloon of this stature: 571 horses and 800 Nm of torque, making it nearly as quick as the company's fully-electric RS e-tron GT flagship saloon. Nought to a hundred takes just 3.8 seconds, so your victories at the occasional Traffic Light Grand Prix are assured.
Despite its sporty credentials, the S8 is still very much a luxury behemoth at heart. With a wheelbase that stretches to almost three metres and a total length of 5.19 metres, it is every bit imposing as it is powerful. The S8's adorned with LED lights (digital matrix LEDs up front and OLED at the back), with a myriad of sensors well-hidden on the front fascia.
Not that it would have been a hard task for the Audi designers, as the front is an explosion of chrome and metal-finish trim pieces. Some may find it all a bit vulgar or naff, but we think it's the sort of madness that's needed to separate the Audi S models from their bog standard offerings.
Our test car was decked out in a vivid shade of Ultra Blue Metallic, which did wonders in contrasting with abovementioned pieces strewn across the car. Additionally, it looks fan-bloody-tastic under the scorching Singapore sun, which got heads turning everywhere we went.
Its alloy wheels are equally larger-than-life – measuring at 21 inches – with some properly sticky Goodyear Eagle F1 rubber wrapped around them, as are the disc brakes behind them. If you have S$44,740 to burn (and I'm fairly certain the S8-buying demographic usually does), you can even opt for a set of ceramic brakes for additional stopping power.
Quad pipes and rear diffusers dominate the rear fascia, which further amplify the S8's unhinged personality.
German Sensibility Prevails Inside
While the S8 is unapologetically loud outside, it is surprisingly restrained and plush inside. You get a leather-and-suede interior, with cosseting S-embossed seats that pamper your back in more ways than one. They're all ventilated with a three-stage function, which means you remain properly cooled even if the temperature outside reaches insane levels.
You can also activate the massage function, regardless of where you're sitting inside the S8. There's a plethora of massage styles to choose from, ranging from relaxing ones for the journey back home, to revitalising ones aimed at refreshing your body for the next activity.
While there is a middle seat at the back, it's best suited for a child, due to the massive transmission tunnel hump on the floor. Alternatively, you can flip its backrest down to gain access to the rear control panel. 
There, you can control the seat settings, adjust the automatic blinds, or even change the music on that's playing on the wonderful Bang & Olufsen in-car audio system. Press open the central compartment located below the rear AC vents and you are presented with a 230 V power socket and a lighter.
Perfect then, if you want to completely relax after a long day of work while your personal driver ferries you home.
However, you buy an S8 to drive it, and not be chauffeured in one. We are happy to report that the front cabin is very much driver-centric. Apart from the user-friendly and crystal clear MMI infotainment display that we've come to know and love, you get a grippy leather-wrapped steering wheel that certainly helps when you're attacking a series of corners at quick succession.
You also get a carbon-fibre trim that somehow manages to not look tacky in such a premium car, though I lean more towards a brushed metal alternative for a sharper (and cleaner) aesthetic.
And like most other over-engineered German cars worth their salt, the aircon vents feature automatic covers that flip down once the engine is turned off, thus creating a seamless look for the dashboard trim.
Is it necessary? Not at all. Is it cool? Yes, very.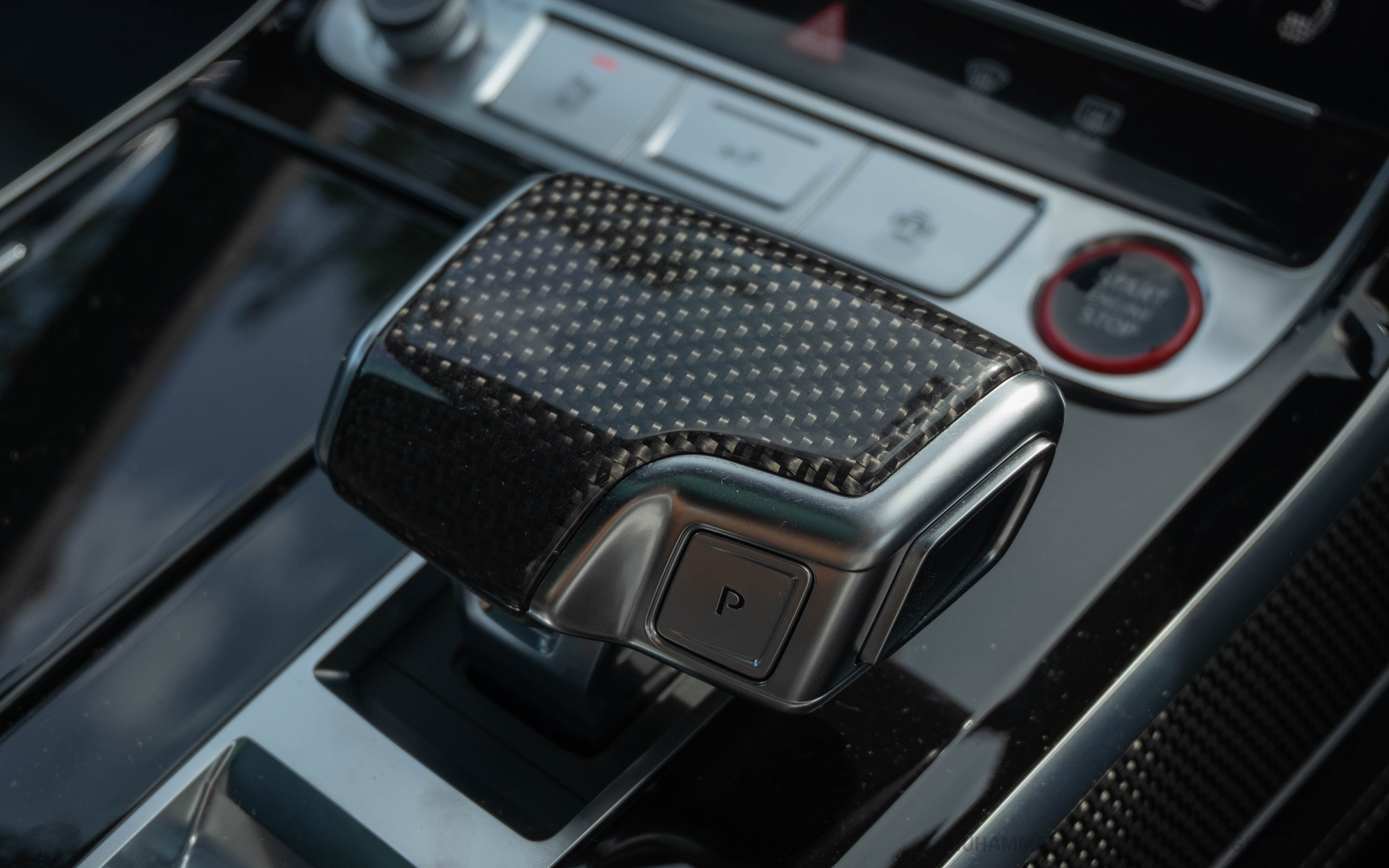 The switchgear found around the cabin is within reach of the driver, and I had no trouble locating any of them even while driving.
If there is one slight niggle, it'd have to be the capacitive buttons located on either sides of the hazard lights button. They require a bit more pressure to press, and I would have preferred from them to be fully physical.
Looking to store your golf bags and weekend luggage but worried about space? With the S8, this is no longer a problem you have to deal with, as you get a positively voluminous cargo spaces; up to 505 litres of it.
The Ultimate Getaway Car
With a biturbo V8 engine at your fingertips, the question is no longer about whether the S8 is fast, but how fast it can go. 
As mentioned before, this superfast limousine is capable of reaching 100 km/h from a standstill well below the 4.0-second marker, which some electric cars even struggle to achieve. With enough runway and zero speed restrictions to bother you, the Audi tops out at 250 km/h, making it the perfect Bahnstormer.
The S8 is incredibly nimble around the corners too, despite its 2.2-tonne kerb weight. Thanks to its four-wheel steering, Quattro all-wheel drive, and a complex air suspension setup, it was more than adept at tackling hillside roads and bends with minimal body roll.
And with a rapid-firing eight-speed Tiptronic transmission in place, the S8 rewards the driver with more confidence to go even quicker without losing control. With Dynamic mode engaged and traction control turned off, the driving experience was nothing short of visceral and raw, much like its RS 3 smaller cousin, which was a cracker of a car.
The EA825's throaty V8 burble was symphonic throughout the rev range, encouraging the driver to inch ever closer towards the redline just to hear it sing. Say what you want, but even the latest and greatest EVs out there cannot replicate this intangible sensation that fills your heart with so much joy, and a stupid grin plastered all over your face.
All of this comes at a cost, though. Fuel consumption is not the best even with its mild hybrid tech, and while I managed to match the manufacturer claims of 8.3 km/L after much effort, 6.5 km/L is a much more accurate gauge when you mix city and highway driving.
Then again, if you're in the market for an S8 and can afford one, fuel economy is probably not high up on your list of concerns.
The Swansong of an Empire
It's certainly an emotional farewell for the internal combustion engine super saloon era. Soon enough, we will cease to hear the sound of a torquey mechanical engine running high on the rev range, or smell the intoxicating mix of petrol fumes and burning rubber.
The ICE is now on life support with mild hybridisation tech, but by the next decade, we will have to bid goodbye to it for good. 
For all its little quirks and character flaws, the S8 remains one of the best representations of an exciting and wondrous age that will soon be no more. And for that, I am happy that it still exists in 2022.
Audi S8 4.0 TFSI Mild Hybrid Specifications
Price: $739,546
 VES Band: C2

Motor:
Biturbo V8 with Mild Hybrid

Capacity:
4 litres

Power:
571 bhp, 800 Nm


Transmission:
8-speed Tiptronic

Driven Wheels:
All

Consumption:
8.3 km/l

0-100km/h:
3.8 s

Top Speed:
250 km/h 

Fuel Tank Capacity:
82 litres

Dimensions:

5,190 mm x 1,945 mm x 1,475 mm

Cargo Capacity:
505 litres
Photo Credits: Muhammad Mu'tasim (@mutasimdrives) & ACube Creative (@weareacube)
Download the Motorist App
The easiest and smartest way to manage your vehicle in Singapore.
Download Now
Read More: mReview: Mercedes-AMG CLS 53 - Is This a Worthy AMG?
---
Download the Motorist App now. Designed by drivers for drivers, this all-in-one app lets you receive the latest traffic updates, gives you access to live traffic cameras, and helps you manage LTA and vehicle matters.
Did you know we have a Motorist Telegram Channel? Created exclusively for drivers and car owners in Singapore, you can get instant info about our latest promotions, articles, tips & hacks, or simply chat with the Motorist Team and fellow drivers.