Here's How You Can Get an International Driving Permit
Published by
Mutasim
on
12 Sep 2023
Ever dreamed of cruising down the German Autobahn in a Stuttgart-plated Porsche 911, or living out your Wangan Midnight fantasies on the Tokyo expressway in a classic Nissan Skyline GT-R?
The good news is, all of the above are indeed possible and fairly straightforward to arrange. The bad news? Your Singapore driving license won't cut it (unless you intend to drive in neighbouring countries like Malaysia and Thailand), and you'll have to acquire a special permit in order to drive in a foreign land.
But fear not, as acquiring said permit is quick and easy, and with just a few simple steps, you'll soon be able to enjoy the spirit of driving thousands of kilometres away from home.
What is this permit exactly?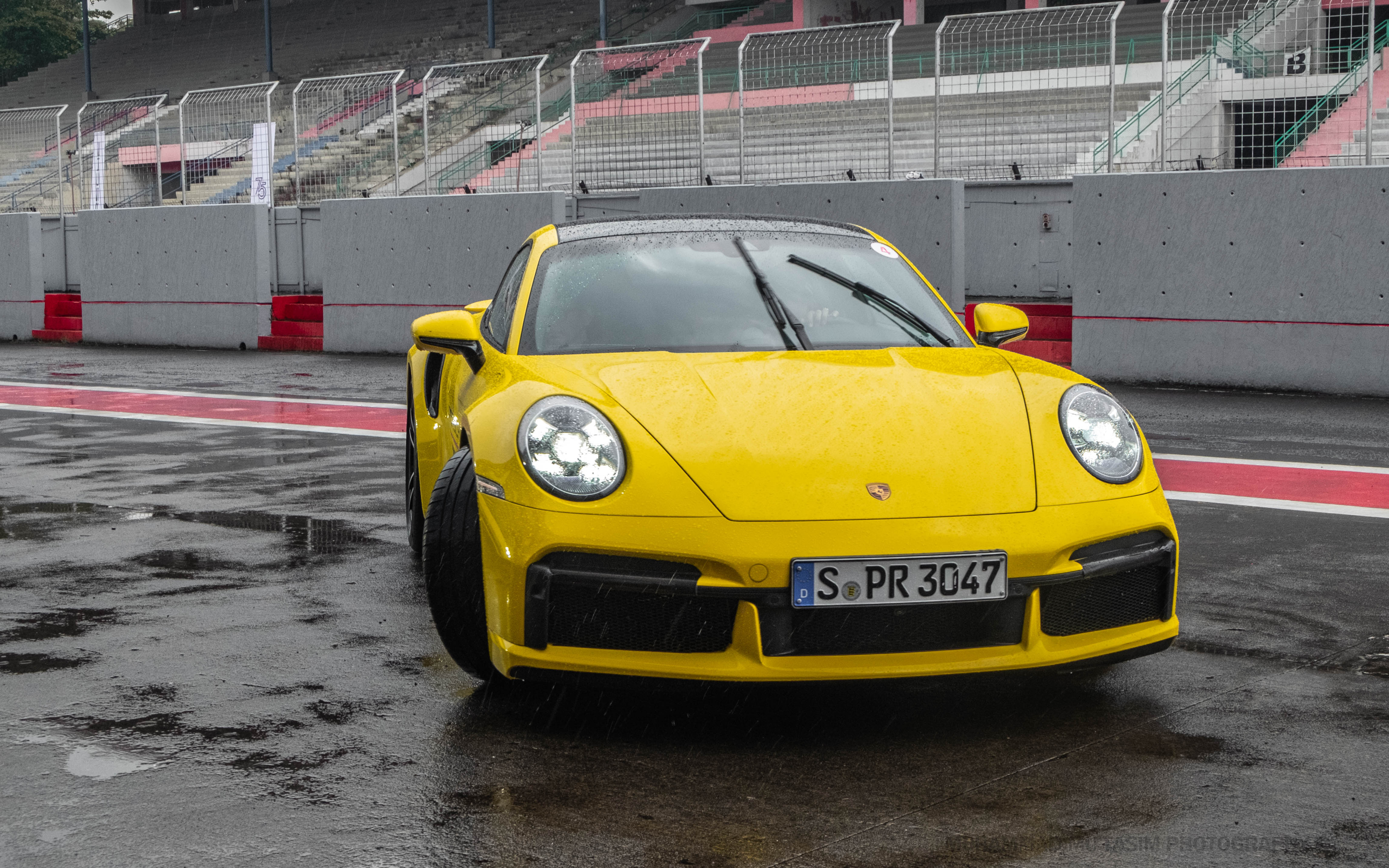 Before we go through the steps, let's find out what this permit is all about!
Often referred to as an international driving license, an International Driving Permit (IDP) effectively serves as a bridge between you and foreign authorities and/or car rental companies if you plan on driving overseas. It also helps that it's the only official legal document sanctioned by the United Nations (UN) Convention on Road Traffic.
Equipped with various translations of driving terms, it informs the parties of your license details, and also the class types that you have acquired; useful for when you're visiting non-English speaking countries.
According to the Automobile Association of Singapore (AA Singapore), it will come in handy whenever you want to rent a car, need to file motor insurance claims, get into a traffic accident or violate local traffic laws, or if the authorities need to verify the driver's identity with photo verification.
Do note that the IDP is not valid in China, Cambodia, Myanmar, and Vietnam. And if you are planning to drive in Sri Lanka, you're required to visit the AA Ceylon or Department of Motor Transport with your Singapore driving license and IDP in order to get a temporary driving license, which is payable.
The IDP has a one-year validity from the date of issue, and is non-renewable. In other words, you'll have to apply for a new permit once the current one expires.
Where do I go to apply for one, and what should I bring?
Getting an IDP can be done in one of two ways: by going to the AA office or by logging in to their online portal. Applying in-person can be done at any one of three AA branches in Singapore. You simply need to bring along the following:
your NRIC
your Singapore driving license
There, staff members will take a headshot of you free of charge. However, if you are applying on behalf of someone else, the above-mentioned items plus the applicant's passport-sized photo are required. All in all, it costs S$20.
Getting the permit itself takes less than an hour to complete (up to two hours during peak periods), although our experience earlier this year was much better, with the application taking just under 30 minutes.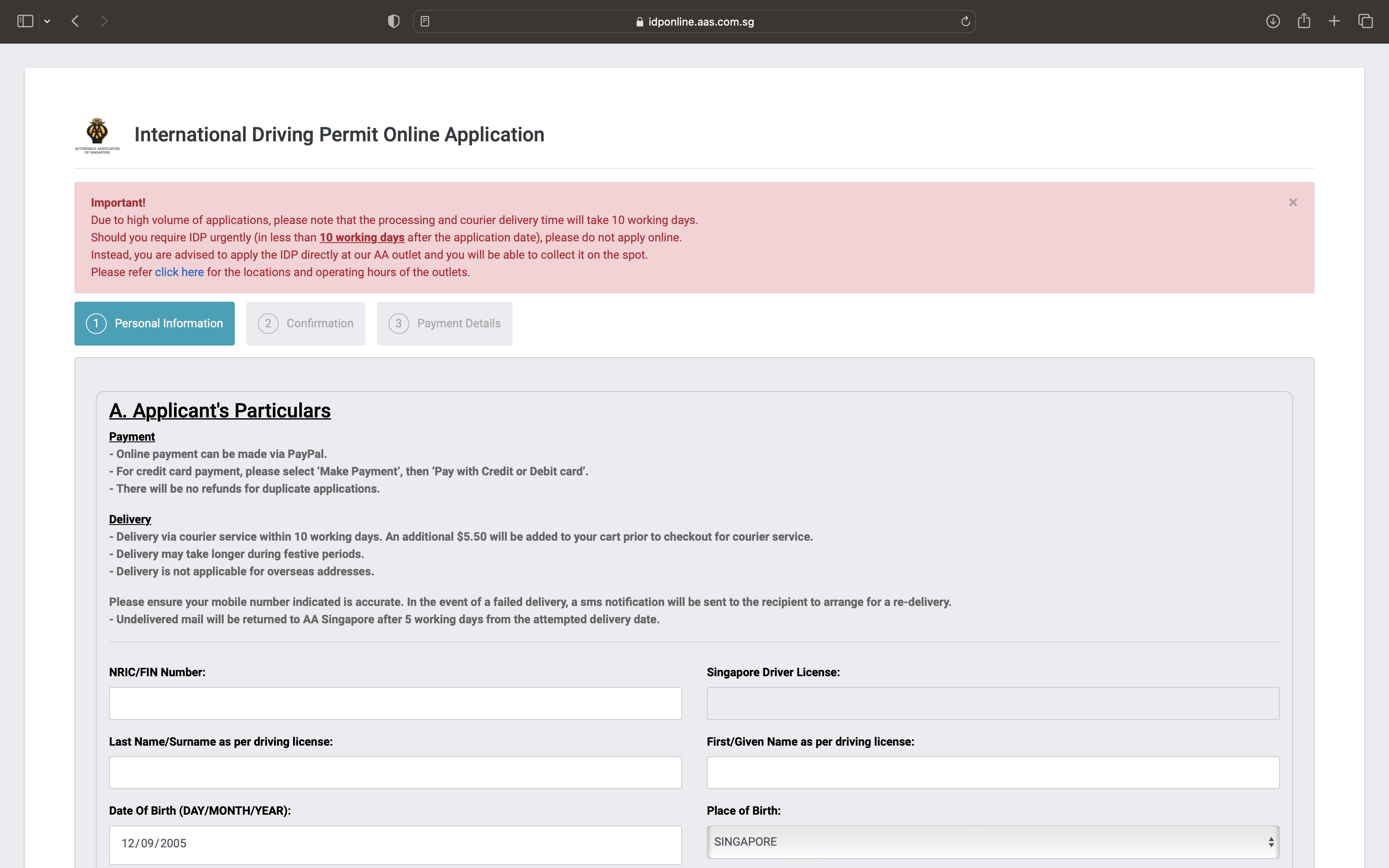 Alternatively, you can apply online here. You will need to upload the following:
A copy of your NRIC (front and back) if you are Singaporean/Singapore Permanent Resident
A copy of your Singapore driving license (front and back)
A copy of your employment pass/FIN card (front and back) if you are a foreigner
A clear coloured passport-sized photograph of yourself/IDP applicant with a plain, light background
Do note that for the submitted photograph, it must be sharp and taken within the last two years, and the full face has to be visible. Images with watermarks will be rejected, which includes photos on passports, NRICs, and driving license cards.
Applying online takes a considerably longer time (estimated processing time is 10 days excluding the date of submission) and you incur an additional $5.50 charge in courier fees on top of the S$20, so if you require one urgently without extra charges, it's best to drop by an AA office in-person.
Enjoy your drive overseas!
Keep in mind that your permit and Singapore driving license should be with you at all times whenever you're behind the wheel overseas.
And that's all there is to it! You now have an IDP that's valid for one year, and are legally allowed to drive in over 150 different countries around the world.
Go out there and enjoy the drive (responsibly) in your dream location, fellow Motorist!
Photo Credits: Muhammad Mu'tasim (@mutasimdrives)
Download the Motorist App
The easiest and smartest way to manage your vehicle in Singapore.
Download Now
Read More: Defending Its Title: The New Land Rover Defender Shows Us How It's Done on Desaru's Dirt Trails
---
Download the Motorist App now. Designed by drivers for drivers, this all-in-one app lets you receive the latest traffic updates, gives you access to live traffic cameras, and helps you manage LTA and vehicle matters.
Did you know we have a Motorist Telegram Channel? Created exclusively for drivers and car owners in Singapore, you can get instant info about our latest promotions, articles, tips & hacks, or simply chat with the Motorist Team and fellow drivers.