The mid-1980s was a truly surreal time for Japan. It was experiencing the much fabled economic bubble era, which meant that its society was swimming in cash and assets. 
This in turn meant that many industries now had deep enough pockets to invest in their respective research & development teams, and push out state-of-the-art technologies for the global market. From consumer electronics to architecture, Japan was at the forefront of innovation. And at the very heart of it all was the automotive industry.
Toyota launched their Lexus brand – and with it the LS400 – which obliterated the once-untouchable S-Class. Mazda released the MX-5, which brought unfiltered British open-top roadster fun back to the masses, this time with Japanese reliability to boot. Mitsubishi brought the 3000GT to life, complete with 4WD, four-wheel steering, and active aerodynamics; practically enough technology to make Best Denki blush.
And Nissan? It brought back a certain nameplate that still sends shivers down the spines of its European rivals even today – the Skyline GT-R.
Awakened After a Long Slumber
The final GT-R to roll out of the production floor was the 197-unit Kenmeri Skyline which only saw half a year of production from 1972 to 1973, before the global oil crisis took its toll on the auto industry. While it never saw any racing, it did share the same S20 powerplant as the original Hakosuka GT-R, which raced its way to victory on 50 occasions (49 of which were consecutive), defeating established automakers like Porsche.
Yes, that Porsche from Stuttgart.
And just like that, the legendary GT-R nameplate was shelved indefinitely. Numerous Skyline models came and went from the '70s to the mid '80s after that, and they were best described as being lukewarm on a good day. Other times, they were downright snoozefests, with uninspiring designs and even more yawn-inducing driving dynamics.
In 1989, all of that changed. The veil was lifted off the BNR32 GT-R in front of the Japanese public for the first time ever, and it had only one goal in mind: to dominate touring car racing – just like its forefathers.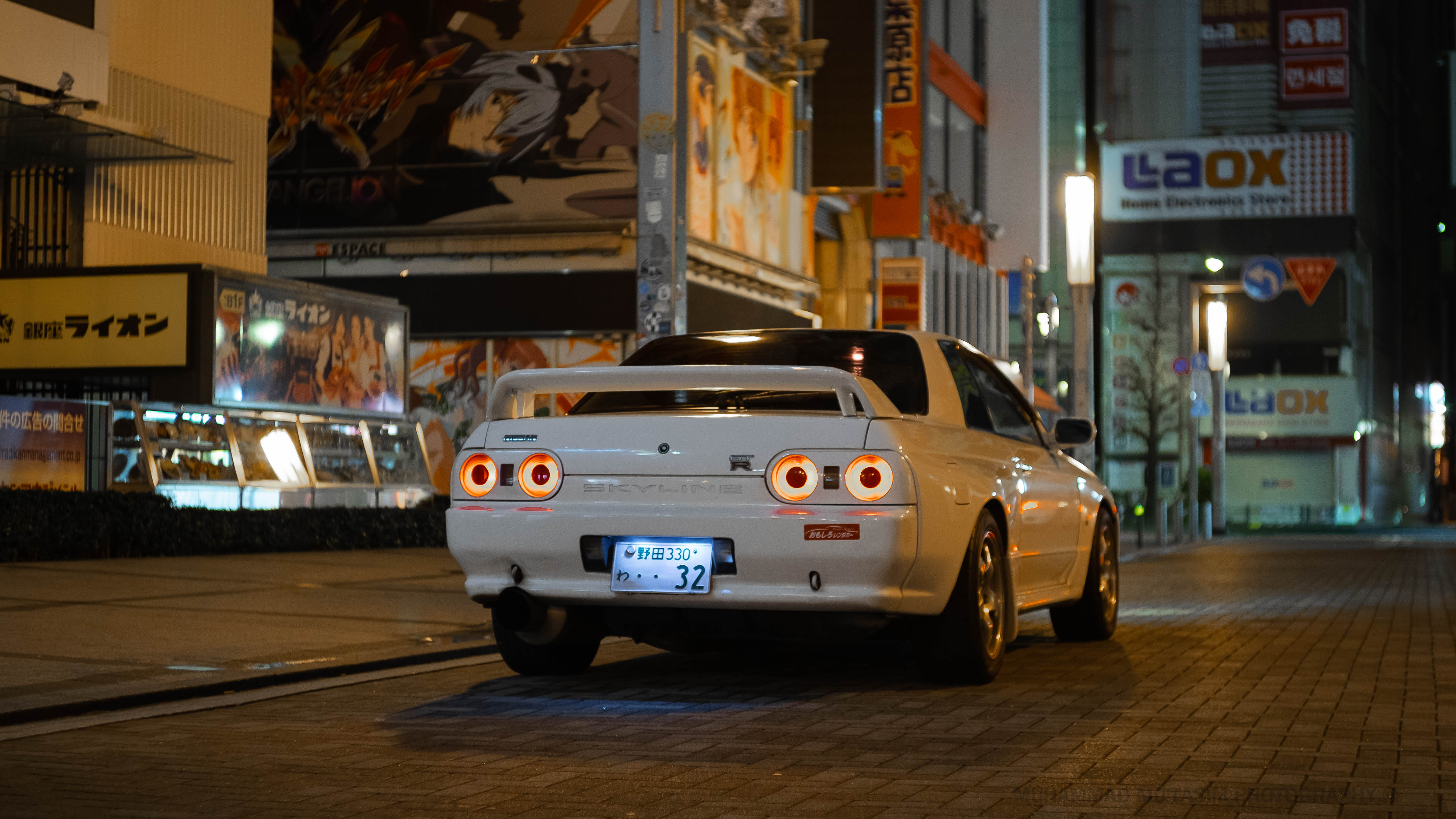 The R32 showed off its smooth curves and muscular arches that signified a new era for the GT-R. No longer was it living in an analog age, fighting against other ageing dinosaurs with slab-sided boxy silhouettes. This was as good as it could get in '89, and then some.
Even today, it looks sufficiently modern and contemporary. It re-introduced the signature circular quad-taillight design element, and minimalist-looking front vents & intakes that allow for the engine and intercooler to breathe; all of which still look sharp in 2023.
A modest rear wing seamlessly integrated into the rest of the body, providing minimal obstruction to the driver when seen through the rear-view mirror.
Its side profile's just as clean, with "GT" crests proudly adorned on both front fenders. The doors were frameless, giving them a new-age look when opened with the windows down. Tucked neatly behind its five-spoke alloy wheels were a set of Brembo brakes, designed to bring the R32 down to a halt in an instant.
Visually-speaking, it did not bring attention to itself, opting to instead stealthily cruise down the streets and expressways. Only the eyes of those who truly knew of its iconic status would light up.
A revolutionary car deserved a revolutionary engine. With that, chief engineer Naganori Ito decided that only the cast-iron RB26DETT would be up to snuff in achieving the GT-R's objective. Twin turbochargers, an inline-six arrangement, and a 2.6-litre displacement meant that this car would be as smooth and balanced as it was fast.
Officially, the Skyline GT-R produced 280 horsepower and 353 Nm of torque. Of course, only those in the know were aware that these figures are all merely formalities; a byproduct of a gentlemen's agreement between Japanese carmakers at the time to keep their performance cars in check.
The reality is that fully-stock RB26 units often came with well over 300 horses out of the factory floor. And with the right tuning, it's capable of reaching far more than those figures with mostly stock internals only.
Calling it impressive would be a massive understatement. 
Rewriting the Laws of Physics
Despite a powerplant strong enough to restart a planet, the R32 was still a heavy car, weighing just over 1.4 tonnes. Surely it would be a slouch on the track, right?
Wrong.
It was fitted with the carmaker's Advanced Total Traction Engineering System for All-Terrain, or ATTESA E-TS, a complex all-wheel drive system designed for maximum stability in all conditions. Originally conceived to give it unparalleled racing advantage for Group A competitions, the ATTESA system functions as such: it delivers power to the rear tyres in normal conditions, up to about 30% to the front ones when pushed hard, and tops off with a perfect 50:50 split in high speed situations.
The Skyline GT-R even had four-wheel steering in the form of Nissan's High Capacity Active Steering, or Super HICAS, allowing it to have a turning radius of a smaller car.
What all of this means is that the car dances nimbly around corners, and hunkers down like a lead boot along the straights.
Absolute Power, Absolute Supremacy
This also translated to racing domination of biblical proportions. When the R32 entered the Japanese Touring Car Championship in 1990 under Group A regulations, it won. The following year, the GT-R won again. The year after that, it did the unthinkable and...well, won. In 1993, guess what happened? That's right, the GT-R won again.
And that's just in Japan.
Over in Australia, it humiliated the Ford Sierra Cosworths, M3 E30s, and Holden Commodores in the Bathurst Group A races so badly, the officials called for weight penalties to be imposed on the Skyline, before eventually banning it from competing altogether. It's no wonder car enthusiasts and journalists there were quick to name the GT-R "Godzilla", for its brutal power and over-the-top superiority. 
Even in its stock form, the R32 is brutally quick. So quick, in fact, that it rewrote the Nürburgring Nordschleife production car lap record, shoving the Porsche 944's 8 minutes 45 seconds timing into the bin and clocking a full 15 seconds quicker than the German sports car.
Never Meet Your Heroes, Unless It's the Skyline GT-R
Powering the R32 GT-R for the first time, you do not get a sense of drama that you get from, say, a firebreathing V10 monster. The inline-six unit rumbles into life with only the faintest hints of aggression before settling down calmly. Turning the ignition of my (loaned) pearl white R32 GT-R on, I almost mistook it for a Sunny.
Analogue dials dominate the gauge cluster, informing the driver of not just the usual critical information, but also the front torque readings, the latter of which only starts responding when you give the GT-R the beans. Additional gauges sit on the centre console, with lighting and wiper controls sitting on the dash itself. 
Other than that, it's pretty much a sensibly-designed, if a bit dull and plasticky, cabin. Then again, it's a product of the 80s, so expectations are to be tempered.
Shifting through the five-speed manual gearbox was a breeze, and its thankfully light clutch didn't threaten to ruin my experience (or left leg). With that said, the GT-R is not a fan of the suburbs. Its naturally wide body makes it especially unwieldy to drive around the narrow and bumpy neighbourhoods of Kashiwanoha, as I had come to realise. And there never seemed to be a moment where the GT-R can fully breathe.
All of that changed once I entered the Shuto Expressway and onto the infamous Bayshore Route. Opening the taps and stepping on the throttle, the twin-turbo AWD monster finally came alive – and along with it, all my five senses. After the initial turbo lag, the incoming rush of speed and power was downright intoxicating. And with each upshift, I became more and more smitten by the GT-R.
All those years piloting it virtually on Gran Turismo as a young boy, my expectations of the 1:1 scale GT-R were stratospherically high. But the R32 lived up to them, and then exceeded them by a full mile.
The steering is frighteningly precise and communicative for what's essentially a 34 year old machine. I felt every micro-adjustment of the front wheels as it cleared kilometer after kilometer of smooth Japanese tarmac, and flying through the region was quite literally a breeze.
It truly felt like I was reenacting a scene from Wangan Midnight, with my colleague in the Fiat 124 Spider only seeing faint traces of the Skyline's tail lights in the far distance.
Its inline-six engine produced a unique and heavenly enough burble that I stopped being annoyed at the R32's faulty in-car audio system, and even went on to roll down the windows in sub-zero weather at midnight just to hear it sing.
As the bright orange needles on the tacho and speedometer surged upwards, and as my surroundings melted into one continuous multi-coloured blur, I felt a sense of unspeakable joy and happiness; a sense of connection to the car that very few others have succeeded in making.
Disappearing into the inky black winter night on the Yokohama Bay Bridge, I came to the realisation that the R32 GT-R is not just a historically significant museum piece on four wheels.
It is something that still shines to this very day, a rare achievement in an age where even family hatches are clocking sub-8 minute records around the Nordschleife while still delivering a gazillion kilometers per litre. And this is the very car that made the GT-R nameplate a household name across generations of enthusiasts, which is still just as iconic today.
Never mind that the R32's interior is plastic fantastic, or that it grumbles when you drive it along congested city streets. Once you start driving it and experience its sheer capability, you'll know immediately why the GT-R is so revered the world over.
Photo Credits: Muhammad Mu'tasim (@mutasimdrives)
Download the Motorist App
The easiest and smartest way to manage your vehicle in Singapore.
Download Now
Read More: Tokyo Auto Salon 2023 Coverage: 2024 Nissan GT-R Unveiled, Two Special Editions Shown Off
---
Download the Motorist App now. Designed by drivers for drivers, this all-in-one app lets you receive the latest traffic updates, gives you access to live traffic cameras, and helps you manage LTA and vehicle matters.
Did you know we have a Motorist Telegram Channel? Created exclusively for drivers and car owners in Singapore, you can get instant info about our latest promotions, articles, tips & hacks, or simply chat with the Motorist Team and fellow drivers.