We're no strangers to road trips.
In the past 12 months, our Editorial team has gone up and down Malaysia's vast North-South Highway network several times to sample a particular German carmaker's efficient petrol and lightning quick electric offerings, and also to conduct our own multi-part adventure.
Just this January, I had the chance to drive Godzilla itself, the 1989 Nissan Skyline GT-R, on Japan's famous Shuto Expressway, to cover Tokyo Auto Salon 2023.
So when Volkswagen Group Singapore (VGS) invited us for a media driving trip to Desaru via Malaysia's sweeping B-roads spanning across 450 kilometres, we jumped on the opportunity faster than you could say "Das Auto".
Shaking Up The Ol' Road Trip Formula
We arrived at the showroom at the crack of dawn, where a pre-departure safety briefing was held, along with a welcome speech from the group's Managing Director, Dr. Kurt Leitner. 
Unlike most other driving trips where we'd be piloting high-powered automobiles, this time we'd be trying out COE Category A-friendly base variants of popular Volkswagen and Škoda models. Five vehicles would be available to us throughout the two-day, one-night journey: the Golf 1.5 Life & Life Plus, the T-Cross R-Line, the Octavia 1.0 Style, and the all-new Scala 1.0 Monte Carlo.
For added context to our non-Singaporean readers, Category A refer to cars sold here that have a maximum engine capacity and power output of 1,600 cc (or 1.6 litres) and 130 bhp respectively.
While they're not exactly the first things that come to mind when you think of B-road bombers, the VGS folks were very keen to prove to us that these Cat A automobiles would be more than capable of taking on the tough winding roads despite their more humble underpinnings.
The Motorist team – along with our driving partner from another publication – were assigned to the Octavia first. With our duffel bags stored in the fastback's cavernous 600-litre boot space and banger playlist connected to the infotainment system, we peeled out of showroom and officially began our journey towards Desaru.
Onwards and Upwards
Our convoy shimmered in the magic hour sunlight as we crossed both border checkpoints speedily. Once we pulled up at Gelang Patah R&R, a safety briefing was conducted, snacks were replenished, and the first leg on Malaysian soil commenced.
While Octavia we were in struggled a bit to catch up with the EA888-powered Octavia RS lead car along the major expressways, it clawed back with a vengeance once we entered the minor roads that cut through kampung settlements and plantations.
Plenty of low-end torque delivery from the 109 bhp three-cylinder engine meant that 200 Nm was enough to propel the Czech fastback forward briskly, even when the roads dipped and rose with every turn. And when it came to handling, the Octavia always felt composed and pliant, even with a trio of over-excited automotive journalists behind the wheel.
In order for us to sample all five cars fairly throughout the trip, the organisers placed several checkpoints across our route, with each stop serving as a spot for us to change drivers and also the cars themselves.
Before handing the keys of the Octavia to the next group of journos, we were treated to a hearty breakfast that involved delicious nasi lemak and kampung fried chicken (the best kind of KFC), which satisfied our tummies and taste buds! 
Before long, we were handed the keys to the Golf Life, which is when things graduated from being merely fun to being downright exhilarating.
B-Road Attack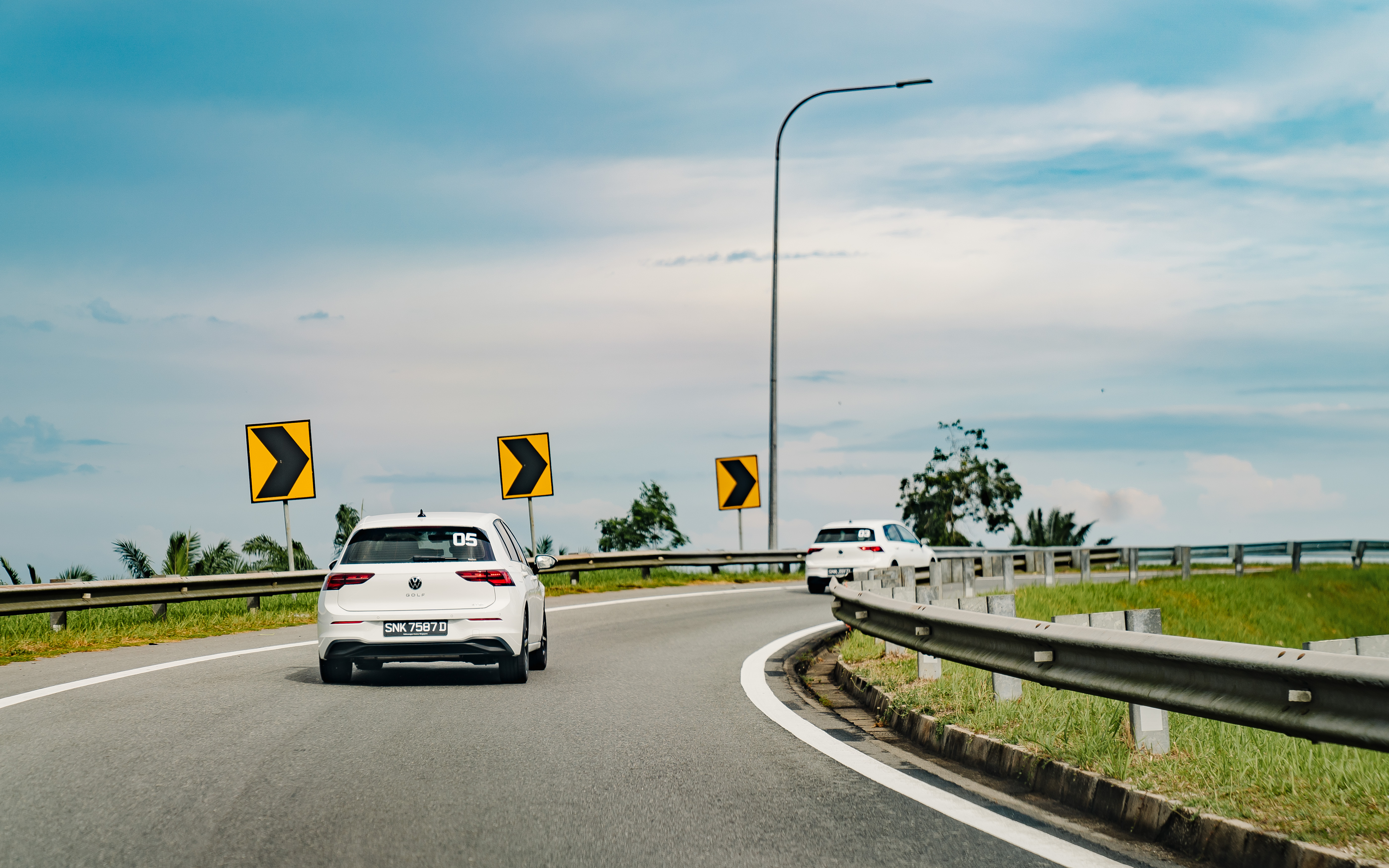 Our next stop was Jemaluang Emerald Lake, a 200-odd kilometre journey from the restaurant. The towns and wide roads soon vanished, and ahead of us became a series of narrow twisty roads with elevation changes that rivalled those of Space Mountain.
One wrong move and it was either we traded paint with the guardrail, or we drive into a ditch and take an impromptu tour into the Malaysian jungle. 
For many sane people, these possibilities would be enough to convince them to backtrack onto the safe, flat roads of the North-South Highway. But for petrolheads like us, roads like this was pure unadulterated motoring nirvana.
As we pressed on and put the 129 bhp Golf Life through its paces, we began to understand why the VGS folks were so confident in having their Cat A cars being pushed to their absolute limits.
The pristine white hatchback felt so planted and responsive along the complex corners, it felt invincible and was almost egging me to go even faster. And looking up ahead, even the 1.0 Octavia was having fun playing catch-up with its RS brother.
In a sadistic twist of fate, Mother Nature decided that it was the right time to unleash the heavens upon us. The dry tarmac soon became slick, with visibility up front drastically shortened. Compound that with the speeds that we were travelling at, and the sheer risk involved multiplied by the second.
But even that did not deter the Golf, still handling sharply and still ready for a bit more poking around the corners. Despite using a more basic trailing-arm setup than the Golf R-Line's multi-links, our Golf felt just as alive and comfortable. Our rear passenger even fell sound asleep as I was chucking the hatch left and right in quick succession like a rally driver from Wish.com.
We soon arrived at Jemaluang Emerald Lake, where we got to admire our natural surroundings without them flying past us in a blurry sea of colours and vague shapes. Adrenaline still coursing through our bodies, we had a lively discussion with one another and with the VW representatives, all of whom were grinning from ear to ear. 
Before we could fully relax, it was once again time to swap cars and head towards our lunch spot. This time, we got behind the T-Cross, and we puttered off as a convoy to get satisfy our mid-day cravings.
Taking It Easy
The roads gradually opened up and the horizon eventually broadened to reveal beautiful seaside views overlooking the South China Sea. As we cruised at sensible speeds on smooth tarmac, the T-Cross reaffirmed our beliefs that it's best experienced in a calm and relaxed manner. 
When there's no need for overtaking, the crossover simply glides comfortably along the motorway. Its plush cabin upholstery also did wonders for us, who were still digesting the scrumptious seafood that lay before us at the Jade Garden Seafood Corner.
But that's not to say the T-Cross is a one-trick pony. Once I was behind the wheel, the convoy was reintroduced to the B-roads, where I got to push it hard.
With its pedal to the metal, the high-riding SUV thrusted itself forward like a jumping spider on acid. Like the Golf Life, it has 200 Nm at its disposal, which meant if driven correctly, it could play ball with the rest along the technical corners and sweeping curves.
We easily kept pace with the more powerful Golf Life Plus in front of us, and in many instances, got up close and personal with its rear bumper. Sure, the T-Cross' soft suspension setup meant a fairly bumpy and roly-poly ride when driven hard, and a tall centre of gravity which results in a slightly unsettling ride around the bends.
But the fact that it's able to tackle the B-roads just as spiritedly as the next VW or Škoda says a lot about its potential.
Who said 1.0-litre cars were not worth considering?
Unwinding in Style
As we pulled up at our accommodation for the night and dined away while gazing at the South China Sea, we gathered our thoughts and came to the collective decision that yes, these Cat A cars were much more competent than the raw numbers would have you believe.
We still had two more cars to try out, them being the Golf Life Plus and Scala Monte Carlo. In order to prepare for the upcoming day's activities, we decided to get some much-needed shut-eye after a very bubbly bath and a very filling gourmet dinner, courtesy of the Turmeric restaurant.
Morning Blast
Everyone was up bright and early the following morning, keen to make it to the final two stops before we finally headed back to Singapore.
The first stop was the RUD Karting Medini, a go-kart track located on the outskirts of Johor, next to EduCity Iskandar. We jumped into the Scala and quickly made our 1.5 hour journey there, excited to see how the Škoda would impress.
Powered by the same engine as the Octavia, the Scala Monte Carlo is not what you'd describe as a particular fast car on a straight line. But along the twisties, it turns into a completely different animal. Its steering feedback is what I'd call "razor-sharp"; even more so than the Golf. It's borderline twitchy, which means it responds to your every command faithfully.
The cabin is well-appointed too, matching its svelte exterior design. The front seats are snug and hold you firmly in place even when experiencing hard lateral Gs, thanks to the bucket seat-like design that comes as standard on the Monte Carlo spec. 
Perhaps the most surprising element is the inclusion of a full-length panoramic glass roof, which is practically unheard of in a sub-S$200k Cat A car.
We eventually arrived at RUD, where we quickly slipped on our racing helmets and into the karts. Finally, we would be able to safely unleash hell on the track without fear of any support vehicle capping our speed and/or driving strategies.
Mother Nature once more felt that we could use a bit of "cooling-off", in the form of heavy rain. Our battle soon became less "Karting World Championship", and more "Mario Kart". The track became slick and near-impossible to drive on without spinning out, although there was also much fun to be had going sideways while battling other journos.
And finally, it was time to drive the Golf Life Plus. Our final stretch towards Singapore would take us mostly through the highways, with just a dab of rural road elements. Still, the hatch impressed us with its driving dynamics that easily rival more potent versions of VW's iconic hatch.
Tackling the last few sets of curved roads before we rejoined the expressway, the Life Plus proved to us that spending top dollar on a hot hatch is unnecessary, especially when a warm hatch like this can deliver comparable amounts of fun.
The "Plus" denotes fancier equipment, which includes tri-zone climate control (as opposed to dual-zone on the Life) and different light clusters front and rear. But while they're admittedly great to have, we personally do not think it justifies the S$14,000 premium, especially when there are no significant mechanical upgrades. 
We crossed the border at around 2PM, held back only because of an errand bus driver blocking the only path towards Tuas. Nevertheless, we returned to VW Centre Singapore still in high spirits, and still at awe by these unassuming Cat A cars.
A-Listers in Disguise
What have we learned from this amazing trip? 
The perils of having a smaller horsepower output and engine capacity may still hold true when we're talking about blasting down expressway networks at speed, where the 1.0 and 1.5-litre engines prefer to be prodded gently without much rush.
But through the S-curves and along mountainous roads that are aplenty in Malaysia, these underdogs can still deliver high levels of driving precision and comfort in spades, a Teutonic touch that's shared with their more powerful (and more expensive) brethren. And if they can impress us in a foreign land, they can certainly impress you in Singapore.
Motorist would like to thank Volkswagen Group Singapore, Pitcrew, and all participating journalists for making this trip possible!
Photo Credits: Volkswagen Group Singapore & Muhammad Mu'tasim (@mutasimdrives)
Download the Motorist App
The easiest and smartest way to manage your vehicle in Singapore.
Download Now
Read More: From Hat Yai With Love: We Drive From Singapore to Thailand in One Tank
---
Download the Motorist App now. Designed by drivers for drivers, this all-in-one app lets you receive the latest traffic updates, gives you access to live traffic cameras, and helps you manage LTA and vehicle matters.
Did you know we have a Motorist Telegram Channel? Created exclusively for drivers and car owners in Singapore, you can get instant info about our latest promotions, articles, tips & hacks, or simply chat with the Motorist Team and fellow drivers.