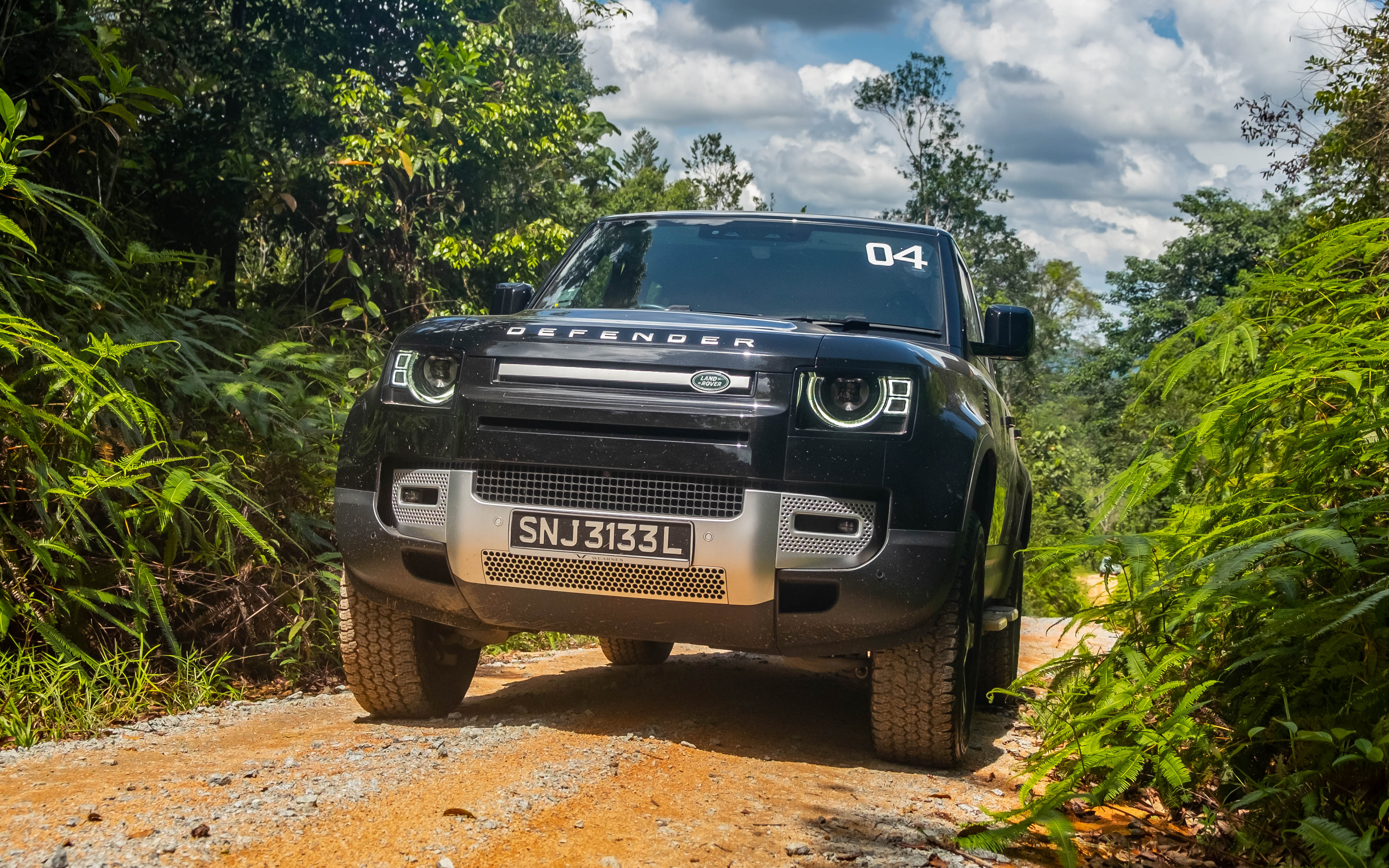 What do you get when combine Desaru's fascinating sights off the beaten path with a fleet of the latest Land Rover Defender premium off-roaders?
Together with over half a dozen other motoring journalists and the kind folks from Jaguar Land Rover (JLR), I set out to find out the answer, pushing the Defender 90 and 110 models on driving trails that present a greater challenge to most SUVs than what Singapore offers. 
The two-day, one-night experience would see the convoy traversing across the vast plantation fields and steep hills of Malaysia's gorgeous coastal resort town, battling erratic weather conditions and tricky surfaces that are constantly out to get unsuspecting drivers stuck.
Spoiler alert: the Defender defied them all, and then some.
Take Your Pick
Greeting me at the Land Rover showroom were five shiny new Defenders (three 110s and two 90s), with one of them being the 75th Anniversary Limited Edition decked out in a retrolicious shade of Grasmere Green. 
Apart from walkie-talkies on board for easy communications across the border, these British off-roaders were bone-stock with all-terrain tyres. JLR were clearly very keen to show off the Defenders' raw strengths without aftermarket tuning, and this would naturally translate to a similar experience should you go on dirt trails with your own Landie!
After a quick word with the folks at Pitcrew and JLR APAC Managing Director Alaistair Scott to set some ground rules about safety, I hopped into Car No. 4 – a menacing blacked-out 110 – and swiftly set off for the Tuas Second Link with my co-driver Kimberlee.
On smooth tarmac here in Singapore, the ride quality on the Defender is buttery smooth, thanks to its advanced air suspension system that eliminates much of the crashing. Road imperfections were simply not felt, which bode well for the trails that awaited us just North of the border.
Once past the Malaysian checkpoint, the convoy engaged in a relaxed drive towards our breakfast stop via some scenic B-roads. Unlike the previous road trip, however, there were no bombing runs for obvious reasons.
Still, we did manage to get up to speed on the straights, where the road elevation changed every hundred metres or so. This was the perfect opportunity to find out just how composed the SUV is, and I concluded that the Defender's by far one of the best when it comes to comfort. 
It's not a cruise liner like its million-dollar brother, but it adapts to the quick elevation changes smoothly without creating a nauseating roly-poly effect that plagues many other so-called premium SUVs in the market. 
And just as importantly, the Defender was remarkably silent at high speeds, with the only audible sounds being our lively conversations and Taylor Swift's greatest hits playing in the background.
The convoy soon arrived at Rainforest Treehouse, a quaint café nestled deep in Kulai and surrounded by lush forests. We got our grub on with delicious mushroom soup and toast, among other lovely breakfast items, before driving off to our main event: the dirt trails!
Rough 'n Tumble
We exited off the familiar paved roads and on to rich brown gravel, with thick bushes and tall trees quickly surrounding us. But even as the surface conditions got progressively bumpier and less well-defined, the Defenders drove over them with ease. Inside the cabin, my co-driver and I were fairly comfortable – and also because we were well-stocked with snacks and coffee.
At one point, the convoy also cautiously drove across a narrow bridge as locals on Hangkai-powered sampans zoomed right under us. According to some folks that we talked to, the same bridge was underwater during the Johor floods that happened earlier this year, with signs of water damage still quite apparent from all angles.
Clearer and wider tracks soon emerged, and we were no longer shrouded by thick and dark palm trees. Even so, we still had to overcome some steep crests and sharp turns, or pull over to the side to let farmers in their trusty Proton Wira Aerobacks putter along and go about their day.
After what seemed like a lifetime, we were back on smooth tarmac and it was a quick drive to the seaside, where we took a short but well-deserved break before cruising back to Anantara Desaru Coast Resort.
The Defenders are objectively good-looking vehicles, but with the Jackson Pollock-style mud splashes adorning the fenders and doors after our little adventure off-road, they look even better – right at home, even!
According to the JLR folks, this was just a taste of things to expect in Day Two, where the terrain would be far more challenging with even higher risks involved. And as it turned out, they were right on the money. 
Wet and Wild
Morning came, and we were awakened not by the happy chirps of birds eagerly hunting for their breakfast, but by roars and flashes of thunder and lightning. "Oh no", I thought. Water and off-road driving do not pair well together, and true enough, it was pouring as the group was about to set off from the resort.
Nevertheless, we soldiered on and followed our instructors to Tangga 7, a complex hillclimb that supposedly offered gorgeous panoramic views of the surrounding landscape on top. This time, I had opted to jump into the Tasman Blue Defender 90, which felt more agile due to the much shorter wheelbase.
Upon arrival, we found that the gravel surfaces were now clay-like, offering about as much traction as a used bar of soap. Struggling to keep up with the Defenders due to street tyres, two of our support vehicles were parked at the base while the convoy continued on their ascent. Meanwhile, the instructors led the march in their Velar and Range Rover Sport.
Here, power meant nothing without control. Careful applications of the throttle, mixed with even more careful turning of the steering wheel, were paramount in tackling the steep inclines and extremely tight switchbacks. 
The edges of the slippery trail were also peppered with shrubbery and nothing else. In other words, one wrong turn would've been enough to send us (and our packets of peanuts) downhill in record time towards the base.
But we had confidence in the Defender, as its front off-road cameras helped immensely in looking out for blindspots, all reflected on the infotainment screen in high resolution. Engaging Mud and Ruts mode also kept the SUV chugging along without its wheels or chassis getting completely bogged down.
Speaking of which, the Defender seriously impressed with its ability to resist the twisting forces and overcome the elements, despite utilising a unibody chassis as opposed to the original's ladder-frame setup.
Along the way, the trail began to get seriously bumpy, with the Defenders rocking left and right as they creeped slowly up the hill. Thankfully, however, the posh-yet-utilitarian cabin had some in-built grip handles for the passengers.
It's also remarkable to note that the Defenders were incredibly torquey despite having only turbocharged four-cylinder engines. With 400 Nm of torque and 292 bhp available, the muddy paths were nothing more than minor inconveniences for us as we powered our way up, coating the SUVs' body panels with liberal amounts of dirt in the process.
After careful guidance from our experienced instructors, we finally made it to the top! The surface flattened out as it transitioned from mud to grass and rock, with some trees and a hut offering us some shade from the light drizzle.
The rain stopped just in time too, allowing us to fully take in the picturesque views of the vast misty Malaysian landscape, and of the Defenders that transported us up without complaint.
We soon jumped back into the Landies, this time with turncoat former Motorist writer Sean at the wheel of the Defender 90. The descent, as we were told, would be trickier, now that we had to deal with both slick surfaces and gravity.
Just like before, we were advised to step on the pedals very gently and release when required, letting Hill Descent Control (HDC) do most of the hard carrying.
It turned out to be a very effective system, effortlessly controlling all 2.1 tonnes of British steel and glass down the slick slopes.
Where steering was concerned, we still had to be on our toes. The thick clay-like trail – still damp from the rain – was causing us to travel down at an angle, which meant that we had to turn the wheels left and right just to keep the Defender going straight. And with the sheer cliff drop ever so close next to our all-terrain tyres, the pressure placed on our shoulders was at an all-time high.
After about 15-20 minutes of nerve-racking driving, we finally saw the support vehicles once more, with a group of curious and somewhat bemused construction workers close by. We had made it; we had conquered Tangga 7 and arrived back at its base in one piece!
From there, we made use of all 292 horses and barrelled our way back onto the wide open highways and finally across the Second Link, back into the urban jungle that we call home.
Defending Its Title
If this experiential journey has taught me anything, it would have to be about the Defender fiercely err...defending its hard-earned reputation as a serious 4x4 people carrier. 
It may have a posh new suit and fancy technological wizardry hardwired into the unibody construction, with comfort in mind. But peel away all of that supple leather and fancy digital displays, and the new Defender shows that it's still got the old soul that made the original a household name.
Whether it's the 110 or 90, the 2023 Defender simply astounds with its ability to keep up with the big boys where the tarmac stops and the dirt trails begin, asserting its dominance once more in the rough world of off-roading.
Photo Credits: Jaguar Land Rover Singapore & Muhammad Mu'tasim (@mutasimdrives)
Download the Motorist App
The easiest and smartest way to manage your vehicle in Singapore.
Download Now
Read More: The All-New Range Rover Sport Lives up to its 'Sport' Moniker
---
Download the Motorist App now. Designed by drivers for drivers, this all-in-one app lets you receive the latest traffic updates, gives you access to live traffic cameras, and helps you manage LTA and vehicle matters.
Did you know we have a Motorist Telegram Channel? Created exclusively for drivers and car owners in Singapore, you can get instant info about our latest promotions, articles, tips & hacks, or simply chat with the Motorist Team and fellow drivers.