Audi's first overseas media drive after the lifting of the global coronavirus restrictions was most certainly memorable for me, and in more ways than one - I'll address that in a bit.
The goal of this drive was to show us that EV road trips are not a far-fetched concept, but one that is very much doable with the technology and infrastructure that we have today. Twelve automotive journalists, split into two groups, were invited to join Audi on this momentous drive. I was put into the first group, and was one of six drivers that were tasked to drive the cars up to Kuala Lumpur from Audi Centre Singapore at Leng Kee.
But there were signs that all may not be well.
An Ominous Undertone
Dark clouds loomed over my estate - could this be a warning, divine in origin, that something will inevitably go wrong on the drive?
Putting that thought aside, I got into my private hire ride, and upon arrival at Audi's showroom, us journos were directed to a conference room for a driver's briefing. The gist of it was that we'd hop into one of the three e-tron cars prepared for this trip, point the car northwards, and well…drive.
The First Leg
I was designated to cover the first stint in the Audi e-tron GT. It is the most affordable electric Audi saloon at the time of the road trip, a sort of 'base model', if you'd want to call it that. Though 'base model' is really a misnomer these days, as it comes fully loaded with all the luxuries and kit that you'd expect from a product from Ingolstadt, with a healthy 470bhp to boot. 
Oh, and it also costs a cool $532,840.
For a car that costs more than most BTOs, it is fairly unremarkable in stop-start traffic. And that is high praise for a high power EV. There are many offerings in the market that are difficult to tame in city driving, thanks to their aggressive brake regeneration when you lift your foot off the throttle.
Brake blending is done very well in the e-tron GT, with good initial feedback from the pedal. What this means is that you do not get a car that is jarring to drive in the city. Fundamentally, this shows you the Audi e-tron GT is very much a well-sorted car first - that so happens to be electric.
It didn't literally rain on our parade, until it (figuratively) did. The rest of the journey towards Second Link was uneventful, but the events that transpired at immigrations were anything but. As I pulled up at the counter, and in the midst of winding the window down, I realised that whilst I did have my passport with me…
…it was one that has already been invalidated.
It seems then that I may have made quite the blunder in my haste to head over to Audi's showroom for the driver's briefing.
So What Now?
As there was a strict schedule the convoy had to adhere to, my assigned co-driver took over the vehicle for the rest of the trip. A flurry of phone calls later, and the decision was made for me to join the second group of six journalists in flying up.
But before that could happen, I had to be escorted out of customs, though various high-security areas, just so I could hail a private-hire car back home to pick up my passport. Passport in tow, I then headed to the airport, arriving at Terminal 3 even before my ticket was confirmed. 
Once the paperwork was sorted, I literally reached the gate only about 45 minutes before the plane's scheduled departure.
The Return Trip
Thankfully, the trip back down was far less eventful. We set off from the Four Seasons Hotel in KL at around 9:00am. I wasn't a designated driver for any leg of this drive, but I was told by the Audi folks that I could spend some time behind the wheel if I could find industry peers that were kind enough to vacate the driver's seat (a big thank you to those that gave up precious drive time so I could have a go - you know who you are!).
I hopped into the back seat of the Audi e-tron Sportback for the first bit of the trip. I've actually tested this car previously, and it sure is addicting having so much torque underneath your right foot. This is a car that'd shine if you gave it enough space, and there's a sense that it is capable of sustained high speeds even through the restrained driving that we did throughout the press drive in Singapore.
The higher speed limits across the border offered me a chance to test this hypothesis. And it didn't disappoint - pick up is consistent and strong, up till some seriously questionable speeds. The car does get a touch floaty if you're really pushing it, and the acceleration does taper off. It confidently munches up the miles whilst cocooning you in a shell of luxury if driven sensibly.
If we'd have carried on driving with that vigour, the car would have returned a real-world, highway-only range of about 280 kilometres, about in line with our in-depth review if you included in a margin of error. 
As the range of the e-tron S Sportback is less than that of the e-tron GTs, we had to make an extra stop to give the car some additional range.
The Lunch Break
I hopped into the e-tron GT after lunch, and this was the car I spent most of the return journey in. The eco-friendly interior feels every bit as plush as you'd expect from a German automobile. Space is good too - despite the battery pack being located underneath the floorpan of the vehicle, there appears to be recesses in the pack itself, so the rear seats offer sufficient thigh support for comfort on road-trips.
Despite the bigger range figures of the e-tron GTs, they still needed a quick top-off at the only 180kW-capable fast charger in Malaysia at the moment. You can find these chargers at Shell R&R Tanchak, on the southbound side of the NSHW. Do note that with two cars charging concurrently, you'd only be getting a charge speed of 90kW each - which is still plenty quick, as it charges up to 1% quicker per minute than the 50kW chargers you find dotted about our island.
This was the penultimate scheduled stop as a convoy on this road trip. I hopped behind the wheel for this 100 kilometre leg of the journey. The Porsche-derived electric motors in the e-tron GT behaved very differently than the VAG-sourced motors in the e-tron S Sportback. When you initially jump on the accelerator, the torque delivery is a touch less brisk, though it is linear well into the 200s...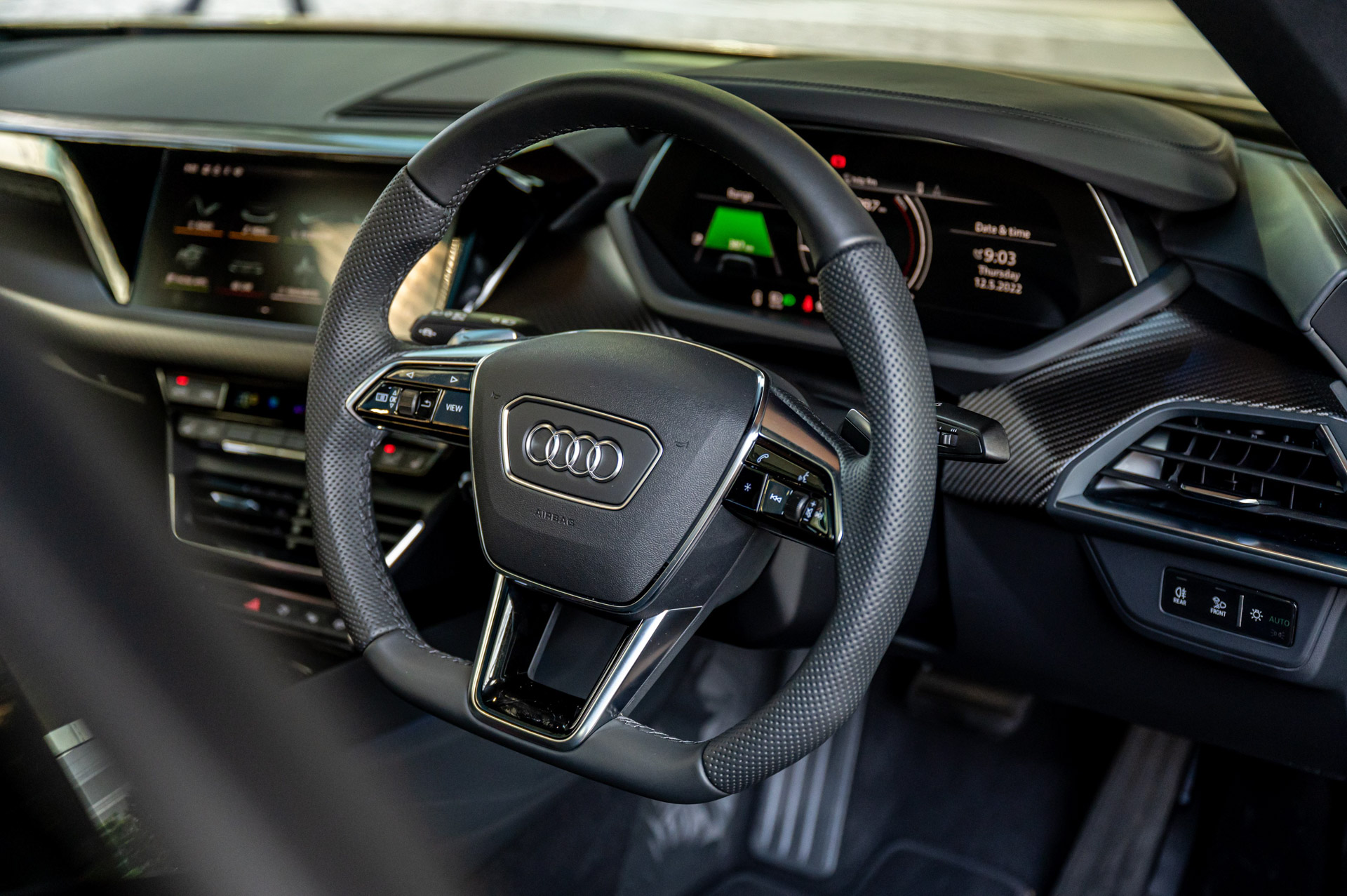 ...or so I was told anyways - though in theory, the Germanic engineering and the Autobahn factor has me believe that the cars will confidently achieve said speeds.
When back across the border, our finishing point was Aperia, home to Audi Singapore's HQ. Again, it was another fairly uneventful drive, as we headed to our end point via Second Link and AYE/CTE. The e-tron GT completed the journey with an indicated 18 kilometres of range left.
What Have We Learned?
With some strategic detours, an EV road trip up north is very much doable with the technology that we have today. In theory, the e-tron GTs have the range to complete a journey from KL to SG on a full charge, if driven sensibly. Push a touch harder, and you'll really only have to stop for a quick charge (around 30 minutes) to have enough range to complete your drive up or down.
There are a few key benefits of driving an EV long distance. There's no drone or vibrations from an engine sitting high up in its rev range. This relative peace also means less stress, for a more pleasant experience on the way to your intended destination. As long as you have reliable access to at least one charger on your travels, and destination charging at your end point, there's no reason why a quality EV will not be able to literally make the distance.
The EV revolution is very much upon us. One question now remains - just how quickly can automakers sway consumers to ditch fossil fuels for electrons? Only time will tell.
Download the Motorist App
The easiest and smartest way to manage your vehicle in Singapore.
Download Now
Read More: mReview: Audi e-tron S Sportback - The Good Kind Of Excess
---
Download the Motorist App now. Designed by drivers for drivers, this all-in-one app lets you receive the latest traffic updates, gives you access to live traffic cameras, and helps you manage LTA and vehicle matters.
Did you know we have a Motorist Telegram Channel? Created exclusively for drivers and car owners in Singapore, you can get instant info about our latest promotions, articles, tips & hacks, or simply chat with the Motorist Team and fellow drivers.