Your hands grip firmly around the steering wheel. Your eyes focus on the road up ahead, lane markers quickly dissolving into a continuous white streak. Time slows down as the speed climbs.
The unmistakable sound of a turbocharged five-cylinder powerplant reaching its redline fills the cabin. And with the flick of the upshift paddle, the car changes cogs at lightning speed, and continues on its rapid journey across the expressway networks. 
Welcome, everyone, to the RS 3 Sportback. It's a special little number concocted by the boffins over at Audi Sport – the German brand's high-performance car manufacturing arm – and it may just be this year's hottest hatch by a far mile.
One Giant Leap For Hot Hatches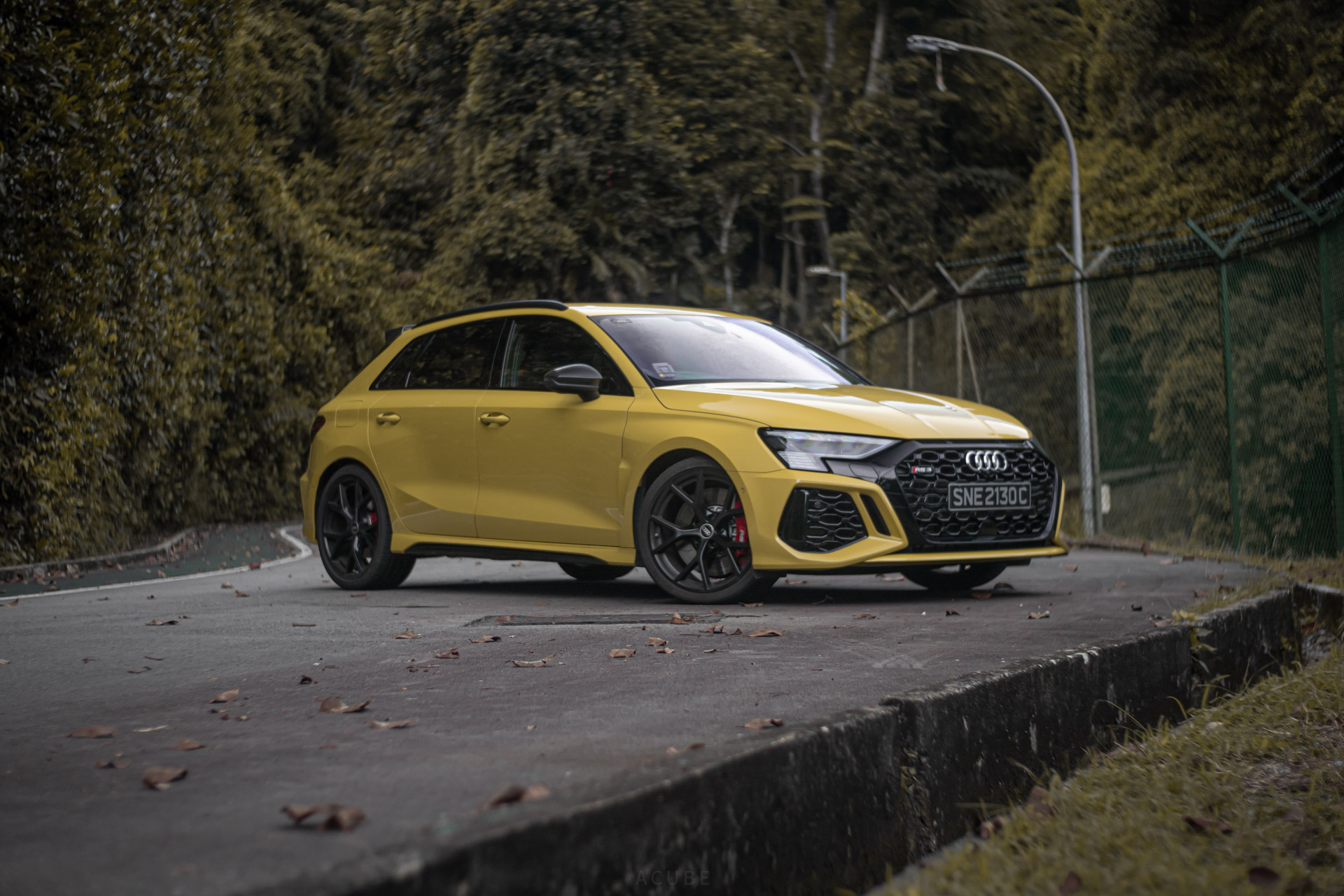 The RS 3 is technically not a race car, but it could very well be one, and we'd be none the wiser. It boasts headline figures that will knock the socks off its competition: 400 horsepower and 500 Nm of torque coming from a screaming five-cylinder engine with forced induction, sent to all four wheels via a super responsive seven-speed S Tronic transmission. 
And it wouldn't be complete without breaking a lap time record around the Nürburgring Nordschleife, which it did. It clocked 7:40.748 minutes, making it the world's fastest compact car. Quite the credentials, then.
Two Steps Up From the S3
While the S3 received high praises from us earlier this year, we couldn't help but sense there was a sense of sedation and restraint. The RS 3 sets out to correct all that, and the end result is absolutely flooring.
Visually speaking, this track weapon makes its racing pedigree known, in both hatchback or saloon forms. The various vents and ducts on the blacked-out front fascia, unlike the S3, are fully functional. Genuine carbon fibre parts adorn all across the RS 3, including the side mirror housings, all in the name of weight reduction. 
The lights are a full-LED affair, with the front DRLs arranged in a checkered flag-inspired pattern. They even have a brief animation where the "RS 3" letters are displayed. Dramatic would be a massive understatement.
The wheel arches are widened even more aggressively this time around, with vent openings behind the front wheels to enhance airflow. Wrapped around the 19-inch Y-spoke cast wheels are sticky Bridgestone Potenza Sport rubber, 245/35/R19 tyres for the rear, and wider 265/30/R19 ones up front. Behind them are bold red Audi RS-branded brake calipers and large cross-drilled discs. 
A large diffuser and twin oval exhaust pipes dominate the rear fascia, along with that yobbo-approved roof spoiler.
And with the Python Yellow paintwork that this test car is decked out in, the RS 3 means business. Overkill? Perhaps. Deserving of the RS moniker? Absolutely.
Four Doors For The Whole Family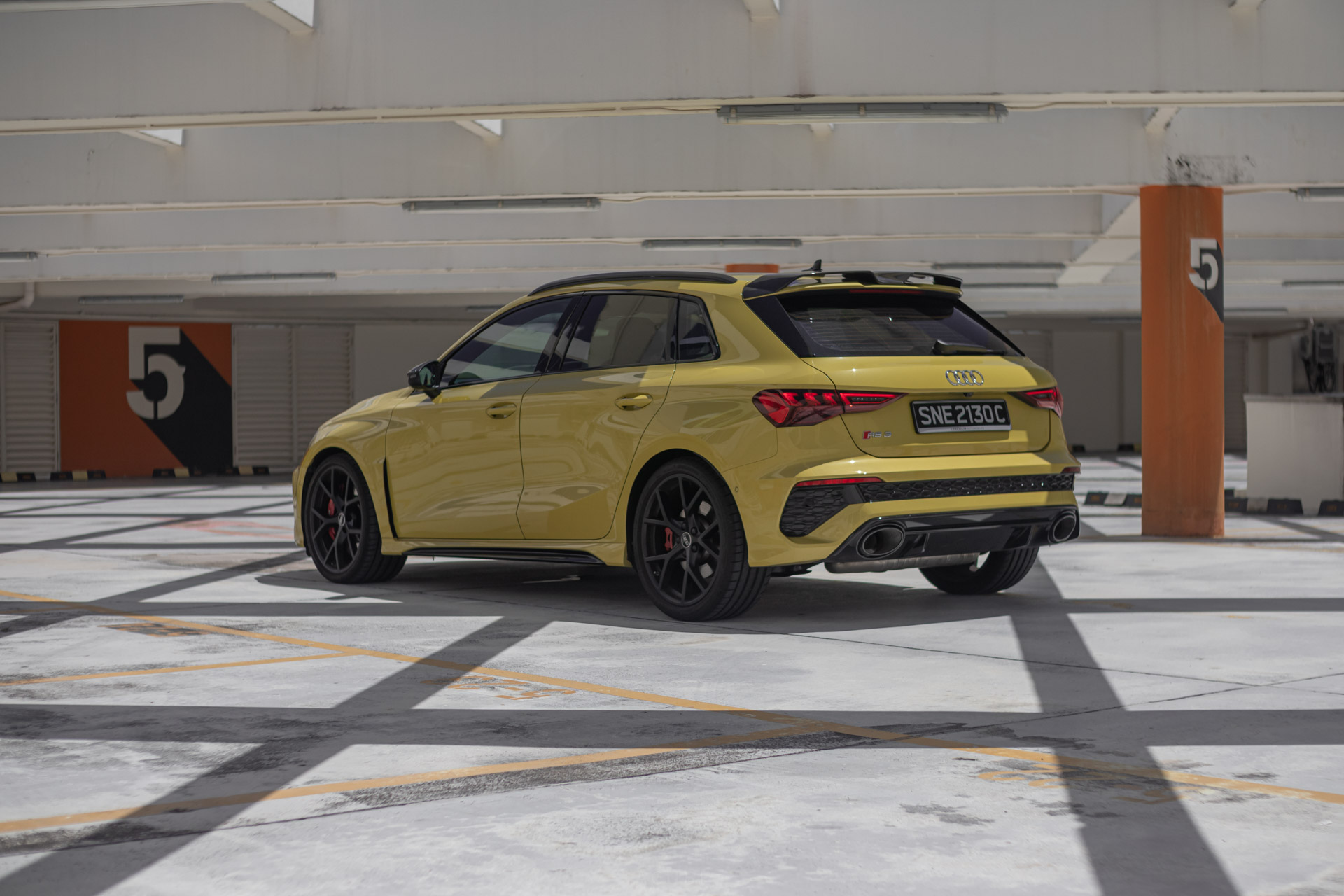 As you may have already noticed, the RS 3 still retains its four-door appearance, despite the performance-oriented bits and bobs mentioned. Open the doors, and you are greeted with a fairly sensible cabin, Nappa leather upholstery and all.
The RS 3 keeps things fairly civilised inside, with the only hints of the car's madness lurking within being the RS-specific contrast stitching and carpeting, coloured trim accents, along with the optional colour-matching 12 o'clock marker on the alcantara flat-bottomed steering wheel.
Panels around the interior are quintessentially Audi: soft-touch and upmarket. The leather seats, complete with honeycomb-patterned stitching, are extremely comfortable; especially surprising when you realise that the front seats are RS-branded sports ones. 
And with Audi most cars, all of the buttons and switches are logically-arranged and within easy reach, including HVAC controls. Two screens dominate the cockpit, with the ultra-crisp 12.3-inch Audi "virtual cockpit plus" display showing critical vehicle data in a fantastic runway-like theme, and the 10.1-inch central touch display showing everything else. 
The latter is also packed with what Audi calls the RS Monitor, which displays the temperatures of the coolant, engine, and transmission oil, and even a G-force meter. 
Audi has also blessed the RS 3's cabin with a Bang & Olufsen 15-speaker sound system with 3D sound, which ensures a premium and high-clarity aural experience. But in all honesty, we think the radio is best left turned off to allow the five-cylinder to take centre stage and sing its proverbial lungs out.
For a compact car, we think that the automaker has gotten the spatial design of the RS 3 bang-on, as it feels like a far larger vehicle than its exterior dimensions suggest.
Five Cylinders of Pure Madness
With the press of a button, the 2.5-litre five-pot engine rumbles to life. No drama, no fanfare – that is, until you flip through the various drive modes and select either one of the RS-specific ones. With the latter engaged, the flaps on the exhaust system change positions, allowing the bassy notes to come alive.
On the roads, the RS 3 feels precise and completely glued to the tarmac. Every directional input to the steering wheel is translated to the wheels instantly, and the car follows your every command to perfection.
Step on the throttle and after a brief second's delay from the turbo spool, you are thrusted firmly into your race seat, with all 500 Nm of torque being delivered to you expeditiously, same day delivery and all. Nought to 100 km/h takes only 3.8 seconds, making it just as fast as some supercars.
The exhaust note on RS mode is incredible, almost as if it's been blessed by some of the best musical geniuses in the world; it simply eggs you on to go even faster and faster. Heck, it sounds heavenly even when you shift down a gear or two.
The suspension, which can be stiffened up through the touchscreen, minimises body roll on demand and allows you to execute corners at spirited speeds. Just like the S3, this beast feels completely stable and the driver is always in control.
Audi is also proud of their new torque splitter technology, which works in tandem with its quattro all-wheel drive system. With dynamic torque distribution based on the car settings and driving conditions, the RS 3 executes bends as if it's driving on rails, compensating for potential understeer and oversteer at all times.
If it's capable of running around Nordschleife briskly, it can run around the bends on your way to the supermarket just fine.
Upon reaching a track, you can safely engage RS Torque Rear mode. This special setting allows all of the available torque to be delivered on the rear outer tyre only, essentially making the RS 3 a bona fide drift missile. Audi even brought some journos out for a live demonstration earlier this year, where we got to test out the car's full capabilities.
But how does all of this fare in the real world? We can only say this much: Audi's chassis remains remarkably well-balanced and stable when push comes to shove, and we give it full marks for its riotous-yet-controllable character. The uprated chassis is designed for extreme conditions and high lateral G's, and we believe every word of it.
Audi's also got you covered if you just want a peaceful drive home. An "Efficiency" mode is available, muting most of the exhaust noise and softening down the suspension. In many ways, it almost resembles a bog-standard A3 when not driven like a looney. 
The RS 3's fuel economy is in the low 10s km/L, although we did find ourselves clocking closer to seven, no thanks to our lead foot.
Even with everything set to the most comfortable setting possible, the RS 3 is still way too stiff, too loud, and too fuel-guzzling to be a daily driver, especially when you have a family in tow. But that's not the point of the car at all. It's designed to obliterate the likes of the A 45 S from Mercedes-AMG on the track first and foremost, and just happens to have five seats available, presumably to scare your friends in.
The A3 In Its Ultimate Form
For all of Audi's efforts in electrification, this latest ICE-powered track monster is still one of the most explosive cars in the world right now, showing that the German carmaker still has some traditional racing spirit and potential left in them. This no-compromise approach allows the RS 3 to reach its fullest potential, and then break that barrier to go even further.
Car enthusiasts now are experiencing a painful transitional stage, with the move towards electric vehicle from petrol ones. But if it's of any comfort for them, it's that purist machines like the RS 3 are still being built.
Specs
Price

S$373,075 (inclusive of COE)

VES Banding: C2
Performance

Motor: 2.5-litre turbocharged inline five-cylinder engine 

Power: 400 bhp

Torque: 500 Nm

Fuel Consumption: 10.2 km/L

0-100km/h: 3.8 seconds

Top Speed: 250 km/h

Drivetrain: Seven-speed S Tronic, quattro with torque splitter

Brakes: Ventilated discs (front & rear)

Suspension: MacPherson (front) / Multi-link (rear)

Measurements

Dimensions (LxWxH): 4,389 mm x 1,851 mm x 1,436 mm

Kerb Weight: 1,570 kg

Fuel Tank Capacity: 55 litres

Boot Capacity: 282 litres

Tyres: 245/35/R19 (front) / 265/30/R19 (rear)

Features

Keyless entry

Carbon fibre side mirror housings (optional)

quattro with Torque Splitter

RS Performance & RS Torque Rear Mode

Electric front seats

Audi virtual cockpit plus 

Audi MMI Navigation Plus with MMI Touch

Bang & Olufsen 15-speaker sound system with 3D sound

Android Auto & Apple Carplay integration

Lane Departure Warning

Parking System Plus

Park Assist

Tyre repair kit
Photo Credit: ACube Creative (@weareacube)
Download the Motorist App
The easiest and smartest way to manage your vehicle in Singapore.
Download Now
Read More: mReview: Audi S3 Sedan - The Getaway Car
---
Download the Motorist App now. Designed by drivers for drivers, this all-in-one app lets you receive the latest traffic updates, gives you access to live traffic cameras, and helps you manage LTA and vehicle matters.
Did you know we have a Motorist Telegram Channel? Created exclusively for drivers and car owners in Singapore, you can get instant info about our latest promotions, articles, tips & hacks, or simply chat with the Motorist Team and fellow drivers.