(Photo Credit: Imgflip)
It is no secret that the costs of car ownership in Singapore is one of the most expensive in the world. To save money, most Singaporean drivers will choose to compromise on vehicle maintenance.
However, by cutting back expenses on your car, you are essentially inviting problems in the long haul.
Instead of skimping on maintenance, we've put together a list of hacks to help you increase the longevity and performance of your vehicle, without blowing a hole in your wallet.
1) Use Toothpaste To Restore Your Headlights

(Photo Credit: Instructables)
Besides keeping your pearly whites cleaned, toothpaste, especially those with whitening ingredients, can also be used to polish foggy headlights.
Start by applying a liberal amount of toothpaste on the surface of your headlights. Once it's adequately coated, give it a few minutes to work its magic.
Next, take your washcloth, give it a good rub down and rinse it with water. Your headlines should be noticeably cleaner and brighter. You can also apply some car wax after to maintain its newfound shine.
2) Take Advantage of Discounts and Promotions When Buying Car Insurance

Just like your regular health insurance, most companies will offer discounts and promotions to entice drivers and car owners to take up their policies.
From No Claim Discount (NCD) to cash vouchers, these are just some tactics employed by insurance companies to help sweeten the deal.
If your car insurance is up for renewal soon, remember to shop around to get the best deals. Companies such as FWD are known to give weekly promo codes to customers, so do keep an eye out for such discounts!
By being smart and vigilant, you could save a few hundred dollars a year from this exponential cost.
3) Change Air Filters Yourself

(Photo Credit: Singapore Car Servicing)
Air filters are an integral part of every vehicle. It prevents dirt and other foreign particles from entering and damaging the car's engine.
Cleaner air also increases the performance of a vehicle through efficient burning, which reduces fuel consumption and helps to save cost.
You can find loads of air filters online and replacing it is a relatively easy task. Once you have acquired this new skill set, you can expect massive savings in the long run. How? It is recommended that Air filters are to be changed once every 12 months.
4) Use Nail Polish to Hide Minor Scratches

(Photo Credit: No Car No Fun)
Most cars are admired from afar. That is why car owners can get away with using nail polish to hide minor scratches.
If your car has suffered a scratch, simply head to a local cosmetic store and pick up a bottle of nail polish that matches the colour of your vehicle.
It may not be the perfect cover-up, but it sure beats paying hundreds of dollars just to fix a minor scratch.
5) Wipe Your Interior Down with Olive Oil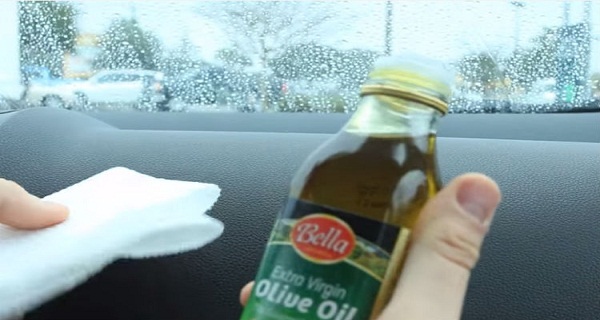 (Photo Credit: Health Tips Source)
Who said olive oil is just for the kitchen? Other than cooking, it can also be used to protect your skin, hair, and even your car.
To give your dashboard that newly bought glossy look, take a piece of cloth or coffee filter and give your dashboard and leather seats a proper wipe down.
Remember not to pour too much oil, otherwise, it will just leave you with a mess. Do this about once every few months, and you can save yourself the trouble of paying for car grooming services.

6) Visit Workshops in JB
(Photo Credit: Google)
Driving across the Causeway to find reputable workshops in JB can save you tons of money. After all, our currency is three times stronger than Malaysia's.
Savings aside, the hassle of driving across the Causeway might not be ideal to most. There is also the risk of running into dishonest workshops and mechanics. Motoring-related scams are quite rampant in Malaysia after all.
Then there is also the problem with the existing Movement Control Order (MCO) due to the COVID-19 pandemic. For those unaware, the Malaysian government has barred citizens from going overseas and foreigners from entering the country until 14 April 2020.
Until the COVID-19 situation improves, we will just have to make do with workshops in Singapore.
7) Always Remember to Park Your Car Under Shelter
(Photo Credit: Imgflip)
Besides the technical aspect of vehicle maintenance, the aesthetics portion is equally significant to some car owners.
If you're one that cares about car appearance, the simple act of parking under a sheltered lot will save you from unnecessary trips to the paint shop.
Besides keeping your car safe from bird droppings, parking under shelter can prevent harmful sun rays from damaging your paintwork and interior surfaces of your vehicle.
8) Consider Purchasing Refurbished Parts
(Photo Credit: Pexels)
There are times when specific original equipment manufacturer (OEM) parts are too expensive. However, you don't want to compromise and use parts that are not genuine for your car.
The solution to this? Refurbished parts!
The term refurbished refers to car parts that have been repaired and resold into the market. A simple Google search will show a list of scrap yards selling refurbished parts in Singapore.
Although this might be a good way of saving money, it could void the car's existing warranty. Therefore, you should check the warranty terms of your vehicle before fitting any refurbished parts.
9) Switch to a Lower Grade Petrol

(GIF Credit: GIPHY)
There are many speculations suggesting how premium petrol equates to better performance and higher longevity for your vehicle.
However, unless you're driving a luxury or sports car, there is generally not a need to spend extra money on higher octane petrol. This is especially the cases if you are driving a budget or economy car.
Cost-wise, you could save up to S$10 to $15 each time you head to the pumps when you switch from 98 to 95 petrol.
10) Source for Car Parts and Accessories Online
(Photo Credit: Pexels)
The automotive community can be very helpful sometimes. From Telegram groups to car forums, car enthusiasts will always be willing to offer advice.
This includes providing recommendations for parts and accessories online. In this digital age, many car owners turn to Taobao or AliExpress for their automotive needs.
These parts often come at a fraction of what car workshops might charge you and can save you a good amount of money when it comes to vehicle maintenance.
11) Read Your Owner's Manual
(Photo Credit: Pexels)
Just like software license agreements, the owner's manual in cars is often ignored.
Periodic references are essential as it is impossible to absorb all the essential guidelines that the manufacturer wants you to remember.
Through the simple act of reading, you could resolve specific vehicle issues without needing to head down a workshop. Never underestimate the power of reading, it could help you stretch your dollar!
Do you have any cheapo hacks that you would like to share? Let us know in the comments below!
Download the Motorist App
The easiest and smartest way to manage your vehicle in Singapore.
Download Now
Read More: 5 Valuable Lessons Motorists Can Learn from COVID-19

---
Download the new Motorist App now. Designed by drivers for drivers, this all-in-one app lets you receive the latest traffic updates, gives you access to live traffic cameras, and helps you manage LTA and vehicle matters.
Did you know we have a Motorist Telegram Channel ? Created exclusively for drivers and car owners in Singapore, you can get instant info about our latest promotions, articles, tips & hacks, or simply chat with the Motorist Team and fellow drivers.