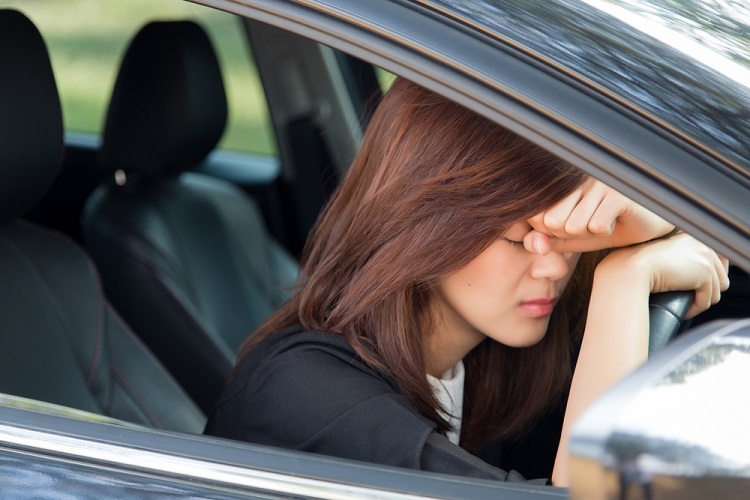 (Photo Credit: Shutterstock)

If you're a Singaporean or live in Singapore, you'd understand the stigma of Singaporeans being ''Kiasi''. For the benefit of some, this means that we're known to be overly afraid.
This applies to driving as well. In this article, we'll explore 12 things Singaporean drivers fear when they're driving.
1) ''Samans''
"Samans" is a Singaporean term for parking fines. We are notorious for our hatred for parking enforcers. For some, they even go the lengths of labeling these officers as "money suckers".
Ever seen coffee shop dwellers sprint to their vehicles whenever they see parking enforcers approaching? This can be quite the spectacle, as you would never imagine car owners having the capacity to run so quickly!
Sometimes, you will even get to see the collectivism of vehicle owners, working together to avoid being fined. Truly teamwork at its finest!
2) Getting Demerit Points
(Photo Credit: Straits Times)
In Singapore, drivers must strictly adhere to traffic rules and regulations. Failure to do so can result in demerit points. In the previous article, we've looked at the different fines and demerit points in Singapore.
It can be extremely irksome and frustrating when issued with demerit points. This is because you risk losing your licence and right to drive. This is made worse if fines come along with these demerit points.
So, ALWAYS follow traffic rules and regulation!
3) Traffic Jams
(Photo Credit: STOMP)
Traffic jams are the ultimate eyesore for road users worldwide. If you are an avid listener of the radio, you will often hear updates on traffic conditions island wide.
Fortunately, congestion in Singapore is not as bad in comparison with the world. According to the 2019 edition of TomTom's Traffic Index, we are only ranked 96th in the world in terms of traffic congestion.
This is credit to the measures by the Singaporean government to discourage driving through the COE scheme and the availability of world-class transport infrastructures.
Still, traffic jams are time-consuming. However, you can be intelligent and smart about your travels. Previously, we took a look at the roads in Singapore to avoid during the peak hour rush.
4) Scratches and Dents
(Photo Credit: Straits Times)
In Singapore, we don't have the luxury of big parking lots due to the scarcity of land. Very often, you'll find tightly congested spaces in-between cars, leaving little room for passengers to exit the vehicle.
The Land Transport Authority states that carpark spaces must be at least 4.8m long and 2.4m wide. However, times have changed and Singaporeans have an increased appetite for bigger cars.
With bigger cars and smaller lots, it is more challenging for passengers entering and exiting vehicles. With that said, it makes the occasional contact between two car inevitable. The result? Scratches and dents on the surface of your door.
For most owners, these scratches or dents are difficult to look at. This probably explains the spike in workshop visits by car owners.
These visits can be costly, which explains why drivers detest scratches and dents.
5) ERP
(Photo Credit: Money Smart)
The Electronic Road Pricing (ERP) is an electronic toll system to manage traffic through road pricing by usage. Similar to traffic officers issuing fines, ERP is also deemed as public enemy by car owners.
Most drivers would look to avoid these ERP gantries by looking for alternative routes or avoiding the gantry hours.
However, gone may be the days of ERP, as the Land Transport Authority (LTA) is exploring the option of using OBUs (On-Board Units). Drivers may soon regret and wish that the current ERP system would last. This is because the OBU system is more costly, as it tracks motorists based on distance they cover instead.
6) RoadBlocks
(Photo Credit: Straits Times)
Roadblocks can cause unwanted inconveniences and disruptions. Previously, we looked at the reasons why people get stopped at roadblocks.
As inconvenient as it is, roadblocks are still necessary. It helps to deter any illegal or vice activities, which contributes to the overall road safety in Singapore.
However, it is a long and tedious process. It causes major traffic disruptions, making drivers fearful of it!
7) Random Motorcycles Appearing from Nowhere

Roads are made for sharing and are not exclusive to cars. While switching lanes, most drivers fear random motorcycles appearing out of nowhere.

Failure to ensure the safety can be detrimental, as it endangers these motorcyclists.
After all, they do not enjoy the luxury of metal steel wrapped around them like cars, making them more vulnerable in accidents.
Therefore, drivers must do their due diligence and ensure safety whenever they switch lanes to avoid these random motorcycles!
8) Scraping your Car's Undercarriage from High Bumps
The heavy "thump" when driving over a high bump is something most drivers fear as well.
When you hear that sound, it is an indication that your car's undercarriage has just gone through a brutal beating, leaving scratches or dent as an aftermath.
Not only that, it might also cause unwanted stress to your car's suspensions as well!
9) Ferrying your Parents
When it comes to the concern of your well-being, best believe that Asian parents will be overly paranoid.
Driving, is no exception. Even though the car in front is 3 football fields away, they would still complain that you are uncomfortably near. Moreover, they would ALWAYS think that you are driving way too fast when you're actually not.
While harboring good intentions, these naggings can sometimes cause more panic and anxiety, something we all hate!
10) Driving Behind Big Vehicles
(Photo Credit: Straits Times)
Driving behind heavy-duty vehicles can be a massive headache. Not only are they slow, but it can be dangerous as well. The impact in the event of an accident may be negligent for these vehicles, but certainly not for you or your vehicle.
While driving behind them, debris might fall off onto to your windscreen, causing cracks.
11) Needing the Toilet While Stuck in Traffic
As mentioned, jams are massively hated by drivers in Singapore. But what happens when you really need to use the washroom?
It is not so worrisome for guys though, as there are quirky and unconventional solutions to this problem, aka water bottles or plastic bags.
We're not too sure about ladies though!
12) Taxi Drivers
Taxi drivers in Singapore are known to be notorious for being overly aggressive on the roads. There are alleged stereotypes that accidents involving taxi drivers are the costliest.
This is because their livelihood would be affected in the event that their vehicle gets damaged, and you would have to bear the cost. This probably explains the ongoing suggestions that taxi drivers in Singapore are likely to take advantage of driving recklessly and endangering others deliberately.
These are 12 things all Singaporean Drivers Fear. Did we miss anything out? Comment down below, we would love to hear from you!
Download the Motorist App
The easiest and smartest way to manage your vehicle in Singapore.
Download Now
Read More: 4 Thoughts Every East Sider Has When Driving to The West

---
Download the new Motorist App now. Designed by drivers for drivers, this all-in-one app lets you receive the latest traffic updates, gives you access to live traffic cameras, and helps you manage LTA and vehicle matters.
Did you know we have a Motorist Telegram Channel ? Created exclusively for drivers and car owners in Singapore, you can get instant info about our latest promotions, articles, tips & hacks, or simply chat with the Motorist Team and fellow drivers.