mReview: 2024 Volkswagen Golf 1.5 eTSI R-Line - Let's Tee Off!
Published by
Mutasim
on
16 Oct 2023
Hatchbacks have always earned a soft (parking) spot in my heart. If done right, they can be mighty fun little machines that just happen to be perfect for the usual grocery runs and city driving.
The Golf is the highest benchmark for any hatchback worth their salt, and comes in many different flavours, like the iconic GTI and R hot hatches. 
Even the base model is capable of delivering many smiles per gallon, as I had found out in a recent B-road bombing run towards Desaru with the kind folks from Volkswagen Group Singapore.
But what if you're in the market for something that sits comfortably in the middle, offering levels of affordability on par with the basic variant, but with all the looks of the range-topping R? The solution is simple: the Golf R-Line.
And this time, it's been retuned for COE Category A classification, making this sporty Golf an even more enticing proposition than ever before.
Every Bit as Handsome as Its 'R' Brother
Readers who've read our Golf R-Line review from last year will notice that from a design standpoint, this revised R-Line looks exactly the same as before.
From the aggressive body kit to the Bergamo Y-spoke alloy wheels, and down to the lowered sports suspension, you're looking at essentially the same car. 
But why mess with something that's already good to begin with? Its snarling front-end with widened intakes is still a visual showstopper, with a gorgeous LED lightbar that runs across the entire width of the bonnet, punctuated by a prominently positioned R emblem. 
And in this R-Line-specific shade of Lapiz Blue Metallic, it's quite the looker that receives a lot of attention on the road.
I'm still not a fan of faux exhaust tips, which the Golf R-Line is unfortunately equipped with. The Veedub's already gorgeous enough as it is, and having fake performance parts just cheapens an otherwise-excellent design.
But as far as criticisms go, it's a minor one that most folks are willing to overlook.
Give Some, Take Some
It's not enough for the Golf R-Line's cabin to be well-engineered. It has to look and feel premium too, being the de facto golden standard of what an upmarket hatchback is supposed to be. And that's what this model delivers in spades.
The Sardegna patterned fabric seats with Art Velour microfleece feel so soft and comfortable; perfect to relax in after spending a gruelling day at the office. I particularly love the retrolicious stripe motif adorning the upholstery. If more cars were as characterful as the Golf, I reckon the industry would be a lot more exciting for the masses.
Up front, the R-Line packs a 10-inch Discover Pro infotainment display on the dashboard, as well as a 10.25-inch Digital Cockpit Pro digital cluster for the driver. Both are straightforward enough for most users to navigate through without fuss, although finding the settings for the ESC is still annoyingly troublesome. 
And then there's the touch-based slider controls for the HVAC system under the infotainment display, which disappear from view completely in dimly-lit environments. Volkswagen CEO Thomas Schäfer has acknowledged this design flaw and promised illumination for future iterations, so that's something worth noting. But for now, you'll have to live with unlit controls.
There's ample amounts of space at the back even for full-size adults, a pleasant surprise considering the Golf's compact dimensions. Legroom and headroom are plenty even for taller adults above 1.75 metres, and ventilation is equally good with a separate (albeit single) climate zone. 
Rear passengers can also charge up their devices easily via two USB Type-C ports that are available on the rear centre console. Front occupants have their own pair of Type-C ports, and a wireless charging pad to boot.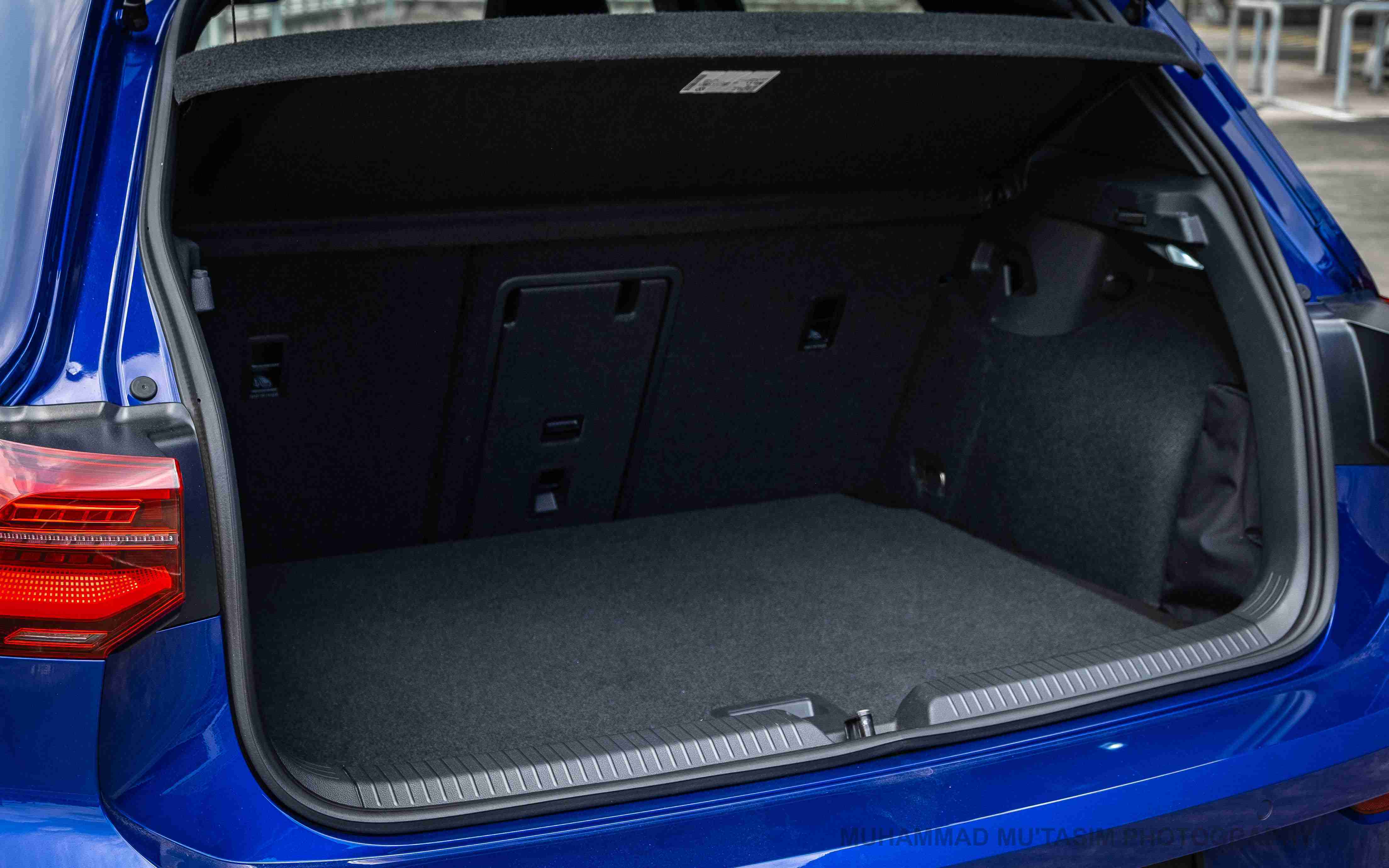 Flip the VW rear badge upwards, and the tailgate opens to reveal a 380-litre boot, sizeable enough for your grocery runs and storing of bulky items like a pram and/or luggages.
Apart from the 60:40 split rear seats that can be folded down completely for added cargo space, a single load-through hatch can be opened so that you can store long items horizontally.
Ready for B-Road Bombing
Perhaps the biggest changes done to this R-Line are the headline figures. Detuned to snugly fit into our utterly nonsensical COE Category A bracket, it now produces 129 bhp and 200 Nm of torque, a reduction of 21 horses and 50 Nm from last year's model respectively.
All of that power comes from its 1.5-litre EA211 turbocharged four-cylinder eTSI engine, and they're delivered to both front wheels via a seven-speed DSG transmission. 
It also swaps out the rear multi-links for a more traditional torsion beam setup, similar to those found in its Audi A3 cousin. 
What does all of this mean for the R-Line in terms of driving performance, then?
Surprisingly, not much of a difference from the Cat B R-Line. You'll definitely be poking the throttle a bit more to get it to perform at its peak, but it's by no means anaemic. 
There's still some pep to its step when you throw it around the corners, assuring you that its simpler rear suspension's competent enough to keep up with the constant road elevation changes and shifts in balance. Sure, it's not as razor-sharp in carving corners this time around, but it's still addictive fun. And when you're just looking to drive normally, the torsion beams provide a comfortable ride for all occupants.
Its competent MQB Evo platform also guarantees minimal body roll when the roads begin to look like an Initial D special stage, with the R-emblazoned semi-bucket seats helping to keep you planted. Better yet, they don't pinch your sides anywhere near as aggressively as those found in the Škoda Scala Monte Carlo. 
I'm also impressed by the steering feedback, which offers the driver a fairly precise and well-weighted reading of what the front wheels are doing. Even in heavy rain and poor driving conditions, the Golf R-Line remains thrilling to drive.
For the family-oriented car buyers, you'll also be happy to know that the Golf R-Line is a remarkably safe car, with a full five-star Euro NCAP safety rating, a laundry list of driver's assistance features, and six airbags as standard. 
And in terms of efficiency, the Golf clocks just north of 20 km/l thanks to its mild hybrid technology. Very commendable for a warm hatch that has no trouble keep up with some EA888-powered monsters along winding B-roads.
Best of Both Worlds
Not many cars today strike the perfect balance between being fun and practical, ICE-powered or otherwise. But the Golf R-Line somehow manages to do exactly that. As far as warm hatches go, this is the undisputed golden standard.
It really is a shame that our tax structure handicaps this remarkable little hatchback from achieving true sales success, and I sincerely hope the next scholar-bureaucrat leading our government agencies has the tenacity and cojones to change things for the better.
2024 Volkswagen Golf R-Line 1.5 eTSI Mild Hybrid Specifications
Price: $195,900
 CVES Band: A2


Motor:
Turbocharged inline-four
with mild hybrid technology

Capacity:
1.5 litres

Power:
129 bhp, 200 Nm


Transmission:
Seven-speed DSG

Driven Wheels:
Front

Consumption:
20.8 km/L

0-100km/h:
9.4 s

Top Speed:
213 km/h

Fuel Tank Capacity:
50 L


Dimensions:

4,284 mm x 1,789 mm x 1,491 mm

Cargo Capacity:
380 L
Download the Motorist App
The easiest and smartest way to manage your vehicle in Singapore.
Download Now
Photo Credit: Muhammad Mu'tasim (@mutasimdrives)
Read More: mReview: 2023 Skoda Scala 1.0 Monte Carlo - Scala-ble Fun
---
Download the Motorist App now. Designed by drivers for drivers, this all-in-one app lets you receive the latest traffic updates, gives you access to live traffic cameras, and helps you manage LTA and vehicle matters.
Did you know we have a Motorist Telegram Channel? Created exclusively for drivers and car owners in Singapore, you can get instant info about our latest promotions, articles, tips & hacks, or simply chat with the Motorist Team and fellow drivers.