When was the last time you saw a properly fun little city car on our roads?
It seems that nowadays, everyone's keen to jump on the aggro-design bandwagon. And while it's understandable on performance vehicles, seeing overdone sporty visual cues on regular family runabouts often left me scratching my head.
Which is exactly why when the new Toyota Yaris Cross was first introduced, it felt like such a breath of fresh air for many car buyers here. 
With its youthful yet refreshingly simple aesthetics, it does not pretend to be the next Tokyo Auto Salon star car, but an honest-to-goodness family hauler that simply works in all conditions. And with its impressive equipment list, this compact 'Yota a pretty darn enticing package.
Fun for All Ages
Toyota's latest compact crossover prides itself in being accessible to nearly every demographic that's out there. Just started a family and want a robust (and size-efficient) daily driver? Or are you a retiree simply looking for a straightforward vehicle for the usual grocery run?
With the Yaris Cross, your needs and wants are easily met – within reasonable limits, of course. Its Tomica-like dimensions means that you can navigate around even the tightest carparks in town with ease, and its short overhangs allow for very nimble parking manoeuvres.
Despite its 'Yaris' moniker, it does not share much visual similarities with its hatchback siblings, including the red-hot GR Yaris. The only obvious hints of their relationship are the rear tail lights, and even they have been mildly restyled here to fit the taller, more upright dimensions of the crossover.
Speaking of which, the Yaris Cross sits high at 1.59 metres, with plenty of plastic cladding along the wheel arches and side skirts to drive home the point that it's a soft-roader.
It wears a friendly face up front; a modest grille with a sensor panel for its active safety features, and a slight snout bearing Toyota's signature blue badge to indicate that it's a hybrid vehicle.
Disappointingly, however, cost-cutting is still evident on the Yaris Cross. Buyers of the entry-level Active trim like this press car will have to settle for halogen headlights, while the more premium Excite trim gets LED ones.
If other makers like Citroën can offer LEDs as standard on their competitively-priced e-C4, industry giants like Toyota should not have an issue matching their standard equipment list either.
Thankfully, the carmaker regains lost ground by offering buyers striking and unique colour options for the Yaris Cross, giving the vehicle more character.
Called the Urban Palette Collection, eight special colours will be available for the high-riding Yaris, including this soft shade of pink dubbed "Cherry Blossom" that feels right at home on the Barbie movie set. Plus, it's a vinyl wrap (and very well-applied, at that), so it can be removed relatively easily should you want to go back to its factory paintwork.
Simple Cabin That Just Works
It's a basic cabin inside, so it's best to keep your expectations tempered here. There are large amounts of hardy, scratchy black plastics on all four corners, which just a dash of metal-finish trim pieces to break the monotony. Again, it falls short against its contemporaries, many of which feature soft-touch plastics and other premium materials.
On the flip side, they are almost definitely going to last far longer than the vehicle's COE cycle, judging from Toyota's impressive track record. And for what it's worth, the panels are well-screwed together with virtually no squeaks and rattles to report.
The leather upholstery, while a bit stiff, is supportive enough for daily use and even has contrasting blue stitching with the "Yaris Cross" logo emblazoned on the front seats' backrests.
A nice visual touch is its instrument cluster, which features a pair of deeply recessed digital instrument binnacles within binoculars-like housings, and a screen at the centre. The more premium Excite trim also comes with a head-up display, which reflects critical driving information for the driver the windscreen.
Every single switch and button is within easy reach from the driver's seat, including the native 8.0-inch infotainment screen that's equally fool-proof with plenty of physical controls. There's also wired Apple CarPlay and Android Auto integration, so the in-cabin is not completely barebones.
Toyota could have done without the glossy black plastic surrounds which are fingerprint and dust magnets, however.
Its rear cabin is about as basic as it gets, which means you get neither AC blowers at the back, nor any USB outlets. 
The rear bench technically fits three passengers, but is best left for two full-size adults due to the floor hump. Space is also quite snug with rather tight knee room for passengers above 1.75 metres, although head room is not an issue due to the Yaris Cross' boxy dimensions. 
With 390 litres of boot space, the Yaris Cross can carry a few luggages with no issue. A wide and boxy aperture also means that loading and unloading bulky items can be done easily, though it has a relatively high load lip. 
Surprisingly Fun to Drive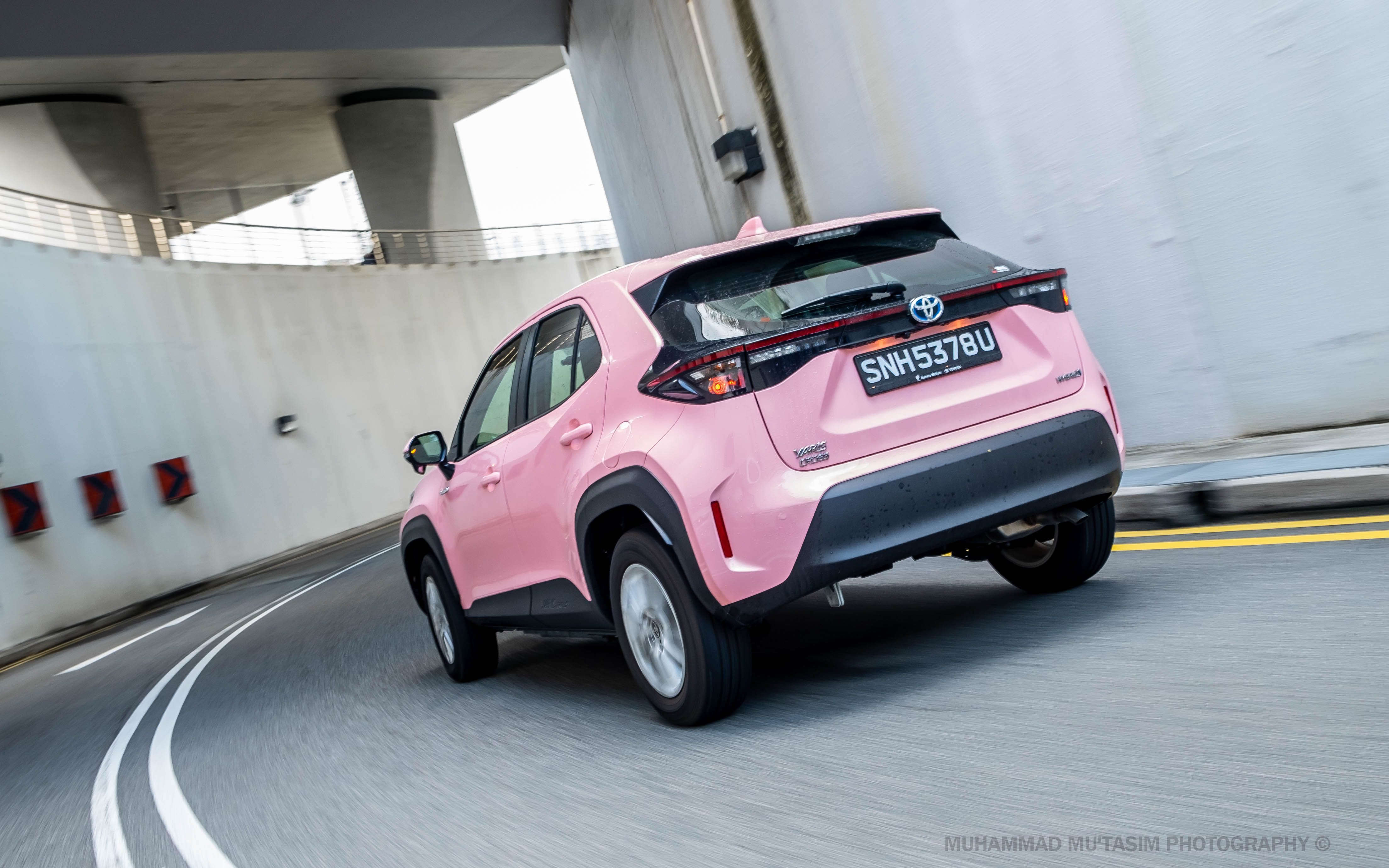 The Yaris Cross does not deliver GR Yaris-levels of performance – you probably already know that. But what is not as highly publicised is just how good this crossover is along the twists, even with its workhorse specifications.
It's surprisingly stable when cornering hard, with body roll kept in check thanks to its firm suspension and excellent TNGA-B platform on which it sits, shared with the equally excellent Sienta. And while you are not getting sports car-like steering feedback, it's quite light and nimble, without being completely numb to the driver. 
Along straight lines, it's also quite smooth, with the eCVT and hybrid systems working overtime to deliver a seamless if a bit uninspiring and noisy drive. With that said, external noises and vibrations hardly intrude into the cabin, so you can still hold a decent conversation with other occupants without shouting over. 
It's powered by a 1.5-litre M15A-FXE Dynamic Force three-cylinder engine, delivering 91 bhp when running on purely petrol. With Toyota's proven hybrid system lending a hand, the Yaris Cross puts out 110 combined horses and 120 Nm of torque. Hardly fire-breathing figures, especially with an 11.4-second century sprint timing.
But there's no denying that it's an extremely frugal powertrain, capable of returning just north of 26 km/L. Even with my lead-footed driving, I was unable to fully drain the fuel tank during the test period, which speaks volumes of its efficiency.
And then there's the impressive safety equipment list. The Yaris Cross comes with Toyota Safety Sense, which includes active safety features such as Dynamic Radar Cruise Control, Pre-Collision System, and Intersection Turning Assist. It's also equipped with eight airbags as standard, virtually non-existent on compact crossovers just a few years ago.
It's the Pragmatic Choice for a New Generation
The Yaris Cross faces an uphill battle today, appearing on the crosshairs of stiff competition like the Kia Niro Hybrid and Peugeot 2008. They all offer comparable equipment at similar prices, with arguably more premium looks & interiors to boot.
But here's my hot take. At the end of the day, very few of them can match the Yaris Cross when it comes to overall fuel efficiency and safety, factors that pragmatic car buyers here are prioritising. If you are not too fussy on fancy schmancy frills, and just want a car that serves you and your family's needs flawlessly, this mighty little Toyota should be right on top of your shopping list.
Toyota Yaris Cross 1.5 Active Specifications
Price: $169,888
 VES Band: A2

Motor:
Inline-Three Dynamic Force
M15A-FXE

Capacity:
1.5 litre

Power:
110 bhp, 120 Nm


Transmission:
e-CVT

Driven Wheels:
Front

Consumption:
26 km/L

0-100km/h:
11.4 s

Top Speed:
170 km/h

Fuel Tank Capacity:
36 L


Dimensions:

4,180 mm x 1,765 mm x 1,590 mm

Cargo Capacity:
390 L
Photo Credits: Photo Credits: Muhammad Mu'tasim (@mutasimdrives)
Download the Motorist App
The easiest and smartest way to manage your vehicle in Singapore.
Download Now
Read More: mReview: 2023 Toyota Corolla Cross - No Reason to be Cross
---
Download the Motorist App now. Designed by drivers for drivers, this all-in-one app lets you receive the latest traffic updates, gives you access to live traffic cameras, and helps you manage LTA and vehicle matters.
Did you know we have a Motorist Telegram Channel? Created exclusively for drivers and car owners in Singapore, you can get instant info about our latest promotions, articles, tips & hacks, or simply chat with the Motorist Team and fellow drivers.