Much like how the venerable Prius is to Toyota, the Niro is quickly becoming the de facto brand ambassador for Kia when it comes to mass-market hybrid runabouts.
The first-generation Niro followed the successes of other runaway hits from the Korean carmaker at the turn of the decade, such as the Optima and Sportage, all of which stunned crowds with their impressive build quality and elegant European styling. 
But perhaps what made the original Niro Hybrid most memorable to many was its extreme levels of efficiency, without having to resort to using a dreary wedge-shaped profile; an aerodynamic yet yawn-inducing design trait that have plagued many a Prius and Insight.
Fast forward six years, and we finally have its successor. Can the all-new Niro Hybrid replicate the successful formula of its other siblings and win the market over? Only one way to find out.
Not Resting on Its Laurels
While the previous Niro was already decent-looking for many folks, it did come across as a tad generic. Thankfully, however, Kia's resolved that problem with the latest model. It's now more angular and aggressive in design, with decidedly futuristic-looking LED light clusters front and back (LED headlights and rear signals are only reserved for the top-shelf SX variant).
The front fascia features a more evolved version of Kia's famed "Tiger Nose" design language, now with chrome strips running cleanly across the grille and angular DRLs zig-zagging along the headlights, as though the designers' mood board was filled with primarily images of Robocop and the Nokia-era Snake video game.
Even from other angles, the Niro Hybrid impresses. The rear fascia features a more rugged profile, with a metal-finish skid plate and a sloping rear roofline, with the tail light housing arching together with the latter seamlessly.
Contrast paintwork also comes as standard, with gloss black dominating much of the front and rear bumpers, as well as the lower section of the all four doors. Regardless of which paint option you select (ours was decked out in Cityscape Green), the colours look youthful and contemporary, yet restrained enough to appeal to more mature buyers.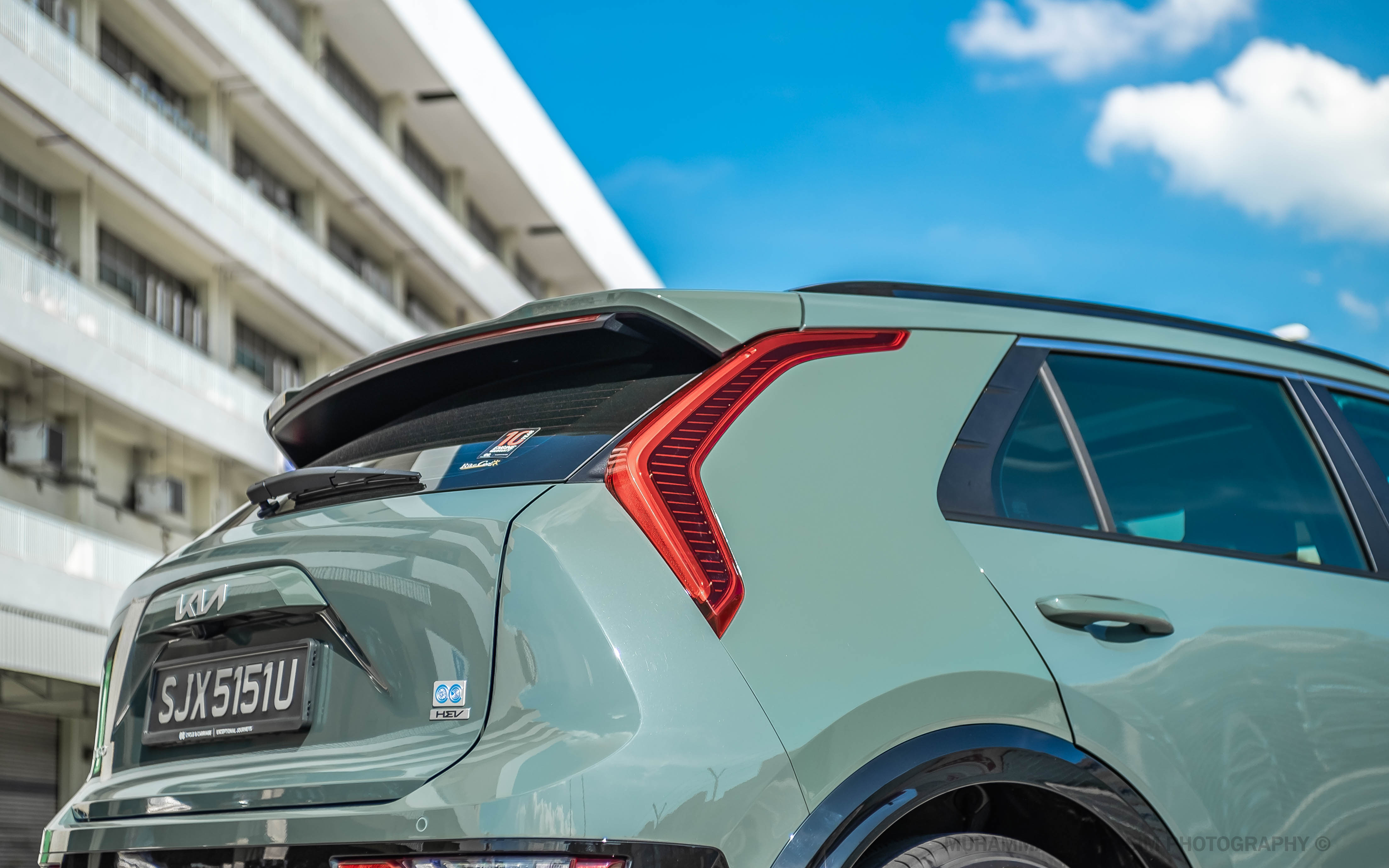 There's even a party trick, in the form of a "floating" C-pillar. A small gap exists between it and the main shell of the car. This allows for increased airflow and keeps static pressure to a minimum, which theoretically translates to even greater efficiency.
We can only think of a handful of cars that feature this unique element, and they all happen to be supercars. Well done for breaking the status quo and bringing this ingenious design to the masses, Kia!
Futuristic in All the Right Ways
It's similarly clever and futuristic inside too. You get a panoramic curved display with dual screens, a rotary gear selector, and a double-spoke leather steering wheel up front; much like what you get in the upcoming EV6 electric crossover. All the buttons and dials are tactile to the touch, and logically laid out. 
You also get soft-touch materials around the cabin, solidifying Kia's status as a purveyor of premium quality vehicles. Connectivity-wise, you get a 12 V socket and USB ports of various types up front, and even a Qi wireless charging pad. It also supports wireless Android Auto and Apple CarPlay.
Speaking of soft, the range-topping SX variant is wrapped in BIO artificial leather upholstery. Kia claims that this eucalyptus tree-derived material closely mimics natural leather, and I'd have to agree with this. 
The seats feel supple and plush, and the ventilation function made long-distance driving even more comfortable than I had ever imagined.
You even get the option to play various sounds of nature through the six-speaker system, should you ever want to get in touch with the Greenpeace side of you.
While there are signs of cost cutting, such as hard plasticky materials used on the centre console, they feel solid to the touch and do not rattle even on more uneven terrains. And most importantly, they blend perfectly into the rest of the upmarket cabin.
One major highlight of the interior space is the multi-function control panel at the centre. Flanked by two dials is a capacitive screen that does double duties — as both the HVAC control and a tuner for the infotainment system.
On HVAC mode, the dials allow both occupants up front to adjust the temperatures of their respective climate zones, while the matte-finish screen shows AC flow options, as well as the fan speed. 
Switch over to the infotainment mode, and the same screen now features a plethora of media options (shown above), with the dials acting as traditional volume/power adjusters as well as to toggle through radio frequencies. 
As someone who is not excited for a touchscreen-only future for HVAC controls, I think that this solution from Kia hits the right balance with the inclusion of physical dials and a crisp non-reflective display.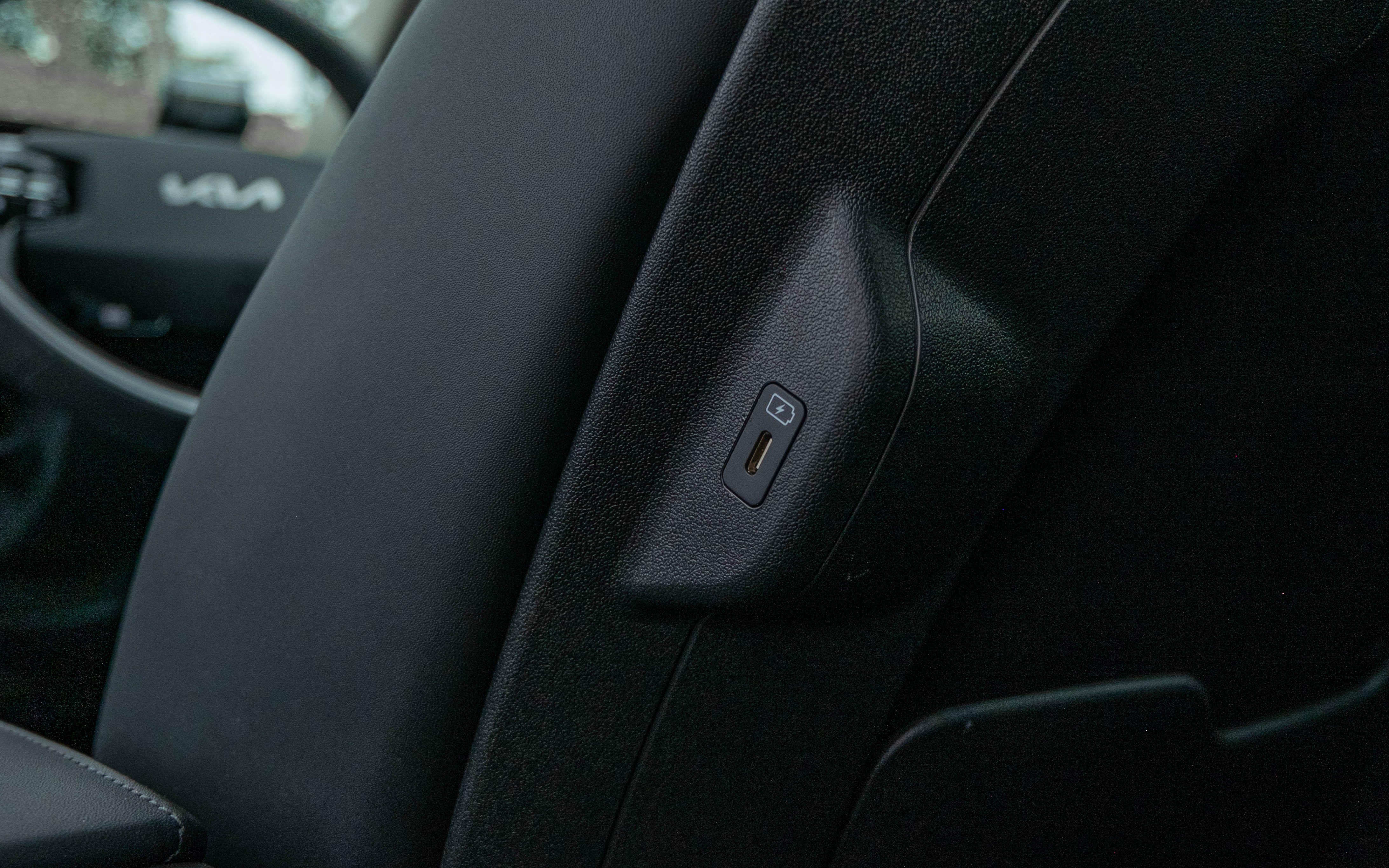 Rear passengers are not sidelined from the fun, either. You get the same eucalyptus tree-derived upholstery, ISOFIX seats, and rear AC blowers for maximum comfort. 
Most importantly (for a gadget-obsessed society, at least) is a USB charging port located at the back of both driver and front passenger seats.
And despite the sloping roofline which was mentioned earlier, the roof begins to taper down once it's past the rear headrests. In other words, even folks who are about 1.75 metres tall will find it comfortable to sit in, with plenty of space between their heads and the headliner.
Cargo space is generous, with 451 litres available for all types of needs and purposes. And as always, you have access to even more space once the 60:40 split rear seats are folded down and the rear tonneau cover is removed.
Comfortable and Efficient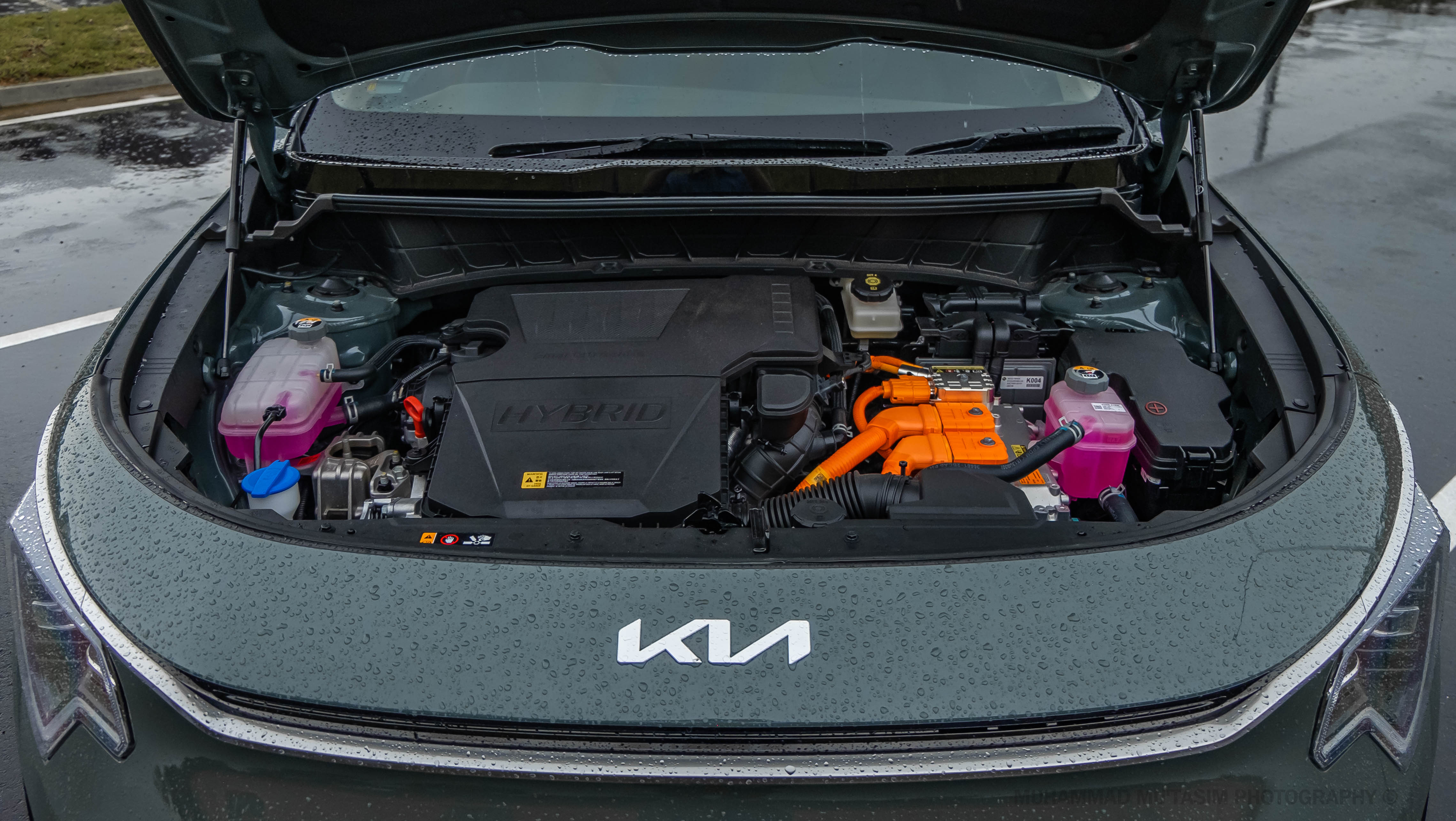 As expected, you will not be qualifying for the next F1 Grand Prix with the Niro. Powered by a Smartstream 1.6 four-cylinder engine and a 42 kW electric motor, you get only 130 horsepower and 265 Nm of torque. But as far as commuter cars go, these figures should be more than enough for daily driving around town or even for the yearly road trip to KL.
Where it truly shines is in terms of efficiency. Kia claims that it can clock 25 km/l, which is mighty impressive for a blockish-looking crossover. I managed to achieve 21 km/l, but that was with mostly rather lead-footed driving. There is very little doubt that the official figures are manageable, even without crazy hypermiling strategies.
Suspension is soft and pliant, but not overwhelmingly wafty. This means that on most road conditions here, the Niro Hybrid performs remarkably well. Add impressive sound insulation into the mix, and the Kia presents a rather compelling option if you want a quiet cruiser.
Power delivery is snappy, thanks to the six-speed DCT gearbox. Gear ratios are well-suited for urban environments, and if you want a bit more pep to your drive, it's as simple as pressing the Drive Mode button and engaging Sport mode.
However, don't expect it to perform like a Stinger. The Niro Hybrid is still by-and-large a compact crossover, and dislikes hard & enthusiastic driving, where its high centre of gravity and slightly dull steering come into the picture.
The Kia For All People
Is the Niro Hybrid the one to get now, then?
If your checklist involves premium build quality inside out mated to a contemporary design, a rather solid and comfortable drive, and Cat A-friendly pricing with stunning levels of efficiency to boot, the answer is a resounding yes.
This is one of Kia's most impressive vehicles to date, and the fact that it's designed for the masses first (and not as a specialty halo car), the carmaker deserves more recognition than ever before.
Kia Niro Hybrid 1.6 SX Specifications
Price: $178,999
 VES Band: A2

Motor:
Inline-4 with Electric Motor

Capacity:
1.6 litres

Power:
129 bhp, 144 Nm


Transmission:
DCT

Driven Wheels:
Front

Consumption:
25 km/l

0-100km/h:
10.4 s

Top Speed:
165 km/h 

Fuel Tank Capacity:
42 litres

Dimensions:

4,420 mm x 1,825 mm x 1,545 mm

Cargo Capacity:
451 litres
Photo Credits: Muhammad Mu'tasim (@mutasimdrives) & ACube Creative (@weareacube)
Download the Motorist App
The easiest and smartest way to manage your vehicle in Singapore.
Download Now
Read More: mReview: 2022 Toyota Sienta - A Sienta, But Not a Siesta
---
Download the Motorist App now. Designed by drivers for drivers, this all-in-one app lets you receive the latest traffic updates, gives you access to live traffic cameras, and helps you manage LTA and vehicle matters.
Did you know we have a Motorist Telegram Channel? Created exclusively for drivers and car owners in Singapore, you can get instant info about our latest promotions, articles, tips & hacks, or simply chat with the Motorist Team and fellow drivers.