Hydrogen-Powered Toyota GR Yaris H2 Hot Hatch Makes WRC Debut
Published by
Mutasim
on
31 Aug 2022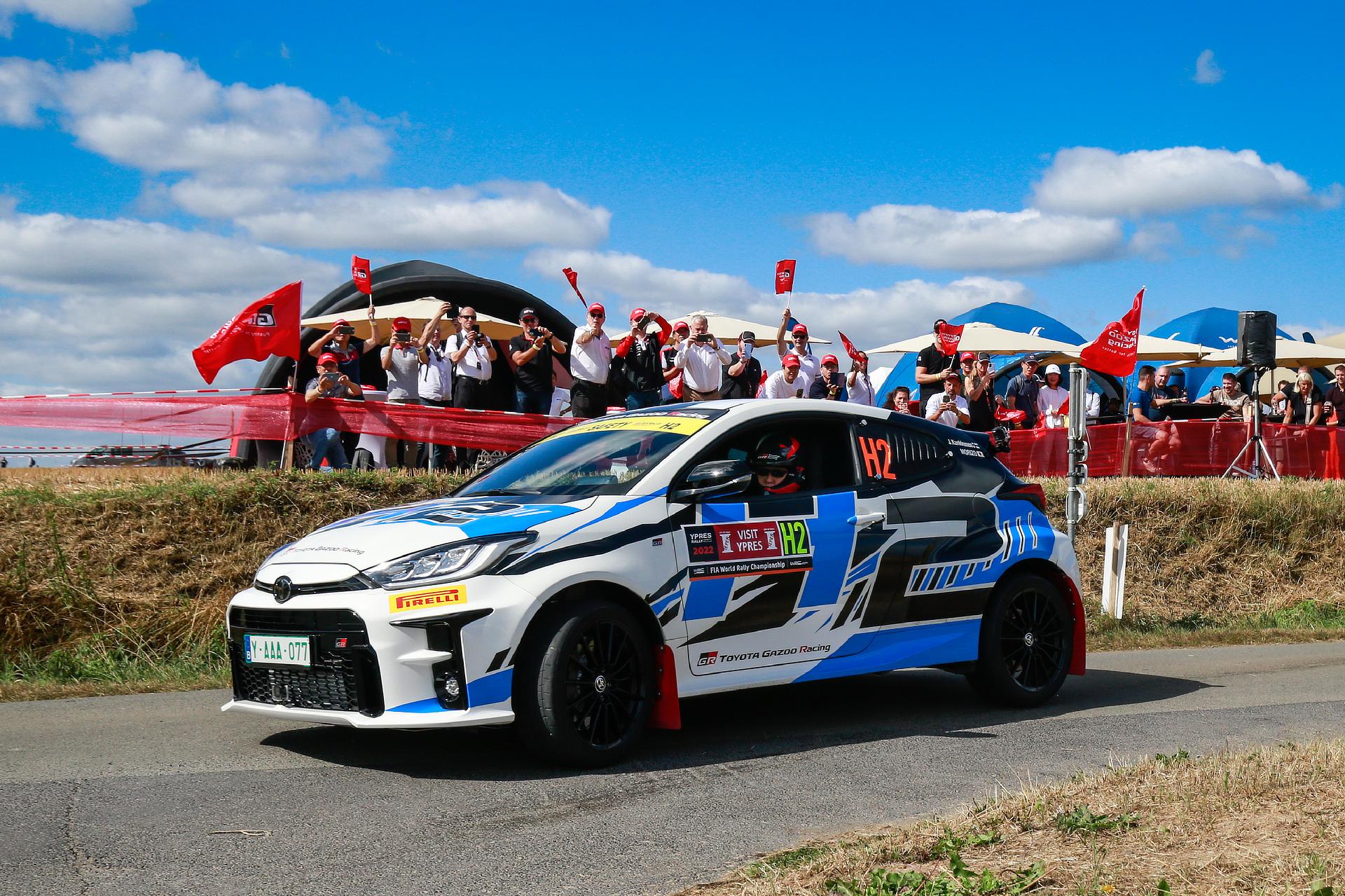 A breath of fresh air for car enthusiasts the world over! Toyota is not giving up on the internal combustion engine, and is instead steadily doubling down on refining their hydrogen R&D efforts to complement it.
Last week's Ypres Rally Belgium WRC event was proof of that, where the Japanese automotive giant brought their hydrogen-powered GR Yaris H2 experimental car out for a demonstration run in front of spectators. It is the first time that they've driven an under-development hydrogen-engine vehicle on public roads outside Japan.
The GR Yaris H2 test car barrelled across 15 kilometers along Special Stage (SS) 11 of the Belgian rally course, driven none other than Toyota President Akio Toyoda (under his "Morizo" racing pseudonym) himself, with Finnish former driver and four-time WRC champion Juha Kankkunen as co-driver. The course charted along extremely narrow farm roads that ran along fields and between houses, making for a very challenging stage even for seasoned rally drivers.
According to Kankkunen, "Akio's driving was great. And the hydrogen engine put out solid torque, making it no different from a gasoline engine. Because they emit zero CO2, I believe hydrogen engines will become one of the options for achieving carbon neutrality not only in the world of motorsports but also in the world of everyday cars."
This successful demo run, led by the company president no less, is a sign that hydrogen-internal combustion technology has improved massively and that Toyota is very confident in its long-term feasibility, especially since development only started in 2017. 
In a statement made by Akio Toyoda, "Motorsport is really a sport. I believe people get excited because sports stimulate our five senses, and that's why I want to keep the engine's vibration and exhaust sound in motorsports.
While we are trying to achieve carbon neutrality, we still want to keep the excitement. It was great that we were able to share that feeling in Europe."
While Toyota has made several attempts at making hydrogen mass-market cars in the past, including the Mirai, they have all been fuel cell vehicles, depending on chemical reactions to generate energy. 
In contrast, the GR Yaris H2 uses hydrogen as the fuel, while retaining the same G16E-GTS 1.6-litre three-cylinder turbocharged engine that powers the standard GR Yaris, albeit with modified fuel supply and injection systems for hydrogen application.
This is not Toyota's first rodeo in hydrogen-powered racing. Last year, the company unveiled their race-going Corolla Sport – also equipped with largely the same internals as the GR Yaris – which was also propelled by hydrogen-internal combustion technology. competing under the ROOKIE Racing arm of Toyota Gazoo Racing. 
The company stated last year that the hydrogen engine in the Corolla racecar has reached power parity with its traditional ICE equivalent, implying that there is still room for further development and for more power to be eked out. 
According to Toyota, if their hydrogen technology continues to mature, the idea of eliminating CO2 emissions by simply improving current gasoline-powered cars already on the road via hydrogen power will become a viable option.
Download the Motorist App
The easiest and smartest way to manage your vehicle in Singapore.
Download Now
Read More: Can Hydrogen Really Be An Alternative To An All-EV Future?
---
Download the Motorist App now. Designed by drivers for drivers, this all-in-one app lets you receive the latest traffic updates, gives you access to live traffic cameras, and helps you manage LTA and vehicle matters.
Did you know we have a Motorist Telegram Channel? Created exclusively for drivers and car owners in Singapore, you can get instant info about our latest promotions, articles, tips & hacks, or simply chat with the Motorist Team and fellow drivers.