When it comes to identifying exceptional luxury multi-purpose vehicles (MPVs), it's always the same few whose names come up in conversations.
At the very top of the list are the Toyota Alphard & Vellfire twins, which command a massive and loyal following in both the Southeast Asian region and its home market in Japan. This should come as no surprise, as the supersized Toyotas strike a near-perfect balance in offering class-leading comfort while assuring its owners of Toyota levels of reliability.
The Koreans have responded in kind with the new Hyundai Staria and Kia Carnival, both of which have largely succeeded in shaking up the establishment with their impressive equipment lists and real estate inside.
And now, German manufacturer Mercedes-Benz is determined to have a slice of that sweet, delicious pie. Enter the EQV 300, the brand's first-ever electric luxury MPV. It's silent, it's massive, and it's determined to knock the Asian giants down. The question is, has Mercedes-Benz gotten the formula right? 
Discreet and Stately Design
When it comes to dimensions alone, the EQV is simply unmatched. We've all heard of the expression "that thing is as big as a house". Well, get ready for a new expression with the Mercedes-Benz. It's as big as a house that ate a house.
Measuring at 5.1 metres in length, and just over 1.9 metres in both width and height, the EQV surpasses the Alphard in all measurements possible. It's not particularly suitable for HDB estates, however, due to its tall stature. Some multi-storey carparks have a 1.8-metre height limit, which means if you were to buy an EQV, chances are you'll have to find an open-air carpark elsewhere.
It's not the most exciting Benz to look at, with only LED lights, chrome strips, and roof rails to contrast against the slab-sided MPV. And unlike the Staria, its design does not push the envelope much, if at all.
On the other hand, the EQV serves as an excellent choice of vehicle should you want to be shuttled around the city while remaining incognito, even with the large Mercedes-Benz three-pointed star adorning the front grille.
All four corners are equipped with five-spoke alloys with thick 245/50 R18 tyres from Continental.
Its rear fascia, while unassuming in looks, does have a unique and rather useful feature – an openable rear glass window.
Once it's propped up by gas struts, the aperture allows you to easily store your luggage or remove them from the boot space without opening the massive rear bootlid. 
Unlike most other EVs out there, the EQV still retains its open grille, seemingly carried wholesale from the V-Class. The only elements that differentiate it from the internal combustion engine version would be EQV badges on its front fenders, and the massive charging flap on its front left corner.
All Business Inside
It's as big on the inside as it is outside, too. This electrified luxobarge is designed to swallow seven passengers whole, with sliding passenger doors on both sides. As such, ingress and egress is great.
And it isn't a compromised five-plus-two arrangement, either. Even with the dual Captain's chairs on the second row, the last row is roomy enough for three full-size adults to sit in absolute comfort.
For front passengers, it's fairly straight to the point, with a steering wheel and switchgear from last-generation Mercedes-Benz cars. Even the dials are fully analogue, with a slightly dated MBUX infotainment system at your disposal.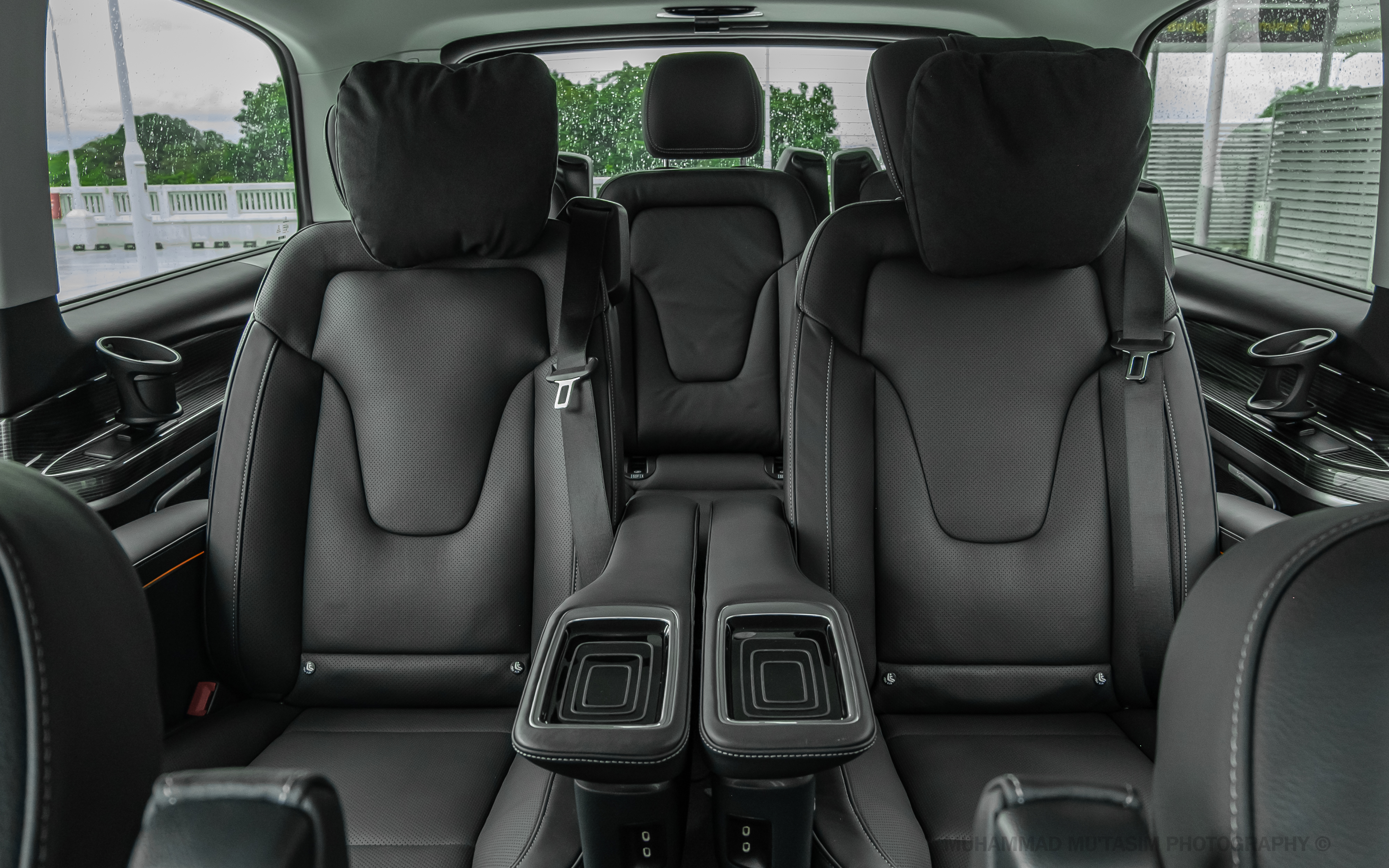 Having said that, you do get supportive leather seats, and both equipped with armrests. Connectivity options are also abundant, with USB ports, a wireless charging pad, and a 12V socket available. 
MBUX is not intrusive, and you can gain access to the EQ-specific vehicle data on the infotainment screen easily without taking your eyes off the road.
The second row is where things go full-on Business Class. Both seats can be pushed forwards or backwards via dedicated tracks on the floor. They can even extend to a fully reclined position via the side-mounted switches, complete with leg rests and ventilation for maximum comfort.
While the inner arm rests have no wireless charging pads (despite resembling like one), there are two USB Type-C ports on each of them to keep the occupants' devices charged up at all times.
Accessing the third row requires the captain's chairs to be pushed all the way to the front, but from there, getting inside is dead-easy. You even get ceiling-mounted HVAC switchgear with digital readouts, although having them located on the middle-row seats would have been a more practical choice.
Visibility od the outside world is excellent for a vehicle of this size. The large windows make looking out a fuss-free affair, and its wide side mirrors help greatly in identifying potential blindspot hazards, a much-needed criteria for such a wide MPV.
Its also comes with Mercedes-Benz's Driving Assistance Package, which includes active safety features like Blind Spot Assist.
But while the rear-view camera is high-res enough for parking, and even comes with a 360-degree bird's eye view, the 10-inch central display it's reflected on is far too small and comes with an unsightly bezel around the edges.
Speaking of practicality issues, folding the third-row seats was unreasonably complex during our testing. You'll have to pull on many a lever just to get each one of them down. The Kia Carnival, in comparison, is much more intuitive and folding them flat is a cinch.
However, there is no denying that the EQV is generous when it comes to space. Even with all seven seats up, you are looking at 1,030 litres of usable boot capacity.
Smooth and Silent
On the move, the EQV is silent and exceedingly comfortable...when you're seated behind. The plush head pillows and supple leather keep you well-padded as all 201 horses and 365 Nm of instantaneous torque propel the mobile living room forward. 
NVH levels are low, and the EQV's sound insulation does a great job in cancelling out external noises, making for a truly private lounge to do business or unwind in. It glides without much effort, and thanks to the 100 kWh battery pack, we clocked about 360 km worth of range on a single charge. Not bad at all for a 2.6-tonne behemoth.
For the driver, it's unfortunately not as comfortable. The EQV's suspension is exceedingly soft, which makes even the slightest turn at moderate speeds all rolly-polly. Its steering is also numb, but in its defence, the MPV is not engineered for trackday driving.
Our biggest complaint would be the EQV's brakes, which do not exactly bite when the pedal's initially depressed until almost 50% down the travel. Even with brake regeneration at its most aggressive setting, the MPV prefers to gradually come to a stop rather than with immediacy.
We think one of the contributors to this is its hefty kerb weight. As such, Mercedes-Benz should take note of this and optimise the brakes for future iterations to be a lot more responsive.
A Viable Alternative 
It's not a performance vehicle by any stretch of the imagination, so the key phrase here is to drive sensibly. It may be intimidating for first-timers, but the EQV quickly is easy to adapt to, even when it's trundling along narrow city streets.
However, if you are looking to be chauffeured around town in discreet style, the EQV 300 is a rather attractive alternative to the Alphard that provides all the bells and whistles you could possibly want, with a silent and efficient electric powertrain to boot.
Mercedes-Benz EQV 300 Specifications
Price: $444,888
 VES Band: A2

Motor:
Asynchronous Motor

Capacity:
N/A

Power:
150 kw (201 bhp), 365 Nm


Transmission:
Single-Speed Automatic

Driven Wheels:
Front

Consumption:
3.4 km/kWh

0-100km/h:
12.1 s

Top Speed:
160 km/h 

Battery Capacity:
100 kWh


Dimensions:

5,140 mm x 1,928 mm x 1,901 mm

Cargo Capacity:
1,030 litres
Photo Credits: Muhammad Mu'tasim (@mutasimdrives)
Download the Motorist App
The easiest and smartest way to manage your vehicle in Singapore.
Download Now
Read More: mReview: 2022 Mercedes-EQ EQS 450+ - Just Too Good
---
Download the Motorist App now. Designed by drivers for drivers, this all-in-one app lets you receive the latest traffic updates, gives you access to live traffic cameras, and helps you manage LTA and vehicle matters.
Did you know we have a Motorist Telegram Channel? Created exclusively for drivers and car owners in Singapore, you can get instant info about our latest promotions, articles, tips & hacks, or simply chat with the Motorist Team and fellow drivers.