With every revolution comes damage of a collateral nature. Leading the death march is the venerable internal combustion engine, slowly meeting its maker in the cold steely hands of our new electric overlords.
What's the price that we pay for this change? That familiar smell of burning petrol, or the unmistakable sound of multiple cylinders (or none, if you're a Wankel guy) firing in perfect harmony; all gone. Some may argue that this is a step forward, but for purists like me, it's downright sacrilegious.
But like many things in life, the art of survival lies in striking a balance between the two extremes, and reaching a compromise. Which is exactly what Maserati is trying to achieve with its latest Ghibli GT. It marries old-school petrol power with cutting-edge electrification – albeit in controlled doses for both – in hopes that it'll appeal to both the traditional car enthusiast and environmentally conscious buyer.
The question, then, is this: is the Ghibli GT any good at pulling off this balancing act?
Still a Visual Stunner
One look is all that's needed to know that the Ghibli is unlike most other executive saloons. From muscular wheel arches to a sleek and low-slung profile, the Italian exudes a sense of style that many of its contemporaries simply lack.
From a visual standpoint, you're essentially looking at a finely-cut Brioni suit that's competing against a sea of Marks & Spencer off-the-shelf selections.
Its width is further accentuated by the sleek L-shaped LED headlights and a wide chrome-accented grille, both of which are positioned very close to the ground. And as with other Maserati cars, you get a trio of side vents on each side, complete with a blue paint finish and admittedly naff-looking GT emblems.
Also found on both sides of the car is a pair of Maserati badges on the C-pillars, to remind other road users that you are in fact driving something special. 
Over at the back, the Ghibli GT is decked out with four exhaust pipes despite its four-cylinder nature (more on the engine details in a bit), LED lights with curvatures that follow the bumper crease quite beautifully, and a subtle spoiler incorporated seamlessly into the boot.
A set of 19-inch multi-spoke alloy wheels in gunmetal grey finish comes as standard, wrapped with Pirelli P-Zero 245/45 ZR19 tyres for maximum grip in high-speed conditions.
If we're being perfectly blunt, this is far from being the most exciting Maserati design-wise, and we'd settle for the more dramatic lines of the Noughties-era Quattroporte in a heartbeat. But there is no denying that when you park next to its Japanese or even German rivals, all eyes are on the Ghibli.
From a visual standpoint, you're essentially looking at a finely-cut Brioni suit that's competing against a sea of Marks & Spencer off-the-shelf selections.
Stylish Cabin But With a Few Compromises
When it comes to cabin design, leave the Italians to go all-out. The Ghibli's interior is kitted out with premium fine grain leather in a flashy shade of red, and is certainly not meant for you to go incognito.
Not your cup of tea? Maserati's got more than a dozen other colour combinations available for you to choose from, and has even collaborated with premium fashion house Ermenegildo Zegna to provide customers with a trio of leather-and-silk upholstery options.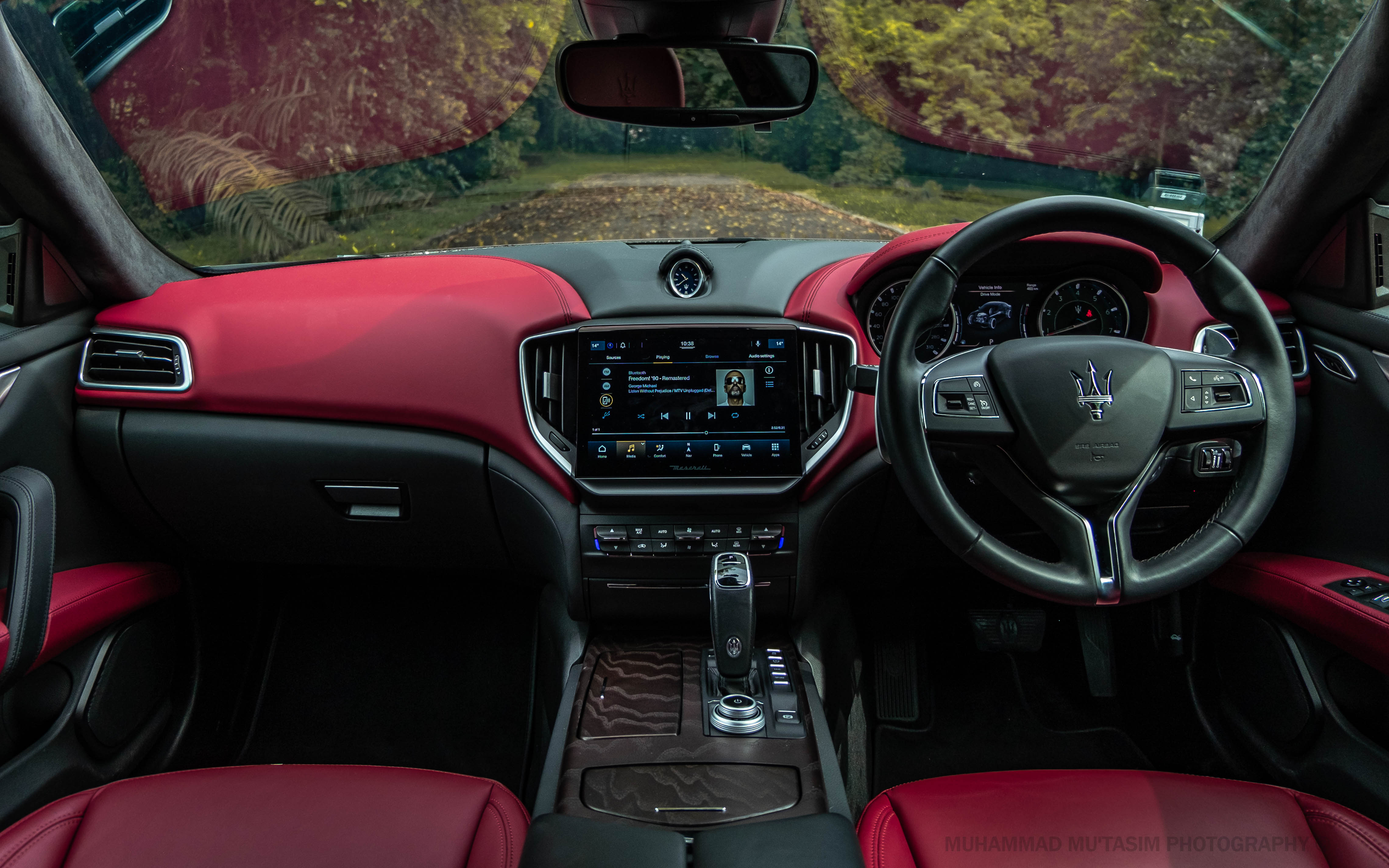 You practically sink into the plush leather seats once you're inside, which speaks volumes about its focus on making the in-cabin experience a properly luxurious one. Incidentally, it's also fitted with contrasting black leather and open-pore wood trims. 
Front and centre is a crisp 10.1-inch infotainment display that is not only very responsive and high resolution, but also plays ball perfectly with iOS and Android devices. We also appreciate Maserati's decision to retain physical controls for the HVAC system, although the buttons could be more tactile when pressed.
Radio settings can be controlled via the dials on the centre console, which is a neat touch. Not as intuitive are the audio controls mounted behind the steering wheel, which require you to figure out on the fly. Once you're acquainted with them, however, they are reasonably easy to use.
Driving modes too can be toggled between I.C.E. and Sport, the latter of which increases throttle response, more urgent gear shifts, and opens up the exhaust valves. 
A smaller display sits between the two refreshingly analogue dials on the gauge cluster, providing the driver with a plethora of vehicle information which can be toggled through via the steering wheel-mounted switches.
Fit and finish is unfortunately not the best on the Ghibli. The gear stick, while functional, is a tad stiff due to a more utilitarian type of leather and stitching that's used, and the phone holder next to the USB ports is best suited for very narrow or small smartphones. During our test, some of the plastic panels on the console were also creaking when light pressure was applied.
Apart from those few niggles, the cabin is quite practical and perfect for daily use. There's excellent visibility, and you have access to plenty of space, regardless of whether it's concerning legroom, knee room, or even headroom.
It's fairly roomy at the back too, with more than enough space for two full-size adults. Rear passengers get the same supple leather seats as you do at the front, and can expect a cool journey with the rear air-conditioning blowers.
We do not recommend an adult sitting in the middle seat, especially for longer drives, due to the prominent transmission tunnel hump on the floor.
Pop open the boot and you're greeted with 500 litres of cargo space, surprisingly cavernous for an executive saloon with sporty credentials.
Dancing on Ice
On the move, the Ghibli GT performs reasonably well for its intended purposes. It moves around town comfortably and quietly, with excellent sound insulation to shelter you from unwanted noises outside and pliant suspension to soak up all the bumps and road irregularities. It's then an out-and-out highway cruiser that refuses to be rushed.
This presents a conundrum, of course. What good is a Maserati if it's not loud, brash and mad? We can already hear your exasperated "But I want the full Maserati experience!" cries, and so has the car company. Thankfully, they have just the solution for you.
Remember the Sport mode button near the gear stick? Press that, and the Ghibli GT transforms into a very different machine.
The suspension system stiffens up, with the multi-links at the back providing the Ghibli GT with terpsichorean abilities that simply astound you around the twisties. Body roll is minimal, and its rear-wheel drive architecture gives the car a degree of driving fun and madness when you do push it hard.
Throttle response is also sharpened considerably, and the Ghibli GT climbs up the RPM meter with immediacy. Providing some aural pleasure is its exhaust system, which opens up the valves and fills the cabin with a delightful mechanical soundtrack. 
Steering response comes alive at the same time, encouraging the driver to throw the Ghibli around the bends at significant speeds while transmitting precise feedback to the steering wheel.
The eight-speed ZF auto, which feels rather numb and slow on the uptake with I.C.E. mode, suddenly takes on a more vicious persona once Sport mode is enabled, shifting through the cogs rapidly. Row them yourself through the satisfyingly clicky paddle shifters, and the sense of enjoyment increases exponentially.
While the powerplant is a modest 2.0-litre turbocharged four-cylinder that's shared with its Stellantis siblings like the Alfa Romeo Giulia we'd tested a while back, Maserati's engineers have managed to eke out even more horses and even mated it to a mild hybrid system. The result? 326 horses with 450 Nm of torque — enough to catapult you from a standstill to 100 km/h in just 5.7 seconds — and eventually bring you up to 255 km/h with enough runway.
You might be wondering, how are the economy figures like on this mild hybrid saloon? Maserati quotes it as having a fuel consumption of 10.5 km/l. During our test, it came very close to the official figures, achieving 10 km/l even without activating Sport mode.
If you're comparing the Ghibli GT to other mass market MHEVs, this is obviously not going to be the most efficient car on the block. In fact, it's almost as thirsty as some SUVs. But flip the context the other way round, and very few (if any) MHEVs actually compare to the Ghibli when it comes to driving pleasure.
A Flawed Yet Loveable Character
As it stands, the Ghibli GT presents itself as a form of compromise, attempting to deliver a classical Maserati experience while providing hybridisation technologies to adapt to these trying times. 
While you are certainly not getting 100% from either ends of the spectrum, there's an odd sense of charm that comes with the Ghibli that you simply cannot ignore. Its Jekyll-and-Hyde driving split-personality delivers fun in ways that only a handful of vehicles can brag about, let alone those from this category.
If you're willing to overlook its thirsty nature (and steep price), this lithe dancer might just be the one to win over your heart.
Maserati Ghibli GT Mild Hybrid Specifications
Price: $328,800 (w/o COE)
 VES Band: C2


Motor:
Turbocharged Inline-four
with Mild Hybrid

Capacity:
2.0 litres

Power:
326 bhp, 450 Nm


Transmission:
8-speed ZF automatic

Driven Wheels:
Rear

Consumption:
10.5 km/l

0-100km/h:
5.7 s

Top Speed:
255 km/h 

Fuel Tank Capacity:
80 litres

Dimensions:

4,971 mm x 1,945 mm x 1,461 mm

Cargo Capacity:
500 litres
Photo Credits: Muhammad Mu'tasim (@mutasimdrives) & ACube Creative (@weareacube)
Download the Motorist App
The easiest and smartest way to manage your vehicle in Singapore.
Download Now
Read More: mReview: 2022 Maserati Levante GT - A Luxurious (Mild) Hybrid SUV Done Right
---
Download the Motorist App now. Designed by drivers for drivers, this all-in-one app lets you receive the latest traffic updates, gives you access to live traffic cameras, and helps you manage LTA and vehicle matters.
Did you know we have a Motorist Telegram Channel? Created exclusively for drivers and car owners in Singapore, you can get instant info about our latest promotions, articles, tips & hacks, or simply chat with the Motorist Team and fellow drivers.