Maserati's attempt at building an SUV manages to stay true to the Italian brand's ethos. It is a move that is necessary for its survival, especially considering how popular crossovers have become.
Put those pitchforks and tridents (get it?) away - the fact is that at least the Levante uses a native Maserati platform, developed in-house by the Italian manufacturer for its own use. There are other European manufacturers that use rehashed, mass-market underpinnings to build their luxury SUVs on.
What this does mean, is that the Italian automaker is able to properly optimise and scale their chassis to allow them to effectively drape an SUV body, that stays true to the Maserati design language, over it.
Effortlessly Stylish
As you'd expect from the Italians, the Levante GT is one handsome looking SUV. All the elements you'd have come to know and love from a modern Maserati are present, albeit scaled to fit an enlarged body. Despite being an older design, the car still looks fresh today, and is more than capable of standing toe-to-toe with the latest and greatest that Stuttgart or Ingolstadt can put out.
There's real road presence too. This is partially due to the fact that you feel invincible driving a car that costs more than most BTOs, but mostly a result of its sheer size. It comfortably dwarfs many lesser crossovers when you pull up to them at a set of lights. You'll also realise that the car sports a sizeable grille too, which when paired with the prominently placed trident badge, makes for a real intimidating sight when viewed through a lesser car's rear view mirror.
The only thing that I'd really call 'small' on our test car, is its wheels. They are a touch undersized for a car of its stature, but that is a result of the GT serving as the defacto 'base' model - I'm sure you can option larger wheels for your Levante GT if you so desire.
Luxury On The Inside
A real plus of having such a large body shell is the space that is offered on the inside. You'd be hard pressed to find a sitting position that isn't comfortable in the cabin, with plenty of knee and headroom on offer. Of course, whilst it is true that luxury is defined by light and space, it helps to have quality materials to further elevate that experience.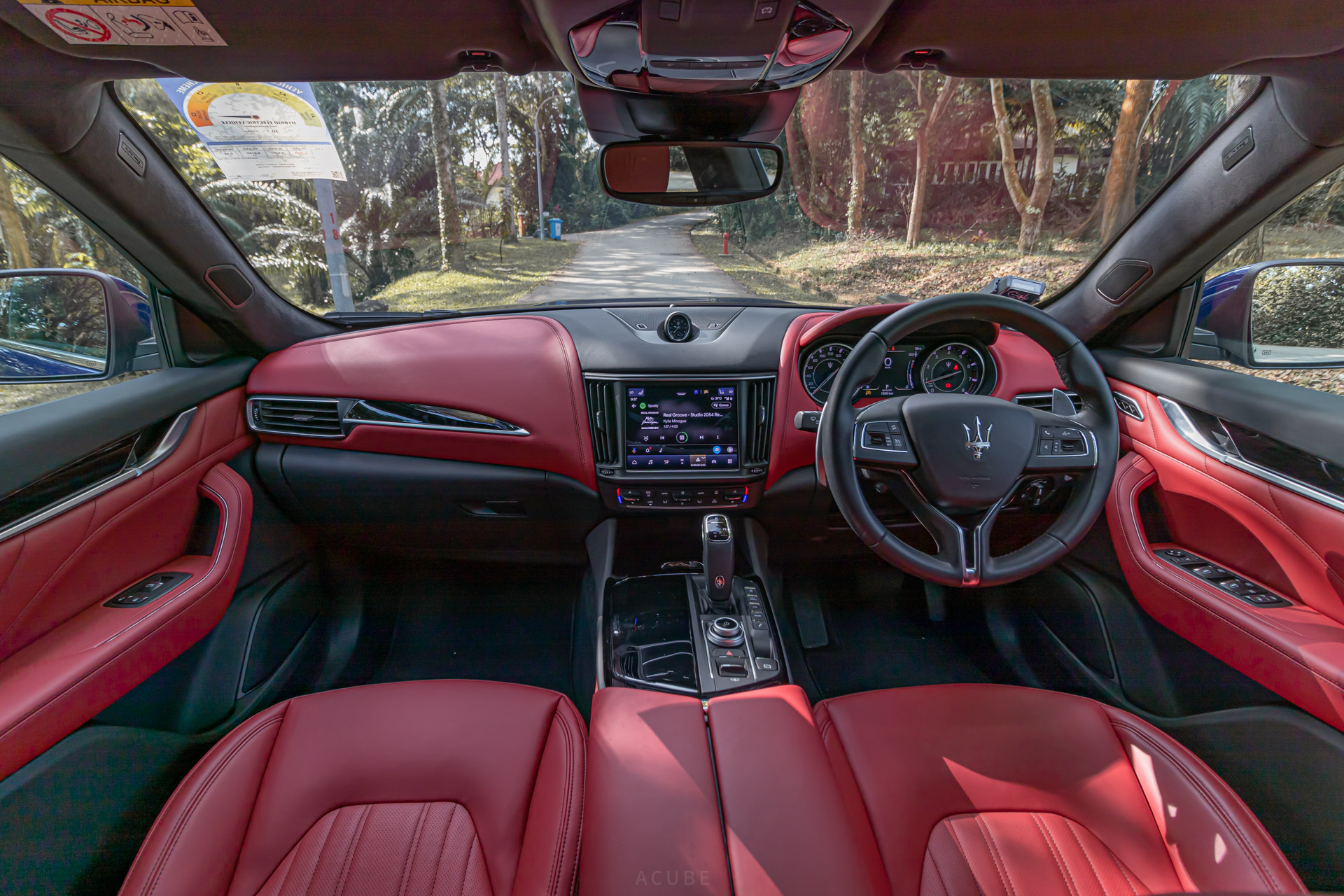 Don't worry (for the most part at least), Maserati has got you covered. The car has been blessed with swathes of supple leather, creating a pleasant interior space experience not too dissimilar to that of a luxury Italian boutique.
And whilst you can control many functions on the infotainment screen, I'm glad that Maserati opted to keep the HVAC controls on a separate tactile switch panel. Other tactile touches include the hefty aluminium paddle shifters and the drive select modes, which can be activated via individual buttons mounted on the centre console.
The Drive
Propulsion in this trim level comes courtesy of a 2.0 litre four banger sourced not from Ferrari, but from elsewhere in the FCA catalogue. In Levante GT guise, this engine develops 330bhp and 500Nm of torque, which Maserati claims is sufficient to propel this full-sized SUV to 100km/h from a standstill in just under six seconds.
There's a 48V mild hybrid system attached to this powerplant, which helps to improve its fuel economy by offering some electrical assistance to take some strain off the engine. Off the line, I felt little to no assistance from said mild hybrid system, with the combustion engine seemingly doing all of the work. Whilst not optimal for fuel economy, there's no denying that it actually makes a decent sound, staying true to the Maserati heritage.
You can definitely feel the increase in the power when the electrical assistance kicks in, helping to create a fairly linear torque curve from around 2,800 rpm and up. On upshifts, the eight-speed ZF gearbox doesn't feel as fast or as smooth as the other modern DSGs from elsewhere in Germany.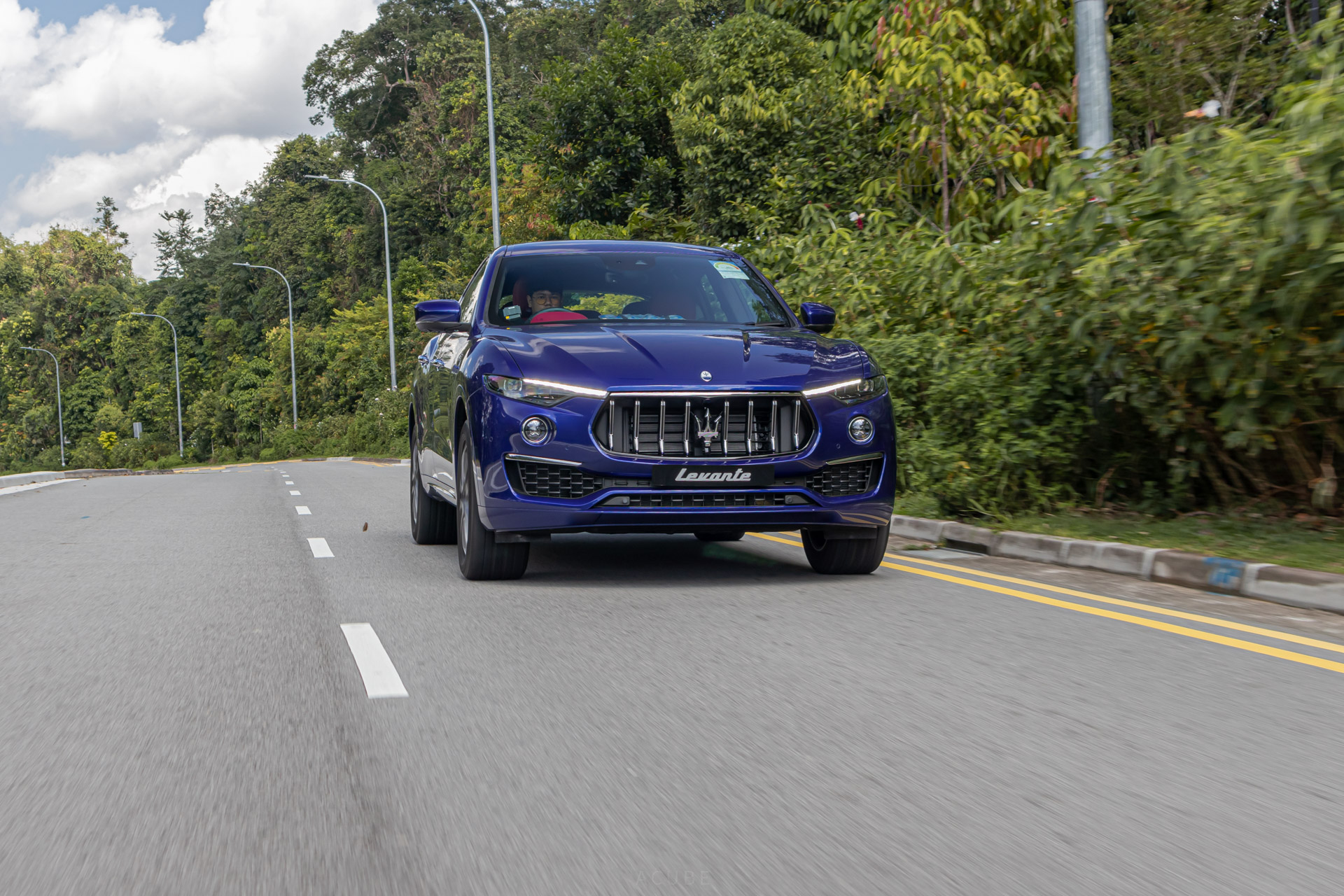 Though when the slight jolt, coupled with the crackle you get from each gear change, means that you actually end up enjoying the driving experience way more than a similarly-optioned SUV from elsewhere on the continent. On the anchors, you can definitely feel the heft of the vehicle, but at no point did the car ever become untamable or unruly.
Also, as you'd expect from a Maserati, the steering is tuned more for long-distance comfort than outright performance. Assistance is strong, and as a result you do not get much feedback from the front end, though this actually suits the car and its cruiser-oriented vibes.
I wouldn't recommend you drive this as hard as you would some other Italian SUVs, as it is clearly not meant for that sort of driving. But if you chose to do so, you'll find that whilst it doesn't offer the best overall driving experience, the car actually does a decent job in managing its weight, with only small amounts of understeer when the car is being properly sent.
Closing Thoughts
There are better priced SUVs on the market. In fact, this isn't even the only Stellantis SUV on sale in Singapore today. But there's one thing that all of its competitors lack - the privilege of being adorned with one of the most legendary automotive nameplates of all time. Those other cars lack the pedigree and the class that only a Maserati product can offer.
Sure, the infotainment screen may be dated and needlessly complicated. And yes, the fuel economy, even in this mild hybrid variant, isn't what you'd call 'ideal' (I achieved a little over 6.5km/l throughout my test drive). But what you're getting for your money, is an ultra capable, spacious, luxurious and stylish SUV.
More importantly, with a Maserati Levante GT, you are getting a bonafide luxury SUV built from the ground up as a Maserati. And in the eyes of its target market, isn't its cred a big bonus?
Specs
Price

S$368,800 (without COE)

VES Banding: C2
Performance

Motor: 2.0-litre turbocharged inline-four with 48V Mild Hybrid

Power: 330 bhp

Torque: 450 Nm

Fuel Consumption: 9.3 km/l

0-100km/h: 6.0 seconds

Drivetrain: Eight-speed ZF automatic, All-Wheel-Drive

Brakes: Ventilated discs (front & rear)

Suspension: Double-wishbone (front) / Multi-Link (rear)

Measurements

Dimensions (LxWxH): 5,005 mm x 1,981mm x 1,696 mm

Kerb Weight: 2,090 kg

Fuel Tank Capacity: 80 litres

Boot Capacity: 580 litres

Tyres: 255/60 R18

Features

Keyless entry

Electric front seats

Android Auto & Apple Carplay integration

Wireless charging pad

Automatic high-beam headlights (HDC)

Hill Descent Control (HDC)

Lane Departure Warning (LDW)

Front & rear parking sensors
Photo Credit: ACube Creative (@weareacube)
Download the Motorist App
The easiest and smartest way to manage your vehicle in Singapore.
Download Now
Read More: mReview: Alfa Romeo Stelvio Super - Sense and Sensuality in an SUV
---
Download the Motorist App now. Designed by drivers for drivers, this all-in-one app lets you receive the latest traffic updates, gives you access to live traffic cameras, and helps you manage LTA and vehicle matters.
Did you know we have a Motorist Telegram Channel? Created exclusively for drivers and car owners in Singapore, you can get instant info about our latest promotions, articles, tips & hacks, or simply chat with the Motorist Team and fellow drivers.