The Italians are naturals when curating a car that is drop-dead gorgeous, but has Alfa Romeo finally delivered a sedan that can be recommended without caveats?
Ask any non-car enthusiast on the street about one Italian car brand they know, and chances are most of them would reply either  "Ferrari" or "Fiat". Most of them may not even know the terms "Alfa" and "Romeo", and I don't blame them.
Alfa Romeo as a brand has never had a huge impact on our shores. Aside from a few dedicated enthusiast owners, there aren't many currently on our roads, which is a huge shame.
With the Giulia, and by extension Stelvio, the Italian marque is trying to make a resurgence here. This car made car enthusiasts the world over drool in excitement, but is it as good as its hyped to be?
Natural Distilled Beauty
Alfa Romeo is renowned throughout history for designing drop-dead gorgeous cars. The Giulia is no exception, and it attracts curious stares everywhere it goes.
However, unlike some of its predecessors, the Giulia should not be dismissed immediately as an irrational choice among executive saloon cars, even if it's far from an obvious one. It definitely has the substance to back up its style. 
Few car-manufacturing nations can offer a finer-looking vehicular breath of fresh air than the Italians, and this is one such model that can confidently take on the likes of other premium saloons such as the BMW 3 Series and Mercedes-Benz C Class, two big names which have already cemented their spots amongst the top of the leader-board.
If for some reason the original looks don't feel enough, customers can opt for an optional carbon pack which adds additional bouts of aggression in the form of carbon fibre skirts and rear spoiler.
These trinkets compliment the sporty bumpers well on the higher end Veloce trim, and the beautiful 19-inch telephone dial wheels do little in the way of concealing the bright red calipers tucked underneath.
In layman terms, it's perfect.
The gorgeous Italian flair continues on the inside
The design of the Giulia's cabin has a very driver-centric approach. Everything is where you need them to be, and everything is within grasp. Good start so far.
Premium leather upholstery wrap the fully electric sport seats nicely, with embossed logos etched into the headrests.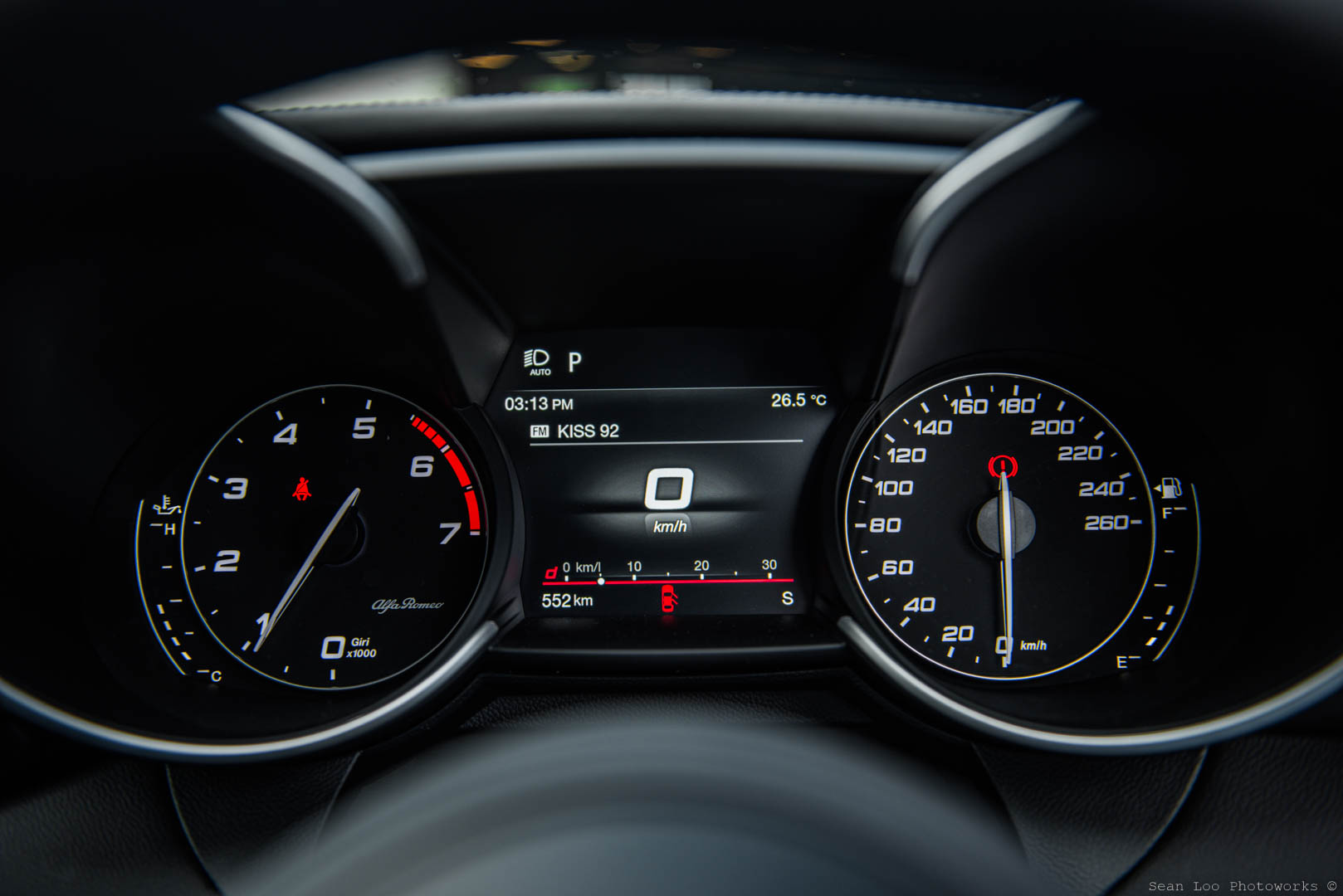 The Giulia doesn't sport any fully digital gauge clusters, but the contemporary dials work just fine.
The LCD panel in the middle provides helpful driving information such as your current speed. A very handy feature when you're glancing down to make sure you're not speeding; something you'll be tempted to do a lot in this thing.
Personally, I really adore the monochrome logo on the steering wheel; not drawing too much attention away from the rest of the cabin, but still imposing enough that it looks fantastic. 
Various function buttons adorn the stem of the steering wheel, providing you quick access to features like cruise control or media controls. While these are convenient, the plasticky feel of the buttons do detract from the overall premium experience.
This is a recurring theme that plagues the otherwise beautiful cabin. Poring over the materials in the Giulia serves up a plate of confusion as there is a mix bag of wonderful and terrible elements. On one hand, you have the big metal shifter paddles on the steering column that click with wonderful solidity and are machined exquisitely.
On the other, you have basic, uninspiring and frankly shoddy parts. The dials on the centre console and the column stalks feel like they are falling apart, and the way the seat belt taps repeatedly on the B-pillar if there's no passenger is infuriating while driving.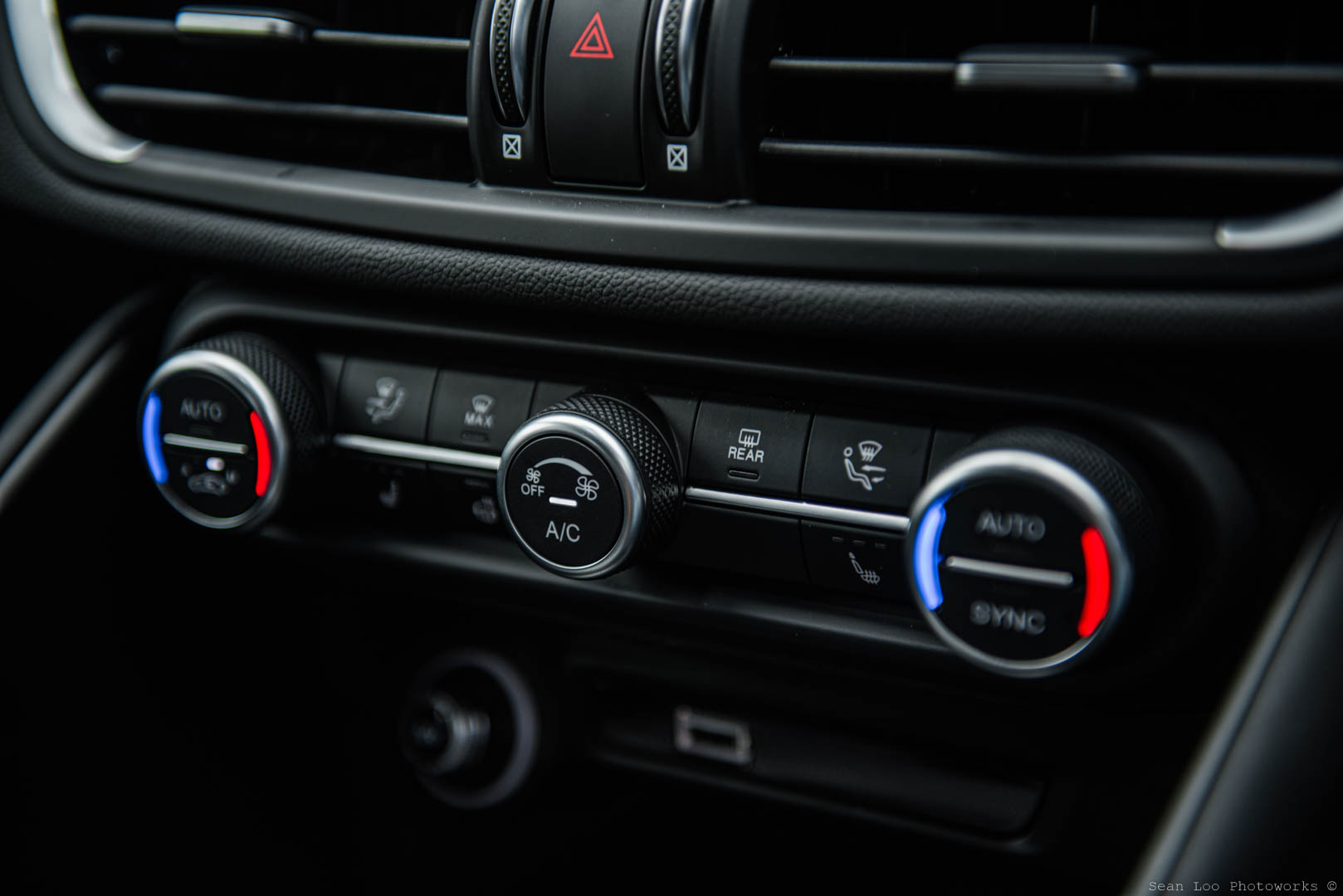 The Italians really know how to design a car… visually. Once you add functionality to the equation, things start to get more hazy.
The infotainment screen, whilst responsive, is cumbersome to navigate. Even something as simple as selecting a radio station requires some skilful manoeuvring.
However, props to the designers for having both touch and tactile buttons built in, giving you different options for navigating the infotainment system.
Space in the rear is sufficient for 3 adults, although the middle passenger would have awkward legroom due to the raised transmission tunnel that runs down the length of the cabin.
The rear seats feature heating functionality too, alongside USB charging ports.
480 litres of boot space are available at your disposal, with the seats being able to fold down 40:20:40 should you require more room. 
It's not the biggest in its class, but small details like mounting points enable you to secure items down, a big plus if you want to keep your cargo intact after some exuberant driving. Trust me, in this car the probability of it happening is 100%.
Dedicated driving machine
Dynamically, Alfa Romeo has knocked it out the park with the Giulia. No matter which spec you get, the Giulia has the inherent feeling of a proper driver's car.
The seating position is superb thanks to good bolstering, steering fantastically quick and it has impressive balance than its rivals, giving the Giulia and a more playful edge over the competition. 
The local Giulia comes in two variants - the less powerful Super and the souped up Veloce. With 280bhp and 400Nm of torque at your disposal, this Veloce test unit was an absolute treat to drive.
Crucially, the Veloce trim features a limited slip differential (LSD), dubbed Q2 by Alfa Romeo. This enables you to really put the power down even when cornering more "enthusiastically". The car doesn't fidget too much in the corners, which is impressive for a rear wheel drive, traditionally tail happy car.
This puppy can complete the century sprint in just 5.2 seconds. As much as its quick, the power is also fairly easy to get used to, with a host of safety systems to keep you in check.
3 driving modes can be selected with the twist of a dial - Dynamic, Natural and Advanced Efficiency, aptly named Alfa Romeo DNA. But I'll be honest, most of the time spent with the car had me defaulting to Dynamic mode. It just makes the car feel so much more alive and poised.
To me, the thing that catches you most is the sound. Although this is not the top-of-the-line Quadrifoglio model, the sound it produces is still intoxicating.
Each time I approached a tunnel, I employed the usual procedure - drop the windows, turn off the radio, and give the accelerator an energetic blip. Sound alone gives me all the convincing I need to want one of these.
The beauty of the Giulia is that it can be sensible when it needs to. After all the fun on the b-roads, it works as a civilised cruiser that can carry your family comfortably. Parking is also a fairly easy task with the various cameras and sensors guiding you.
This car really presents a unique experience. Drive your kids to tuition fuss-free, then once you drop them off just drop a gear and disappear, albeit in a symphony of sound.
The burning question now is - what colour are you getting?
There are not many cars I've tested that gave me a buzz much like the Giulia does. It truly is something special.
You feel invigorated driving this, and it has that unique Italian flair that cannot be replicated in most other cars. Sure, it's not the most reliable car by any stretch, but think of it this way - you still look good standing still… by the side of the road, waiting for the tow truck to arrive.
It's like having a young child. They require your attention most of the time, and sometimes cause a mess wherever they go. But, through it all you still love your kid, and wouldn't trade it for anything else in the world… see what I mean?
If you are someone brave enough to put down a deposit for one of these, I guarantee you'll be leaving the showroom smiling ear to ear.
Quintessentially, it's art in motion.
Specs
Price

S$278,000 (inclusive of COE)

VES Banding: B
Performance

Engine: 2.0-litre turbocharged inline 4-cylinder

Power: 280 bhp

Torque: 400 Nm

Fuel Consumption: 14.7 km/L

0-100km/h: 5.2 seconds

Drivetrain: 8-speed ZF automatic, rear-wheel drive (RWD Q2)

Brakes: Ventilated discs (front & rear)

Measurements

Wheelbase: 2820 mm

Dimensions (LxWxH): 4,643 mm x 1,860 mm x 1,438 mm

Kerb Weight: 1,530 kg

Fuel Tank Capacity: 58 litres

Boot Capacity: 480 litres

Features

Android Auto & Apple CarPlay Integration

Alfa Connect 3D Nav Infotainment System

Front & rear parking sensors

Keyless Entry

Wireless charging pad

Automatic high-beam headlights (HDC)

Hill Descent Control (HDC)

Lane Departure Warning (LDW)

Forward Collision Warning (FCW)

Autonomous Emergency Brake (AEB)

8-way electric & heated front seats
Photo Credits: Sean Loo (@cookiesncremee)
Download the Motorist App
The easiest and smartest way to manage your vehicle in Singapore.
Download Now
Read More: mReview: Alfa Romeo Stelvio Super - Sense and Sensuality in an SUV
---
Download the Motorist App now. Designed by drivers for drivers, this all-in-one app lets you receive the latest traffic updates, gives you access to live traffic cameras, and helps you manage LTA and vehicle matters.
Did you know we have a Motorist Telegram Channel? Created exclusively for drivers and car owners in Singapore, you can get instant info about our latest promotions, articles, tips & hacks, or simply chat with the Motorist Team and fellow drivers.