The EV party is currently in full swing, and there's now a compelling electrified option for just about every car category out there. From balls-to-the-wall insane flagship saloons to sensible commercial vehicles, there's something for everyone in this post-dinosaur fuel age.
Well, almost.
For a while now, the only option available for a seven-seater electric SUV was the Tesla Model X with its fancy pants falcon-wing doors, and it was only brought in via parallel importers. Market response was unsurprisingly cold, given its high price and lack of infrastructure back then. You had a better chance of getting seven nuggets in a six-nugget meal than spot the American SUV on our roads.
But now there's a new player in town seeking to dominate this largely uncharted category. It's called the Mercedes-Benz EQB, and it may very well be the German brand's next electric best-seller.
That looks familiar...
That's because it does. Save for the now-swoopy front and rear fascias, the EQB is nearly identical to its petrol-guzzling GLB twin. They share the same general design inside-out, down to the window lines. And if you peel back the sheet metal, they even share the same Mercedes-Benz MFA2 platform.
Not that it's a bad thing, of course. The GLB has proven itself to be a fairly robust daily driver, and the sheer number of units on our roads today is testament to that. With the EQB, it's all about refining that successful recipe and then shoehorning their latest-and-greatest electric bits into it. 
Like all other Mercedes-EQ products, the front grille isn't so much of a grille, as it is a solid slab of gloss black hardy material. You get double horizontal chrome accents (which Mercedes-Benz dubs as a "twin blade design) with the Three-Pointed Star emblem sitting prominently at the centre, and a pair of all-LED lights flanking them.
You also get a continuous LED light strip running across the front and rear fascias, which further accentuate the EQB's futuristic looks.
Opt for the AMG Line model such as our press car, and you get a set of 20-inch multi-spoke light alloy wheels as standard, complete with a set of sticky Pirelli P-Zero tyres. 
So what's changed inside?
Not much if you've had a taste of the GLB before, which again, is not a bad thing. The cabin is still well-appointed with supple leather and soft-touch materials. We get physical switches for the HVAC controls and a pair of 10.25-inch screens for the infotainment and digital gauge cluster displays.
In-cabin mood lighting is also customisable, and the panel on the front passenger side lights up with a pixel grid-like motif.
Like the CLS 53 AMG which we reviewed recently, you get MBUX on the EQB. While the system is vivid and crisp in terms of displaying critical information, there were times where it simply felt overwhelming.
As with all other modern Benzes, selecting the gear requires you to use the right-side stalk behind the wheel. Brake regeneration intensity can also be toggled via the paddle shifters.
Pull the right paddle and you get the sensation of a traditional car coasting once the accelerator pedal is lifted off with minimal regen action. Pull the left one to bring maximise it, you can essentially drive the car with one pedal since the braking is quite potent.
You get fairly supportive leather seats with contrast stitching and adjustable under-thigh support, with storage bins aplenty throughout the cabin.
The second-row seats are just as comfortable, with more than enough space for folks above 1.75 metres tall to sit in with ease. Legroom does suffer a bit due to the floor-mounted battery, but it's not a dealbreaker by any means.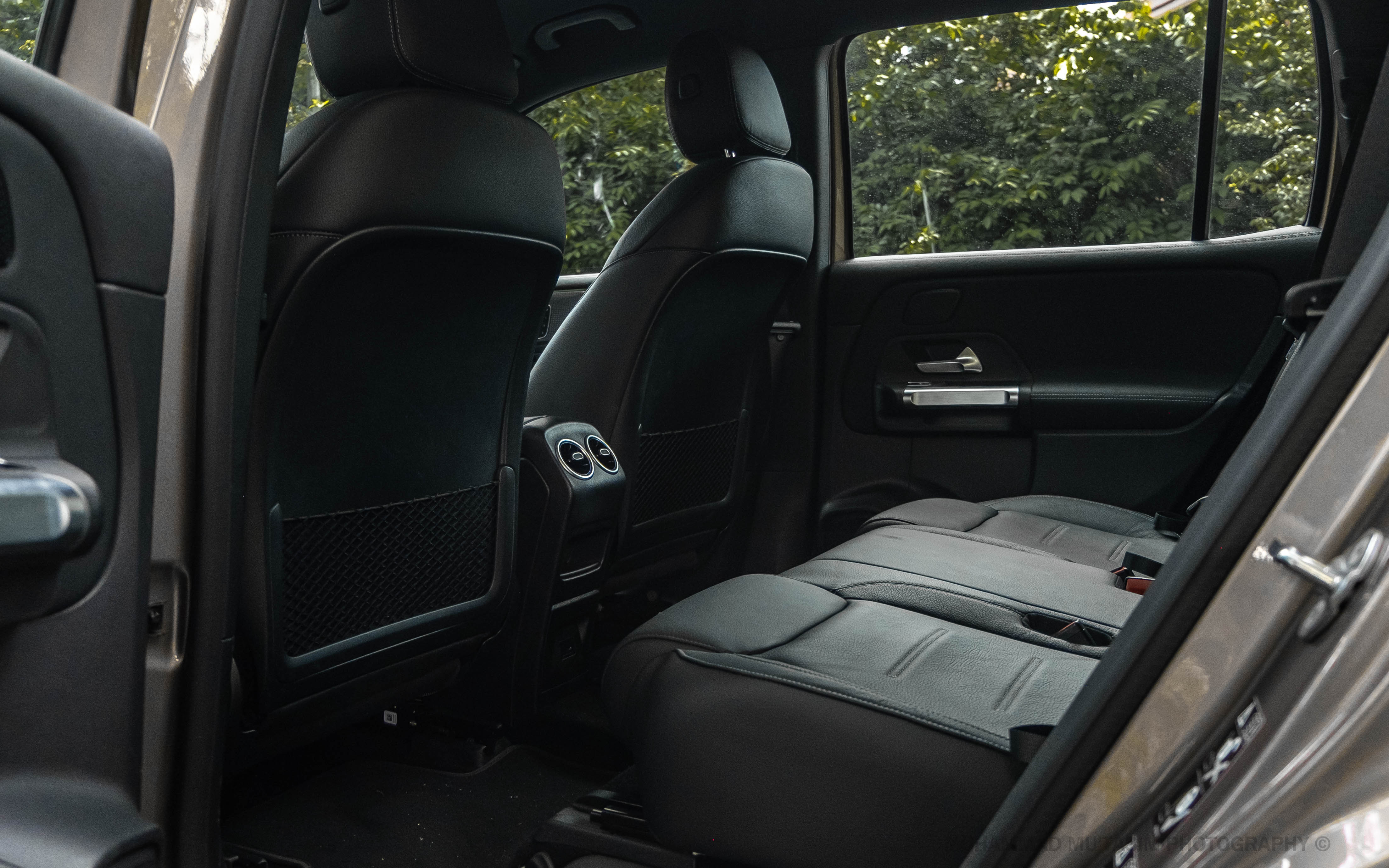 There are rear AC blowers and USB charging ports for maximum comfort, especially on long trips. And because the window apertures are wide, you do not feel claustrophobic inside despite the dark interior.
The seats are all ISOFIX-rated, which should ease any worries from young parents reading this.
In order to access the third-row seats, the second-row ones have to be folded down. This is fairly straightforward, with the 40:20:40 configuration. Once at the back though, you realise that the EQB is best described as a five-plus-two-seater SUV.
The two seats at the back are much more suitable for young children. Adults can fit inside, yes, but only for short runabouts before things get a bit cramped.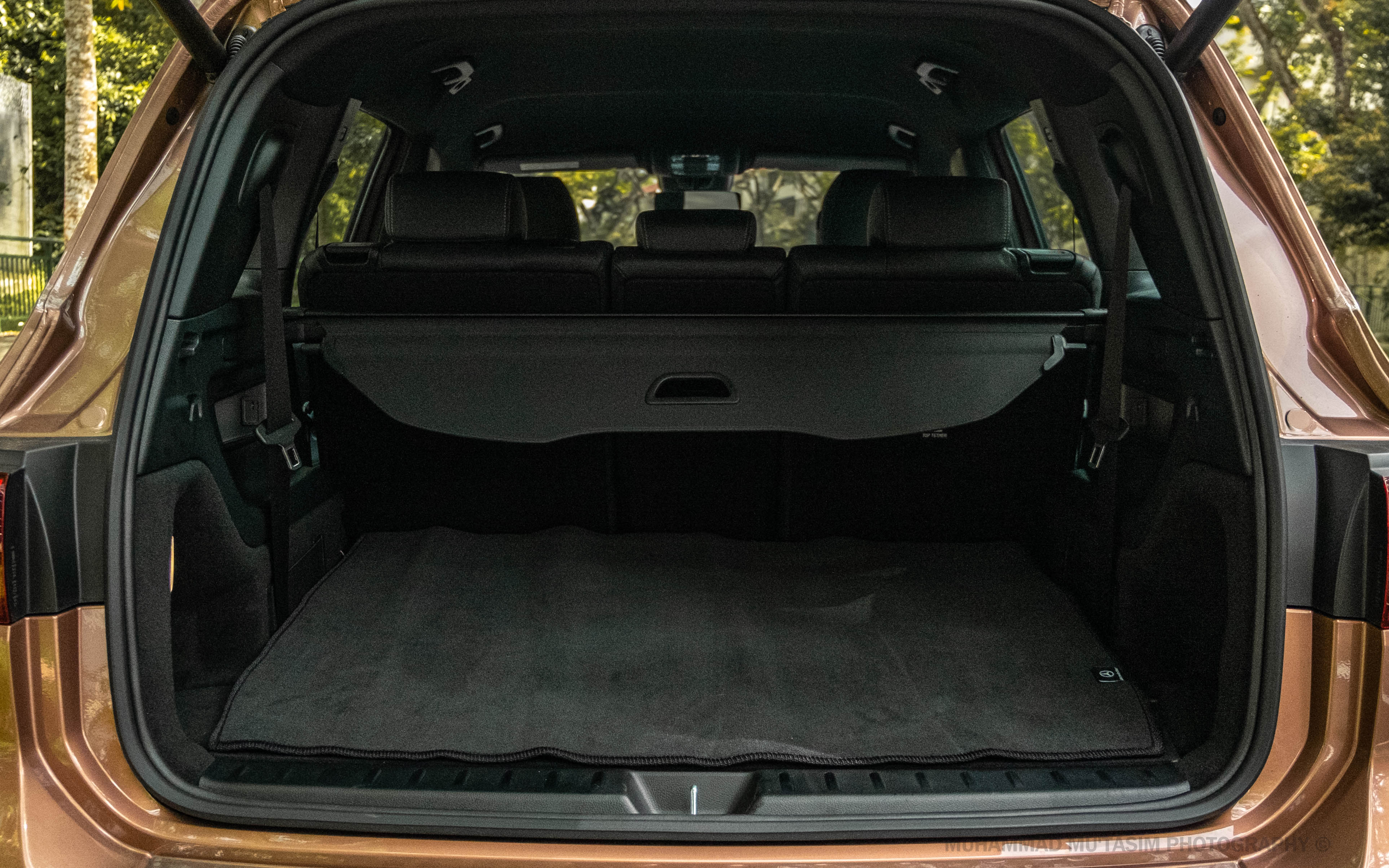 Storage space is also severely limited with all seven seats up, with only 465 litres to play around with. To mitigate this, you simple fold the last row flat, which gives you more than double the initial capacity.
The EQB's load lip is fairly shallow, making the process of loading and unloading of cargo quite seamless.
How's it like to drive?
Quite well, actually. The EQB 350 packs 288 horses and an eyebrow-raising 520 Nm of torque. Nought to a hundred takes about 6.2 seconds, a commendable figure for a 2.1-tonne high-riding SUV.
The EQB caps out at 160 km/h. Not that you need all of this power on local roads, but if you need a bit of schnell in an emergency, power delivery is instantaneous and accessible.
Ride comfort is not compromised when you're travelling on bumpy and uneven roads, thanks to the EQB's adaptive suspension (only available on the 350 model) and superior noise insulation. 
It makes for an excellent highway cruiser, with only a whisper of road noise intruding into the cabin when you're clocking triple-digit speeds. Body roll was kept to a minimum when tackling corners at speed, but it definitely made its weight and tall stature apparent to us on sharper bends.
Best to drive it sensibly, then.
Taking it off the beaten path, the EQB remains much of its composure with its ride height. Clearing shrubbery and asphalt proved to be a non-issue, but if you plan on bringing it to more rural environments, we'd highly recommend getting more off-road-friendly tyres and wheels.
Is it power-hungry?
With a good mix of city and expressway driving and a sensible pilot on board, you can easily match the official claims of clocking 350 km on a single charge. I clocked approximately 17 kWh/100 km, which is more than sufficient for daily use here. And if you enable full brake regeneration, you're bound to get even better mileage.
What's the verdict?
For all intents and purposes, the EQB succeeds in its task, which is to provide a highly practical electric family SUV experience, with all the premium goodness that one expects from a Mercedes-Benz product.
But as with all good things, there is a price to pay. The EQB starts at S$314,888 for the bog-standard 250 model. It is quite a big pill to swallow, no doubt. But if you're looking to future-proof yourself and your family, this is the way to go.
Mercedes-Benz EQB 350 4MATIC AMG Line Specifications
Price: $POA
 VES Band: A1

Motor:
 Asynchronous Motor

Capacity:
N/A

Power:
288 bhp, 520 Nm


Transmission:
Single-Speed

Driven Wheels:
All

Consumption:
5.3 km/kWh

0-100km/h:
6.2 s

Top Speed:
160 km/h 

Battery Capacity:
66.5 kWh


Dimensions:

4,684 mm x 1,834 mm x 1,706 mm

Cargo Capacity:
465 - 1,620 litres
Photo Credits: Muhammad Mu'tasim (@mutasimdrives) & ACube Creative (@weareacube)
Download the Motorist App
The easiest and smartest way to manage your vehicle in Singapore.
Download Now
Read More: mReview: Mercedes EQA 250 Edition 1 - EVolved & GLAmped Up!
---
Download the Motorist App now. Designed by drivers for drivers, this all-in-one app lets you receive the latest traffic updates, gives you access to live traffic cameras, and helps you manage LTA and vehicle matters.
Did you know we have a Motorist Telegram Channel? Created exclusively for drivers and car owners in Singapore, you can get instant info about our latest promotions, articles, tips & hacks, or simply chat with the Motorist Team and fellow drivers.