Stereotypically Mercedes traits are well represented in the EQA - think comfort, quality materials and thoughtful design. It juggles these characteristics whilst also being the most affordable electric vehicle in the German automaker's catalogue.
Its origins perhaps goes some way into explaining why the EQA is priced as such. This is no bespoke EV, but one that was built off of existing ICE architecture. Save for alterations in the front and rear fascias, most of the bodyshell and the panels are shared with the GLA.
There are, of course, minor EV-centric external aerodynamic alterations, done to optimise its range.
Double-Edged Sword
Whilst EV adoption is on the up, there really isn't enough global demand yet to warrant building a bespoke compact electric crossover. As a stop-gap measure, many other automakers have based their more wallet-friendly electrified offerings on existing petrol cars. 
"In an era of increasingly bloated and needlessly overpowered vehicles, isn't the EQA a refreshing change of pace?"
Not having to develop a dedicated platform means less R&D costs incurred, which means that the savings are then passed on to the clients. When done properly, these converted cars are no less capable than their native counterparts, and you can do so at a lower price point without sacrificing the very quality that Mercedes has built a name for.
How Is It Like To Live With?
From a comfort standpoint, you'd struggle to find another compact crossover that offers the same overall experience. The same could be said of the GLA which it shares its body with - being one of the larger offerings in its class, space on the inside is actually decent, meaning you'll find ample room regardless of where you're seated. Headroom also isn't an issue, unless you happen to shoot hoops for a living.
Space therefore, both actual and perceived as a result of the large moonroof, is good. The experience inside is also further enhanced by the thoughtful choice of materials and the excellent build quality. Soft-touch materials and leather are more liberally applied than several other German cars at this price point, though that isn't to say that the car is safe from hard, scratchy plastics. Then again they are used only sparingly, and in high-wear areas where soft-touch materials and/or leather are really not suited.
Whilst the massive MBUX screen does have a certain wow factor about it, it isn't as well equipped as you'd expect the car to be. It does not have wirelss Android Auto/Apple CarPlay, which, whilst annoying, isn't a huge bugbear.
What does annoy you, especially considering the price you're paying for the EQA, is the car's lack of active driving assists. Another thing worth pointing out is that the rear view camera is built into the rear Mercedes emblem, and its actuator makes a right racket when it deploys. The sound is also undoubtedly exaggerated by the car's very competent sound insulation.
You can drown out the noise of that rear motor by amping up the volume of your tunes. In doing so, you'll find that audio clarity is good, with well-reproduced mids and highs. However, the low-end oomph could do with some additional bolstering, as bassy music does tend to sound a touch tinny when the volume is really cranked up.
The Visuals
Some cars can look disjointed and awkward after they've been converted to run on electricity. Thankfully, the EQA-specific add-ons play nicely with the smooth muscular curves present in the GLA. The front fascia, with its redesigned aerodynamic "grille", looks especially smart against the cues present in the profile of the vehicle.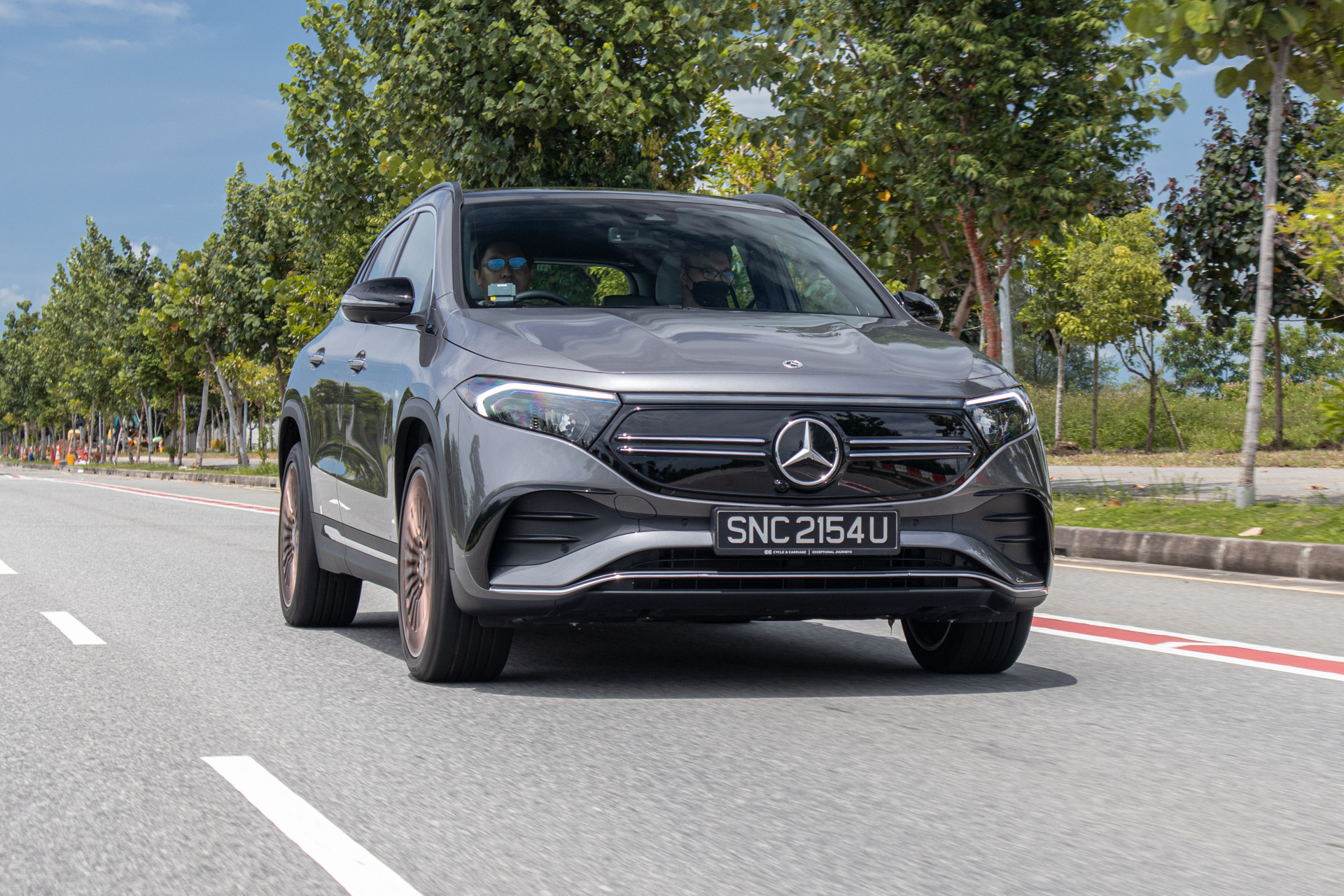 The "grille", or to be more specific, a panel that supposedly mimics a front grille, has only been included so existing customers will find the EV revolution less visually stark. It also has a built-in lightbar, which again helps to further distinguish it from lesser, more archaic cars.
It's in the rear that this approach feels a tad disjointed - but then again the rear fascia of the GLA wasn't a real looker to begin with. The tacked-on lightbar and restyled boot lid is simple, devoid of any real styling elements. This makes it feel like there's something missing - and the contrast with an overly cluttered bumper doesn't really help matters.
Behind The Wheel
You'll know this is a converted EV and not a native one when you actually drive it. Weight distribution isn't as optimised as it would have otherwise been, which means the car can feel cumbersome and heavy whilst on the move.
When testing cars, we do tend to keep driving aids switched off, as they can be employed to mask dodgy suspension setups and overall balance. In the case of the EQA, mass management seems to be better if you left the computer to its own devices.
We're talking about a German automaker afterall, as they have been known to use advanced software to help better manage the car's behaviour, and in this case, improve the overall in-car comfort.
Capable suspension is also another crucial pillar in the EQA's quest for comfort. It soaks up bumps really well, with the trade-off being detectable body roll and even significant rearwards yawing when you deploy all of its instant torques.
Again, all the assists and the softer suspension means the car doesn't reward you when driven hard. But that's not all. Another factor that contributes to the lack of overall engagement is the steering. It feels numb and disjointed, possibly as a consequence of the car's very quick steering rack.
It may not be good as a driver's car, but where it truly shines is as a comfortable and practical family car. The quick steering translates into excellent manoeuvrability even in tight spaces. This trait is then further helped along by a very competent 360 camera. Mercedes' system seems to accurately correct the perspective of the various camera feeds, making it a tool you can truly rely on to place the vehicle.
The EV Punch
In keeping with that relaxed, luxurious family car theme, the EQA doesn't have the same punch off-the-line as you'd find in other similarly powered EVs - response certainly isn't as dramatic as in a MINI Electric with roughly the same peak power output.
We all like a rapid car, but the less punchy motor lower down actually suits the character of the EQA. Don't get us wrong - it still has the grunt to outdrag most commuter saloons a la most EVs. This is a car that doesn't encourage you to push it hard. It can, and will still absolutely put a smile on your face as you silently zip into gaps in traffic. It's just that that really isn't its strong suit.
Instead, what you'd want to do, is back off the throttle, and cruise. Drive it like how a car with a three pointed star deserves to be driven (no, not the kind Lewis Hamilton has as a company car), and you'll find a competent daily driver with the potential to tackle long journeys.
Rapid charging capabilities, 320 kilometres of realistic range, coupled with the whisper quiet powertrain, excellent sound insulation and ease of car placement means you'll never struggle to manouever the car in any situation. In an era of increasingly bloated and needlessly overpowered vehicles, isn't the EQA a refreshing change of pace?
Want to experience the EQA for yourself? Do visit Cycle and Carriage's website to register your interest!
Specs
Price:

S$ 279,888 (inclusive of COE)

VES Banding: A1
Performance:



Motor: Asynchronous Motor

Power: 188 bhp 

Torque: 375 Nm

Energy Consumption: 6.2 km/kWh

Battery Capacity: 66.5 kWh

0-100km/h: 8.9 Seconds

Top Speed: 160 km/h

Drivetrain: 1-speed, Front-Wheel Drive

Measurements:

Wheelbase: 2,729 mm

Dimensions (LxWxH): 4,463mm x 1,834mm x 1,620mm) 

Boot Capacity: 340L

Features:

Parking Assistant

Cruise Control

Apple CarPlay & Android Auto

Lane Departure Warning

Automatic Headlights 

Automatic Wipers

Ambient Lighting
Prices are accurate at the time of writing.
Photo Credit: ACube Creative (@weareacube)
Download the Motorist App
The easiest and smartest way to manage your vehicle in Singapore.
Download Now
Read More: mReview: 2021 MINI Electric LCI 2 - The Electrifying Hyper-Speed Hatch
---
Download the Motorist App now. Designed by drivers for drivers, this all-in-one app lets you receive the latest traffic updates, gives you access to live traffic cameras, and helps you manage LTA and vehicle matters.
Did you know we have a Motorist Telegram Channel? Created exclusively for drivers and car owners in Singapore, you can get instant info about our latest promotions, articles, tips & hacks, or simply chat with the Motorist Team and fellow drivers.