Not only is the BMW X1 one of the smaller models produced by the Bavarian manufacturer, it also shares a platform with some MINI models. Did this make it any less capable?
To date, the X1 is in its third generation, with the latest model launched in June 2022. First revealed at the 2008 Paris Motor Show as the Concept X1, the production-ready X1 was subsequently launched in October 2009, with over 820,000 units produced over the life cycle of the first generation.
Classified as a Subcompact Luxury Crossover, this puts it at the bottom rung of the BMW model hierarchy. Naturally, this would mean that the X1 would be lacking most of the niceties that come with a high calibre BMW, but is that necessarily a bad thing? Judging from its sales numbers, it seems that buyers are willing to forgo a little luxury for the sake of the badge.
What is this?
This is a second generation BMW X1 F48, from the 2020 model year. First unveiled in September 2015 at the Frankfurt Auto Show, it was available with various petrol and diesel options at launch, ranging from 1.5 and 2.0-litre turbocharged engines for both petrol and diesel models. In May 2019, it also received a mid-cycle facelift, or as BMW terms it, a Life Cycle Impulse or LCI. 
The update gave the X1 new LED headlights and taillights, updated bumpers, new wheels and an updated kidney grille design. The LCI also introduced the X1 xDrive 25e, a plug-in hybrid, as an additional variant in the X1 range. Depending on the variant, the X1 was available in either front-wheel drive (sDrive) or all-wheel drive (xDrive).
This particular unit is the X1 sDrive18i xLine. Producing 138 bhp and 220 Nm from a turbocharged 1.5-litre inline-three engine, power was sent to the front wheels via a seven-speed dual-clutch transmission. Weighing in at 1,475 kg, acceleration to 100 km/h took 9.6 seconds, and onwards to a top speed of 205 km/h. 
Like the 2 Series Active and Gran Tourers, this being a front-wheel drive BMW didn't sit too well with the purists and aficionados, whom I daresay regard almost any BMW that isn't front-engined and rear-wheel drive to be a sacrilege, the X1 had its fair share of controversy. Sharing a platform with the MINI Countryman and Clubman certainly didn't help matters, either.
Is it any good on the wallet?
BMWs are known for developing certain problems as they age, and the X1 isn't any different. While some are less severe than others, there are still some that you should watch out for.
Primarily, BMWs are known for leaking oil as they age, and earlier F48 X1 owners have reported this problem, especially with cars from the first few years of production. While it shouldn't affect this particular unit, considering it was registered in 2020, have periodic checks performed for oil leaks and gaskets that need replacing.
Some owners have reported having premature wear on the brake pads from mileage as low as 30,000 to 40,000 kilometres. While not the biggest problem to have, premature wear on the brake pads could result in reduced braking performance. 
An issue that will affect the car's safety is how the passenger side engine mount is prone to cracking. While this problem has surfaced more in the earlier years of the F48 X1, it is still something that should be checked during service to ensure that it is not happening to your car.
There is no quick fix for a cracked or damaged engine mount, and a new part has to be fitted. It will not be cheap, but then again, you can't put a price on safety. This problem also has a tendency to happen after the warranty expires, so do try to detect it early if possible.
Fuel economy is something that the X1 does quite well with, especially with the 1.5-litre engine. Officially, BMW quotes consumption figures at 16.7km/l, though it would be more reasonable to expect numbers ranging from 12 to 13km/l, especially given Singapore's traffic.
With a 51 litre fuel tank, 640 kilometres of range should be achievable, which isn't too shabby. Do try to keep your foot off depressing the accelerator pedal too aggressively as a spooling turbocharger at high RPMs will definitely eat into your fuel economy.
Is it comfortable inside?
Being a subcompact luxury crossover, it can already be inferred from its classification that the X1 isn't going to be too spacious inside. Yes, five passengers can fit into it, but it wouldn't be too comfortable for the person in the middle row, given how narrow and raised the middle seat is.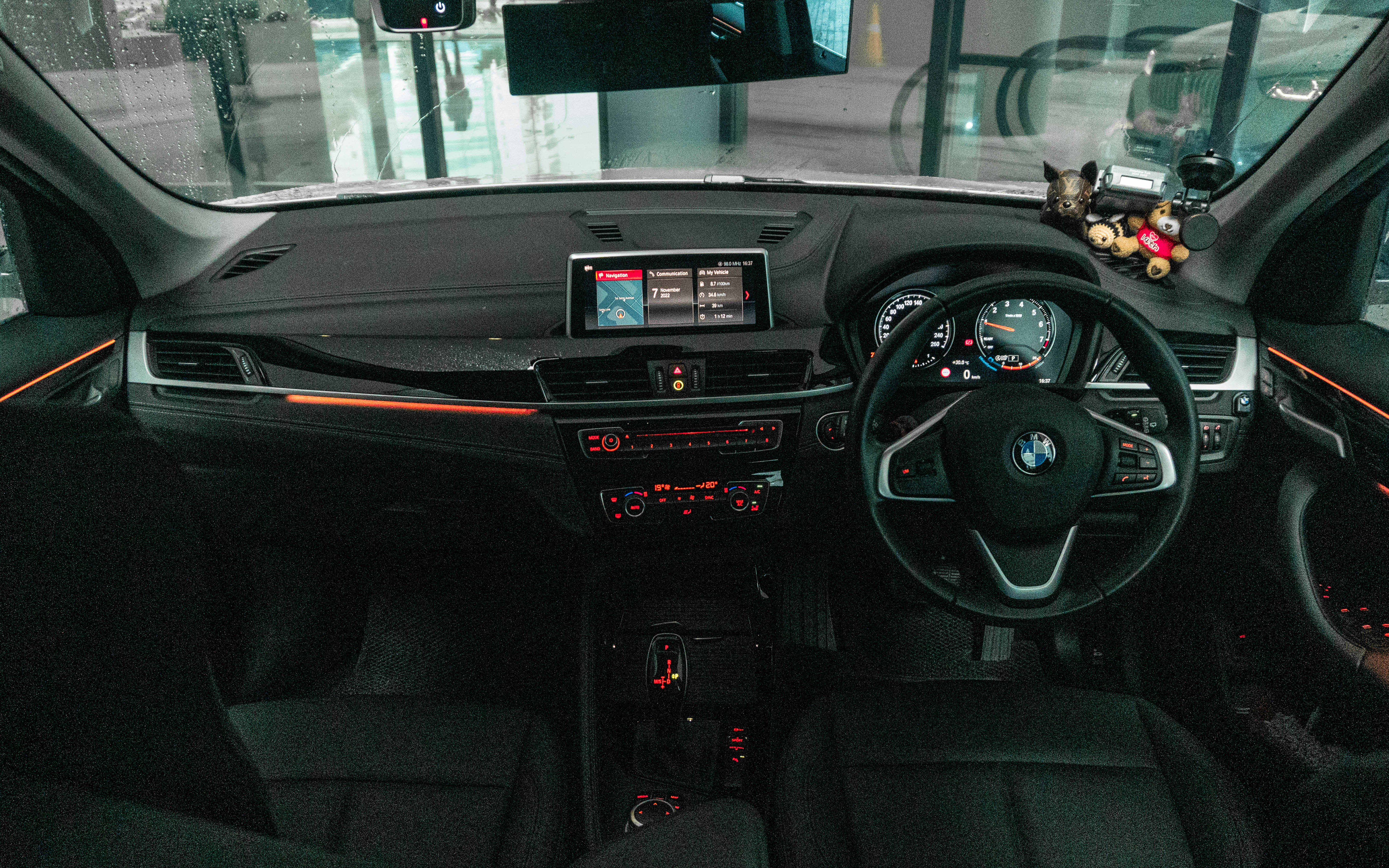 Given the X1's slightly sloping roofline, this aesthetic trait eats into cabin headspace, which could mean taller passengers will have their heads touching the roof of the cabin, or having to sit slouched in order to fit. 
For four passengers, the X1 will do fine. Being a subcompact luxury crossover, cabin space isn't as generous. Front and rear legroom will be about enough for most people, perhaps only being a problem for taller individuals. Cabin width is also a little lacking, with the front passengers not having as much space in between each other. Still, the cabin is a comfortable place to be in, and should be fine for most.
Despite being the base X1 variant offered locally, BMW's signature iDrive system comes as standard, and it is one of the best, if not the best infotainment system on the market. With an 8.8-inch screen, it is intuitive, simple to use, and easily controlled via a rotary dial at the base of the centre console, within easy reach of the driver.
The iDrive system has hard buttons for the more frequently used functions like the radio, media, phone and navigation, which makes for easy access to these desired functions, especially when on the move. There is also Android Auto and Apple CarPlay, on top of Bluetooth connectivity. 
The controls for the volume, track selection and HVAC system are all physical dials and buttons that are easy to understand and use. A further welcome touch is the dual zone temperature control for the front passengers, allowing both driver and passenger to select their preferred temperature. And not forgetting the rear passengers, there are also air vents for them. 
While it might be lacking in some physical cabin space, the X1 isn't lacking in build quality. So what if it is at the bottom of the BMW model hierarchy, the cabin still has the fit and finish expected of the Bavarians, with all the seats being upholstered in leather, and most of the exposed surfaces in the cabin being covered with a soft touch material. 
The front passengers get electrically adjustable seats, with the driver's seat having a memory function too. There are also ambient lighting strips on the door, with different colours able to be selected via the iDrive system. And not forgetting the gauge cluster, which is mostly analogue, coupled with digital readouts for the fuel gauge and trip computer. 
Can it carry a lot of cargo?
 For something that is classified as a subcompact, the boot is surprisingly spacious, with 505 litres of capacity. This should allow at least two golf bags to fit in quite nicely, with some space leftover for soft bags. 
If more space is needed, the second row can also be folded down to create more cargo space, which would be useful for transporting bicycles or small pieces of furniture. And being a BMW, it doesn't have a spare tyre, since it came factory fitted with run-flat tyres. While it is unclear if this current unit still has run-flat tyres, do note this if you are purchasing a BMW product.
Alternatives
If you aren't interested in what Bavaria has to offer, why not look to Ingolstadt and the Audi Q3? Comparable in size to the X1, it was available locally with turbocharged 1.4 and 2.0-litre engines, the 1.4-litre variant would be the most comparable with the X1 sDrive18i, given their similar power numbers.
But what if you prefer a Scandinavian aesthetic? There is only one answer, and that is the Volvo XC40. compared to the X1, it has a much boxier shape and a smaller boot, but it also has 60 more horsepower in T4 guise and a design that would not be mistaken for anything else on the road. Plus, it is a Volvo, so you know it could probably be the safest thing in an accident, too.
Conclusion
BMW's slogan is "Sheer Driving Pleasure", and the company has prided itself on the rear-wheel drive ethos as the drive layout that will bring the most enjoyment in a BMW. In recent years, however, BMW has started to introduce front-wheel drive vehicles like the X1, X2 and 2 Series Active and Gran Tourer, with even the current 1 Series now being front-wheel drive instead of rear-wheel drive as it was since launch.
There are those who will argue that BMW is losing sight of their vision as a brand, and are succumbing to customer demands. Unfortunately, due to current market trends, consumers prefer crossovers and SUVs, and BMW has to adapt to these demands for obvious reasons.
While some may argue that the X1 and other front wheel drive BMWs are not true BMWs, or even drive like a BMW should, it is a more affordable way for new buyers to get into the BMW brand and to start developing their brand loyalty, and upgrade to a more expensive model in the future.
Plus, unlike its neighbours from Stuttgart, BMW actually made the X1 rather aesthetically pleasing, and not a saloon or hatchback where the design was squished or enlarged in order to fit the mould.
If you are keen on getting a BMW X1 as your next car, or any other used car for that matter, do take a look at our used car selection here for some of the best deals!
Photo Credits: Lee Thern Yang (@TheBigSoup)
Read More: Motorist Car Buyer's Guide: Honda Jazz 1.3A
---
Download the Motorist App now. Designed by drivers for drivers, this all-in-one app lets you receive the latest traffic updates, gives you access to live traffic cameras, and helps you manage LTA and vehicle matters.