Prior to the launch of the front-wheel drive BMW 2 Series Active Tourer, BMW was known as a marque that primarily built rear-wheel drive cars.
The 2 Series Active Tourer was first launched in 2014, and a seven-seater Gran Tourer, as featured, was added to the line-up in 2015. These cars (chassis code F45 and F46) heralded the German automaker's first forray into front-wheel drive, as their products up to this point had either been rear-wheel drive or all-wheel drive only. 
Reception to the F45/46 2 Series was mixed, with journalists giving lukewarm reviews, while purists cried foul at BMW actually daring to release a front-wheel drive model to begin with. But practically, the development of the 2 Series made logical fiscal sense, as it was built to fight Mercedes' B-Class.
A quick side note, this 2 Series Gran Tourer is currently listed for sale at Roadlink Auto, so do approach them if you are interested!
What is this?
This is the first generation BMW 2 Series Gran Tourer, which was available in petrol, diesel and petrol-electric options. The 2 Series Gran Tourer came in a few trim levels; Luxury, Sport and M-Sport, with this particular unit being a 216i Gran Tourer M-Sport. The M-Sport trim level came with niceties like a M-Sport steering wheel and rims, plus a more aggressive looking bodykit. Yes, the enhancements were all aesthetic, nothing mechanical.
This being a 216i, came with a small engine and a lower power figure, since it is at the bottom rung of the 2 Series hierarchy. Powered by a turbocharged 1.5-litre three-cylinder engine, the 216i makes 107hp and 190Nm of torque, which is sent to the front wheels via an eight-speed ZF automatic transmission.
0 - 100km/h does take 11.9 seconds, which is decent given its weight of 1475kg. But then again, the 216i is built for comfort and not handling, so some compromises have to be made. For what it is, it still has decent pace, and is also a more affordable way into getting ownership of a BMW.
Is it any good on the wallet?
With its small three-cylinder engine, the 216i is pretty fuel efficient. BMW's three-cylinder engines have been noted to return good fuel economy numbers, which is a plus given the high petrol prices today.
With a fuel capacity of 51 litres, the 216i can get between 600 to 700km on a full tank, achieving between 11.7 to 13.7km/l, which is quite decent. There are various modes you can select while driving, like Comfort, Sport and even Eco Pro, which you can try experimenting with if you want to squeeze out the most fuel economy.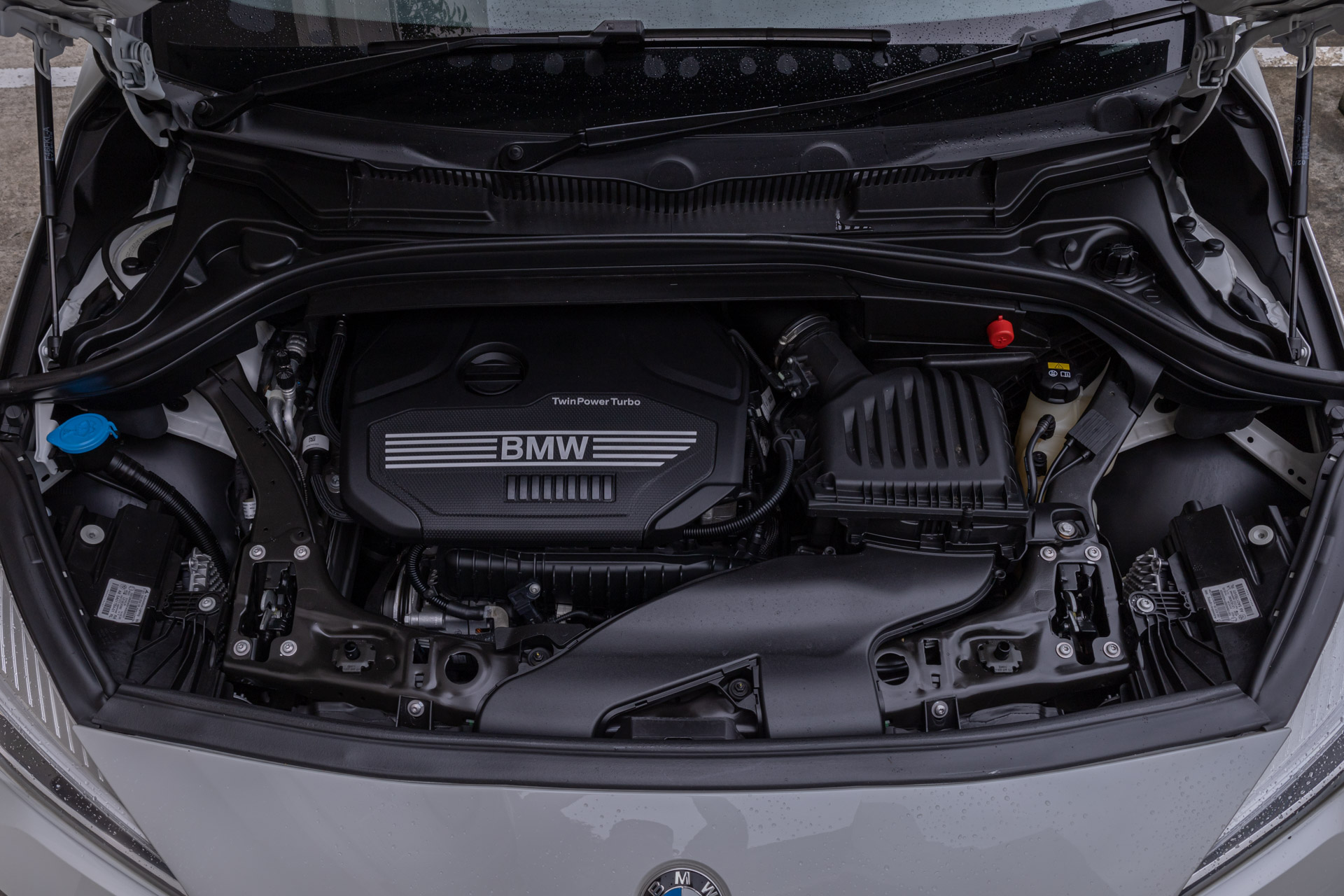 Given the number of 2 Series Gran Tourers (and Active Tourers) on the road, it is a fairly popular model. That does not mean the car is immune to mechanical woes though, with BMW cars of similar vintage suffering from electrical issues from the fifth year onward.
Oil leaks can also be expected as the age or mileage of the car increases, so do take note of any oil spots as you pull out of your parking lot, just in case your car is experiencing this issue. This could be a simple fix, through the changing of some seals, or a gasket. With the 2 Series Gran Tourer being around since 2015, it should be something to take note of, especially if you're buying an earlier unit.
Additionally, the engine and gearbox mounts have been known to require replacing, so do make sure the issue is either rectified, or have the parts swapped out under warranty if the unit you are looking to acquire is still covered by it.
Is it comfortable inside?
There's space for five adults, with sufficient legroom for all occupants. You'll find a pair of electric seats with memory functions up front, and rear seats that are reclinable and adjustable forwards and back. As a front-wheel drive car, there's no intrusive transmission tunnel, so there is still ample real estate for your feet even if you are unfortunate enough to find yourself in the middle seat.
The Gran Tourer seats seven, up from the five of the Active Tourer. In the case of the former (and as featured), occupants in the front two rows will face little issue on the space front. Third row passengers however, may feel slightly claustrophobic, especially if you are more robustly built.
Despite being an entry-level BMW, you'll still be treated to the Germanic quality we all know and love. The seats are all upholstered in leather, as well as all high-touch points like the steering wheel, armrest and door sills. There is also silver metal trim fitted to this particular unit on the dashboard and the doors.
In-car entertainment is taken care of by an older version of BMW's famed iDrive system. Despite the small 8.8 inch screen, the UI has aged very gracefully - it's only the exclusion of Android Auto and Apple CarPlay that hints at its vintage. Bluetooth connectivity is available, so you can still play your tunes over the speakers in the cabin.
Other analogue features also serve as markers to date the car - think the gauge cluster and the physical switchgear for the HVAC. There are two key benefits over a more up-to-date digital solution - essentially, there's less to break in the long run, and it's also much easier to access and toggle through the data and the various in-car options.
Can it carry a lot of cargo?
For a car its size, cargo capacity is its strong suit. With the third row up, boot capacity is 145 litres, enough for a couple of small bags. Fold it down, and you can access a generous 645 litres of boot space, more than enough for three or four golf bags. And if you need even more room, fold the second row down, and literage estimates increase to 1,820.
Couple that with the flat floor, and you almost have something that is functionally equivalent to a small van. For greater configurability, the second row can be folded down in a 60/40 split via switches in the boot area, while the last row can be lowered with levers fitted at the back of the seat.
The ISOFIX points are also easily accessible and are hidden under plastic covers.
Alternatives
If you must buy German, the Mercedes-Benz B-Class is a solid option. BMW built their 2 Series to compete with this very car, though you'll have to contend with just five seats (there's no option for a third row).
If you are seeking something more left-field, you can opt to buy French, in the form of the Renault Scenic. It was available in Singapore only as a diesel, so you can expect even lower running costs thanks to its greater fuel economy.
Verdict
As long as you're willing to risk some of the issues that could potentially arise through ownership, the 216i Gran Tourer is a good choice to consider if you are looking for a decently sized European car that can fit seven passengers in a pinch.
Should you not require or want the seven-seater capability, you can also consider the five-seater Active Tourer, which is basically identical to the Gran Tourer, minus the rear seats and also with a more sloped roofline at the rear. 
Yes, the F45/6 BMW 2 Series is the antithesis to BMW's rear-wheel wheel drive heritage, but if you are actually looking to get a car like this in the first place, odds are you aren't even looking at a rear-wheel drive vehicle to begin with, and there's nothing wrong with that, for most of us buy cars to suit our lifestyles, and not the other way around.
If you are keen on getting a BMW 216i as your next car, or any other used car for that matter, do take a look at our used car selection here for some of the best deals!
Motorist would like to extend our thanks to Roadlink Auto for loaning us the BMW 216i Gran Tourer M-Sport for this article.
Photo Credits: Lee Thern Yang (@TheBigSoup)
Read More: Motorist Car Buyer's Guide: Mazda 6 2.0 Standard
---
Download the Motorist App now. Designed by drivers for drivers, this all-in-one app lets you receive the latest traffic updates, gives you access to live traffic cameras, and helps you manage LTA and vehicle matters.