(Photo Credit: rdirwandarwiza)

Thinking of pimping your ride like the cars in the Fast and the Furious? Here are 8 vehicle modifications you should stay away from unless you wish to get fined by LTA.

When it comes to vehicle modifications in Singapore, car owners certainly have their options limited. You can forget about souped up engines and flashy undercarriage lights, because these modifications will get you in serious trouble with LTA. Unlike car spoilers and bumpers, which have some leeway, these eight modifications are completely illegal on Singapore roads. Read on to find out what they are.
1. Chassis Modifications
(Photo Credit: Auto Press Releases)
The chassis, otherwise known as the vehicle frame, is the main supporting structure of your car. Altering the chassis is strictly prohibited in Singapore because it can affect the braking, structural integrity, carrying load of the vehicle. If the chassis is weakened or altered, it might play a huge risk to both car and driver. In case you didn't know, the chassis is what prevents a car from "crumpling" under impact.
2. Crash Bars
(Photo Credit: Toyota)
Crash bars, also known as bull bar or push bumper, is a device that is installed on the front of a vehicle to protect it from head-on collisions with animals, like deer or cattle. Usually composed of hard metal tubings, these mods can increase the risk of death and injuries to pedestrians in the event of an accident. Seeing as how there are no wild animals on our roads, crash bars are considered illegal and should not have a place on any vehicle in Singapore.
3. Air Horns
(Photo Credit: EST2France)
Modifications that serve as a distraction to others, such as air horns, are strictly prohibit in Singapore. Often installed on large semi-trucks, these devices create an extremely loud sound for signalling purposes. If used inappropriately, it might startle drivers, pedestrians and other road users.
4. Decorative Lamps and Neon Lights
(Photo Credit: Carponents)
These types of mods include wiper washer LEDs, undercarriage neon lights, interior neon lights, and flashing decorative lights. These light mods are not only tacky, but they also might cause confusion and distraction to other motorists. Therefore, they are prohibited in Singapore.
5. Head Lamp Modifications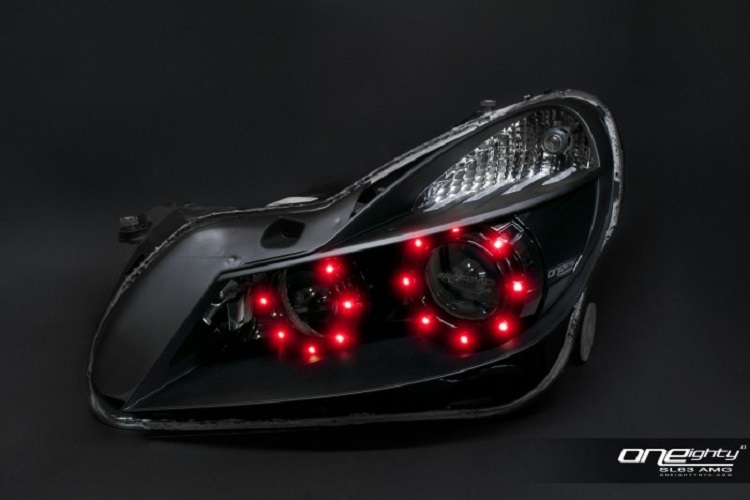 (Photo Credit: OneEightyNYC)
Singapore vehicles should only be fitted with the default factory fitted head lamps as they meet international safety standards. Using aftermarket head lamps might be hazardous on the road as it might cause unwanted glare.
Besides aftermarket head lamps, the tinting or masking of all car lamps are also not allowed. Other than aesthetic purposes, these mods will only hinder the visibility of cars, which can be very dangerous when driving at night or in heavy rain.
6. Engine Modifications that Increase its Capacity
(Photo Credit: Hot Rod)
Modifications like enlarging the cylinder bore of the engine is strictly prohibited in Singapore. Altering your engine's performance might lead to premature engine failure and other potential complications like engine fire. Sure, you might get better engine performance, but you'll also affect the car's fuel consumption and carbon emission.
7. Nitrous Oxide Engine and Injectors
(Photo Credit: karthicksdays)
Unless you're an underground auto racer, there's no need for nitrous oxide engines and injectors in your car. These systems replace air with nitrogen oxide gas in your engine, resulting in a faster combustion. However, due to the increase pressure, it causes greater stress to your engine and might lead to premature engine breakdown. It is also highly combustible, and the car might explode in the event of a serious crash.
8. Tow Hooks
(Photo Credit: OppositeLock)
Unlike towing points, tow hooks protrude out from vehicles and could cause severe injuries to motorcyclists should they come into contact with them in the event of an accident. It's due to this reason that they are banned in Singapore.
Claim your free car valuation today!
Read more: Legal car mods you need to know

---
Download the new Motorist app now. Designed by drivers for drivers, this all-in-one app lets you receive the latest traffic updates, gives you access to live traffic cameras, and helps you manage LTA and vehicle matters.