(Photo Credit: Pixabay)

Having a clean and presentable car not only leaves a good impression, but makes your car ride more comfortable and enjoyable.
Unfortunately, the costs of repairing and maintaining a car are escalating, which has stimulated the ingenuity of many drivers to tackle this challenge. We have dug out seven extremely useful and creative car hacks that you can easily do-it-yourself and save you some hard-earned money.

1. Use Toothpaste to Polish Headlights
(Photo Credit: Instructables)
Dirty and foggy headlights are hazardous which can endanger you and your passengers' safety, and restoring headlights at a workshop can cost you up to $150. But all you need is any regular toothpaste to increase your visibility on the road. With a cloth, smear some toothpaste over the plastic cover of the headlights. Wait for a while before rinsing it with water, and your headlights will be as clean as new! Do note, however, that this trick will not work on glass headlights.

2. Use Toothpaste to Remove Minor Scratches
(Photo Credit: How To Do Steps)
Not only can toothpaste clean your teeth and headlights, but it can also remove scuffs. Having it professionally removed can run up to $200. Easily wipe out the scratch marks on your car with some toothpaste and a piece of dampened cloth. How effortless is that?

3. Use Nail Polish to Conceal Small Chips and Scratches
(Photo Credit: No Car No Fun)
Parked too close next to another car and got your car scratched? Mask that little damage with nail polish. Just head down to any local cosmetics store and choose the colour that matches your car. Instantly saved yourself $200! No doubt it may not look that flawless up close, but your car will surely look better from afar.

4. Use Cup Plunger to Remove Shallow Dents
(Photo Credit: BackYardMechanic)
A cup plunger not only fixes your clogged sink drain, but it can also be useful to remove small to medium-sized dents. Save yourself $30 with this trick! Splatter some hot water onto the plunger and dent. Push the plunger firmly against the dent and pull it out. Repeat this step continuously until the dent pops out! Unfortunately, this trick will not work for large or sharp dents.

5. Use Hair Conditioner to Shine the Exterior
(Photo Credit: Wonder How To)
Having your car professionally polished can cost you up to $150! Hair conditioner that keeps your hair shiny can also do the same job for your car. First, you need to wash the exterior of your car using water mixed with a small amount of dishwashing liquid. Then, soak a piece of microfiber cloth in a bucket with 2 cups of water and ½ cup of hair conditioner. Wipe the cloth over the entire exterior before hosing down your car. No more long hours of polishing and waxing it!
6. Use Olive Oil or Coffee Filter to Clean the Interior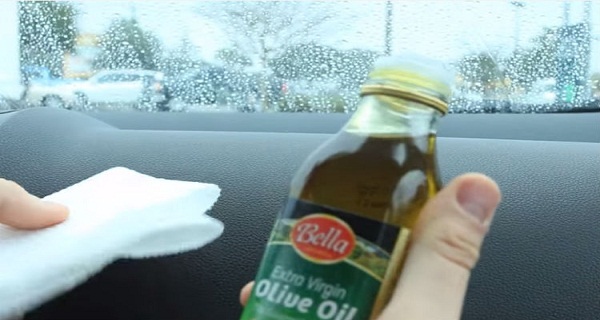 (Photo Credit: Health Tips Source)
Olive oil has many purposes – from cooking, haircare to skincare, but you certainly did not know that it can also be used to maintain the cleanliness of your car! All you need to do is to put a little olive oil on a piece of cloth and rub it over your dashboard and the fouled plastic panels. Not to mention, this method is a safe alternative to the harmful chemicals in cleaning products.
(Photo Credit: The Krazy Koupon Lady)
Heads up, coffee junkies! Your coffee filters have one more purpose now – to clean the interior of your car. Because of the relatively small holes in them, these filters can capture tiny dust participles. So, this trick is especially useful for cleaning air vents and dashboards, where dust get attracted to.
Either way, your car's interior looks spanking new and clean, better still, it can save you $200!

7. Use Dryer Sheets to Get Rid of Car Odours
(Photo Credit: theZilla)
You and your passengers are very likely to eat, drink or even take a puff of their cigarette in your car. Over time, these scents accumulate and produce a gross smell. Instead of spending $20 on car air fresheners, one low-cost method is to lay some dryer sheets under your car seats, in your air vents and trunks, which can absorb the unpleasant smell. This is especially useful for those who are sensitive to scents. This way, your car will be brimmed with fresh and clean smell without the olfactible richness of air fresheners.
Download the Motorist App
The easiest and smartest way to manage your vehicle in Singapore.
Download Now
Read more: 10 Simple Cleaning Hacks Every Car Owner Should Know
---
Download the new Motorist app now. Designed by drivers for drivers, this all-in-one app lets you receive the latest traffic updates, gives you access to live traffic cameras, and helps you manage LTA and vehicle matters.