mReview: Porsche Panamera Platinum Edition - Platinum Grade
Published by
Mutasim
on
19 Oct 2023
Here at Motorist, we love anything with a four wheels and an engine.
It makes no different if there are two, four, or even no doors in the equation. A car that serves its intended purpose well is already a good car in our book.
And that's exactly what the Porsche Panamera is. It's both spacious and luxurious – exactly what you'd expect from a premium executive saloon. It's also plenty powerful and produces delightful sounds in the process, worthy of the Porsche crest that adorns its bonnet.
So, is this the ultimate four-door that money can buy today?
Finally, a Gorgeous Form
The first iteration of the Panamera back in 2009 was not well-received by industry watches and enthusiasts, what with the ungainly rear-end and somewhat pedestrian looks.
Fast forward to 2023, and we now have a Panamera that's smartened up in almost every angle possible. This 971-generation Platinum Edition is not only sleeker than its predecessor, it's also sharper, more aggressive, and daresay even gorgeous. 
It wears 21-inch Panamera SportDesign alloy wheels finished in Jet Black Metallic, and grippy Michelin Pilot Sport 4 S shoes that mean business. The car itself comes with 11 no-cost paint options, with this press unit arriving in an attractive shade of Aventurine Green Metallic. 
This is definitely the colour of choice if you want to move incognito in traffic, but still want a paint finish that glistens in the sunlight.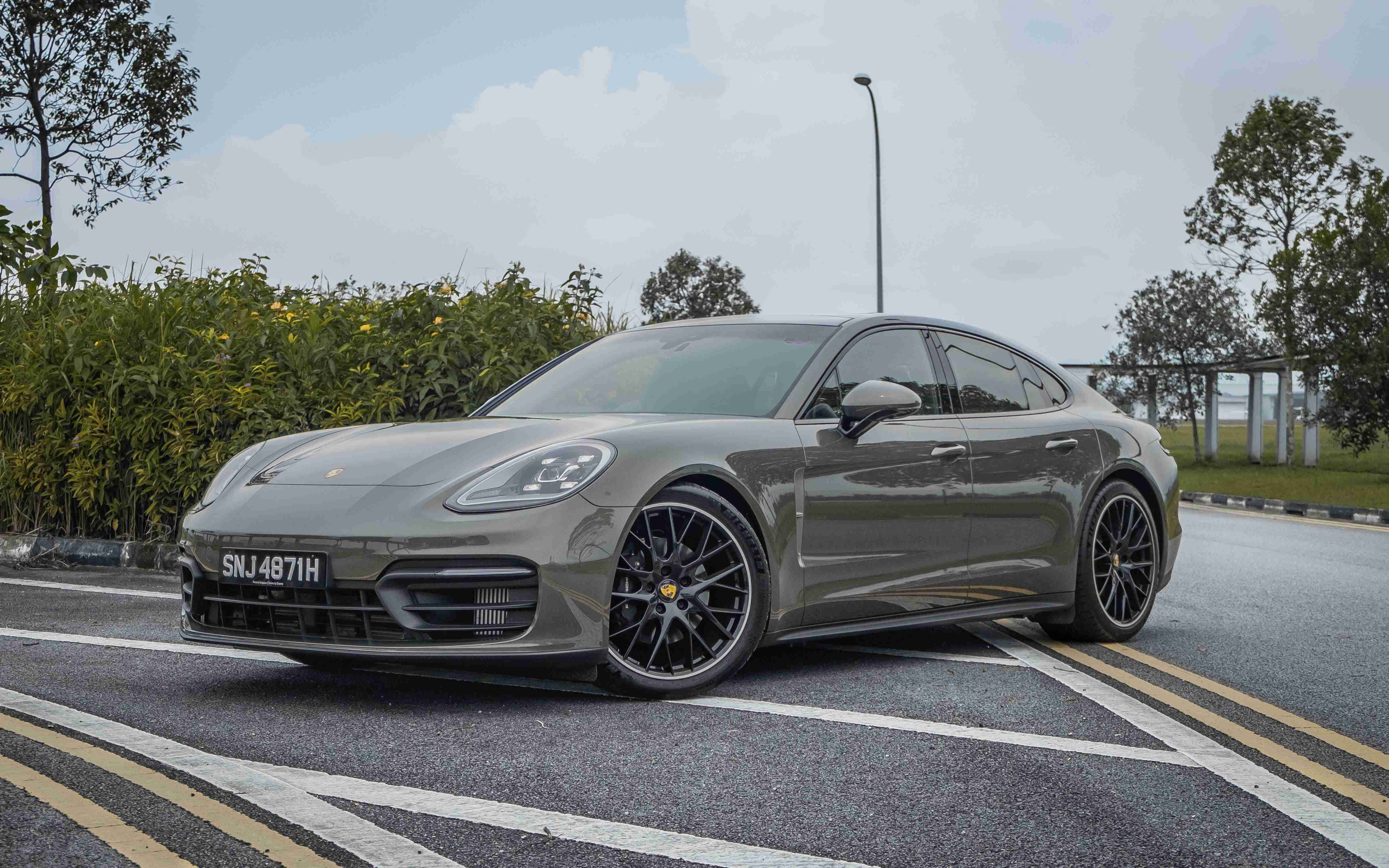 Purists will love its redesigned tail that's now more proportionate with the rest of the body, and leads to a lighting cluster that closely resembles the latest 911, down to the sleek Platinum Edition-exclusive smoked-out taillight design and full-width lightbar.
It also gets silver-finish sports tailpipes – courtesy of Porsche's Exclusive Manufaktur program – as standard, along with satin platinum emblems and side air vents, adding another a layer of elegance to the German saloon.
Make Yourself at Home
There's a lot to like about the Panamera Platinum Edition's interior. Prospective buyers looking for a modern and luxurious cabin will find this to be right up their alley, with a classy brushed aluminium trim package in black, 14-way powered front seats, a Bose surround sound system, and more.
I particularly fancy the raised centre console, which makes the mostly touch-based switchgear easier to reach. On top of that, the controls are logically laid out with knurled metal-finish toggle switches for AC temperature and fan adjustments.
It is a shame that gloss black plastic is used for the panel, however. With frequent use (and that is more likely than not), it'll undoubtedly be full of greasy fingerprints.
Like most other Porsche cars we've driven, the Panamera features a widescreen infotainment display that is both crisp and ultra-responsive. You get Apple CarPlay and Android Auto support, and also full access to the car settings. Want to adjust the chassis ride height? You got it. Want to extend the rear spoiler whenever you want? Just one touch, and voila, it's up.
It also helps that the Panamera Platinum Edition is blessed with dual sunroofs, allowing plenty of sunlight to entire the cabin and making it feel much airier than it is. And if it's all a bit much, shades for the rear windows and windscreen at the back can be pulled up electrically.  
Rear occupants also have access to two separate climate zones, with a whole deck of HVAC controls on the rear centre console. Perfect for those lazy days when you just want to be chauffeured around, sinking into the plush Comfort seats that hug every square inch of your body.
But even with the wide and open rear space, there are still compromises to the design. While you can technically fit three passengers on the rear bench, it's best left for two full-size adults, no thanks to the Great Wall of China-like transmission tunnel hump.
Poise and Power
Is the Panamera Platinum Edition any good on the road? Well, it's a Porsche, so that should give you a clue of how well it performs. And spending some time with it, I can confidently say that it's one of the most capable executive saloons on the market right now. 
Sure, it's not the final word in headline figures with only 330 horses and 450 Nm of torque to play with. But it's remarkably well-engineered and goes like stink when you decide to floor it.
Power delivery to its rear driven wheels is silky smooth, thanks to the eight-speed PDK transmission. I experienced no jolting or jerking in between lower gears at all in start-stop traffic, which further cements the car's reputation as a luxury performance saloon. 
Hard launches are just as smooth, where it practically glides from nought to 100 km/h in 5.6 seconds, and with the twin-turbo V6 serenading the occupants with a song of its people.
And once the Panny enters a series of bends, its quick to show off its Porsche heritage. There's plenty of stability and grip to inspire confidence to the driver, even with its RWD setup and the rainy road conditions that I faced during the testing period.
Steering feedback on this is class-leading – certainly better than the fandangled electric Benzes we've driven recently. You always get an accurate reading of where the wheels are pointed at, and quick steering adjustments are met with equally quick responses from the car.
This can be credited to the Porsche Active Suspension Management (PASM), which adapts to driving conditions in real-time. It's really fantastic technology, and you can feel the dampers react to sudden directional changes, working overtime to keep the body upright and stable. 
Even on roads as twisty as 99 Bends, the Panamera performs like a car much lighter and more agile than its near-two tonne kerb weight suggests. 
And when you dial everything down and just want to enjoy the luxuries that the Panamera has to offer, the car softens up and feels like a true luxury car. Road undulations and bumps are absorbed almost completely, and the air suspension keeps the cabin stable and far away from being a Bouncy Castle simulator.
Noise insulation is right up there with the very best, too. Apart from the V6 powerplant's sonorous note, you don't hear much of the outside world. 
Platinum-Grade
There are many carmakers out there that are fighting for the same sports luxury pie. And unfortunately, most of them have fallen flat, delivering qualities that are neither here nor there.
Porsche, on the other hand, has figured it all out with the Panamera, It's not the fastest, nor is it the quietest. But what it offers is a rather competent package that's capable of achieving the best of both worlds, something its competitors are unable to boast about. 
And with the Platinum Edition, you're getting tasteful visual upgrades that will further distinguish you from the rest of the pack. 
In my book, that's as good as it gets.
Porsche Panamera Platinum Edition Specifications
Price: $488,488 (without COE)
 VES Band: B

Motor:
Twin-turbo V6

Capacity:
2.9 litre

Power:
330 hp, 450 Nm


Transmission:
8-speed PDK

Driven Wheels:
Rear

Consumption:
9.2 km/L

0-100km/h:
5.6 s

Top Speed:
270 km/h

Fuel Tank Capacity:
75 L


Dimensions:

5,049 mm x 1,937 mm x 1,423 mm

Cargo Capacity:
495 L
Photo Credits: Photo Credits: Muhammad Mu'tasim (@mutasimdrives)
Download the Motorist App
The easiest and smartest way to manage your vehicle in Singapore.
Download Now
Read More: mReview: Porsche 718 Cayman GTS 4.0 - Playing Porsche's Greatest Hits
---
Download the Motorist App now. Designed by drivers for drivers, this all-in-one app lets you receive the latest traffic updates, gives you access to live traffic cameras, and helps you manage LTA and vehicle matters.
Did you know we have a Motorist Telegram Channel? Created exclusively for drivers and car owners in Singapore, you can get instant info about our latest promotions, articles, tips & hacks, or simply chat with the Motorist Team and fellow drivers.