mReview: Porsche 718 Cayman GTS 4.0 - Playing Porsche's Greatest Hits
Published by
Mutasim
on
13 Oct 2023
. Updated on
16 Oct 2023
One of the most therapeutic things that you can ever do while driving is listening to a banger playlist, full of music tailor-made for your tastes.
It doesn't even matter if you're listening to Liszt's Liebestraum No. 3 while speeding down the expressways in the dead of night, or perhaps bopping to Let It Go with the missus on a slow Sunday drive. Enjoying good music while behind the wheel almost always guarantees a good time for all. 
But with the 718 Cayman GTS, you don't really need any of that. In fact, you don't even need a radio. The fascinating reality is, an entire mechanical orchestra already resides inside, and it's always playing the best music there is: Porsche's greatest hits.
Unassuming Good Looks
At its core, the Cayman GTS is essentially a detuned GT4 that combines the latter's frenzied performance credentials with the sensibilities of the entry-level 2.0-litre variant. 
What you get is a shockingly competent performance coupé that's also civilised enough to be a daily driver, with creature comforts like leather seats, and having fairly unassuming looks (if you ignore the spectacularly eye-catching Carmine Red paintwork) that won't attract unwanted attention.
The only visual cues to remind you that this is a special 718 are the twin pipes at the back, more aggressive air intakes designed for maximum aerodynamical effect, and a set of 20-inch 718 Sport alloys finished in Satin Black paint. And of course, the GTS 4.0 scripts on the doors to rubbish any assumptions that it's packing a dainty 2.0-litre flat-four like the base model.
You see, the Cayman GTS is powered by a naturally-aspirated 4.0-litre flat-six unit that's been the talk of the town lately, and Porsche really wants everyone to know it even before the glorious engine comes to life (more on that later).
Achtung! You're Now in the Danger Zone
This whole game of not showing one's cards till the right moment carries on inside the cabin. The GTS' cabin is everything you'd expect from Porsche: ergonomic, well-made, and very attuned to the needs of the driver. But as far as first impressions go, it's not all that special.
It still uses a last-generation infotainment display and a HVAC setup that's button-dependent, and also a gear shifter that belongs in the last decade. There's a sense of familiarity of course, but you'd expect some of the switchgear to have been refreshed to keep the interior experience more in line with current times.
With that said, I have to commend Porsche for at least using high quality materials to pad the Cayman GTS' cabin with. You get a healthy mix of leather, suede, and carbon fibre as standard, and can relax knowing that none of them will ever feel loose or creak under applied pressure.
The low driving position is optimal too, giving a perfect balance between the view of the road ahead and the instrument panel that sits just behind the grippy steering wheel.
There's a sense of "old-school" fun in the package too. You get physical needles for the tach and speedometer –  increasingly rare in cars today – and adjusting the fore-and-aft positions of your seat are done via a manual lever, with electrical power reserved for backrest tilting. 
And what's a German car without a spritz of over-engineering? Once pressed, the carbon fibre dashboard panel opens outwards to reveal some of the most complex-designed cupholders found on Planet Earth.
Apart from that, there's not much else that the Cayman GTS offers in terms of practicality. Storage spaces are limited, and because the engine's situated just behind the seats, rear boot space maxes out at 270 litres. An additional 150 litres' worth of space are available in the frunk, if you really need more real estate for your items.
Accessing said engine is not straightforward, unfortunately. You'll need special tools to remove the sound deadening panels, and it's tucked rather deep inside the car itself.
Like a Bat Out of Hell
But all of those little issues start to wither away the moment you turn the Cayman GTS on. The NA flat-six takes centre stage, immediately filling the cabin with a deep bassy note. 
And once you step on the throttle, everything about the car starts to make complete sense.
With all six pistons running, the pure and utterly delightful mechanical soundtrack overwhelms your senses, transporting you back to an era where performance cars were not overly dependent on forced induction, and delivered far more than just headline figures; also bringing unspeakable amounts of joy and excitement to the driver.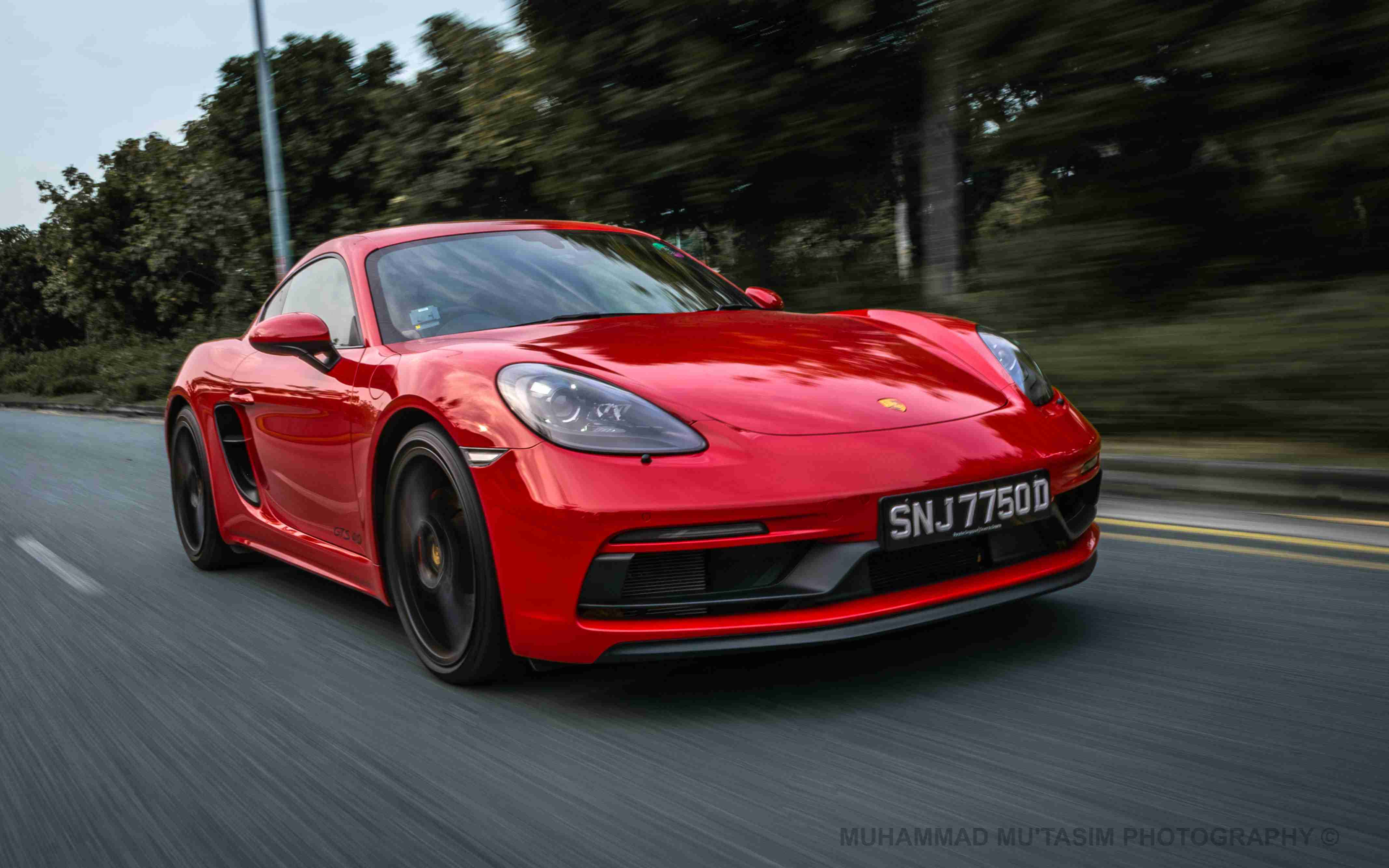 Its intelligently-programmed PDK transmission has long ratios, which means you can watch the radioactive red tach needle make its way up all the way to the heavenly 7,800rpm redline, with power readily available at virtually all points of the rev counter. 
No other car in my roster this year has allowed me to get so close to the rev limit – screaming at the top of its proverbial lungs – quite like the Cayman GTS without any form of manual intervention. And if I simply want to putter along the city streets as efficiently as possible, the gearbox shifts smoothly and early, completely cancelling out the drama. It's really that good.
With steering that responds so quickly and accurately, and a chassis that's so well-planted that it may as well be glued to the tarmac, you feel like a driving hero along the twisty bends of Buona Vista.
Techno-wizardry like Porsche Active Suspension Management (PASM) and Porsche Torque Vectoring (PTV) are at full play here, ensuring that it's always pointed at the right direction while you grin a stupid grin carving corner after corner.
And body roll? That term is non-existent in the Cayman GTS' dictionary, offering the driver superior levels of stability unseen in most other compact coupés at this price range. 
Is 394 bhp and 430 Nm of torque relatively tame for today, where the numbers race have gone out of control? Perhaps, but the GTS makes sure you can squeeze every drop of power and feel it course through your body as the speedometer reads unpublishable speeds, and that itself is satisfying enough.
Another Platinum Record
There's much to nitpick about the Cayman GTS if you really have all the time in the world. It's hardly the most fuel-efficient car on the block. And God forbid you are carrying a pack of Pocky sticks, because there just isn't enough space to securely store them in the cabin.
But you're probably barking up the wrong tree if those are your main concerns when considering this Porsche. 
This is a car developed by enthusiasts, for enthusiasts. It's a love letter to the sports car category, re-introducing the wonders of naturally-aspirated engines, mid-engine layouts, and rear-wheel drive fun.
It's a hell of a car to drive, and you can even spec it with a manual transmission, as nature has intended. While the Cayman GTS is not the final word in power figures, it's right up there in the Hall of Fame of cars that can very easily put a smile on your face with its driving experience, period.  

Did I mention the visceral howling sound that it makes?
Porsche 718 Cayman GTS 4.0 Specifications
Price: POA
 VES Band: B

Motor:
Naturally-aspirated flat-six

Capacity:
4.0 litre

Power:
394bhp, 430 Nm


Transmission:
7-speed PDK

Driven Wheels:
Rear

Consumption:
9.9 km/L (WLTP)

0-100km/h:
4.0 s

Top Speed:
293 km/h

Fuel Tank Capacity:
64 L


Dimensions:

4,405 mm x 1,801 mm x 1,276 mm

Cargo Capacity:
150 L (front) / 270 L (rear)
Photo Credits: Photo Credits: Muhammad Mu'tasim (@mutasimdrives)
Download the Motorist App
The easiest and smartest way to manage your vehicle in Singapore.
Download Now
Read More: mReview: Porsche 911 Carrera (992) - An Icon for the Ages
---
Download the Motorist App now. Designed by drivers for drivers, this all-in-one app lets you receive the latest traffic updates, gives you access to live traffic cameras, and helps you manage LTA and vehicle matters.
Did you know we have a Motorist Telegram Channel? Created exclusively for drivers and car owners in Singapore, you can get instant info about our latest promotions, articles, tips & hacks, or simply chat with the Motorist Team and fellow drivers.