mReview: 2024 Polestar 2 Long Range Dual Motor - Ready for Round 2
Published by
Mutasim
on
16 Oct 2023
They say that if something ain't broken, don't fix it.
A sensible enough maxim when viewed at face value, but flawed once you start adhering to it blindly without considering possible areas of improvement. That includes standards of living, environmental practices, or even general workplace management (uh-oh!).
But I digress.
Polestar was not one to rest on its laurels and leave their suave Polestar 2 untouched, despite it having received rave reviews from the international press (including us) back in 2022. The Swedish carmaker, sensible folks that they are, went back to their drawing board and set out to correct any possible flaw or imperfection in their electric fastback.
There was nothing truly bad about the pre-facelift model, but the upgraded Polestar 2 for the 2024 model year offers a more polished and "complete" Polestar experience that can definitely be seen and felt. And for consumers like you and me, these improvements are definitely worth the wait.
Scandinavian Chic
Revisions made to the exterior are mild, but effective enough to tell others that this is the latest and greatest. It wears a new snout, in the form of a flat-panel grille that's in line with their design language. The body-painted element houses the car's mid-range radar camera,  but is otherwise completely blank.
I'm not entirely opposed to this new look, but the previous iteration's Grid panel certainly gave the car a more distinctive and interesting look which I personally prefer.
Other changes found on the MY2024 Polestar 2 are the revised 20-inch forged alloy wheels, which now feature sharper-looking spokes and Swedish gold-painted valve caps.
Eagle-eyed readers may recognise the latter as an indicator that this is a Performance Package-equipped model, first seen in last year's Long Range Dual Motor (LRDM) variant. And it is, complete with Öhlins adjustable dampers and Brembo brakes – both also finished in bright gold paint.
The only difference is, this upgraded Polestar 2 LRDM now comes with the package as standard, which means you no longer have to fork out another S$16,000.
Minimalist Greatness
If you already enjoyed the cosy and intuitive cabin space from last year's model, you'll be happy to know that it's just as good this time around. You still get the same soft and supportive seats front and back, WeaveTech vegan leather-wrapped upholstery, and soft ambient lighting that makes the interior feel more like a warm and inviting cabin in the woods.
Where displays are concerned, you also get the same 12.3-inch instrument panel with two viewing modes, complete with a cheeky Polestar 1 easter egg for the cruise control icon. On the dashboard itself, you a crisp 11.15-inch infotainment display sits centre stage.
At the core of it is Android Automotive OS, the central nerve on which the Polestar 2 runs. Just like before, the operating system provides a fuss-free experience for even first-time users, which is a surprisingly tall order for most other manufacturers.  
Polestar is also proud of the fact that Amazon Prime can now be accessed via the Google Play Store, offering owners an even wider range of entertainment options than ever before. Speaking of which, there's full (albeit wired) connectivity support for both Android Auto and Apple CarPlay, plus. an immersive Harman Kardon sound system that'll satisfy your inner audiophile.
There's plenty of space in the car even at the back, where rear occupants can really stretch their legs out. However, it's worth noting that due to a considerable hump on the floor, the middle passenger will have somewhat less legroom to utilise.
Cargo space is commendable, measuring at 405 litres at the back and 41 litres up front. Loading and unloading things from the boot is especially easy because of the Polestar's liftback design and relatively shallow load lip. But perhaps its pièce de résistance is the boot divider, which has remarkably strong hinges to counter larger items shuffling around at the back. There's even a pair of hooks available on it to hang your groceries. Neat!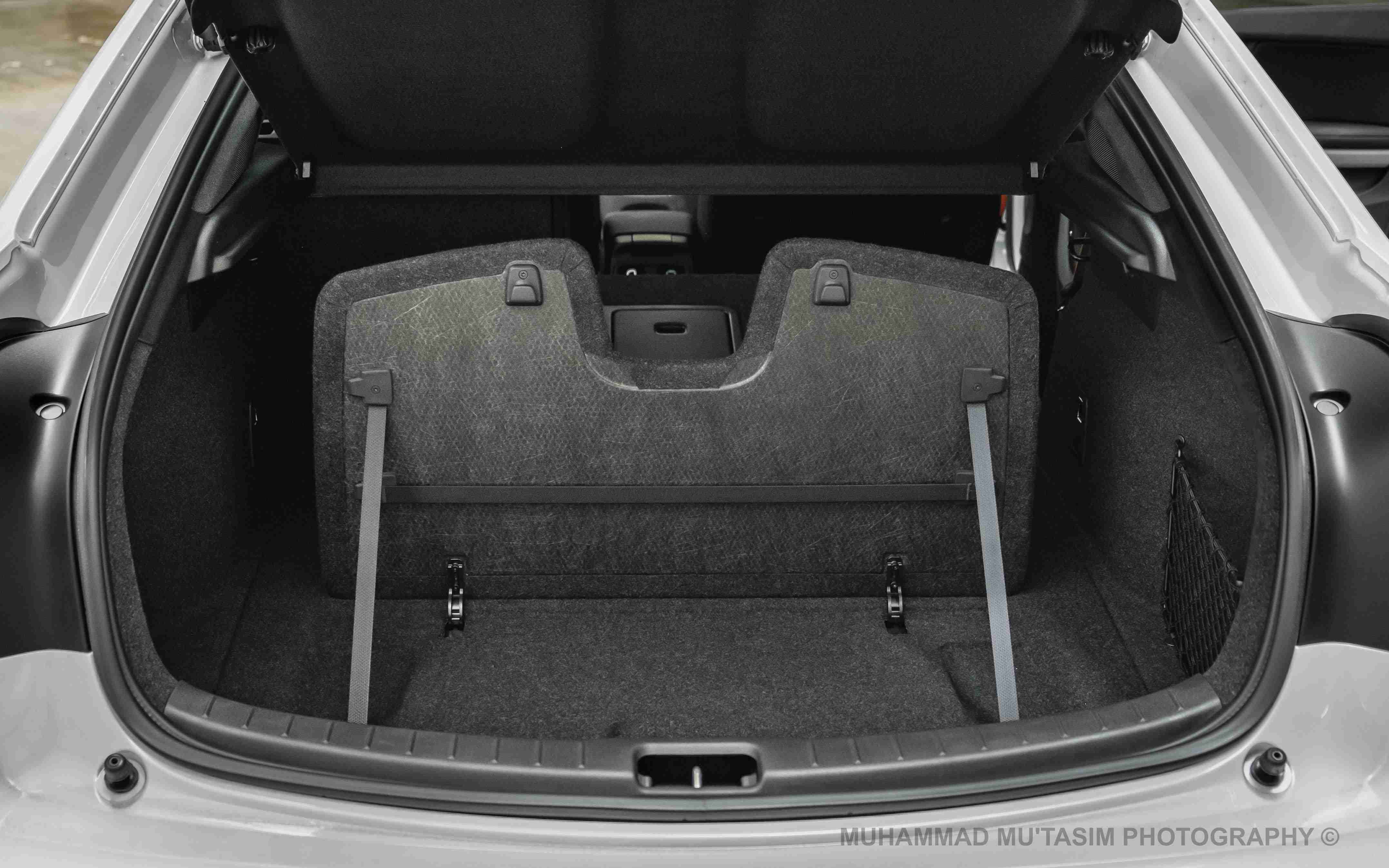 I've always enjoyed the user-friendly spatial design of the Polestar 2. Everything is within easy reach, and just as simple to interact with; crucial characteristics that make this car stand out from the EV crowd. And with the MY2024 model, you're still getting the very best of Polestar with zero compromise.
Power and Control
More power is now available in this year's PS2 LRDM, with a larger 82 kWh battery pack (versus 78 kWh from last year) and a dual-motor setup that altogether provide 469 brake horsepower and 740 Nm of torque. Nought to a hundred can be done in just 4.2 seconds, which smokes the Hyundai Ioniq 6 by almost a full second. Certainly figures that are a bit much for Singapore roads, but not something I'd complain about.
The aforementioned dual motors are comprised of an asynchronous motor at the front, and a synchronous one at the back. This allows the PS2 to run more efficiently even with the significant power bump, clocking approximately 5.8 km/kWh. During our tests, I achieved closer to 6.5 km/kWh, which is still a respectable figure for a car that measures at almost 2.2 tonnes.
The Performance Package can definitely be felt in the driving experience. At full chat, the Polestar 2 displays excellent on-road stability that we've all come to expect from a Volvo Polestar car. With the Öhlins dampers installed, it's able to take corners rather effectively, and at high speeds too. 
But there's still room for improvement. Steering feedback is still somewhat vague even when at its firmest setting, and the tuned dampers are a tad too stiff for daily use, which translates to an overall bumpy ride (especially along the real-life construction site simulator that we call Pasir Ris Town).
Thankfully, the latter is user-adjustable and can be softened accordingly, either by yourself or through Polestar's specialists.
Where the Polestar 2 truly shines is in daily commuting. Unlike the Tesla Model 3 Performance, it moves with a linearity that's akin to a gentle push rather than a forceful shove, regardless of how aggressively you step on the throttle. This means that you and your occupants can enjoy the drive at any setting. 
And for someone who's still not entirely convinced by the idea of one-pedal driving, I'm deeply impressed by how intuitive the system is on the Polestar 2. Three levels are available, and I found no issues with the varying amounts of resistance. In fact, using it was a breeze, especially in start-stop traffic during peak hours.
The Sensible Man's Choice
The Polestar 2 has always struck a perfect balance between performance and comfort, with a dash of Swedish sensibility that's a breath of fresh air from all the gimmicky doodahs that many carmakers are guilty of equipping their latest EVs with.
And it's no different with the MY2024 Polestar 2, offering buyers the same exquisite and premium experience, but now with added power and efficiency to boot.
With its impressive package and unassuming good looks, the latest Polestar 2 is not a car that will disappoint you.
2024 Polestar 2 Long Range Dual Motor Specifications
Price: $344,000
 VES Band: A1

Motor:
Dual electric motors

Charging Rate:
205 kW (DC), 11 kW (AC)

Power:
469 bhp, 740 Nm


Transmission:
Single-Speed

Driven Wheels:
All

Consumption:
5.8 km / kWh

0-100km/h:
4.2 s

Top Speed:
205 km/h

Battery Capacity:
82kWh

Dimensions:

4,606 mm x 1,985 mm x 1,479 mm

Cargo Capacity:
41 litres (front)
405 litres (rear)
Photo Credit: Muhammad Mu'tasim (@mutasimdrives)
Download the Motorist App
The easiest and smartest way to manage your vehicle in Singapore.
Download Now
Read More: mReview: 2023 BMW i4 eDrive35 – A Solid and Futureproof Option
---
Download the Motorist App now. Designed by drivers for drivers, this all-in-one app lets you receive the latest traffic updates, gives you access to live traffic cameras, and helps you manage LTA and vehicle matters.
Did you know we have a Motorist Telegram Channel? Created exclusively for drivers and car owners in Singapore, you can get instant info about our latest promotions, articles, tips & hacks, or simply chat with the Motorist Team and fellow drivers.