Hyundai continues on their charm offensive with the all-new, retro-futuristic IONIQ 6 saloon. And there's plenty of substance beneath all of that style. 
The IONIQ 6 joins the locally-built IONIQ 5 in the South Korean automaker's line-up, and offers consumers an alternative to the hatchback-meets-SUV form factor of the latter. It spawned from a concept car dubbed the "Prophecy", which was unveiled back in 2020.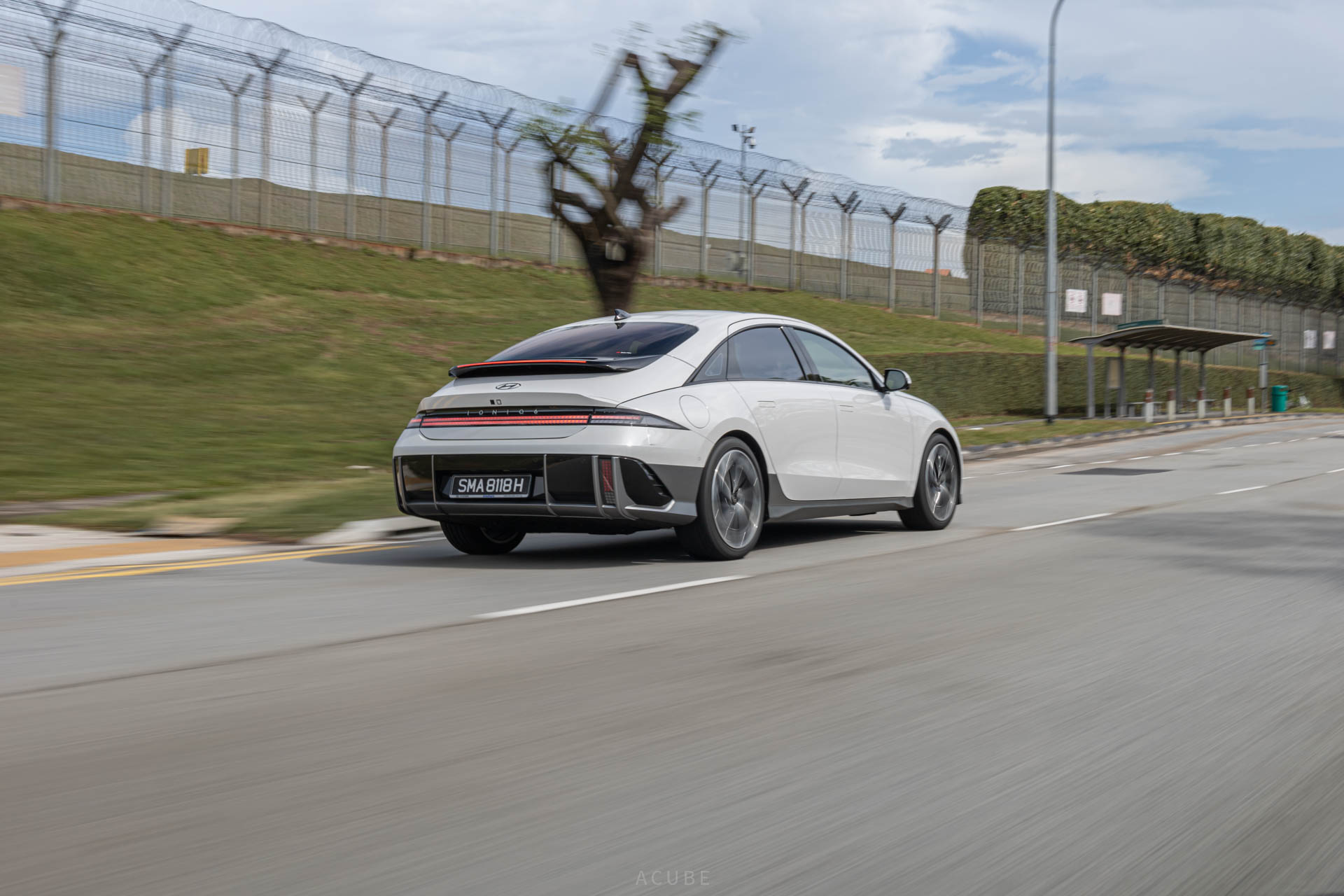 Further refinement of the design, including strict adherence to the "Electrified Streamliner" design approach, was employed. Hyundai designers have also included the now-iconic Parametric Pixel lights to the car, something that was also first introduced to a production Hyundai in the IONIQ 5.
The Future is Here
There's no denying that it has divisive looks. It is so far stylistically from a conventional vehicle that you either love the design, or you don't. As mentioned above, this E-GMP-based saloon was designed on the "Electrified Streamliner" approach, which marries aerodynamic efficiency with inimitable visuals.
You'll see this up front – the car lacks any sharp edges, and every surface has a gradual taper to it. This has the added benefit of making the car look seriously premium, and I'm convinced it'd have no problem passing off as a continental vehicle. With sturdy recessed handles, and seriously curvaceous hips, the nods to luxury continue throughout the vehicle.
This includes the rear-end design, which looks like a modernised interpretation of a Saab 900. This is no bad thing, as the Swedes were building some serious lookers in the 1990s. But of course, Hyundai had to make the car look even cooler, especially with its nods to the world of sci-fi with its pixel light clusters. 
A Premium Cabin
Build quality matters more to an electric vehicle than one with an internal combustion engine. The latter has the luxury of having the drone of its motor to drown out any potential rattles and squeaks, something an EV isn't able to do.
But the IONIQ 6 doesn't need a noise generator to disguise any unsatisfactory noises, for it just simply doesn't emit any. It is perhaps one of the best-built cars I've been in, with no squeaks or rattles of any kind even when I was actively seeking it.
It is effortlessly silent, and relaxing when driven calmly. Also soothing to the occupants is the amount of room on offer – a flat floor and a decent wide body shell creates more shoulder room for the rear occupants.
The sloping roofline does mean you'll find more headroom in the IONIQ 5, but it certainly isn't a dealbreaker. Those occupying the first row will find a pair of seats that appear to be infinitely adjustable, with additional rocker switches allowing you to put them into a reclined position. They also have ventilation functionality, which is essential in our climate.
Swift in Motion
This sense of effortlessness continues when you start driving the vehicle. It has a smooth tower of torque, so it never ever feels lethargic whilst on the go. Be smooth on the throttle and it'd waft you long very nicely. The suspension works well with the chassis too, being supple enough for a comfortable ride, and yet firm enough so the car feels engaging to drive.
This is helped by its steering, which is quick enough that the car feels agile. Also rather impressively, the all-wheel drive and torque vectoring systems appear to work seamlessly and harmoniously, further contributing to that impression.
There is a noticeable rear-bias to its all-wheel drive, but you'd struggle to upset the balance of the car even if you weren't gentle on the throttle. WIth the IONIQ 6, you simply choose a speed, and it'd tackle any corner that the roads could throw at the vehicle.
Truly Impressive Quality and Value
And what does Hyundai want for this deeply impressive vehicle? An extremely competitive $272,888 (at the time of publishing), which puts it squarely in the firing line of the Tesla Model 3 Performance. 
But there are many reasons to go Korean. The IONIQ 6 is truly one of the most impressive vehicles I've ever driven. It is incredibly well made, properly fast, and its sizable 77.4 kWh battery will let you go for weeks without ever needing to charge.
This futuristic vehicle is likely to look great for years to come. With all of its aforementioned traits and a comprehensive warranty, there's really little reason to pick another premium electric saloon over the IONIQ 6!
Hyundai IONIQ 6 Specifications
Price: $272,888
 VES Band: A1

Motor:
     Permanent Magnet Synchronous Motor

Capacity:
N/A

Power:
321 bhp, 605 Nm


Transmission:
Single-Speed

Driven Wheels:
All-Wheel Drive

Consumption:
5.9 km/kWh

0-100km/h:
5.1 s

Top Speed:
185 km/h

Battery Capacity:
77.4 kWh


Dimensions:

4,855 mm x 1,880 mm x 1,495 mm

Wheelbase:
2,950 mm

Cargo Capacity:
401 L
Photo Credits: ACube Creative (@weareacube)
Download the Motorist App
The easiest and smartest way to manage your vehicle in Singapore.
Download Now
Read More: mReview: Hyundai Ioniq 5 Prestige 58 kWh - Retro-Futurism Done Right
---
Download the Motorist App now. Designed by drivers for drivers, this all-in-one app lets you receive the latest traffic updates, gives you access to live traffic cameras, and helps you manage LTA and vehicle matters.
Did you know we have a Motorist Telegram Channel? Created exclusively for drivers and car owners in Singapore, you can get instant info about our latest promotions, articles, tips & hacks, or simply chat with the Motorist Team and fellow drivers.