mReview: BMW XM - A Celebration of Excess
Published by
Mutasim
on
10 Oct 2023
A million dollars. That could probably get you a lovely piece of freehold property. Or an unforgettable vacation to the Swiss mountain resort town of Zermatt via Suites Class, and still have plenty of cash to spare.
But what if you can already afford all of the above, but want something just a bit more bougie and special? A fancy convertible just screams of mid-life crisis, and a luxury saloon is just too passé in this day and age.
That's where the BMW XM comes in, and it promises to make you feel like you're getting something truly bespoke, and then some.
If Looks Could Kill
Its external form is still a point of contention for many folks. Too bulbous, some say. Too fussy for a supposedly pure M car that succeeds the wedge-like M1, others yell. And in some ways, the XM really does look like a design study that's not quite fleshed out, still in its early prototypical stages.
On the other hand, have you ever come across another vehicle that looks like this? There's a distinctly futuristic look to it, with razor-sharp angles and larger-than-life design elements abound in the literal and figurative sense. End to end, the XM measures at 5.11 metres long, and a 3.105 metre-long wheelbase. With the 23-inch M light-alloy wheels fitted on, the performance luxury off-roader towers over virtually everyone else on the road.
Gold-coloured accents provide a stark visual contrast against the XM's sheet metal, forming a swooping band along the belt line on either sides, and around the massive kidney grille elements up front. Nobody said this was a car that would fly under the radar.
As you walk past the unusually thick D-pillars, you're greeted by a sleek rear fascia, thin LED taillights and all. Positioned on the top corners of the rear windscreen are two laser-etched BMW badges, a callback to the original M1 which also featured two badges at the back. 
Four exhaust pipes grace the XM's rear apron, stacked vertically and surrounded by hexagonal tips to blend in with the rest of the bodywork. Squint hard enough and you can even find geometric motifs along the door handles, which is a nice touch.
It's a dramatic car, this. And if BMW's intention was to shock the industry and make a bold statement, they certainly achieved that with just the exterior design alone. But it's only when you step inside that you begin to see why it commands such a high price tag.
Palatial Suite
The XM's cabin is a celebration of extravagance, blending together supple Nappa leather upholstery, carbon fibre, and alcantara, with a sprinkling of geometric patterns on the dashboard that would have you believe you were in a Middle Eastern palace.
Vintage leather is used on the dashboard, guaranteeing that every XM will have their own aged leather pattern. And the headliner? Well, see for yourself.
Textured with a 3D effect, the headliner dances in the light when illuminated by the surrounding LED lights (all 100 of them). And best of all, you can configure the colour to your liking. I chose a deep shade of purple, making the cabin look like a contemporary jazz lounge.
It's also finished in a pale blue colour, matching the quilted leather upholstery that's not only supple and plush, but also very supportive when you're engaging in some properly hard driving – more on that in a bit.
A pair of configurable M switches are slotted on the steering wheel, letting you toggle between your very own vehicle setups at quite literally the flick of a switch. This includes the engine note, Dynamic Stability Control (DSC), and even the transmission's shift characteristics.
Everything that you'd ever want to know about the car's status or the route towards your destination can be accessed via the panoramic glass screen sits proudly on the dash. It combines the 12.3-inch BMW Curved Display with a 14.9-inch control display, and is extremely high definition, although I did find Operating System 8 (on which it runs) to be less intuitive than previous iterations.
Space at the back is comparable to being inside a limousine, with more than enough headroom and legroom for the average Singaporean. The seats are also covered in fancy Nappa leather, making long journeys very relaxing for rear occupants. And the premium Bowers & Wilkins Diamond Surround System with a 1,500-watt amplifier? Just excellent.
Connectivity options at the back are great too. Dual USB Type-C charging ports are accompanied by a power socket on the rear centre console, while the backrests of the front seats feature quick connectors that house two more USB Type-C ports. Users can mount their tablets there, thus expanding entertainment options.
You certainly won't be lacking in cargo space, as there's 527 litres to use; 1,820 litres with the 40:20:40 split seats all the way down. More importantly, the floor is flush with the XM's load lip, which means you can store or remove bulky items without much issue.
Once you've got all the essentials loaded up, it's time for the main event: driving the XM.
Sound and Fury
It starts up sensibly enough, with nary a burble thanks to the electric powertrain that's partially powering the XM. But the silence of the night is soon pierced by the rumbling entrance of the BMW's unmistakable S68 twin-turbo V8 heart. 
The sonorous, if brutal, mechanical soundtrack that follows is a warning to others that it's essentially Mike Tyson in a power suit – elegant and classy on the surface, but a cold-blooded apex predator underneath.
At your disposal is 653 bhp and 800 Nm, which means power is definitely not going to be a problem should you want to give it the beans. 
Once the lights turn green, the XM catapults off the line with a level of immediacy that simply frightens. 4.3 seconds is all it takes to bring this 2.7-tonne mass of German steel up to 100 km/h, cleanly stripping the body panels off nearby vehicles in the process. 
To put that into context, that's just a fraction of a second slower than the Porsche 911 Carrera.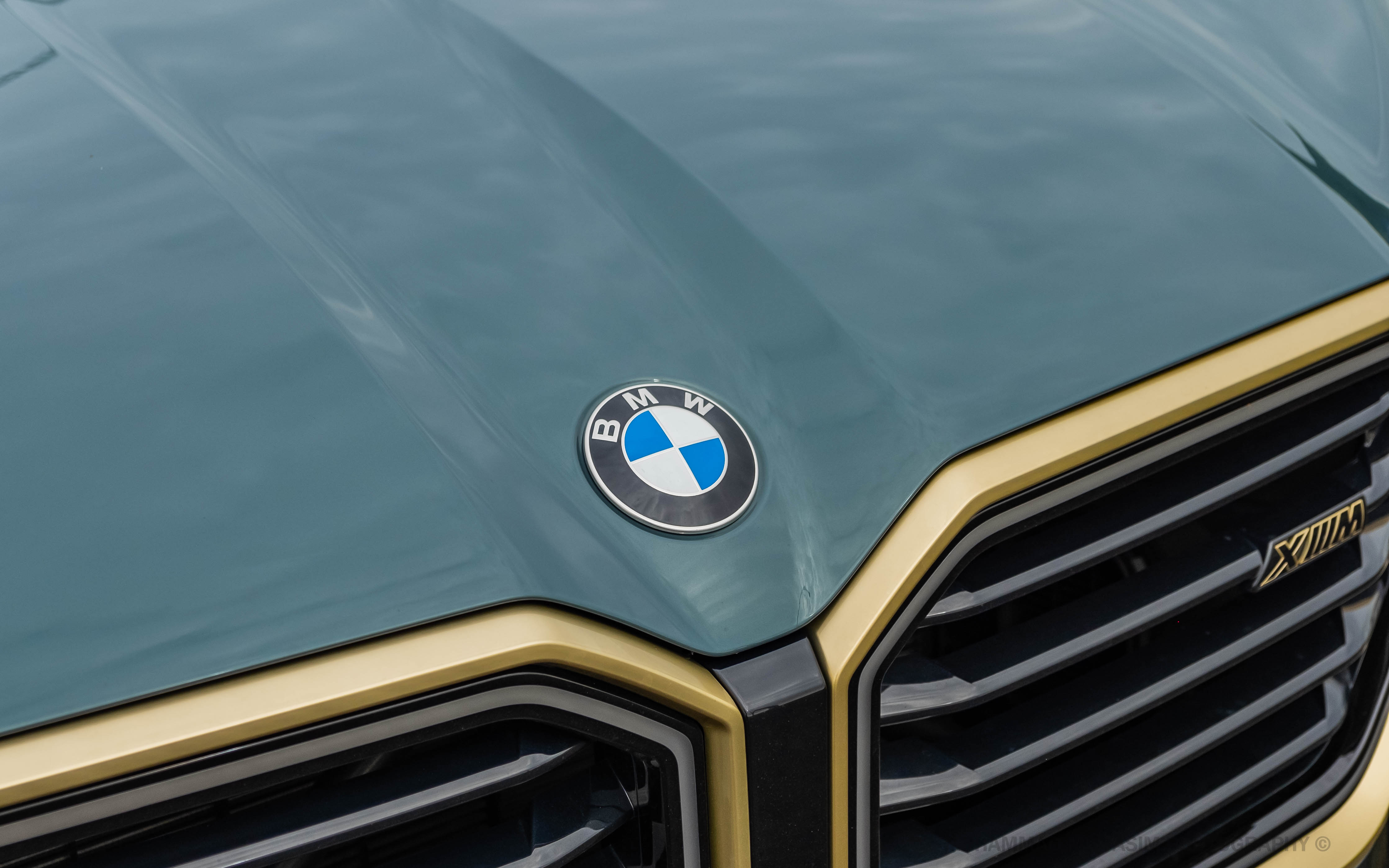 The sonorous, if brutal, mechanical soundtrack that follows is a warning to others that it's essentially Mike Tyson in a power suit – elegant and classy on the surface, but a cold-blooded apex predator underneath.
Its gearshifts are ruthlessly quick too, blitzing through all eight ratios with ease. As seen in other M cars, you can adjust the intensity of the shifted via a switch located on the leather-wrapped gear shifter. Three levels are available, ranging from sedated and civil in the lowest setting, to being downright maniacal at its highest. 
But it's not just straight-line performance that the XM excels at. It feels unusually planted around the corners, displaying characteristics that are usually found on smaller, lighter cars.
Mechanical wizardry such as adaptive air suspension and all-wheel steering certainly helps in giving the XM rather nimble driving dynamics, and even as it blasted over road undulations, the cabin still felt stable and upright; no excessive body roll or wobbling felt at all.
The Beemer's steering will not win the "Best Steering Feedback of the Year" award (perhaps I should trademark BSFOY after this), but it's still well-weighted and direct enough to drive at enthusiastic speeds with confidence. 
Even at low speeds, it feels remarkably composed and much like a "normal" BMW, especially when you dial down the settings to Comfort. However, its behemoth-like dimensions does mean that you'll have a frustrating time driving along narrow streets and neighbourhoods.
And front-corner blindspots will be an issue if you're not careful enough, especially with the 23-inch wheels that my press car's wearing – even featuring battle scars from past drives.
Despite its muscular, testosterone-filled character, the XM still tries its best to be a gentle soul for Mother Nature. Running on purely electricity, it's able to clock 85 km, with the ability to recharge the battery via brake regeneration in eControl mode.
But if I'm being truly candid here, the battery range is still far being usable in many situations, and most of your driving will still require the V8 motor; an affront to those Just Stop Oil scallywags. 
Unless your usual daily route is only a few kilometres long in a small neighbourhood (why would you even buy an XM then?), you'll still have to refuel fairly frequently.
A Celebration of Excess
Is the BMW XM the best performance luxury SUV that money can buy?
For a million dollars, it's definitely a contender in my book. There are more pragmatic choices like the Audi SQ8, sure, but if you can fork out seven-figure sums for a car, pragmatism is hardly a concern.
Some folks may even seek refuge in the safer "old money" choices, in the form of a Bentley or Rolls-Royce. However, there's simply no argument about the XM's capabilities and all-rounded nature, polarising design or not. 
It delivers shockingly good amounts of fun when the conditions are right – when the roads stretch to the ends of Earth, and are just as wide. And for driving enthusiasts like me who love a balance between spirited driving and simply cruising in absolute comfort, the XM is simply the one to have. 
BMW XM Specifications
Price: POA
 VES Band: B

Motor:
Twin-turbo V8
with plug-in hybrid technology

Capacity:
4.4 litre

Power:
653 bhp, 800 Nm (combined)


Transmission:
8-speed M Steptronic

Driven Wheels:
All

Consumption:
62.5 km/L (WLTP)

0-100km/h:
4.3 s

Top Speed:
250 km/h

Fuel Tank Capacity:
69 L


Dimensions:

5,110 mm x 2,005 mm x 1,755 mm

Cargo Capacity:
527 - 1,820 L
Photo Credits: Photo Credits: Muhammad Mu'tasim (@mutasimdrives)
Download the Motorist App
The easiest and smartest way to manage your vehicle in Singapore.
Download Now
Read More: mReview: 2023 BMW M3 Touring - A Symbol of Automotive Triumph
---
Download the Motorist App now. Designed by drivers for drivers, this all-in-one app lets you receive the latest traffic updates, gives you access to live traffic cameras, and helps you manage LTA and vehicle matters.
Did you know we have a Motorist Telegram Channel? Created exclusively for drivers and car owners in Singapore, you can get instant info about our latest promotions, articles, tips & hacks, or simply chat with the Motorist Team and fellow drivers.