mReview: 2023 BYD DOLPHIN - Making a Convincing Splash

Batteries are costly. Which is why electric cars often command a premium over their petrol-powered counterparts. But BYD is trying to change that, and they have certainly done so with their latest local entrant.
The Chinese automaker claims that its compact hatchback has been styled using very different design ideologies than its ATTO 3 SUV stablemate, with its 'Ocean Aesthetics' styling earning it the right to its DOLPHIN moniker.
And these aren't just hollow claims, for you'd be able to spot aquatic themes throughout the vehicle.
Unique Looks
You'd definitely be able to pick out a DOLPHIN from a sea of other vehicles. The Marine-inspired styling is apparent on the exterior of the car, with the swage lines on the slight bearing a slight resemblance to the silhouette of an actual dolphin.
To complement this, BYD designers have utilised a mixture of retro-futuristic cues throughout the vehicle, such as helical light signatures on the rear light bar, and textured black plastic trim pieces on the C-pillar.
The design is generally inoffensive, and works well to suit the taste of the masses. However, the front end just doesn't seem to have the same vibe as the rest of the car. The headlight design is too simplified, and doesn't match the detailing that you'd find throughout the rest of the vehicle.
Nautical Theme Continues Inside
The obsession with sea life continues in the cockpit. It still has all the usual bits that you'd have already been used to if you have seen other BYD cars - think the 12.8" rotating infotainment screen, and the 5" instrument cluster. However, these elements appear to be better integrated into the design of the Dolphin.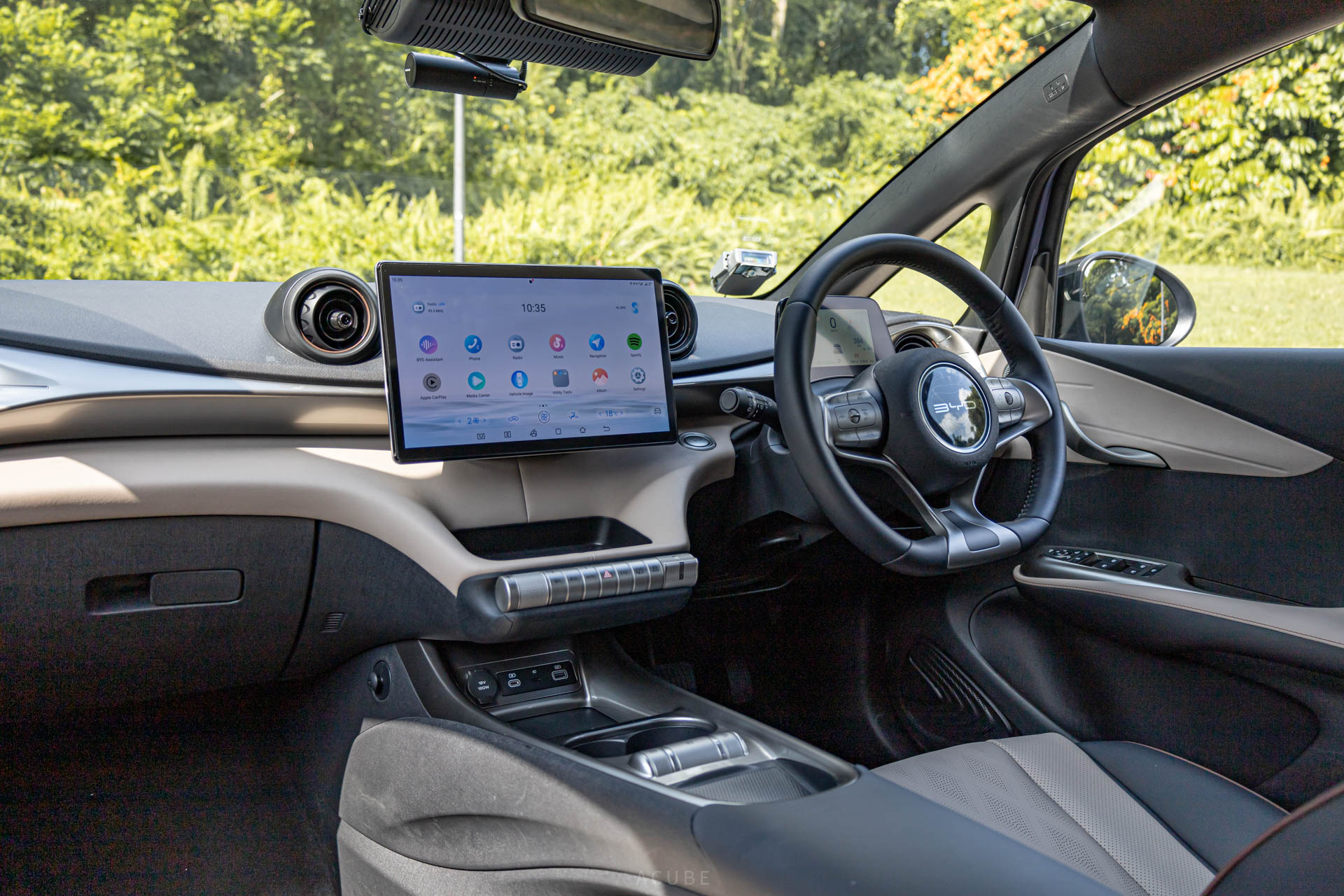 A rotating screen is most definitely a novelty, but strangely, it is one that works better in the more conventional cabin of the DOLPHIN. Though conventional is a bit of a misnomer, as it still has some of the typical quirkiness of a BYD product. For instance, a colour-contrast trim panel spans the width of the dashboard. This organically shaped structure houses the left and right aircon ducts. 
Also, it has seats that have flowy lines built into them, as well as fin-like door handles. As a further nod to its nautical name, most of the car's switchgear has been mounted on toggles that would not look out of place on a yacht. There's a nice compartment in the centre stack for your mobile device, though it does not come with wireless charging.
On The Move
Powering this DOLPHIN is a front-mounted electric motor that puts out a Category A COE-friendly 94 bhp. It doesn't provide the same punch-in-the-gut off-the-line performance as some of its EV rivals, but you aren't going to be buying the most affordable EV for that specific application.
But a lack of raw grunt doesn't mean that this is a pure commuting appliance. In fact, you'd soon realise that despite the lack of feedback through the steering wheel, the car does an admirable job in ensuring you can carry a not-insignificant amount of momentum through the corners. This is despite the fact that it comes shod with comfort and economy-oriented tyres.
You can attribute this partly to its suspension, which, like most modern EVs, is on the firm side to regulate the heft of the battery pack. And being a dedicated ground-up EV means that BYD can properly exploit the traits of the powertrain, creating a lot of usable cabin space for occupants despite its relatively small footprint.
A Seal of Approval
It may be the most affordable brand new EV on sale today, but the BYD DOLPHIN certainly feels like a lot more car than its MSRP may suggest. It punches well above its weight class, with equipment levels and a driving experience that feels significantly costlier than its asking price.
I managed to clock a real-world range north of 400 kilometres, significantly higher than the homologated 300+ kilometre range estimate. With 60kW DC fast charging, you'd be able to fill up the 44.9kWh pack in less than one hour too.
Couple that with a generous list of equipment (Android Auto/Apple CarPlay, Power Seats, Power Tailgate), and you have quite possibly the best value new car of 2023 so far!
BYD DOLPHIN Specifications
Price: $162,888

 VES Band: A1

Motor:
     Permanent Magnet Synchronous Motor

Charging Speed:
DC: 60 kW
AC: 7 kW

Power:
94 bhp, 180 Nm


Transmission:
Single-Speed

Driven Wheels:
Front

Consumption:
6.6 km/kWh

0-100km/h:
12.3 s

Top Speed:
130 km/h

Battery Capacity:
44.9 kWh


Dimensions:

4,290 mm x 1,770 mm x 1,570 mm

Cargo Capacity:
345 - 1,310 L
Photo Credits: ACube Creative (@weareacube)
Download the Motorist App
The easiest and smartest way to manage your vehicle in Singapore.
Download Now
Read More: mReview: 2022 BYD Atto 3 - Bold Dreams, New Beginnings
---
Download the Motorist App now. Designed by drivers for drivers, this all-in-one app lets you receive the latest traffic updates, gives you access to live traffic cameras, and helps you manage LTA and vehicle matters.
Did you know we have a Motorist Telegram Channel? Created exclusively for drivers and car owners in Singapore, you can get instant info about our latest promotions, articles, tips & hacks, or simply chat with the Motorist Team and fellow drivers.