Let's set the record straight - you cannot judge the BYD Atto 3 with any preconceived notions formulated as a result of prior experiences with past BYD products.
It fronts a coming-of-age of sorts for the BYD brand, with the Chinese manufacturer now ushering a new era and standard in the production and design of world-class electric vehicles. They are no longer a budget EV alternative with vehicles that were really honestly better suited for fleet use - the Atto 3 combines quality and equipment that rivals (or perhaps even supersedes) anything the West can put out.
And they did all this in a short span of about half a decade. But just how did we get here?
A Short History Lesson
The first batch of BYD cars were destined for use locally as fleet cars. These e6 models were purchased en masse and saw duty on our roads as private hire cars or taxis, with a small number finding their way into private ownership.
In 2021, BYD introduced the all-new e6, which was a massive step up from the original car. No longer did these vehicles feel like they were designed for use as a for-profit rideshare service - these cars actually had the credentials to serve as very competent daily drivers.
If you require more space, BYD also sells the Nissan NV200-based T3 van and its people-mover M3e sibling here. Again, as with the original e6, there's really nothing much to shout about here. These are very barebones, utilitarian vehicles built for a specific purpose.
The Atto 3's Exterior Design
BYD claims that their latest electric SUV utilises their Dragon Face 3.0 design language. It supposedly heavily references forms from the aforementioned creature, and this inspiration is no more apparent than in the front fascia of the Atto 3.
And whilst you do see more dragon-inspired cues littered throughout the bodyshell, I can't help but notice that there's more than a whiff of Audi in the bottom half of the front bumper (that's because the Atto 3 has been designed by former Audi designer Wolfgang Egger), this isn't a BYD-specific problem. Rather, it does seem like the current crop of compact EV SUVs bear strong resemblances to one another, irrespective of the country of origin or the manufacturer.
As a complete package, the Atto 3's exterior design looks cohesive and is inoffensive. It doesn't openly parade its EV credentials, but I wouldn't say that it can pass off a conventional Internal Combustion Engine-d car too.
What's Inside?
You'll find space for five adults in the cabin of the Atto 3. In my first drive article, I mentioned that more time was needed for a proper evaluation of the cabin. BYD opted for an organic yet musical themed interior design, which then yielded this polarising dashboard.
Whilst build quality as a whole was really rather good, I do question the choice of a rotating screen. It's a novelty for sure, but that's really about it. Supposedly, it was to give you the option of better optimising applications on your infotainment screen. But during the test, only the native applications worked, and there's no real benefit to a rotating screen. Android Auto and Apple CarPlay will be added via an Over-The-Air update at a later date, so perhaps this decision will make more sense with the inclusion of smartphone mirroring.
As with so many new cars today, the Atto 3 has a clean and uncluttered interior, seemingly devoid of any tactile buttons, with the Chinese automaker opting to integrate most of the functions in the cabin onto the infotainment screen. But actually, most of the mission critical functions can be controlled via the switch gear mounted on the centre console. As there's no "hotkey" shortcut for things such as the aircon controls or the option to toggle the various driving assists on or off, you'll still need to rely on the touch screen, which can be tricky to operate whilst in motion.
In what is essentially the quirkiest feature I've ever come across testing cars, BYD has blessed the Atto 3 with three rubber straps on the door cards, which all play different notes. This is supposedly a more elegant solution to holding down large bottles in the door cards - the alternative being adding bulk (and thickness, which eats into cabin space) to the door cards.
The funkiest continues with some decidedly 'gaming-inspired' front seats, which somehow manage to both be supportive and comfortable at the same time. Couple this with the start-up animation of the small driver's cluster, swivelling screen and the nautical-themed gear shifter, you get the sense that BYD was perhaps trying to create their own spin on the MINI-magic. It's a good first attempt at optimising the user experience, but it does fall ever so slightly short.
Also, honourable mention to the Atto 3's sound system, which is surprisingly competent for a car in its price bracket. The audio quality is excellent when music is played via bluetooth, though there is some distortion when you choose to listen to the radio.
Behind The Wheel
Power comes courtesy of a Permanent Magnet Synchronous Motor mounted in the nose of the car. The manufacturer claims that it is good for 201bhp and 310Nm of torque, though it certainly doesn't feel like that off-the-line.
Don't get me wrong - this is still going to be much faster than any similarly-sized or priced ICE car. But you'd be disappointed if you are expecting the savagery of a hard charging EV. This is partly due to the weight of the car (it's almost 1.8 tons), but also partly down to the Batman tyres they've opted to shod the car with.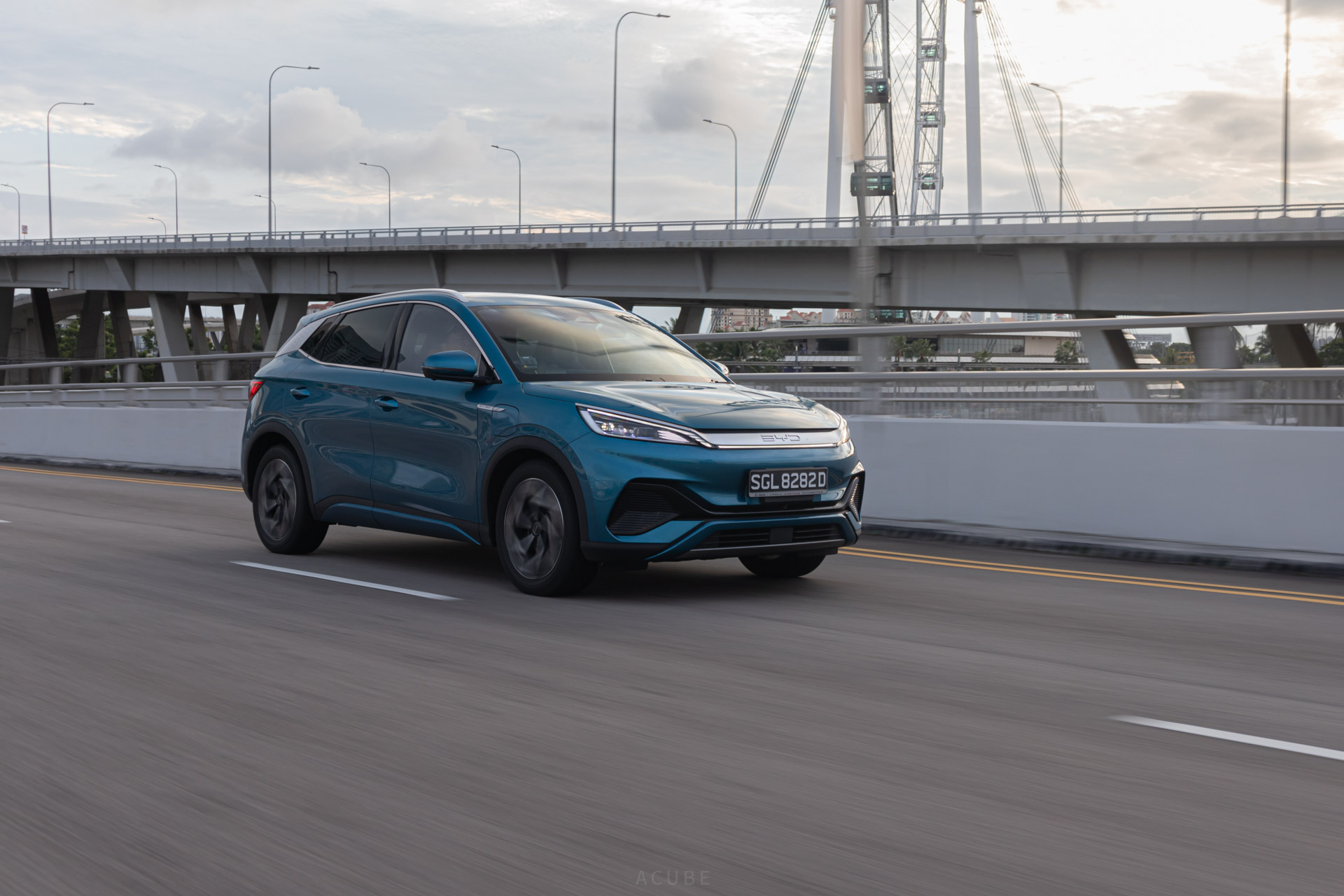 And they are bad, man (couldn't pass up on an opportunity to make such a pun!). But again, I'd like to emphasise that it is a tyre issue and not a car issue. In sport mode and with the throttle pedal fully depressed, they do tend to spin up, even with traction control on. With TC off and on a damp surface, the car tends to scramble for traction, wheel spinning till the car cuts TC back on to regain grip.
On spirited drives, you'd realise very quickly that the car was really tuned to be a comfortable family vehicle. Opting to send the car hard into corners will yield some noticeable understeer as the Batmans scramble to find some adhesion. You'll also experience some not-insignificant body roll in the process. But again, these are issues that plague most, if not all, cars of its class (ICE or EV) at its price point, as they really aren't designed to entertain the enthusiast driver.
Once you decide to stop the tomfoolery, the Atto 3 presents itself as a calm, relaxing cruiser that effortlessly soaks up the miles. The same suspension that makes the car less competent on a twisty road now pays off on your daily commute, as all but the worst of road imperfections are soaked up. All the controls in the car are vague, but that's not necessarily a bad thing in this context, as it doesn't egg you on to drive like a buffoon. The sound insulation is also very decent, so the cabin is whisper quiet for most commutes round the city.
The foam and upholstery fabric are also very pliant, so it is unlikely that you'd experience any sort of discomfort on a longer drive. And you'd be doing quite a bit of that in the Atto 3, as with some measured driving, it isn't unrealistic to extract upwards of 400 kilometres on a single charge.
It's also worth noting that as standard, the Singapore-delivered Atto 3s will come fitted with seven SRS airbags, ISOFIX-ready rear seats and automatic emergency braking system with front and rear collision warning system.
Is BYD Finally Mainstream?
You'll see BYD products literally everywhere now. They've built commercial vehicles, public transit buses and private passenger cars, and a good chunk of their global portfolio can be seen plying our roads. And whilst their early attempts left a lot to be desired, there's no denying that BYD has finally arrived with their new Atto 3.
Just as did the Koreans and Japanese before them, the Chinese have arrived, and they now have a competent product that you'd actually shortlist from the get go, instead of only opting to buy because the car is cheap.
That isn't to say that the Atto 3 is perfect though. The graphics on the infotainment screen could do with some updating, and the reliability of its upcoming smartphone mirroring remains to be seen. The biggest gripe I currently have with the car is the tyres that it comes with, though that is really a non-issue, as you can easily swap it out anyways.
All things considered, there's perhaps no better EV to buy at its price point - this is one thoroughly capable car that is well worth every penny BYD wants for it.
BYD Atto 3 Specifications
Price: $179,888
 VES Band: A1

Motor:
Permanent Magnet
Synchronous Motor

Charging Rate:
80 kW (DC), 6.6 kW (AC)

Power:
201 bhp, 310 Nm


Transmission:
Single-Speed

Driven Wheels:
Front

Consumption:
6.7 km/kWh

0-100km/h:
7.3 s

Top Speed:
160 km/h

Battery Capacity:
60.5 kWh

Dimensions:

4,455 mm x 1,875 mm x 1,615 mm

Cargo Capacity:
440 litres
Photo Credit: Acube Creative (@weareacube)
Download the Motorist App
The easiest and smartest way to manage your vehicle in Singapore.
Download Now
Read More: mReview: 2021 MG ZS EV - Almost Hitting The Mark
---
Download the Motorist App now. Designed by drivers for drivers, this all-in-one app lets you receive the latest traffic updates, gives you access to live traffic cameras, and helps you manage LTA and vehicle matters.
Did you know we have a Motorist Telegram Channel? Created exclusively for drivers and car owners in Singapore, you can get instant info about our latest promotions, articles, tips & hacks, or simply chat with the Motorist Team and fellow drivers.