Mitsubishi's well-loved pickup truck has received a long-awaited update, featuring beefed-up looks and an upgraded driving experience.
The all-new Mitsubishi Triton, known locally as the L200, launched in Thailand earlier this week, with Japan set to receive it in early 2024. Mitsubishi has high hopes for the new Triton, expecting production to reach 200,000 units in over 100 countries.
Mitsubishi has emphasised that the key features of the Triton were developed in-house by Mitsubishi Motors, with President and Chief Executive Officer Takao Kato stating that "as a pickup truck that fits for a new era, we have developed the all-new Triton with even more Mitsubishi Motors-ness."
Such key features include a newly developed ladder frame that is more rigid and tough, giving the Triton better road performance and ride comfort. Durability during loading and energy dispersion in the event of a collision have also been improved, despite the body weighing less than the previous model.
A newly developed suspension and an enhanced four-wheel drive system provide the Triton with improved road performance, making the Triton a more comfortable and versatile pickup truck for any terrain. There are also upgraded drive modes to improve the performance of the Triton across all terrain types.
The Triton will come with a four-cylinder 4N16 clean diesel engine in three specifications — you'll be able to choose between a 110 kW or 135 kW 'standard' version and a 150 kW 'high-output' version. All three engines will be turbocharged, with the high-output version having received a new turbocharger and combustion system. 
Customers can choose between two transmission options, with the all-new Triton being available with a six-speed automatic transmission with a Sports mode and a six-speed manual transmission with shift-by-wire for all engine specifications.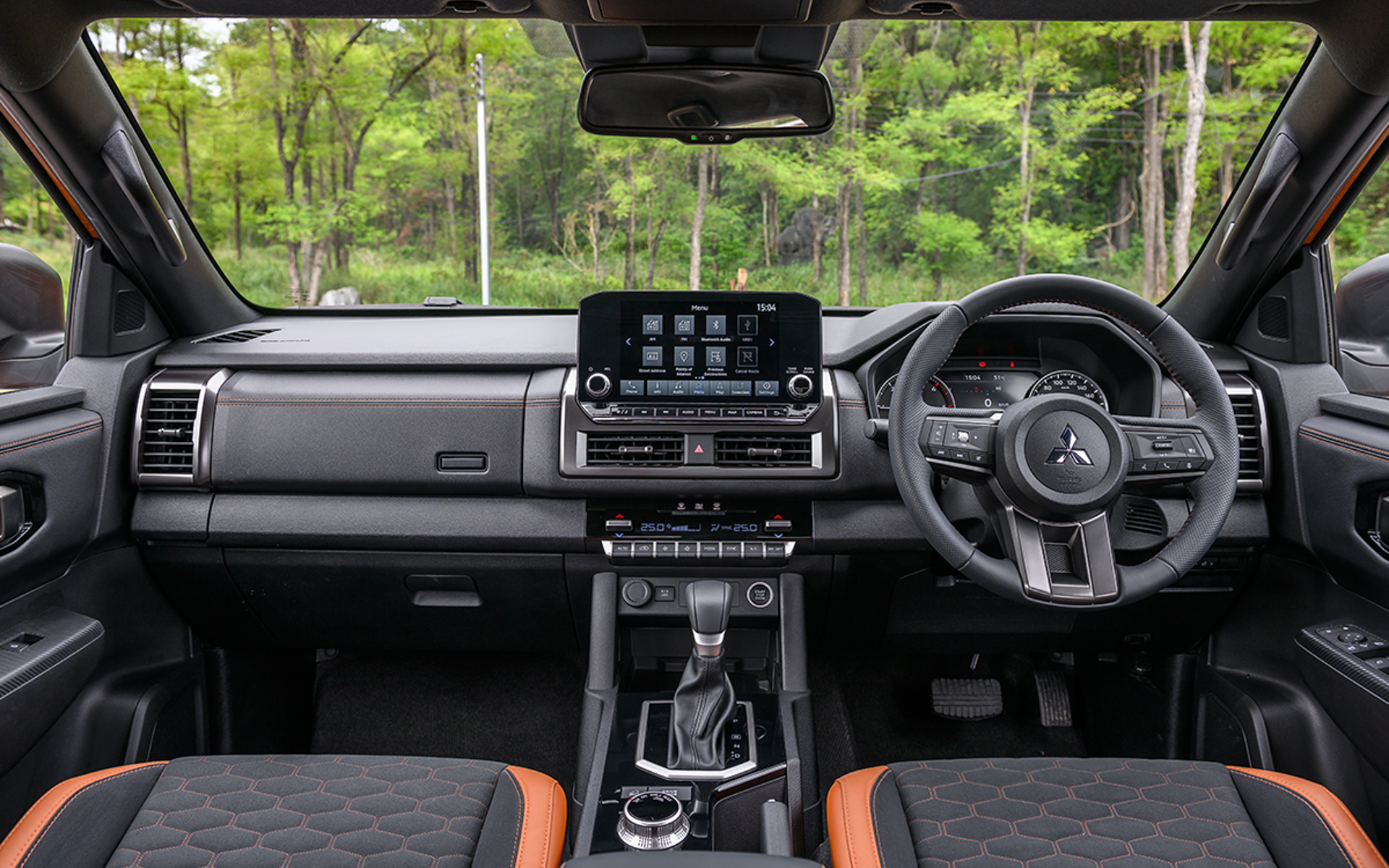 Over in the interior, the instrument panel has been developed with visibility in mind, giving drivers a peace of mind when navigating uneven terrain. Plenty of soft pads have been included, along with designs featuring geometric shapes and metallic elements all over the interior, giving the Triton a more modern and refined look.
Much thought has been put into the usability of the Triton's selectors, dials, and switches, having been developed for operability even while wearing gloves. Additionally, grip comfort and sturdiness were prioritised for the steering wheel, grips, and door handles, giving the driver a more confident experience with the car.
There are also safety features such as Adaptive Cruise Control, Forward Collision Mitigation, Blind Spot Warning with Lane Change Assist, and Rear Cross Traffic Alert to make the new Triton a safer vehicle for all.
While there's no news yet on whether the all-new Mitsubishi Triton will arrive in Singapore, Mitsubishi has stated that they are targeting a rollout in ASEAN markets. Given its popularity as a commercial vehicle here, there's a good chance it'll be available to us in the near future.
Photo Credits: Mitsubishi Motors Corporation
Download the Motorist App
The easiest and smartest way to manage your vehicle in Singapore.
Download Now
Read More: mReview: Mitsubishi L200 Triton - The Mighty Multipurpose Macho
---
Download the Motorist App now. Designed by drivers for drivers, this all-in-one app lets you receive the latest traffic updates, gives you access to live traffic cameras, and helps you manage LTA and vehicle matters.
Did you know we have a Motorist Telegram Channel? Created exclusively for drivers and car owners in Singapore, you can get instant info about our latest promotions, articles, tips & hacks, or simply chat with the Motorist Team and fellow drivers.