The future of the automobile is here, and in BMW's eyes, it'll apparently involve talking cars and colour-shifting elements to excite all senses.
Making its first-ever appearance here in Singapore –  and by extension, Southeast Asia, the carmaker's i Vision Dee concept car is a showcase of their latest and greatest technologies that will eventually trickle down to future BMW production cars.
Staying true to its name (Dee being an abbreviation of Digital Emotional Experience), this charming little number is able to communicate with you in real-time and express a wide array of emotions, effectively bridging the gap between car and driver.
A Peek into the Neue Klasse
It rides on the Neue Klasse platform, BMW's all-new all-electric architecture that will supercede the existing Cluster Architecture (CLAR) that's used on current models such as their iX3 SUV.
The compact dimensions and clean-cut lines of the i Vision Dee are a refreshing change from today's mostly extravagantly-designed vehicles. Its front fascia features a pointed shark nose design, a modern interpretation of the brand's classic styling cues found on past icons such as the BMW 2002.
But BMW takes this a step further by fitting large dual e-ink panels shaped like their famous kidney grille design up front, with vertical slits on either sides acting as headlights. These panels can alternate colours between black and white, displaying emotions and patterns. 
The carmaker says that there also exists a full-colour version that allows the i Vision Dee's entire body surface to change colours. Equipped with 240 individually-controlled panels, the car is able to display a nearly-infinite range of patterns/animations within a matter of seconds.
Even its wheels are vibrantly-coloured, featuring a psychedelic yellow cross-pattern and weighted wheel caps that stay upright in motion, just like on a Rolls-Royce.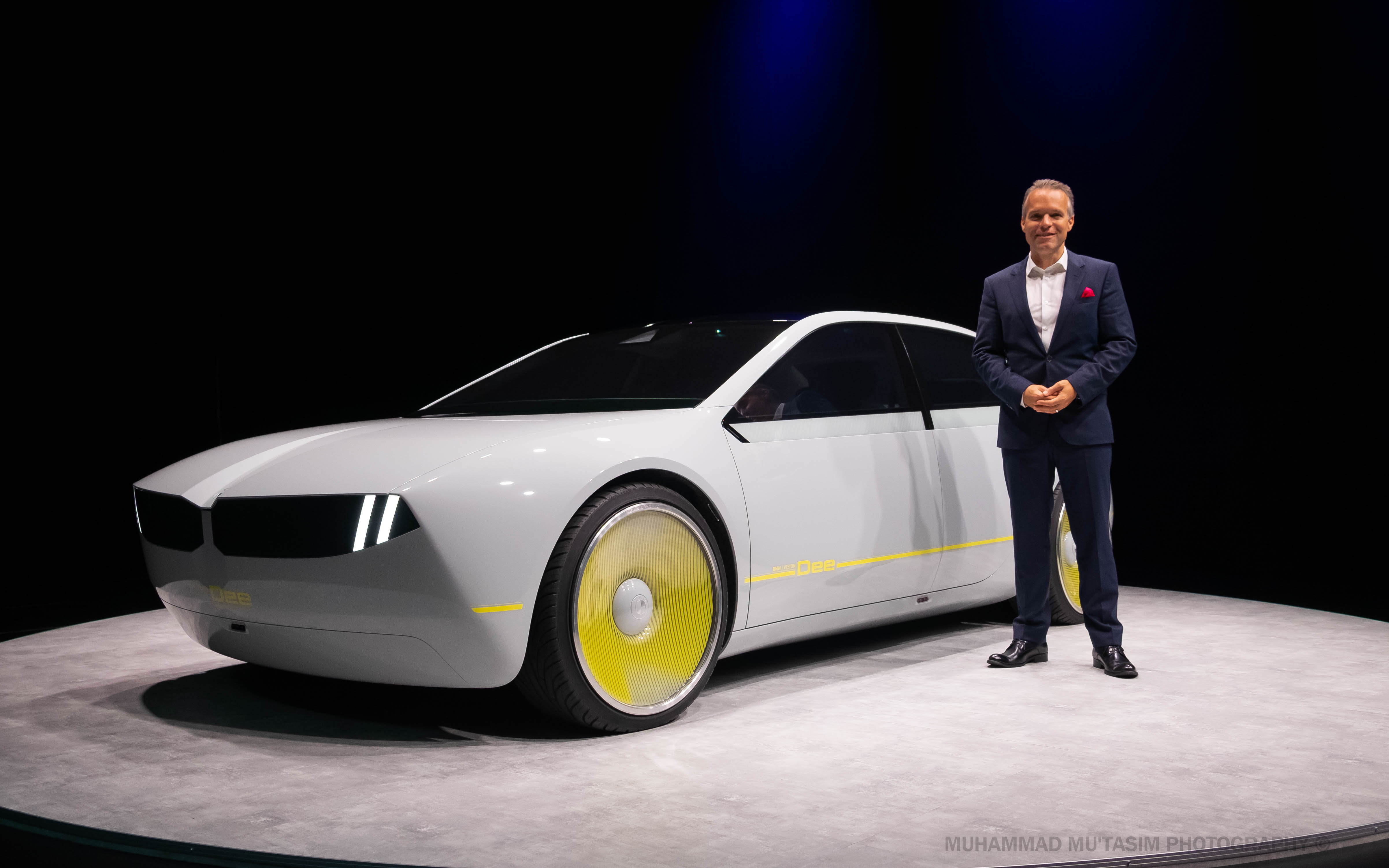 According to Matthias Junghanns, Director Automotive Design, BMW Designworks Shanghai, the choice of having bright yellow accents on the i Vision Dee was deliberate. It was meant to convey vibrancy and optimism for what the future holds, rather than going for moody or menacing tones. 
Quintessential BMW design elements can also be found on the rest of the car, most prominently on the sides. The i Vision Dee features the famed Hofmeister kink, this time retrofitted with e-ink functionality.
Like the closed kidney grille in front, the window frames can display dynamic patterns and animations. The main windows can even show the digital profile or avatar of the car's owner, as an added level of personalisation.
Future-Forward Inside
Sustainable materials are used in the i Vision Dee's spacious five-seater cabin, with a rich mix of padded fabrics that wrap around the various interior panels.
Blurring the line between real life and virtual reality is their advanced head-up display system, which is projected across the entire width of the windscreen. 
Up to four types of displays can be selected (via the dashboard-mounted Shy-Tech slider controls), ranging from strictly driver-relevant information to full-on virtual reality, but at the same time ensuring that the driver's eyes are kept on the road at all times.
Says Lars Nielsen, Managing Director of BMW Group Asia, "The future of the BMW Group is electric, circular and digital. The electric future is clearly visible through our range of BMW i vehicles that have been launched, such as the BMW iX, i7 and iX3, and those that will be launched in the coming years.
"The BMW i Vision Circular, showcased in 2021, represents the BMW Group's project to become the most sustainable manufacturer for individual premium mobility.
"The BMW i Vision Dee, which we are thrilled to showcase for the first time in Southeast Asia, exemplifies the full potential of digitalisation that will transform the car into an intelligent companion. It demonstrates what is possible when hardware and software merge and is about the perfect integration of virtual and physical experiences."
Meet the i Vision Dee
If you'd like to catch the BMW i Vision Dee in person before it returns to Munich, it is currently on display at the BMW Joy Electrified exhibition in Suntec City till this Sunday, from 10AM to 10PM daily.
Matthias Junghanns will also be there to deliver presentations daily at 12PM, 4PM, and 8PM to share more about the i Vision Dee and the brand.
Visitors can also arrange test drive sessions of various BMW i vehicles on-site, and even stand a chance to win a voucher to four participating cafes within Suntec City by participating in an interactive quiz there.
Photo Credits: Muhammad Mu'tasim (@mutasimdrives)
Download the Motorist App
The easiest and smartest way to manage your vehicle in Singapore.
Download Now
Read More: BMW Lights Up the Night With M Town
---
Download the Motorist App now. Designed by drivers for drivers, this all-in-one app lets you receive the latest traffic updates, gives you access to live traffic cameras, and helps you manage LTA and vehicle matters.
Did you know we have a Motorist Telegram Channel? Created exclusively for drivers and car owners in Singapore, you can get instant info about our latest promotions, articles, tips & hacks, or simply chat with the Motorist Team and fellow drivers.