Electrify this, hybridise that. Wherever you go nowadays, you are bound to come across an eco-friendly vehicle of some sort. The trouble with this is, many of them have traded sheer driving pleasure for frugality. But not the iX3.
The boffins over at Munich have toiled tirelessly to bring out the best of their Cluster Architecture (CLAR) platform, all while shoehorning a purely electric powertrain into it. The result is nothing short of spectacular, with an extremely competitive price tag to boot.
How good is the iX3 M Sport Impressive, exactly? Read on to find out.
A Familiar Face
The first impression you get of the iX3 is one of familiarity. The BMW does not look polarising or overly futuristic. In fact, much of the iX3's design is derived from its ICE-based X3 sibling, with just enough tinkering done to the front and rear fascias to differentiate itself. 
And this is a good thing, we reckon. With its restrained and traditional design language, the iX3 is able to woo more would-be customers into electric car ownership, especially those who prefer not to shout about their purchase.
BMW has made an attempt to give its looks a dash of youthfulness, however. The iX3's curves over at the front are slightly more angular and aggressive compared to the pre-facelift model, along with larger (albeit mostly solid) textured grilles, while gaining redesigned tail lights.
One of the few indicators that you're driving something special is the blue BMW i trim that is scattered all over the front vents, kidney grilles, and rear diffusers. The iX3 is also equipped with 20" lightweight five-spoke alloy wheels for added efficiency, wrapped around in 245/45/R20 Yokohama Advan tyres.
And to drive home the point that you're not getting just any electric car, the iX3 comes standard with the M Sport package, which gives the SAV a more contemporary appearance inside and out.
Having Your Cake and Eating It Too
Stepping inside the cabin, you are immediately cocooned in luxury, a stark contrast to the sporty-looking exterior. The Vernasca leather upholstery feels supple and inviting, which is great for long journeys around town and beyond. The soft-touch panels inside feel quite well-made too, with a myriad of materials being used on the dashboard alone.
Speaking of which, we must commend the driver-centric cockpit, with an excellent driving position and great visibility all-round. The physical buttons and dials (a miracle in 2022) are laid out logically, and within easy reach. The main star has got to be the large high-resolution 12.3" Control Display, which can be operated via touchscreen or the rotary dial that's located on the centre console. Keeping up with the times, the system is compatible with both Apple Carplay and Android Auto.
Response time is lightning quick, much like what you'd expect from a smartphone. And just like your favourite mobile device, the user interface is incredibly simple to navigate through, even for first-timers. For added pizzazz, certain features can also be operated via gesture-based controls or voice command.
The iX3 also comes equipped with USB ports and a wireless charger for added convenience.
Just like the infotainment screen, the digital instrument display is also 12.3". All of the important information like available range are organised and easy to read at a quick glance, unlike in some other electric vehicles. Complementing it is a head-up display, so that you never need to look anywhere else other than the road in front. 
A Treat Inside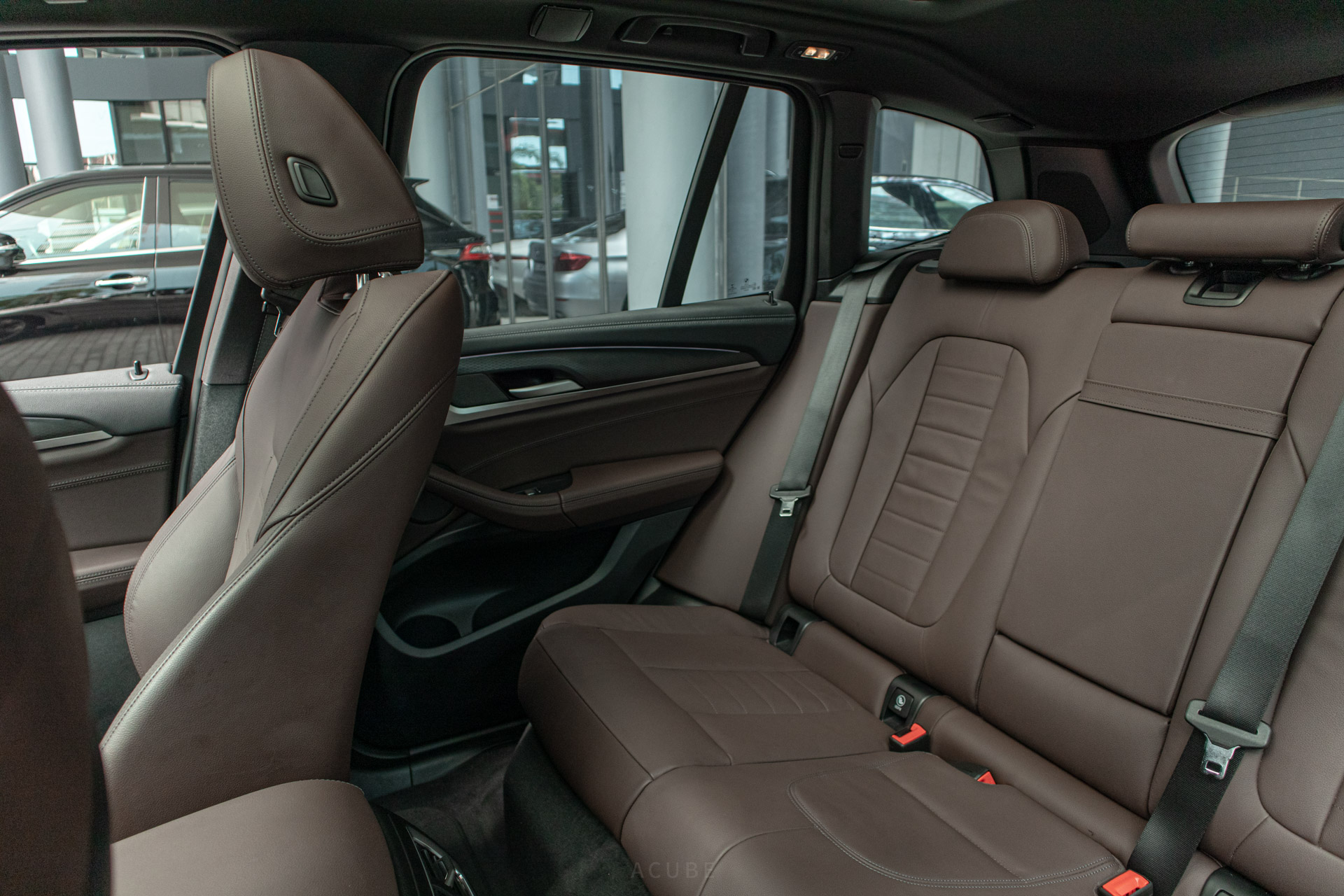 Rear occupants enjoy an equally luxurious space, with class-leading head and legroom, and enough space to fit three full-sized adults comfortably. The panoramic glass roof, which comes as standard, further amplifies the airy nature inside.
Passengers will also be pleased to find a Harman Kardon surround sound system inside the iX3, which provides excellent sound quality throughout the cabin.
As an added bonus, BMW's sound designers have even collaborated with the Hans Zimmer to create a soundtrack for their electric cars. Starting up and turning off of the iX3 sounds like you are operating a space ship, and when gaining speed, a simulated sound is echoed into the cabin to enhance the driving sensation.
Cargo space is massive at 510 litres, and with a shallow load lip, the process of storing or removing bulky items is made easy. The 40:20:40 split rear seats fold flat should you need even more space; all 1560 litres of it, to be exact. While there is no spare tyre stored under the rear carpeting, BMW has provided a tyre repair kit.
We were disappointed by the lack of a front cargo space, however. Once the bonnet is up, you are greeted to a covered plastic slab and some reservoir caps. Strictly only for fluid replenishment, then.
Driving For a Good Cause
We have already established how luxurious and high-quality the iX3, but what about its overall eco-friendliness? This is, after all, an electric vehicle designed for a greener Earth. Well, the figures show lots of promise.
BMW claims that the SAV is capable of travelling up to 460km with its 80kWh battery, and consuming 19kWh/100km. Theoretically speaking, you can drive from Singapore to Kuala Lumpur on a single charge with extremely economical driving. 
During our extended test period, we managed to clock about 17kWh/100km, which is quite impressive. And with its regenerative braking feature, you can recoup several kilometres easily before heading for the charger. On the topic of charging, it accepts DC fast-charging at up to 150kW, which is quite rapid by modern standards. All in all, you are looking at a remarkably efficient family carrier.
The iX3's eDrive technology gives it 286 horses and 400Nm of torque, making it an extremely spritely SAV. And while its 0-100km/h figure is rated at 6.8 seconds, its burst of acceleration - thanks to the electric motor - makes it feel like you are going much faster. 
Spirited Handling
The Bavarian automaker's decision to give the iX3 a rear-wheel-drive drivetrain and not all-wheel-drive is a curious one, but our driving impressions are quite positive. Make no mistake, though. This is definitely not for off-road shenanigans, and is most comfortable in urban environments like ours.
The vehicle remained firmly planted onto the tarmac even when we were tackling corners enthusiastically. The adaptive suspension does a great job at soaking up undulations with ease, and body roll was kept at a minimum on various road conditions. Its brakes are also very responsive, thanks to the ventilated discs found on all four corners. Simply put, you will not notice the iX3's 2260kg weight at all once it is in motion.
Toggling between the three driving modes - Sport, Comfort, and Eco Pro - the adjustments to the throttle response and suspension firmness are subtle yet noticeable. Unsurprisingly, Sport was the most engaging during our tests, and our favourite. 
The vehicle comes with BMW's Driving Assistant Professional suite of driving assists, which includes active cruise control, lane keep assist, and rear collision prevention. The iX3 is also fitted with Parking Assistant Plus, which aids in the parking process, sometimes even taking over the throttle & steering should you require additional help. Additionally, the iX3 is equipped with six airbags as standard.
It is not all sunshines and rainbows, though. There were several instances where the passenger side mirror, which is curved on the outer side, completely blocked motorcyclists from view. Only when the illuminated light strips on the door car started flashing, did we realise their presence. While the blind spot monitoring system is useful, we believe that the iX3 could have benefitted from a larger set of side mirrors for greater visibility.
Verdict
As far as premium electric vehicles go, this refreshed iX3 is definitely one to go for, or shortlist at the very least. With a VES A1 banding, you are looking at possibly the most value-for-money variant of the X3 on the market today. 
Not only is its eDrive technology powerful and efficient, it is also blessed with a proven chassis and well-equipped cabin. Best of all, it is able to fly under the radar effectively and hide its electric pedigree from others with its unassuming looks. That is, until it's time to blast off the line.
Specs
Price

POA

VES Banding: A1
Performance

Motor: Current-excited synchronous motor 

Battery: 5th generation eDrive, Li-Ion with liquid cooling

Power: 286 bhp / 210 kW

Torque: 400 Nm

Energy Consumption: 19.4 kWh/100km

0-100km/h: 6.8 Seconds

DC Charging Rate: 150 kW (max)

AC Charging Rate: 11kW (max)

Drivetrain: Single-speed, Rear Wheel Drive

Brakes: Ventilated Disc Brakes


Measurements

Dimensions (LxWxH): 4,734 mm x 1,891 mm x 1,668 mm

Kerb Weight: 2,260 kg

Battery Capacity: 80 kWh

Boot Capacity: 510 litres / 1560 litres (with 2nd row seats folded down)

Tyres: 245/45 R20


Features

Keyless entry

Electric front seats

M Sport Package

Live Cockpit Professional

Driving Assistant Professional

Parking Assistant Plus

Driving Experience Control

Six airbags

Harman Kardon surround sound system

Acoustic glazing (for front windows)
Photo Credit: ACube Creative (@weareacube)
Download the Motorist App
The easiest and smartest way to manage your vehicle in Singapore.
Download Now
Read More: The BMW X3 and X4 Now Available in Singapore, Prices start from $279,888
---
Download the Motorist App now. Designed by drivers for drivers, this all-in-one app lets you receive the latest traffic updates, gives you access to live traffic cameras, and helps you manage LTA and vehicle matters.
Did you know we have a Motorist Telegram Channel? Created exclusively for drivers and car owners in Singapore, you can get instant info about our latest promotions, articles, tips & hacks, or simply chat with the Motorist Team and fellow drivers.