Heave a sigh of relief if you are a fan of Hyundai's polarising cyberpunk design, for it appears to be here to stay. 
The Korean automaker and Komoco, its local authorised distributor, recently unveiled their latest IONIQ 6 electric saloon and the second generation KONA crossover. And both cars retain the retro-futuristic design language that we first saw in the IONIQ 5, albeit evolved to suit saloon and crossover body styles respectively.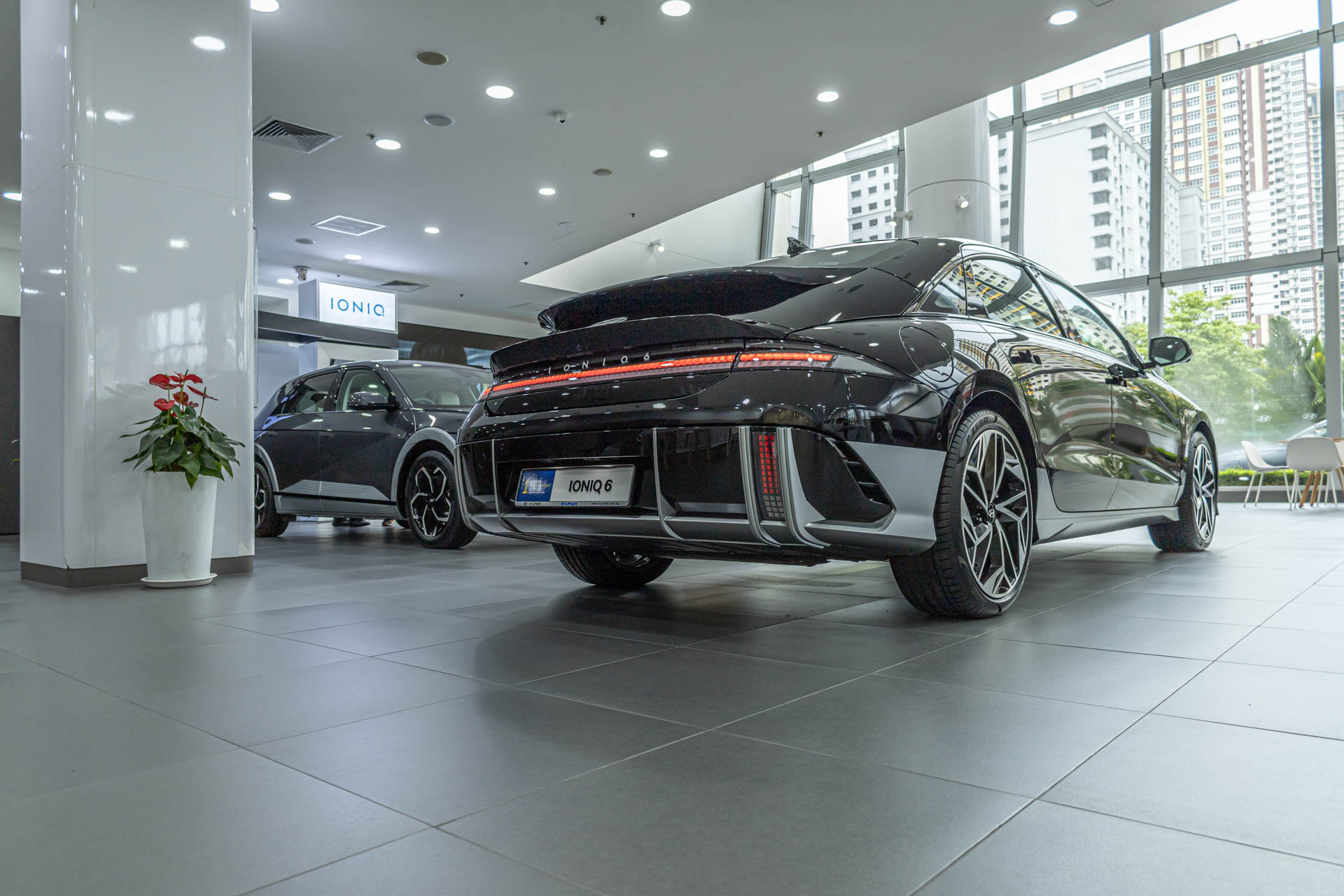 The IONIQ 6 is the first ground-up electric saloon in Hyundai's lineup. It is built on the same E-GMP platform as its SUV-sized IONIQ 5 hatchback. Local spec cars will come with a 77.4 kWh battery pack, which supplies the current to its two electric motors.
Combined, the dual motor setup provides you 321 bhp and 605 Nm of torque, with power being distributed to all four wheels. It'd accelerate to 100 km/h from a standstill in just 5.1 seconds, top out at 185 km/h, and would do 519 kilometres on a single charge.
You wouldn't be stationary for long even during recharges too, as it is capable of DC charging at up to 350 kW. This vehicle is definitely very futureproof, as most modern chargers in the region appear to top out at about 180 kW at the moment.
The new IONIQ 6 is slightly longer than the IONIQ 5, though it has a shorter wheelbase and roofline than its hatchback stablemate.
Also unveiled at the event was their all-new, latest generation Hyundai KONA Hybrid. Now in its second generation, the compact crossover certainly feels more mature than the car it replaces. Clean surfacing is used throughout the design of the vehicle, and the retro-futuristic styling means it looks nothing like any of its closest competitors.
It definitely looks and feels more premium than any of its East Asian counterparts at this end of the new car food chain. At launch, only the 1.6 litre hybrid variant would be made available for purchase. 
This powertrain, which is good for a combined 139 bhp and 265 Nm of torque, is mated to a six-speed DCT transmission. Expect to see a Category A-friendly variant to be made available to customers when the car is officially launched later in the year.
No word on when the KONA Electric will make its local debut, nor do we have any official specifications at the moment. However, it is reasonable to expect the same 64.8 kWh battery pack as seen in cars meant for global markets, and perhaps a detuned motor to make the car eligible for Category A COE. 
Download the Motorist App
The easiest and smartest way to manage your vehicle in Singapore.
Download Now
Read More: Motorist Car Buyer's Guide: Hyundai Avante AD
---
Download the Motorist App now. Designed by drivers for drivers, this all-in-one app lets you receive the latest traffic updates, gives you access to live traffic cameras, and helps you manage LTA and vehicle matters.
Did you know we have a Motorist Telegram Channel? Created exclusively for drivers and car owners in Singapore, you can get instant info about our latest promotions, articles, tips & hacks, or simply chat with the Motorist Team and fellow drivers.