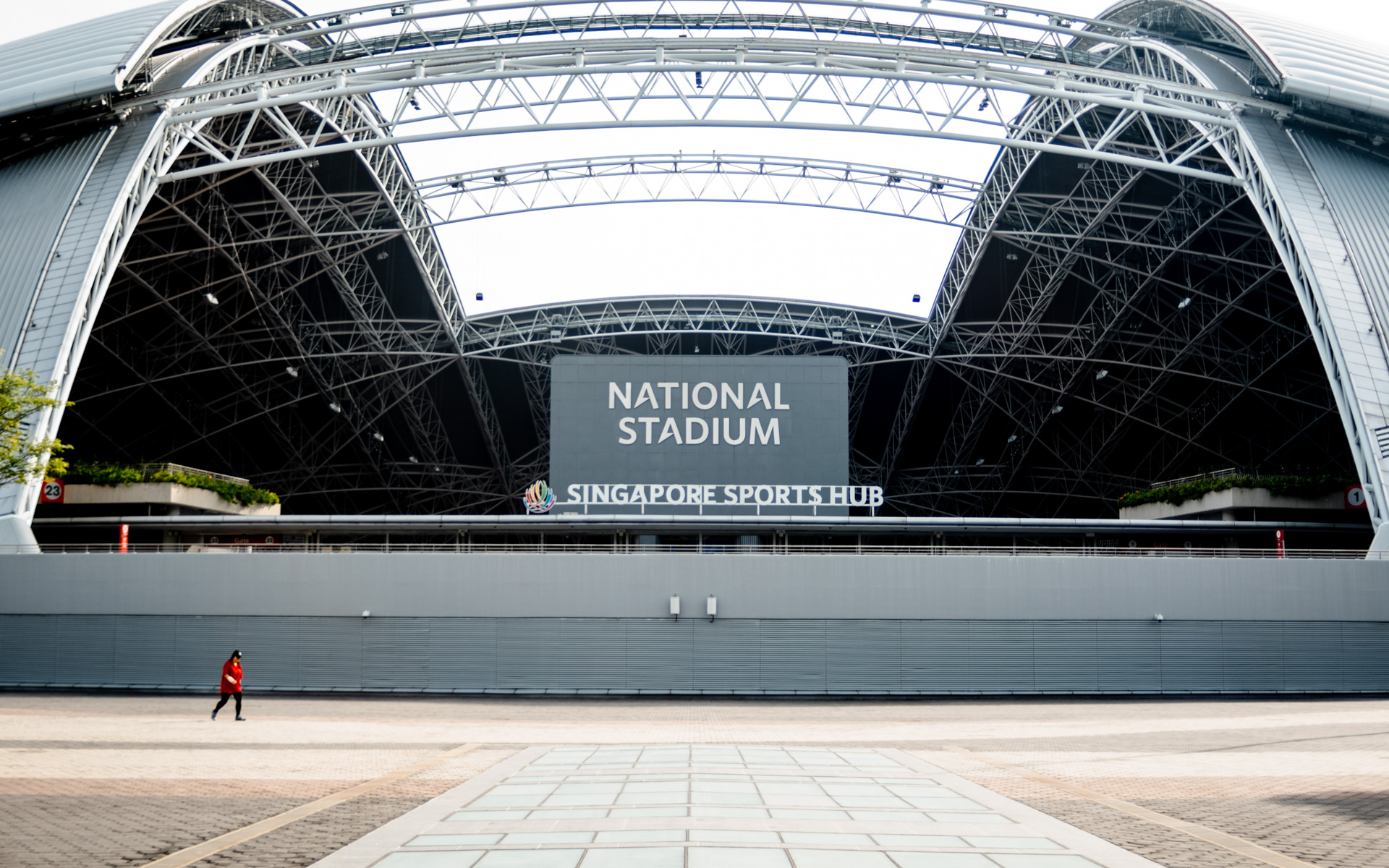 Before you live out your Wildest Dreams at Taylor Swift's upcoming concert, here are some places near the National Stadium that are as delightful as Snow On The Beach!
For today's mGuides, we are visiting five places where you can eat, shop, or even ice skate. These places are sure to keep you occupied while you wait for the latest concerts at the National Stadium to start!
Old Airport Road Food Centre
(Photo Credit: Google Maps)
While there are hawker centres all over Singapore, this particular one has plenty of history and heritage that makes it a worthwhile visit.
Opened in the early 1970s, many Singaporeans have fond memories of getting their breakfast, lunch, and dinner all in this hawker centre. The centre's nearly two hundred stalls offer visitors a large variety of food, giving you the choice of eating something different with each visit. Foodies praise the Hokkien Mee, Curry Puff, and Briyani stalls, but there's plenty more worth trying. It's also a short walk away from the National Stadium, meaning that you could grab a bite before and even after your concert.
Address: 51 Old Airport Rd
Operating Hours: Monday to Sunday, 6:00 am to 10:30 pm. Opening hours for each stall may vary.
Parking: Old Airport Road Open Car Park and Multi-Storey Carpark. HDB Parking rates apply.
Decathlon Kallang
(Photo Credit: Google Maps)
If you're looking for a place to buy sports and fitness equipment, Decathlon Kallang is the perfect superstore for you.
This large sporting goods store has over five thousand items to choose from, representing sports from kayaking to basketball. These items are priced affordably, with their house brand known for being value-for-money. You can buy boxing gloves, stretch bands, and even bicycles without having to empty your bank account. While you probably won't buy any big items before your concert, it's still worthwhile to visit and check out what the place offers to kill some time.
Address: 230 Stadium Blvd
Operating Hours: Sunday to Thursday, 9:00 am to 11:00 pm. Friday and Saturday, 9:00 am to 12:00 am.
Parking: Kalling Car Park 1. $0.60 per 30 mins.
Sports Hub Library
(Photo Credit: Singapore Sports Hub)
You probably didn't know this, but there's a library within the National Stadium vicinity! Those who are studying or take an interest in sports will love to see what the Sports Hub Library has to offer.
Within the library, there is a wide range of resources that cover sports-related topics, from coaching and health to even business and arts. They don't only have books either — their resources come in print, audiovisual, and electronic forms, giving a variety of accessible resources to visitors. You can even have fun with their virtual sports stations and giant chess and checkers. If you're lucky, you can even catch one of their many monthly activity workshops.
Address: Sports Hub Library, 4 Stadium Walk
Operating Hours: Monday to Friday, 10:00 am to 8:00 pm. Weekends, Eve of Public Holiday and Public Holidays, 10:00 am to 9:00 pm.
Parking: Singapore Sports Hub Carpark. $0.021 per min.
Climb Central Sports Hub
For those in the bouldering community, you'll enjoy being able to get a quick climb in at Climb Central Sports Hub, within Kallang Wave Mall.
Positioned in the open area of the mall, you'll be able to scale a 16-metre tall wall that can be observed by onlookers going up escalators and walking around the foyer area. If you're a beginner, don't worry —  Climb Central offers easy-to-learn safety systems and a 15-minute safety briefing to get you up to speed with climbing, and you can start by climbing just four metres. There are many climbing forms available, with top rope, boulder, lead climb, and auto-belays for your use.
Address: Kallang Wave Mall, 1 Stadium Place, #B1-01
Operating Hours: Monday to Friday, 11:00 am to 11:00 pm. Weekends and Public Holidays, 9:00 am to 9:00 pm.
Parking: Singapore Sports Hub Carpark. $0.021 per min.
Kallang Ice World
(Photo Credit: Kallang Ice World)
If ice skating is something you're more interested in, you'll be pleased as there's an ice skating rink located conveniently at Leisure Park Kallang!
Built to match competition standards, Kallang Ice World is a large ice skating rink that people of all ages will enjoy. The ice surface is of high quality, providing a comfortable and smooth skating experience. You can even take training sessions here, whether you're a beginner or an expert. Being an ice skating rink, it also offers a nice respite from Singapore's sweltering heat. Admission for two hours is $16 for children aged 12 and under, $18 for adults, and $7.20 for students, including ice skates.
Address: Leisure Park Kallang, 5 Stadium Walk, Level 3
Operating Hours: Monday to Thursday, 10:00 am to 10:00 pm. Friday, 10:00 am to 12:00 am. Saturday, 9:00 am to 12:00 am. Sunday, 9:00 am to 10:00 pm.
Parking: Monday to Friday, $0.70 per 30 mins. Weekends and Public Holidays, $0.70 for the first hour and $0.40 per 15 mins afterwards.
Combined Itinerary
We have plotted out the locations of where these places are located, so do give them a visit and let us know what you think of our picks!
Download the Motorist App
The easiest and smartest way to manage your vehicle in Singapore.
Download Now
Read More: Five Indoor Playgrounds to Visit During the School Holidays! - mGuides
---
Download the Motorist App now. Designed by drivers for drivers, this all-in-one app lets you receive the latest traffic updates, gives you access to live traffic cameras, and helps you manage LTA and vehicle matters.
Did you know we have a Motorist Telegram Channel? Created exclusively for drivers and car owners in Singapore, you can get instant info about our latest promotions, articles, tips & hacks, or simply chat with the Motorist Team and fellow drivers.