French automaker Citroën have long been known for their obsession with on-board comfort and unparalleled stability, whether it's on four wheels or fewer.
Be it the CX Safari estate that was used to broadcast horse races live on the BBC as it drove alongside the steeds, or the DS 19 that saved French president Charles de Gaulle's life as it sped away from gunmen despite having all four tyres shot, the car manufacturer has more than earned its stripes with their ingenious suspension innovations.
But times have changed since, and Citroën no longer uses their world-famous hydropneumatic, self-levelling suspension system. Instead, they've gone for more cost-effective solutions, which promise both lower manufacturing costs and comparable ride qualities.
And now, we get to test it out with the 2023 C5 Aircross. Is their new formula any good, and should the facelifted crossover be on your shopping list? We find out.
Part Deux
Not much has changed from the pre-facelift model, visually speaking. The '23 model still sports a rounded and upright silhouette, and still possesses the same dimensions throughout as its predecessor.
What has changed is the front fascia, which now wears a more aggressive and more angular snout. The dual-stacked headlight units have been refreshed, now with LED daytime runnning lights that diverge as they stretch towards the fenders. 
Its main grille, too, has gone under the knife, now adorned with small chrome slits that resemble smaller light units from afar.
The air curtains that guide cool air to the front wheels are now functional, and the lower intake on the front apron has been redesigned and houses a sensor panel.
Other visual changes include the rear tail light cluster, which now has three LED illuminated elements for the brakes, as opposed to four found on the pre-facelift unit. Apart from that, the C5 Aircross is very much the same as before, and even has the classy-looking C-shaped chrome trim around the side windows.
Citroën felt that it was somehow important to retain the faux exhaust tips and blocked-out rear vents, both of which we are not fans. With that said, they are not dealbreakers and some folks may even like the sporty, albeit non-functional, looks.
Ambiance Chaleureuse
While the C5 Aircross sees only modest changes on the outside, it's the cabin inside that has seen the most drastic transformation.
The predecessor's curiously-shaped gear lever has been replaced with a more space-efficient rocker switch from the Stellantis parts bin, freeing up space for the front occupants.
Its interior space is quite the place to be in, with extremely soft and supple seats wrapped around in a mix of leather and fabric materials. Citroën calls them Advanced Comfort seats, which combines high-density foam at the seats' core, and textured foam at the surface.
Together with a broad and supportive design, they provide occupants with a homely in-cabin experience that rivals that of a cosy living room. In other words, you simply sink into your seats just like you would in your favourite sofa.
It's the same case at the back too, with wide full-sized seats to comfortably fit three adult passengers. And thanks to the C5 Aircross' squarish dimensions, rear occupants will have virtually no issues with leg or headroom.
Connectivity-wise, the Citroën just about covers its bases with three USB ports: two at the front, and one at the back. There's also a 12V socket in front, tucked away deep into the centre console.
The "squircle" design motif can be seen everywhere inside, perhaps most prominently along the door cards, the steering wheel, and its AC vents up on the dashboard.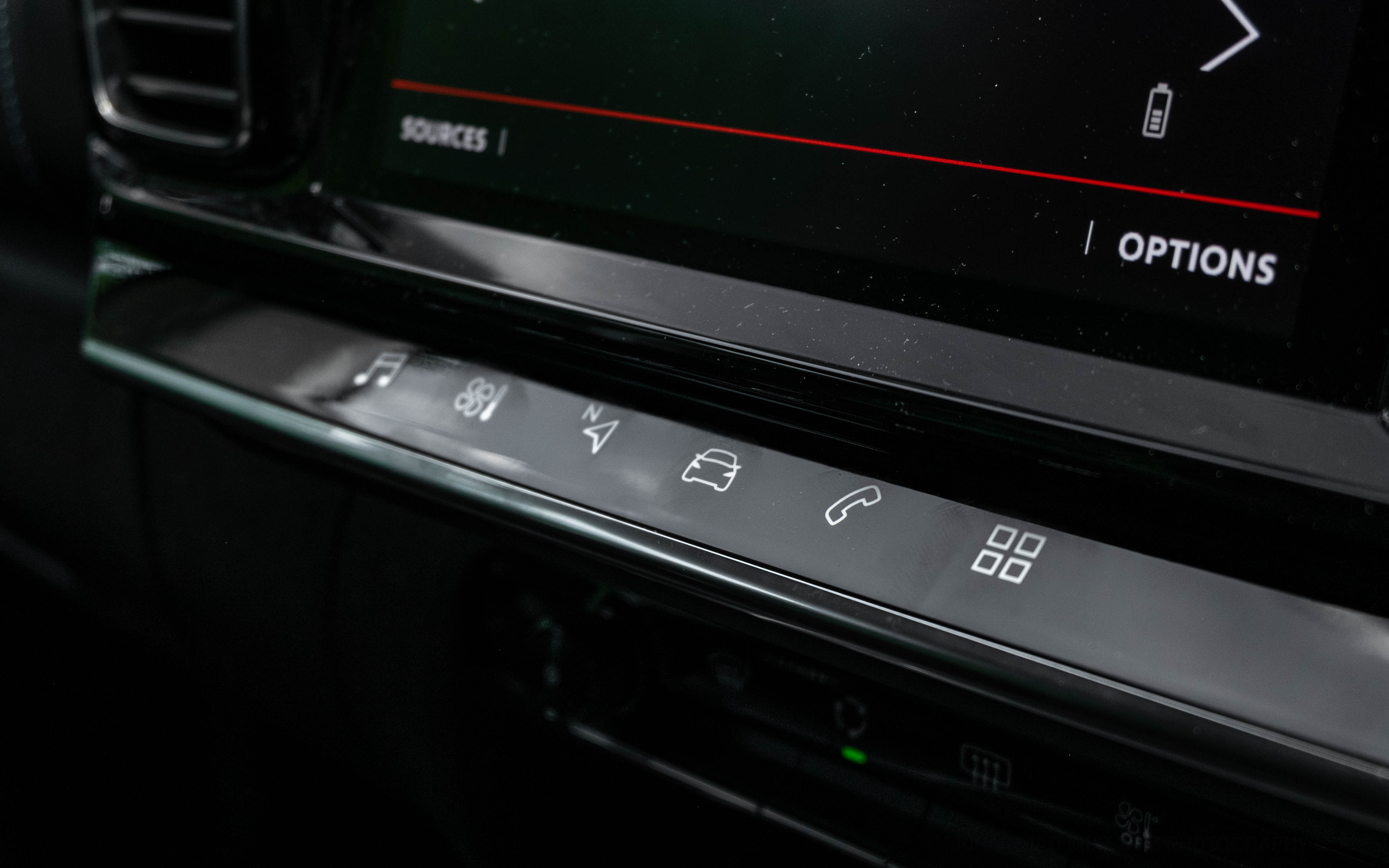 Speaking of which, the AC can only be controlled via the infotainment screen, which we have voiced out against in many other modern cars due to the unnecessary complexity. What's wrong with having physical buttons?
Even the shortcut keys are capacitive buttons on a gloss black plastic panel, which attracts dust and grubby prints like moths to a flame. To Citroën's credit, however, the interface is responsive and lag is kept to a minimum.
And just like a living room, there's a myriad of storage spaces to utilise. One prime example is the positively cavernous centre storage bin, which transforms into an armrest when not in use. 
It's so deep, in fact, that we could easily fit in a 1.5-litre bottle and a few other accessories, and still have space for more items. 
The space party continues in the boot, where you have 580 litres of storage area to play with. Loading up bulky items is a cinch too, thanks to the C5 Aircross' low load lip and wide angular tailgate aperture.
Flatten all three rear seats and toss aside the parcel shelf, and you have 1,630 litres of storage space to utilise for serious hauling.
Vraiment Remarquable
Packing a 1.2-litre PureTech turbocharged inline-three powerplant with just 128 bhp on tap, the C5 Aircross will not be winning any traffic light races anytime soon. On the flip side, it's quite peppy when pushed, and the eight-speed Aisin auto 'box does a good job in propelling all 1,430 kilograms of French steel and glass forward smoothly.
Power delivery is decent with 230 Nm of torque at your disposal, but if you're carrying a full load of passengers, overtaking manoeuvres should only be done with plenty of forward planning.
Where the C5 Aircross really shines, though, is in the comfort department. Road undulations, pot holes, and even speed bumps were no match for the SUV's Progressive Hydraulic Cushions system during our testing. 
Without going too much into the nerdy technical aspects, this innovative suspension setup basically consists of two hydraulic chambers at the front to control compression and rebound levels, and absorb impacts more effectively than relying on just mechanical bump stops. The rear, on the other hand, is equipped with a single chamber for compression.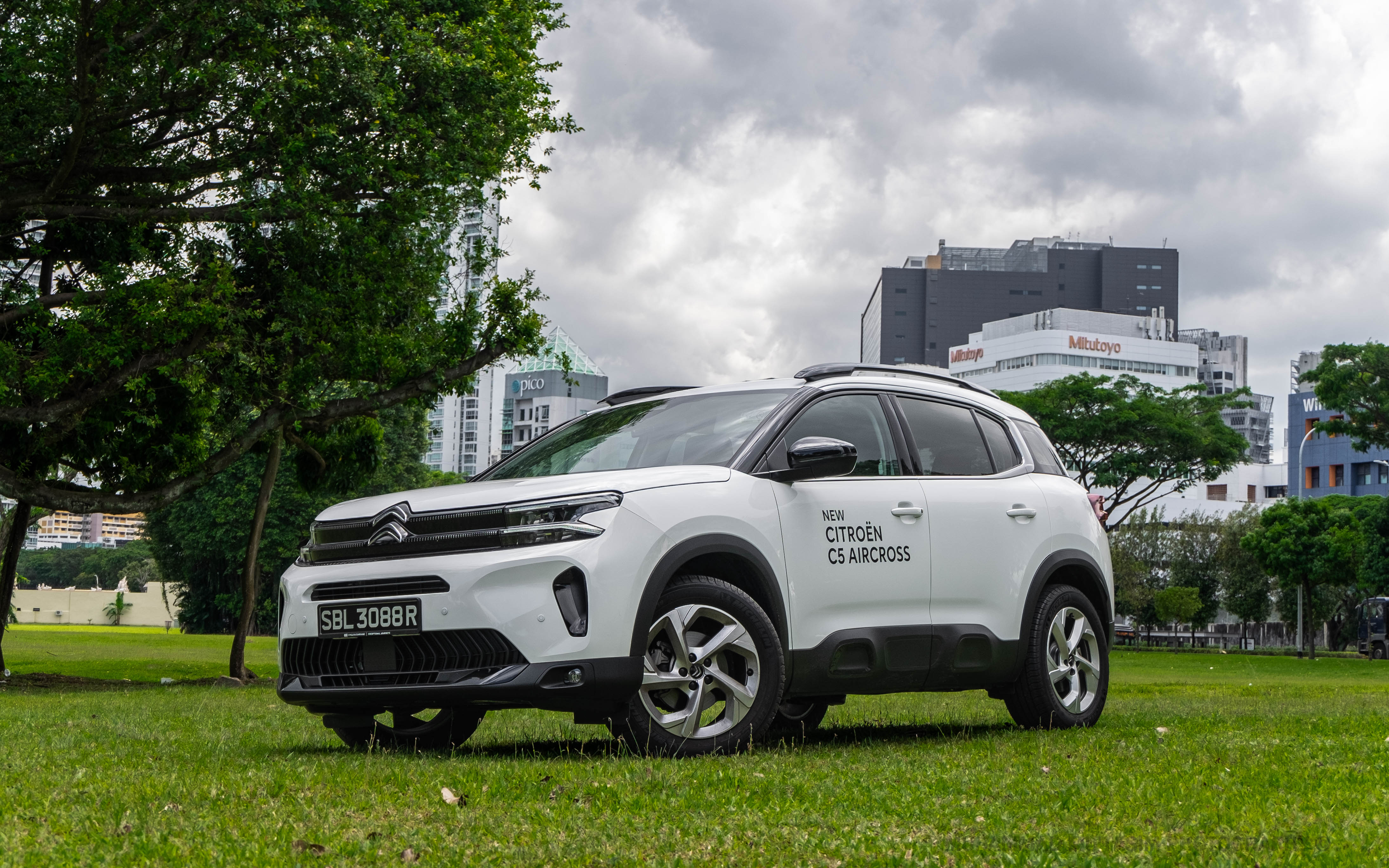 What all of this means in the real world is, on poorly-patched or uneven roads where other cars would usually bottom out completely, the C5 Aircross simply glides over and soaks them up without breaking a sweat. It's still not as magical as the hydropneumatic setup of yesteryear, admittedly, and there's still some body roll when cornering hard. 
But for a continental SUV at this price and tax bracket, the Citroën is a remarkable performer and is without a doubt the best when it comes to comfort.
Running costs are good too, with the C5 Aircross consistently hitting close to the official 20 km/l claim with sensible driving. Of course, expect the numbers to take a considerable dip if you're pushing the three-pot engine hard, but that's only if you're driving aggressively, which is not how the Citroën is supposed to be driven.
Une Excellente Citroën 
In an increasingly saturated mid-sized SUV market where players are struggling hard to stay unique, the C5 Aircross stands out with its class-leading ride comfort and comprehensive frills list. 
Furthermore, it's Cat A-friendly thanks to its small yet potent PureTech engine. For many cost-conscious car buyers who are raring for a taste of the continental side of things, the answer is simple: go for the C5 Aircross, which will simply glide over its competition.
Citroën C5 Aircross 1.2 PureTech Feel Specifications
Price: $171,999
 VES Band: A2

Motor:
Turbocharged Inline-Three

Capacity:
1.2 litre

Power:
128 bhp, 230 Nm


Transmission:
8-Speed Automatic

Driven Wheels:
Front-Wheel Drive

Consumption:
18.0 km/L

0-100km/h:
10.3 s

Top Speed:
188 km/h

Fuel Tank Capacity:
53 L


Dimensions:

4,500 mm x 1,859 mm x 1,695 mm

Cargo Capacity:
580 - 1,050 L
Photo Credits: Muhammad Mu'tasim (@mutasimdrives)
Download the Motorist App
The easiest and smartest way to manage your vehicle in Singapore.
Download Now
Read More: The New Citroën C4: Shaped to Reinvent with a Disruptive Silhouette
---
Download the Motorist App now. Designed by drivers for drivers, this all-in-one app lets you receive the latest traffic updates, gives you access to live traffic cameras, and helps you manage LTA and vehicle matters.
Did you know we have a Motorist Telegram Channel? Created exclusively for drivers and car owners in Singapore, you can get instant info about our latest promotions, articles, tips & hacks, or simply chat with the Motorist Team and fellow drivers.