When Cycle & Carriage Kia approached the Editorial team recently to evaluate the latest Kia Niro EV, we immediately set sky-high expectations for the car.
In the past six months alone, the market has seen the Korean carmaker knock the socks off its competition with one hit after another, and the party's just getting started.
Their latest electric offering, the Niro EV, harmonises the more "traditional" and accessible design of their popular crossover with a fully electric powertrain that the EV6 similarly possesses, acting as the perfect stepping stone for new EV converts.
In many ways, Kia's got the formula right. But is it enough to shake off its rivals that are closing in fast?
Handsome Looks
At first glance, the Niro EV looks nearly identical to its Hybrid relative. But like twin siblings, look closely enough and you'll spot some key – albeit subtle – differences.
Its front grille has been replaced with a slim block of honeycomb-patterned plastic, and a sleek satin-finish metal band that runs above it. The admittedly large charging flap is located dead-centre, and when opened, reveals the Niro EV's charging port which supports both AC and CCS Type 2 charging.
The lower aprons on the front and rear have also been redesigned ever so slightly to differentiate it from the Niro Hybrid. 
Everything else is pretty much the same, down to the contrasting black trim on the door panels, as well as the floating C-pillar design element. It still looks rugged and ready for (very) light off-roading, despite its front-wheel drive architecture.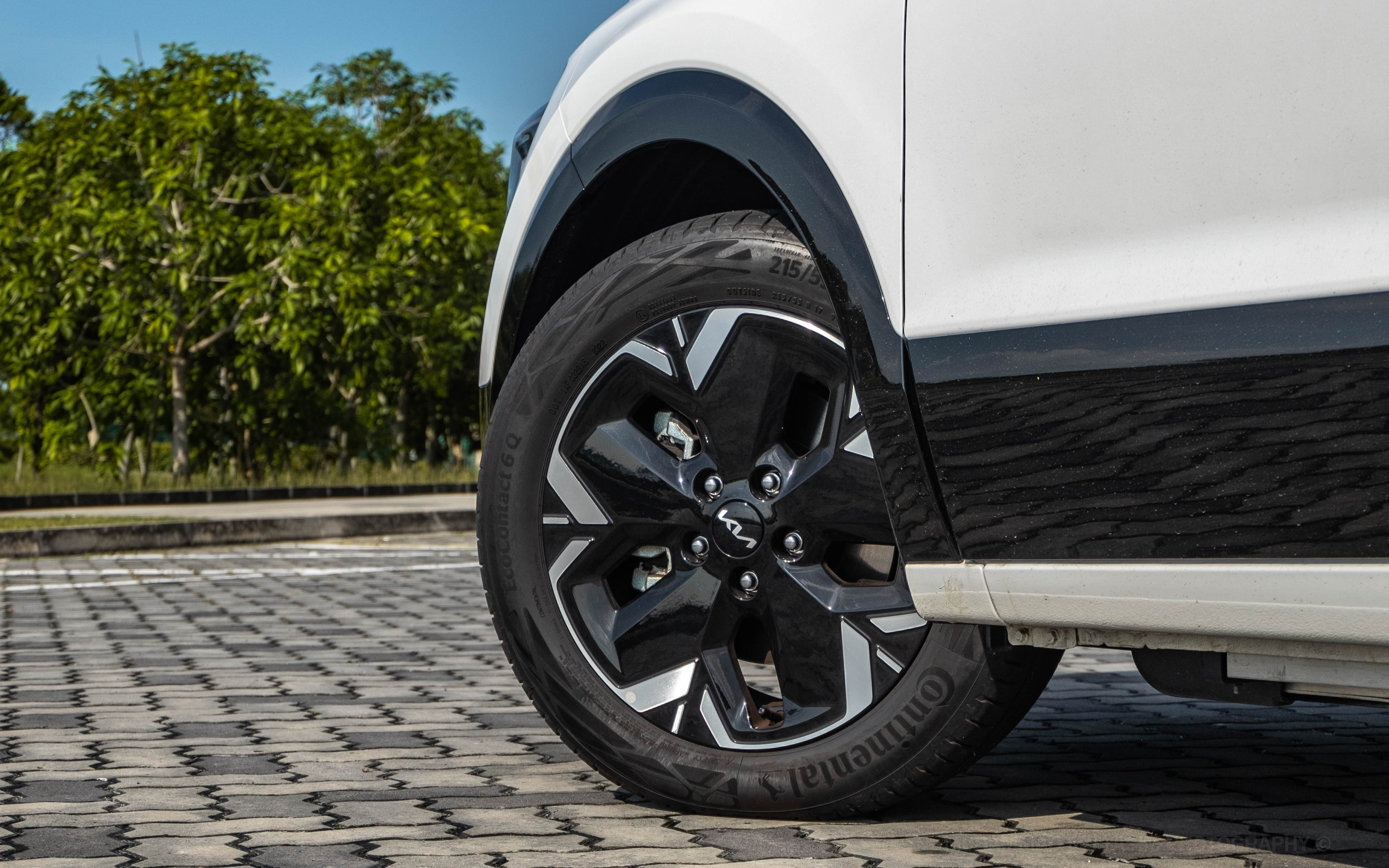 All-round LED lights, which are reserved for the top-spec Niro Hybrid SX, come as standard on the Niro EV. And you're also treated to a set of fairly grippy 215/55 R17 Continental EcoContact 6Q tyres, which perform well on our roads even in rainy conditions.
Just as Futuristic Inside
If you've already seen the Niro Hybrid cabin, expect no changes in the Niro EV. All of that means one thing, though: why fix something if it isn't broken?
The patterned BIO artificial leather seats are supple and ergonomic, and the rest of the upholstery are also done up to a similarly high standard. Everything is logically laid out, and require little to no time to figure out.
We're huge fans of the reclining switch for the front seats, which allows for a quick transformation to the fully-reclined position. 
And the ventilated seating function simply cannot be overlooked. There are three stages for cooling for the Niro EV's front seats, all of which are heavenly for your back after spending a long day outside. 
For a compact crossover that's meant to be cost-friendly, this feature is a godsend, and makes a lot more sense to the Singaporean car buyer than having a sunroof or other fancy schmancy gadget. If you are looking for a sunroof, however, rest assured that the Niro EV comes with one.
There's also a heating function for the seats and steering wheel, although we're very sure they will rarely be used – if at all – by their owners.
Another neat feature that makes driving the Niro EV a pleasant experience is the "Sounds of Nature" function, which fills the cabin with, well, the sounds of nature through its six-speaker system. 
Want to listen to the gentle pitter-patter of rain while driving? The Niro EV has that. Want to simulate being in the vast countryside at night, complemented by the echoing sounds of barking dogs and crickets? The Niro EV offers that too. It's definitely a different experience, and a calming one at that.
Other thoughtful features include a panoramic curved display that houses both the infotainment display and digital infotainment cluster, a switchable touch panel that toggles seamlessly between HVAC and radio tuner controls, and an ergonomic two-spoke steering wheel with a comprehensive list of buttons within easy reach.
There's enough space for three adults at the back, too. Like its Hybrid sibling, the Niro EV's BIO upholstery extends to the rear bench as well. Those who wish to mount car seats behind can breathe a sigh of relief; the Niro EV's rear seats are ISOFIX-rated.
And when you factor in the rear AC blowers and USB Type C charging ports located on the back panel of the front seats, the rear cabin is the perfect for the family to relax in during extended journeys.
Speaking of which, the 475-litre boot can easily fit several full-sized luggages, made even easier by the shallow load lip and wide & boxy aperture. And the 60:40 split seats can be folded flat down should you need even more space.
You won't find any additional storage space up front, however. The Niro EV's bonnet opens to reveal the permanent magnet synchronous electric motor that's powered by the 64.8 kW battery, and fluid reservoirs, but little else.
Near-Perfect Compact Runabout
Zooming along city streets and on the expressways, the Niro EV displays confidence that many other mass market EVs still struggle to accomplish. Everything feels well screwed together and tight, with a cabin that suffers from very little noise intrusion.
Power is no issue for it too, with 145 bhp and 255 Nm of torque to play with. Floor the throttle from a complete stop and it's able to reach 100 km/h in just under 8.0 seconds, ultimately topping out at 165 km/h. Much of the noise comes from the tyres along the speed limits, although we'd just be nitpicking at this point. 
Cornering abilities are comparable to the Niro Hybrid. It's able to weave around the bends at speed, although there's some body roll to contend with, reminding you to take it easy.
Steering is well-weighted but a tad numb, which means if you're looking for a more driver-centric Kia EV, there's the EV6. It soaks up bumps with minimal fuss, although we have to point out that does lurch a bit whenever it sets off.
The conveniently-placed Drive Mode button allows you to toggle through the different driving settings on the move, while the paddle shifters let you choose between various degrees of brake regeneration. 
These features proved mighty useful during our time with the Niro EV, and the car felt completely natural regardless of whether it was being driven hard or frugally. 
On the topic of frugality, the Niro EV is quite power-efficient. On a full charge, it's capable of covering about 470 km, averaging just under 7 km/kWh during our testing. It was so good, in fact, that we did not see a need to recharge it throughout our test period, which cannot be said for many other EVs we've had.
EVerything You Want in an Electric Car and More
We've said it before, and we'll say it again: the latest generation Niro is one of Kia's most impressive vehicles to date, and their EV variant takes it a step further by future-proofing the SUV with all-electric internals.
At S$212,999 at the time of publication, it commands a much higher premium than other competitors like the Cat A-friendly BYD Atto 3 or the Peugeot e-2008. But the Niro EV's many strengths over them justify the higher price, and there are very few flaws to be found. 
And we can wholeheartedly recommend it for anyone who's looking for a family car that offers excellent power efficiency, space, and build quality in one comprehensive package.
Kia Niro EV 64.8 kWh Specifications
Price: $212,999
 VES Band: A1

Motor:
Permanent Magnet Synchronous Electric Motor

Capacity:
N/A

Power:
145 bhp, 255 Nm


Transmission:
Single-speed automatic

Driven Wheels:
Front

Consumption:
6.8 km/kWh

0-100km/h:
7.8 s

Top Speed:
165 km/h 

Battery Capacity:
64.8 litres

Dimensions:

4,420 mm x 1,825 mm x 1,570 mm

Cargo Capacity:
475 litres
Photo Credits: Muhammad Mu'tasim (@mutasimdrives)
Download the Motorist App
The easiest and smartest way to manage your vehicle in Singapore.
Download Now
Read More: mReview: Kia Niro Hybrid 1.6 SX - Prius Who?
---
Download the Motorist App now. Designed by drivers for drivers, this all-in-one app lets you receive the latest traffic updates, gives you access to live traffic cameras, and helps you manage LTA and vehicle matters.
Did you know we have a Motorist Telegram Channel? Created exclusively for drivers and car owners in Singapore, you can get instant info about our latest promotions, articles, tips & hacks, or simply chat with the Motorist Team and fellow drivers.