Marking Audi's return to the Category A COE segment, is this 1.0-litre A3 Sedan going to be enough to leave a mark that Ingolstadt hopes it will?
If you think that we're already doubting the capabilities of Audi's efforts and engineering, think again. If you didn't already notice, the A3 1.0 Sedan is one of two Audi offerings in the Category A COE, which also makes it the most affordable Audi locally by quite a significant margin.
So does this mean that the A3 1.0 Sedan won't be getting the same standards of quality and refinement that Audi has come to be associated with? Au contraire, dear reader. Read on and hear us out.
Are Looks Everything?
Audi models of recent years have been bestowed with designs that are smart, aggressive yet still possessing an element of restraint, giving their cars a typically German yet well-proportioned appearance. At first glance, the A3 1.0 Sedan looks virtually identical to its 1.5-litre sibling.  
And should you be slightly "badge-conscious",  fret not. Besides the "A3" badge on the back, there isn't any indication on which variant you are driving. 
Compared to the Hatchback twin that we reviewed recently, the Sedan looks slightly more sensible, perhaps a little more grown up compared to the Hatchback's sportier nature. Now, by no means is that a strike against it. After all, different strokes for different folks, right?
The headlight cluster is possibly the most striking feature, with the daytime running lights appearing reminiscent of tribal war paint, particularly with the creases in the upper stripe. With the headlights on, it seems to morph into the eyes of an apex predator. Whichever way you look at it, the headlight cluster gives the A3 a distinctly recognisable front fascia. 
What About The Inside?
The cabin is as expected, with leather seats, piano black and brushed aluminium trim pieces, and soft touch materials lining the dashboard and door panels. Granted, it isn't as opulent as models higher up in the Audi hierarchy, which can be seen in the back, where the door panels aren't given the same soft touch material treatment as found in the front.
Still, there are thoughtful touches around, like the height adjustable arm rest. Position it to where resting your arm would feel the most comfortable, instead of having to rest your arm in an awkward manner that could result in shoulder pain after an extended period of driving.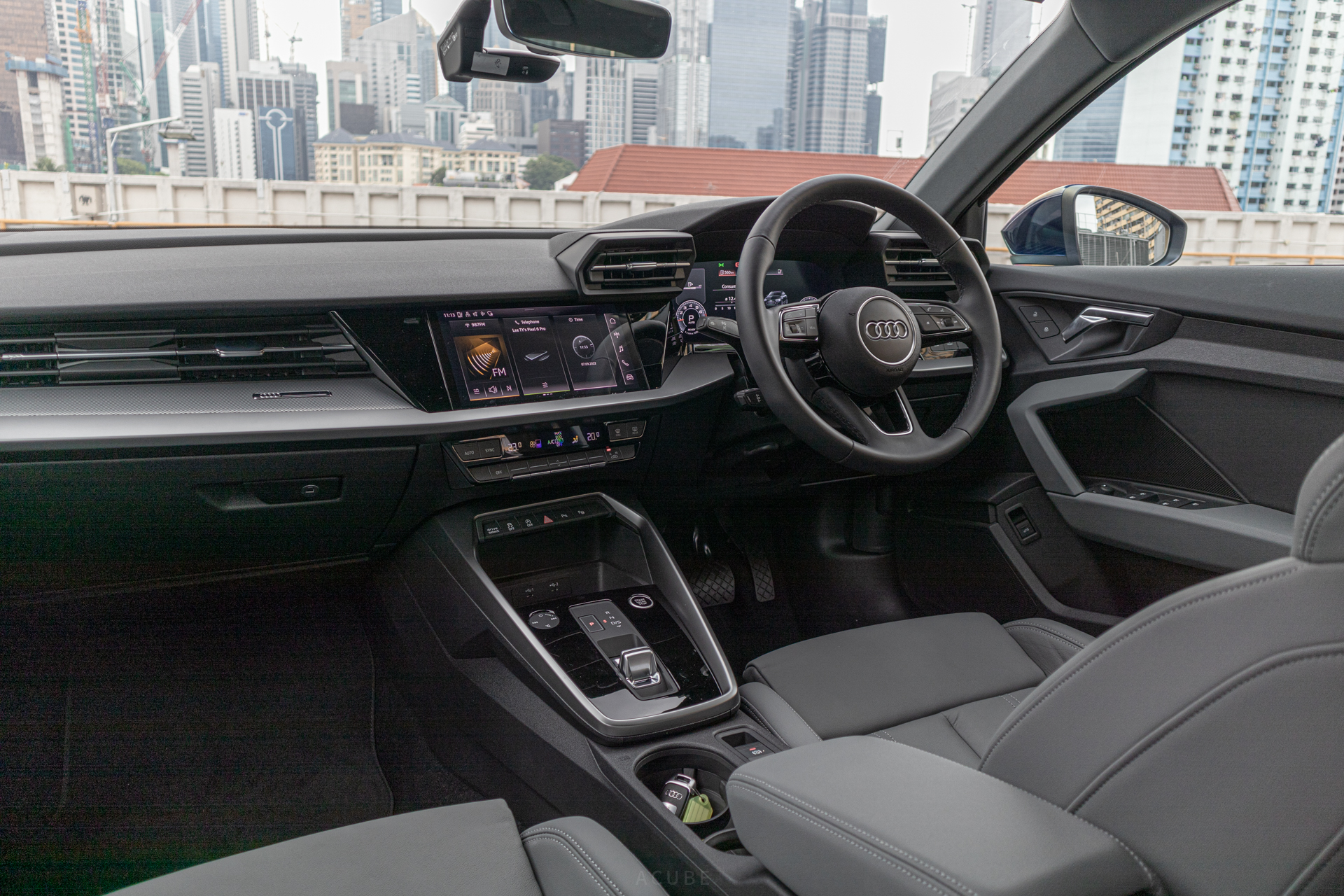 The cabin is relatively comfortable to be in, with even a large guy like myself being able to fit comfortably behind my own seating position. The front seats, with their side and thigh bolstering, did help to hold me in place as much as they could, especially during more spirited stints of driving.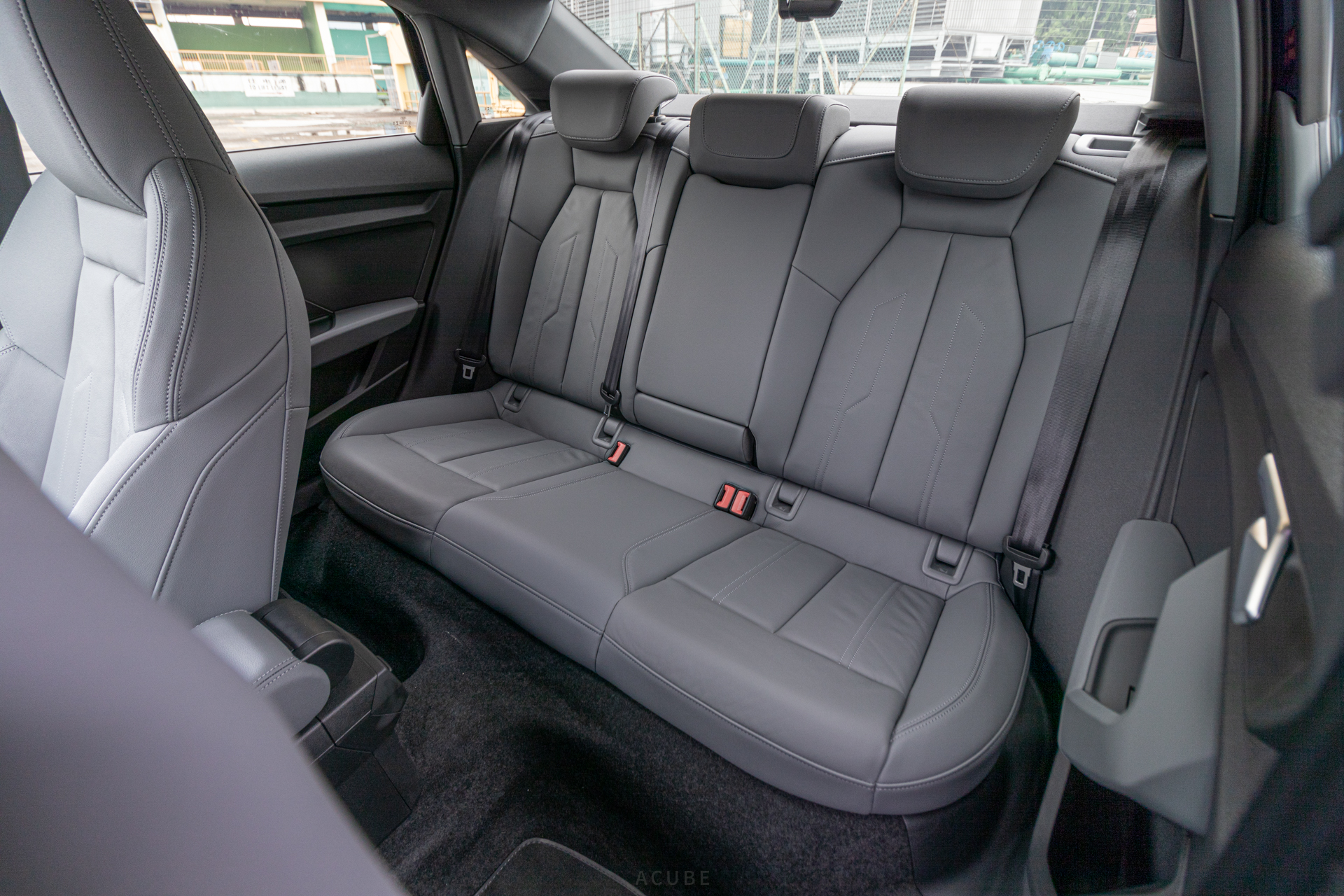 Together with Audi's MMI and Virtual Cockpit, you feel as if the cabin envelopes itself around you, feeding you information to explore your limits and the car's limits further (for legal reasons, Motorist does not condone reckless driving). 
In essence, almost anything information you require about the car at any given moment is readily available with at your fingertips. Want the navigation to fill up the entirety of the Virtual Cockpit? Just press a button. Or how about how much G-forces (yes, there is a G-meter present) you're pulling through a corner? It really is that simple with the Virtual Cockpit.
Driving It
Compared to its 1.5-litre sibling, the A3 1.0 is down 40 horsepower and 50 Nm of torque. While that does sound like a disadvantage, think of it with a "less is more mentality". Or as Colin Chapman said, "simplify, then add lightness".
With a 1.0-litre engine, it weighs just 1,285 kg, 35 kg less compared to the A3 with the 1.5-litre engine. While 35 kg may not sound like much, it does have quite a difference in a car this light. Especially on twistier roads, the front end felt noticeably eager, nimble, excited even, especially when steering input was more aggressive. 
Even with a torsion beam rear suspension, as compared to the multi-link setup in the A3 1.5, the way it handles hardly hints that it is a torsion beam setup, only corners with bigger bumps or expansion joints threatening to upset the car. Truly, the A3 demonstrated capability you wouldn't expect from a (perhaps) more "basic" car like this one.
While Audi claims 23.2 km/l, the best numbers I saw was 20.5 km/l (on an extended expressway stint), with my overall average being 12.7 km/l. Granted, it is quite some way off the claimed numbers, but bear in mind this was a combination of expressway, city and spirited driving. 
If I had to grumble, it would be the turbo lag. The turbo is sizeable for an engine this small. Suddenly accelerating while cruising in seventh gear results in little response until the tachometer hits 3,000 rpm, the turbo wakes up, and off you go. Depending how you look at it, though, it can be a detriment, or it can actually be fun.
When was the last time a modern car actually had some good old-fashioned turbo lag? This can easily be circumvented by pulling the paddles to shift the snappy S Tronic transmission into a lower gear, but somehow, there is something charming about anticipating the spool of the turbocharger and for boost to hit.
Less Truly Is More
With the A3 1.0 Sedan, being shortchanged is the least of your worries. You still get the same fit and finish expected of an Audi, and most, if not all the same fittings that you get in the 1.5-litre A3.
Yes, the engine is smaller and down on power. But, you pay even less tax, and in return you get a car that is even more playful, with all the joie de vivre and virtually none of the drawbacks. It rarely ever gets as good as this. 
I'm not denying that shoving a high powered engine into a small and light chassis is unnecessary and overdone. Audi has perfected that recipe with the RS3 and S3, showing how big power in a small car is an absolute hoot.
A return to the basics shows how lesser power combined with more control can be an even better, if not an even more enjoyable package than you would have dared imagine. "Power is nothing without control", as the famous line goes. So just perhaps, having lesser power, but more control, could just be the ticket to greater vehicular enjoyment after all.
Specs
Price:

S$ 203,148 (inclusive of COE)

Performance:

Engine: 1.0 litre Inline 3-cylinder engine

Power: 109 bhp

Torque: 200 Nm

Fuel Consumption: 23.3 km/l

0-100km/h: 10.6 Seconds

Top Speed: 210 km/h

Drivetrain: 7 Speed S Tronic transmission; Front-Wheel Drive

Brakes: Ventilated Disc Brakes (Front), Discs (Rear)
Measurements:

Wheelbase: 2,636 mm

Dimensions (LxWxH): 4,495 mm x 1,816 mm x 1,425 mm

Fuel Tank Capacity: 45 litres

Boot Capacity: 425 litres
Features:

Keyless Entry

Electric front seats

Audi park assist

Audi virtual cockpit plus

Park assist with parking aid Plus Cruise Control System
Photo Credit: ACube Creative (@weareacube)
Download the Motorist App
The easiest and smartest way to manage your vehicle in Singapore.
Download Now
Read More: mReview: 2022 Audi A3 Sportback 1.0 Litre - Efficient Affordable Fun
---
Download the Motorist App now. Designed by drivers for drivers, this all-in-one app lets you receive the latest traffic updates, gives you access to live traffic cameras, and helps you manage LTA and vehicle matters.
Did you know we have a Motorist Telegram Channel? Created exclusively for drivers and car owners in Singapore, you can get instant info about our latest promotions, articles, tips & hacks, or simply chat with the Motorist Team and fellow drivers.