Did you ever get the feeling Toyota tailor-made the Alphard for those who desired a limousine-esque experience while still remaining relatively low-key?
Still have your doubts? Take a look at our roads, and see how many Toyota Alphards (and its Vellfire twin) are running around as private chauffeur-driven cars, luxury taxis or as limousines-for-hire.
And it's not just Singapore, the Alphard is also popular for the aforementioned reasons in Malaysia, Indonesia, Thailand and Hong Kong too. Named after the Alphard star, it's not uncommon to see celebrities using these cars to arrive at events or going about their daily lives.
A quick side note, this Toyota Alphard 8-Seater is currently listed for sale at Sphere Automobile, so do approach them if you are interested!
What is this?
This is a third generation 2020 Toyota Alphard. Facelifted in 2018, the Alphard gained slimmer LED headlights, sequential LED turn signals, new taillights, a larger (and very imposing) front grille, plus some minor mechanical updates.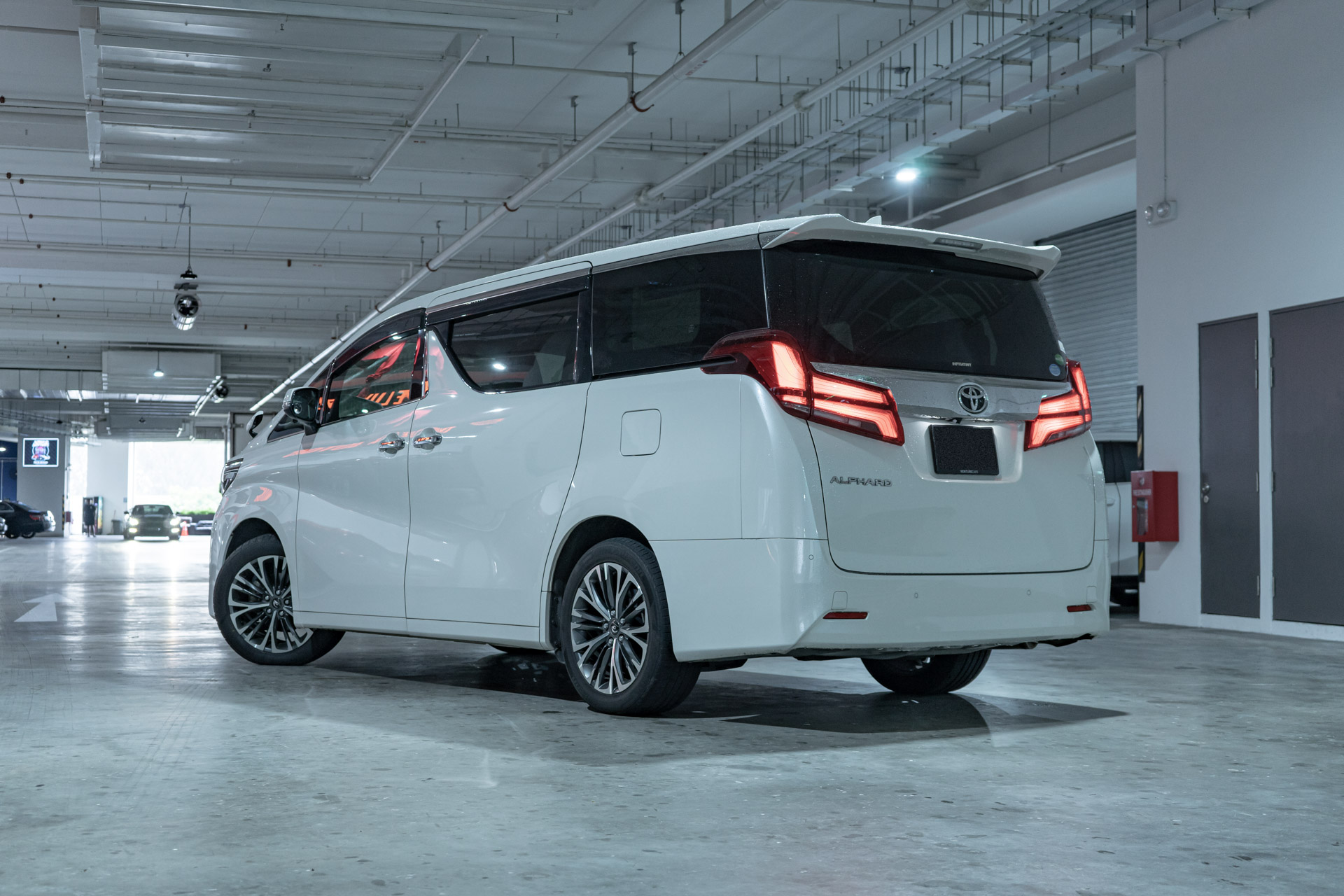 Unlike most local Alphards that come with seven seats, this particular unit is an eight-seater, which replaces the two captain chairs in the second row with a three-seat bench instead.
Offered with three engine choices; a 2.5-litre petrol-hybrid, 3.5-litre V6, or the one here, a naturally aspirated 2.5-litre four-cylinder mated to a "seven-speed" CVT. With 179 horsepower and 235 Nm of torque driving the front wheels only, the century sprint takes a leisurely 11.3 seconds, which isn't entirely surprising, considering it weighs 2.1 tons.
To drive, it's a barge on wheels. You do sit high up, but you also get a good view of the road ahead. Arguably the best part is how absurdly comfortable the Alphard is, be it as a passenger or driver. With plush seats and comfort-biased suspension dampening, the whole car is built around providing maximum comfort.
Is it any good on the wallet?
It's a Toyota, would you expect anything less? There are hardly any known issues cropping up either mechanically or electrically. With proper maintenance, the Alphard is a reliable workhorse, with many units on Singapore roads being high mileage examples and still going strong.
However, being a heavyweight, owners have reported accelerated wear and tear on certain mechanical parts, possibly due to the additional stresses caused by its weight. According to owners, components like the steering rack, lower control arms, even the driveshaft, require replacement with new parts after a few years of driving.
If your car was bought through the authorised dealer, these parts may be covered under warranty. If bought through a parallel importer, you most likely have to pay for the repairs yourself. 
The main cost of ownership would most likely be the frequency of refuelling. While it does have a 75 litre tank, it also has high fuel consumption, with an average range of 400 kilometres, which works out to approximately 5.3km/l, or 18.8l/100km. 
Is it comfortable inside?
Measuring about 4.95 metres long and 1.9 metres wide, space isn't lacking. Even in the last row, you possibly will have more legroom than some smaller cars. 
The front seats are almost akin to captain's chairs, with their plush padding, generous support and individual armrests for both driver and passenger. The second row, while designed as a three-seater bench, is actually more suited for just two passengers, with the middle seat being narrow, raised and not as well-padded as the left and right seats.
For added comfort, the backrest in the middle seat doubles as a pull-down armrest, and the left and right seats can be adjusted individually for recline, as well as moved back and forth. The floor of the Alphard is completely flat too, allowing ample legroom for all passengers.
While three people can fit in the third row, it's best recommended that only two passengers sit back there. Legroom is sufficient for most adults, and longer journeys shouldn't be much of an issue. The rear seats can also be folded up if more boot space is needed. 
For this particular unit, the seats are upholstered in a light beige leather, together with the door card inserts, while the steering wheel and dashboard are trimmed in black leather and soft touch materials. The dashboard and doors are complemented by "wood-look" trim pieces, adding a contrast of colour to the cabin.
Being a parallel import, this unit didn't come with the official Toyota infotainment system. Instead, there is an aftermarket Android head unit, which doesn't have Android Auto or Apple Carplay, but at least it has Bluetooth connectivity.
The climate controls are a mix of physical dials (for temperature control) and touch capacitive buttons (for fan speed, air recirculation and air flow position). Adjustability is the name of the game here, with the front featuring dual zone climate controls, and the rear air-con able to be controlled independently of the front. 
There is also in-car entertainment, with a small screen that folds down from the ceiling for second row passengers, while two individual screens are mounted behind the second row for third row entertainment. The generic speakers are factory fitted, and have enough aural oomph to provide decent sound quality.
The gauge cluster is simple and uncluttered, with two analogue gauges for the tachometer and speedometer, and a small digital screen in the middle to display information like range remaining, trip computer, odometer, eco indicator and current fuel economy. 
There is also a lane departure warning and pre-collision warning system, both of which can be activated via buttons on the steering wheel.
However, this Alphard does lack some niceties. While it does have fully automatic windows all around, electric tailgate, electronic parking brake with auto hold, and a power door on the left, it lacks a power door on the right and electrically controlled front seats with heating and ventilation, which the seven-seater variants typically receive as standard. 
Can it carry a lot of cargo?
Yes, it does. 616 litres of boot space, with the last row folded up. With its tall dimensions, it can easily fit larger items vertically. Bicycles can be pushed straight in without dismantling, and transporting more than four golf bags wouldn't be a problem either.
If more space is needed, the second row can be pushed forward, and the backrests can be folded down. Additionally, there are storage compartments aplenty in the cabin for the driver or passenger's convenience. 
Alternatives
The only other Japanese manufacturer that offered a competing model was Nissan, with the Elgrand. It was available as a seven or eight-seater, powered by a 2.5-litre four-cylinder engine.. It was almost identical in size, but it did lag behind a little in refinement.
Should you want something even bigger, there is the Maxus G10. While this Chinese MPV may not be the first thought on your mind, don't discount it. Granted, it isn't as luxurious or refined as the Alphard, but it has even more legroom, and was available as a seven or nine-seater, which is almost unheard of for passenger cars in Singapore.
Conclusion
Should you wish, the Alphard can still be purchased new, with the authorised dealer only bringing in the hybrid variant, while parallel importers offer both petrol variants as well as the hybrid, with seven or eight seats.
Regardless of the engine choice, you can be guaranteed not only a supremely comfortable ride, but also a stylish arrival. While one might think that a large vehicle like an Alphard will stand out, it isn't really the case. Instead, think of it as understated luxury, without the unnecessary attention that one might attract with cars from European brands.
If you are keen on getting a Toyota Alphard as your next car, or any other used car for that matter, do take a look at our used car selection here for some of the best deals!
Motorist would like to extend our thanks to Sphere Automobile for loaning us the Toyota Alphard for this article.
Photo Credits: Lee Thern Yang (@TheBigSoup)
Read More: Motorist Car Buyer's Guide: BMW 320i EfficientDynamics
---
Download the Motorist App now. Designed by drivers for drivers, this all-in-one app lets you receive the latest traffic updates, gives you access to live traffic cameras, and helps you manage LTA and vehicle matters.