When Honda fitted an Accord with a high-revving engine, other go-fast accoutrements and "R" badging, would you have expected anything less?
Part of a final group that came with some of the finest naturally aspirated engines Honda ever produced (with the others being the FD2 Civic Type R and the DC5 Integra Type R), the Accord Euro R has obtained modern classic status. Popular as it was when it was first introduced, its price and demand have not dwindled even as it ages.
What is this?
Introduced in 2005, the Euro R was based on the seventh generation of the Honda Accord CL7. To up the ante on its humdrum regular variant, Honda has reinforced the Euro R's chassis for improved handling. Under the bonnet, you'll find Honda's famed K20A 2.0-litre engine, developing an impressive (for the time) 220bhp and 206Nm of torque. Power was sent to the front wheels via a limited slip differential, and the only transmission offered was a six-speed manual gearbox. And not forgetting, redline was at a screaming 8,400 RPM. 
Is it any good (on the wallet)?
The Euro R lives up to stereotypical Japanese car reliability standards. Earliest examples are now almost two decades old (the first Euro Rs were imported back in 2005), and it isn't uncommon to see units with over 200,000 kilometres on the odometer - a testament to what Japanese engineering and proper maintenance can do.
That isn't to say the cars are completely trouble-free. As these vehicles are fast approaching the 20-year mark, there are bound to be some things that need to be rectified on any Euro R. However, given its continued popularity, parts can be found easily, and there is generous aftermarket support available too.
Common issues are the clutch pedal and the front bumper. The former tends to give way over time, due to some flaws in the original design and lack of reinforcement, causing the metal to fatigue and eventually fail. As for the latter, cracks do form in the areas between the headlights and grille, a result of the inside corners of the headlights coming into contact with the bumper when on the move.
When it comes to servicing intervals, it is recommended that the Euro R be serviced every 6,000 to 8,000 km to maintain the engine's health, with the recommended oil viscosity being 5W40. A major service is also required every four services or 40,000 km. Fuel economy is surprisingly decent, with a fuel consumption rate between 9 to 11 km/L.
It is also recommended to perform a top overhaul of the engine once the mileage reaches 250,000 - 300,000 km. This step is encouraged so as to check on the health of parts like the valve assembly, belt tensioner and pistons (to name a few), and to replace them if necessary.
Unfortunately, some parts are hard to find, and those would be the shifter cable and stock bumper. For the stock bumper, local availability is non-existent, but that can be remedied by fitting an aftermarket bumper. As for the shifter cable, there aren't any ready stocks, which could lead to some long wait times as the cable needs to be ordered, especially given the supply chain issues today.
Thankfully, it's not all bad news. As mentioned earlier, mechanical reliability is strong, and there are hardly any issues with the electronics too. Maintain the engine properly, which means regular services and no over-revving, and it is not unheard of for the K20A to last 300,000 - 400,000 km. Problems faced when over-revving the Euro R's engine include damage or failure to the pistons, as well as the conrod bearings.
Ultimately, should you wish to purchase any Euro R, do your due diligence and send the car to a reputable workshop for a pre-purchase inspection, preferably one that specialises in Hondas. Also have the workshop perform a compression test of the engine as that would be a good indicator of the engine's health.
Is it comfortable inside?
As the Euro R is based on the CL7 Accord, the interior space is what you would get in a regular Accord, which means it will seat five passengers. The front seats are Recaro semi-bucket seats with some side and thigh bolstering to keep the front passengers in place while going around corners, and are reasonably comfortable.
As expected of a car from the mid 2000's, the HVAC controls are all physical buttons, and can be easily operated while driving. The head unit in this particular Euro R is an aftermarket item as the original one, by today's standards, is completely lacking in functionality. Fortunately, there are plenty of options available for modern replacements at affordable prices, should you also wish to do an upgrade of your own Euro R.
Besides the aftermarket head unit, this particular Euro R also has a shifter assembly from Hybrid Racing. Besides offering a better feel while shifting gears, it also adds a pop of colour to the interior with its exposed linkages.
Don't expect much from the interior. Besides the suede-like material in the door cards, and the fabric upholstery on the seats, the interior consists mainly of hard black plastics. Durable, yes. Aesthetically pleasing, no. But you don't buy a Euro R expecting a fancy interior, do you?
The steering wheel has both tilt and telescopic adjustment, with the gauge cluster displaying only engine revs, speed, fuel level, engine temperature and the odometer. While there are no rear air conditioning vents, there are hidden ISOFIX points, a centre armrest, and the rear seats can be folded down in a 60/40 split.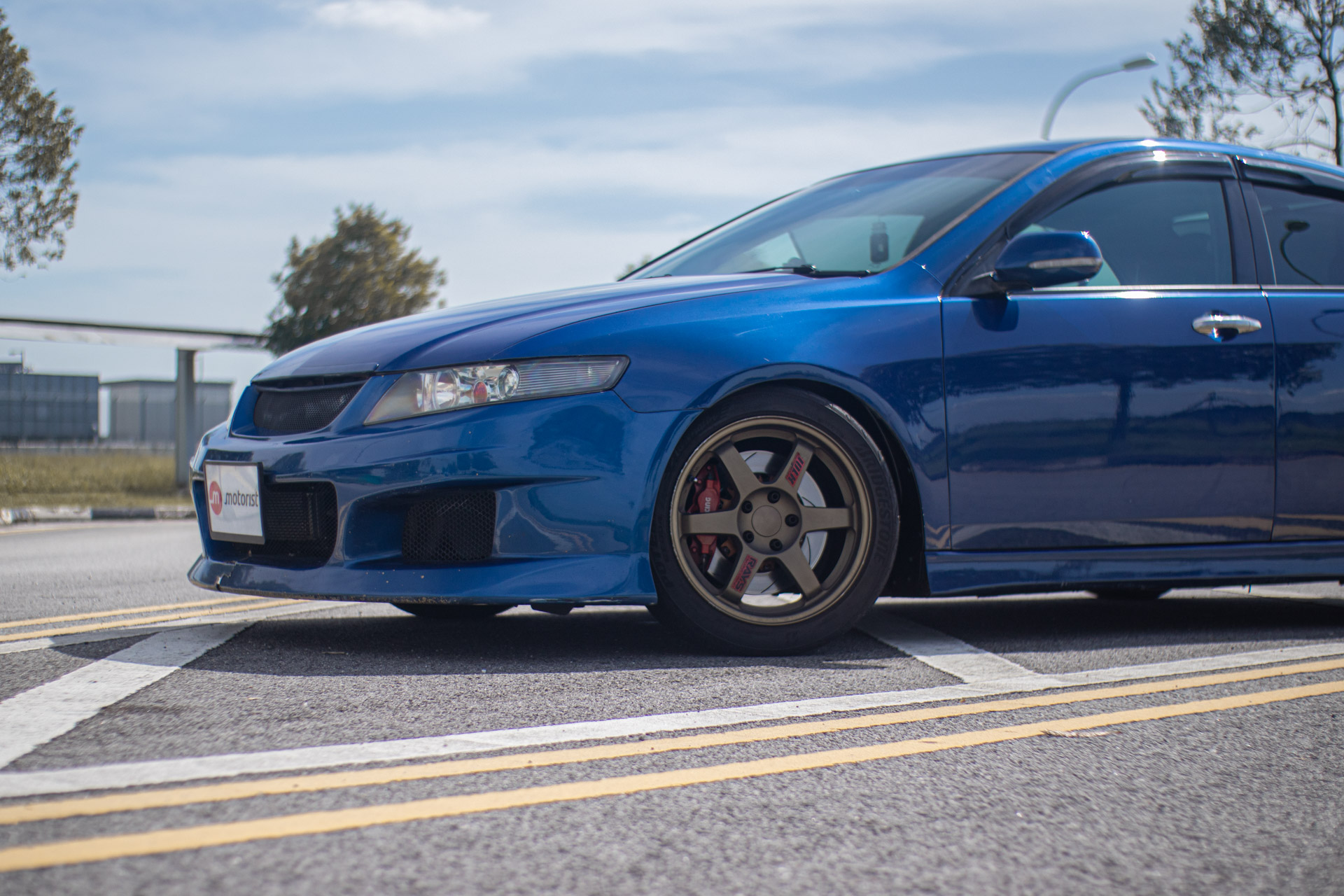 Don't expect much sound insulation in the Euro R. You will hear noise from the road, the engine, and the exhaust. But would you want it any other way if you had a car like this? The Euro R comes from the factory with 215/45/R17 tyres, but it is rather common to see them with aftermarket wheels and tyres, with this particular unit wearing wider Bridgestone RE004 tyres and Volk Racing TE37 wheels.
Can it carry a lot of cargo?
Like the regular CL7 Accord, the Euro R has a boot capacity of 459 litres. Not the biggest, but it is more than sufficient for what most people will use it for on a daily basis. The load lip isn't too high as well, so loading cargo in won't be too difficult. 
And should you ever have a flat, the Euro R does come with a spare tyre.
Alternatives
If you want something German and with similar power figures, the E90 BMW 325i would be a good choice. Coming in sedan or coupe form, it was fitted with a 2.5-litre inline-six engine. It isn't as "hard-edged" as the Euro R, and the only transmission option locally was a six-speed automatic.
On the other hand, is there really a competitor for the Euro R? Or perhaps, you want something to compliment the Euro R. Here lies the FD2 Honda Civic Type R. Both have four doors and are naturally aspirated, but the FD2 Civic Type R is smaller and weighs less. Importantly, it still has that screaming redline and that electrifying VTEC, which the BMW above doesn't.
Verdict
In the end, for a performance car that is naturally aspirated, reasonably powerful, extremely engaging, still feels analogue, is actually practical for daily use and still able to rev over 8000 RPM, the Honda Accord Euro R is a compelling choice.
Not only is it reliable, aftermarket support is plentiful, and you know it will very well hold its value, or perhaps even appreciate in value. 
If you are keen on getting a Euro R as your next car, or any other used car for that matter, do take a look at our used car selection here for some of the best deals!
Photo Credits: MM Creative (@mm.creativesg), ACube Creative (@weareacube) and Ng Fu Dian (bigblackcord7r)
Read More: Motorist Car Buyer's Guide: Mercedes-AMG GLB 35 4MATIC
---
Download the Motorist App now. Designed by drivers for drivers, this all-in-one app lets you receive the latest traffic updates, gives you access to live traffic cameras, and helps you manage LTA and vehicle matters.