Johor, much like Singapore, is a foodie's paradise. From local delights to all-around delicious food, you'll be spoiled for choice!
In this article, we will be sharing some of the most popular dishes found in our Northern neighbour. Let's jump right in!
1. Asam Pedas
The first dish that is featured on the list is asam pedas. Opinions are split down the middle, with Camp Asam swearing by it and Camp Non-asam pointing out the pungent nature of the food. It hints at its spicy and acidic nature, which is the perfect way to describe this delicacy.
Typically cooked with protein-rich fish, the acidic gravy complements the rather mild taste of the fish and gives it an interesting kick! While not native to just Johor, we're sure they do this fiery-red dish justice!
2. Johor Laksa 
Johor laksa offers a slight twist to the dish that we all know and love. For a start, the noodles used are spaghetti noodles, and not the yellow noodles or "rough or thick" bee hoon that are usually served here in Singapore. Other differences also include the garnishes used, like onion and limes akin to Penang-style laksa.
Johor Laksa is also said to be a drier variation of the laksa that us Singaporeans are all so used to seeing, with what looks to be paste atop spaghetti noodles.
3. Bak Kut Teh
Bak Kut Teh, or "meat bone tea", is a favourite of many. The herbal aroma fills the nasal cavities of those fortunate to get a whiff of the beautiful pork broth. The taste of white pepper gives the dish a surprising amount of "oomph" to a dish that really doesn't need it. It is, however, a welcome addition.
Rice and fried dough fritters are typically served alongside the piping hot bowl, as carbs pair with this dish extremely well. The red-cut chilli, submerged in black sauce, is a delicious dip for the tender pork, blending in perfectly with the meat's natural sweetness.
4. Nyonya Kuehs And Pastries
While not native just to Johor, they certainly have a wide array of these sweet treats. From the rainbow coloured kueh lapis to red bean puffs to even coconut shavings, Johorians certainly know their way around making tasty desserts and pastries.
We can guarantee that there's a bite-sized snack or treat that will appeal to you, no matter how young or old you are!
5. Braised Duck
Braised meat is quite under-valued in the grand scheme of things, especially when compared against other types of prepared meat, like fried or roasted ones. However, braised duck is very soft and tender to the bite, and takes away the rubbery texture that duck meat is usually known for.
Typically paired with rice and its signature chilli, a simple side of roast duck and rice can make for a wholesome and filling meal!
6. Kacang Pool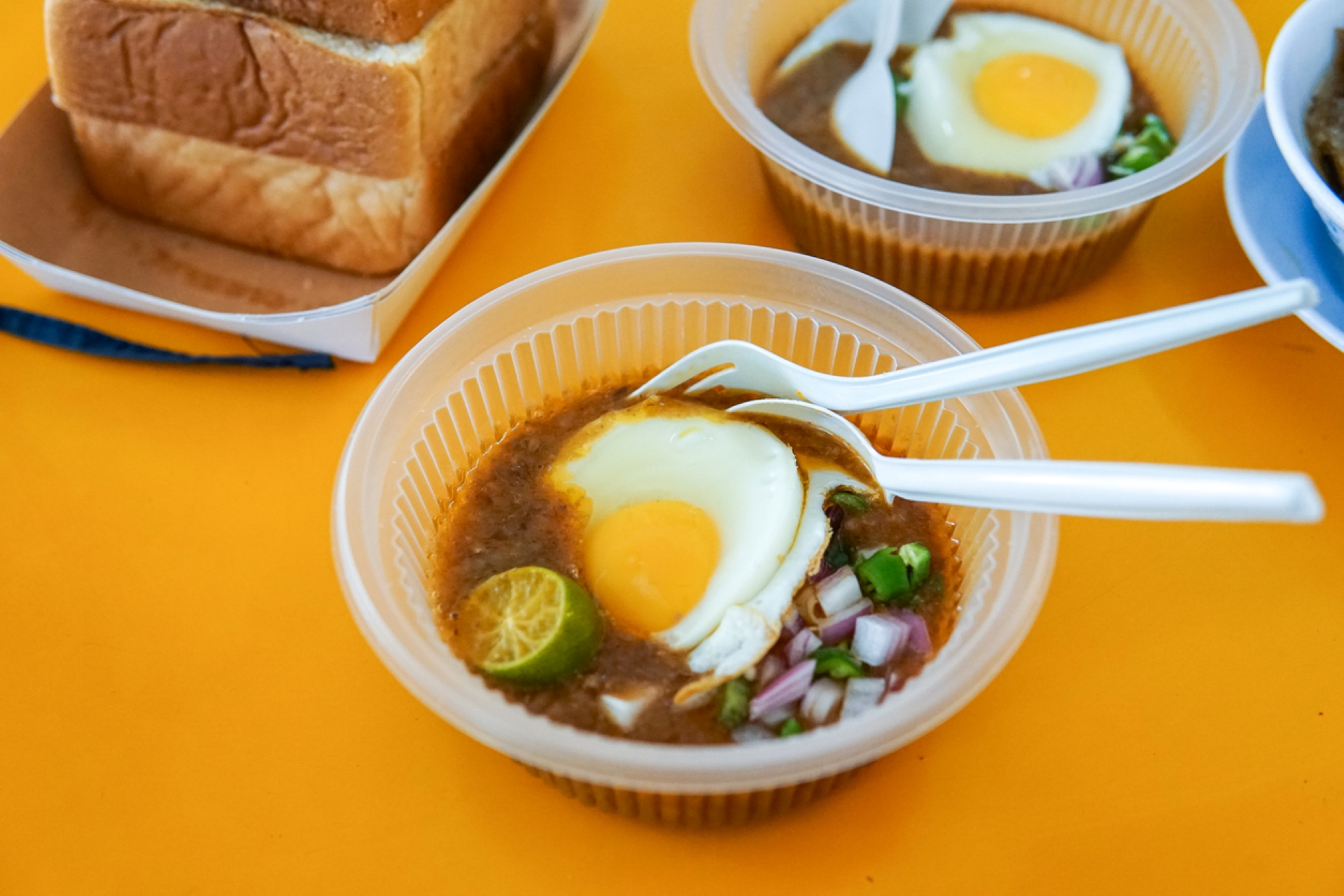 The first thing that probably comes to one's mind upon hearing "kacang pool" is the ice kacang that we are accustomed to here in Singapore. The reality of it is very different, however. You will instead be greeted with a gravy-looking dish. Made with fava beans, it produces a distinctive smell.
Often mixed with lime and egg, the acidity of the citrus fruit helps to cut through the thickness of the sauce, and the egg provides a creamy texture to the dish. Bread is also usually served to let you dip it in.
7. San Lou Bee Hoon

For the last dish on our list, we have one that admittedly looks quite peculiar. The rundown of this food is that it's deep-fried vermicelli with a generous amount of wok-hey, greeting your mouth with a satisfying crispy texture and bite every time.
Download the Motorist App
The easiest and smartest way to manage your vehicle in Singapore.
Download Now
If exploring the cuisine in Johor sounds good to you, be sure to use our Motorist App checkpoint function to track the traffic situation. It also offers real-time camera footage! 
Read More: The Ultimate Guide to Driving into Malaysia: VEP, Road Safety, Driving Etiquette, Accidents
---
Download the Motorist App now. Designed by drivers for drivers, this all-in-one app lets you receive the latest traffic updates, gives you access to live traffic cameras, and helps you manage LTA and vehicle matters.
Did you know we have a Motorist Telegram Channel? Created exclusively for drivers and car owners in Singapore, you can get instant info about our latest promotions, articles, tips & hacks, or simply chat with the Motorist Team and fellow drivers.