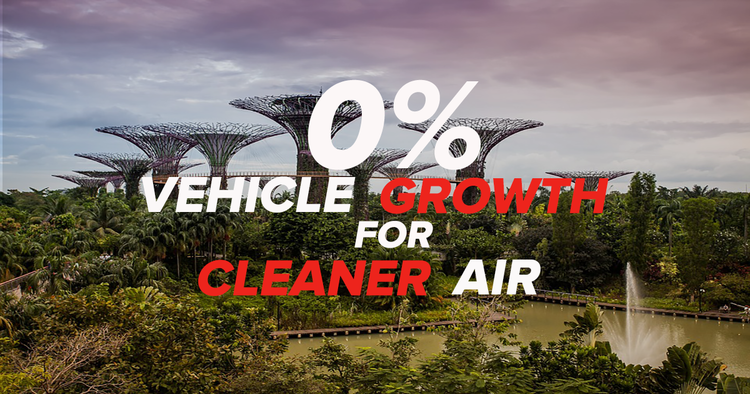 (Photo Credit: Pixabay)
Land Transport Authority (LTA) recently released a statement announcing the cut of vehicle growth to zero percent. Subsequently, a press release from the Urban Redevelopment Authority (URA) was also published on its website to declare that the well-received 'Car-Free Sunday' will continue to run in 2018.
Could this be how the government maintains air quality in Singapore at a moderate state? Read the article below to find out more.
Vehicle Growth For 2018 Cut To Zero
(Photo Credit: Wikimedia Commons)
Announced on Monday, 23rd October 2017, the cut from 0.25% to 0% will be made effective from February 2018. This cut will affect three categories of vehicles; A, B and D. On the other hand, Category C vehicles, will remain with a 0.25% vehicle growth till the first quarter of 2021. The unchanged percentage for Category C vehicles is in lieu to provide businesses more time to plan their logistics operation efficiently without a shortage of vehicles.
In recent times, efforts to create a healthier environment in Singapore have stepped up tremendously. In a press release by LTA, the cut was an effort to "steer to a car-lite society". The main objective for this new implementation is to reduce the number of vehicles on the road in hopes of reducing harmful emission and overcoming the issue of space constraint–12% of the land in Singapore is taken up by roads, which is considered a large percentage for this little red dot.
Constant Effort To Improve Public Transport System
(Photo Credit: Wikimedia Commons)
A total of 41 new stations with a rail network expansion of 41% can be seen throughout the past 6 years. New routes for buses have also been added, raising service level through the $1 billion Bus Service Enhancement Programme and Bus Contracting Model.
Through these improvements in the public transport system, the government aims to promote citizens to make use of these facilities instead of having their own personal transport. Now, travelling around Singapore has been made easier, especially with the newly opened Downtown Line 3.
This expensive upgrade that the government had invested will have one main objective–getting citizens to leave the thought of "needing' a car for transport. If this objective is successfully achieved, it will definitely make a significant impact on the environment and provide a cleaner air for all.
COE Quota Reduction For November 2017 To January 2018
(Photo Credit: Wikipedia)
Although the press release by LTA states that the COE will not be affected by the new changes, statistics have shown otherwise. All in all, total quota for the upcoming months (November 2017 till January 2018) have dropped almost 10 percent compared to the quota given for August 2017 till October 2017.
This revised quota has greatly impacted Category C vehicles with an average monthly quota of only 485 compared to the previous quota of 888. Even though the percentage of vehicle growth for Category C vehicles is unchanged, the challenge of obtaining a vehicle from that category might eventually be tougher due to tight competition. This could result in a chain reaction whereby the COE for Category C might eventually increase.
Besides upholding the objective of creating a healthier environment, this is a strategic move that the government has planned to keep the cards a fair play for vehicles across all categories. Category C vehicles which runs on diesel generally emits more harmful gases compared to petrol powered vehicles.
Looking at it as an optimistic improvement, a lesser quota could actually lessen the amount of harmful gases to be emitted as a whole. This means that there would be lesser harmful gases contributing to global warming and destructing the earth.
Car-Free Sunday Continues In 2018
(Photo Credit: Urban Redevelopment Authority)
URA has announced that the Car-Free Sunday campaign will continue to run in 2018. In their statement, URA stated that this decision is due to the community and ground support that have been given throughout the whole campaign period. The event attracted many diverse groups in Singapore to take part in the initiative and play a more prominent role in steering Singapore towards becoming a car-lite society.
Quoting from the press release, "the initiative has brought on board people from all walks of life to enjoy Car-Free Sunday SG, and helped raised stronger awareness amongst the public on the benefits of a city with less cars."
Activities such as National Youth Council's Got To Move SPOTLIGHT event, which is an interactive dance festival, aims to encourage families to leave behind their cars, creating meaningful bonds and memories through the line up of activities planned. Not only the event promotes lesser car emission, it also advocates family bonding.
Summary
The government has indeed invested a lot of time and effort to promote a healthier, happier and fun living for its citizens. Living in Singapore is not just about surviving the everyday life, but also bonding well with family and breathing through healthier air. But with all this effort, could it actually change the habits that Singaporeans have been living with for generations? Or will it cause negative effects and unhappiness among drivers by implementing such measures? It is definitely going to be a challenge for drivers who genuinely require their own personal mode of transport, don't you think? Comment your thoughts below!
Download the Motorist App
The easiest and smartest way to manage your vehicle in Singapore.
Download Now
Read more: 8 Fuel Efficiency Tips To Help You Save More Money
---
Download the new Motorist app now. Designed by drivers for drivers, this all-in-one app lets you receive the latest traffic updates, gives you access to live traffic cameras, and helps you manage LTA and vehicle matters.