Being in a car accident is a frightening experience, but being in a car accident overseas is even worse. If you get into trouble on foreign roads, you may be confused on what to do, and the language barrier can make it difficult to get help. A car accident demands immediate action—not knowing what to do can put you in danger, not to mention cost you serious time and money later on. Fortunately, this guide is here to help you know what to expect, and take all the right steps to salvage the situation.
1. Check for Injuries
(Photo Credit: Max Pixel)
Once both vehicles have come to a stop, the first thing you should do is to check yourself and any passengers for injuries. If there are serious injuries, call the local police and ambulance immediately. Do not attempt to move any injured bodies on your own. Getting hurt overseas is alarming, but the important thing to do is to stay calm and allow trained medics to handle the situation. Be sure to find out all the emergency hotline numbers before travelling abroad.
2. Call the police

(Photo Credit: Wikimedia Commons)

Even if nobody is hurt, you should still call the local police and make a report. They will send help for you, and in the event of any foul play e.g. a hit-and-run, the police need to be notified as soon as possible so they can look for the culprit. All uninjured parties should stay at the accident site until the police arrive.
3. Collect evidence of the accident
(Photo Credit: Flickr)

While waiting for the police, take photos of the accident scene. Do not move your vehicles until you've got the photos—the photos should be a record of the original accident scene. You may need them to back up your account of the situation, especially if one of the drivers was at fault and you want to pursue the matter. Take photos of the entire scene and also closer photos of vehicle damage. If you don't have a phototaking device on you, you should make a sketch of the accident scene for reporting later, as it makes your first-hand account stronger.
Besides photos of the accident scene, you should also collect important details like the car plate number, personal details and contact number of the other parties involved. If there is a language barrier and you are unable to communicate all of this, at least make sure they remain on the scene until the police arrive and can mediate. Note that for Malaysian vehicles in particular, you should get photos of their road tax discs, as it will be a requirement for claiming against them. Ensure you have a record of all these details, as your memory alone may not be reliable, especially right after being in an accident.
4. Move Your Vehicle to the Roadside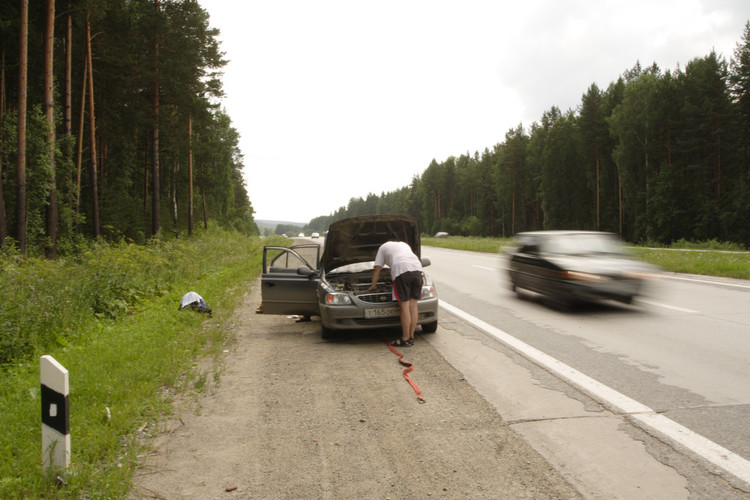 (Photo Credit: Flickr)
After collecting photos of the accident scene, try to move the vehicles to one side of the road so you won't block the way and risk a pile-up. If you have a hazard sign or a reflector on hand, put it up to warn other drivers of the accident site. Set up the site a fair distance away from your vehicle—about 50m from the boot should be enough.
5. Contact your Insurance Company
(Photo Credit: Nick Youngson)
The next thing to do is contact your insurer for advice. This is to make sure that you follow the correct procedures and do not do anything that may jeopardize your claim. They will advise you on whether to claim under your own policy or to try to negotiate a private settlement. They might also be able to help you to get towing services or arrange transport back to Singapore if needed.
Your insurance policy will vary from company to company, but some broad guidelines apply across all of them. Do not discuss or admit any liability on the spot, as this will seriously affect the strength of your claim. Avoid using any unauthorized tow truck or repair workshop companies (you may want to ask your insurer for a list of authorized companies you can use). And finally, make sure to submit an insurance claim within 24 hours, even if there's no visible damage to you or the vehicle. After 24 hours, the insurer can reject your claim even if it is normally valid, so better safe than sorry!
If you encounter a lot of difficulty in settling things with your insurer, you can write to the General Insurance Association of Singapore (GIA) at #15-01, 180 Cecil St, Bangkok Bank Building, 069546.
Click here for more insurance tips!
6. Call your Car Rental Company
(Photo Credit: Pexels)
This step is for drivers who have rented a car overseas rather than using a Singaporean-registered vehicle. Once you've settled your own personal insurane, you should call your rental car company, and it will help if you have your rental agreement details with you. There should be a clause in the agreement covering accidents already, but if you are unsure, you may want to contact your lawyer or insurer for advice.
7. Medical Check-up
(Photo Credit: Wikimedia Commons)
After you've left the accident scene, it's a good idea for you and your passengers to see a medical professional. Even if you have no visible injuries and feel fine, you may have internal injuries that you're not aware of. It's best to be safe and spend some money on a proper check-up.
8. Settle Administration on Return to Singapore
(Photo Credit: Pexels)
Once you return to Singapore, GIA requires you to file an accident report, even if you've already filed one with the police overseas. You will need to fill in GIA's Motor Insurance Report Form. You will also need to report the incident to Singaporean police, as they must be notified of Singaporean-involved accidents that happen overseas. If your insurance company arranged tow or repair services for you while you were overseas, you can claim the costs from your policy upon your return as well.

Need help for local accident procedures as well? Click here!
---
And now you're all prepared for overseas car accidents! If you've done everything in this guide, you won't have to worry about being caught off guard, or missing out on crucial details at the accident scene For more help with buying or selling your vehicle, or to get other helpful driving articles like this one, download our app at the Apple Appstore and Android Playstore!