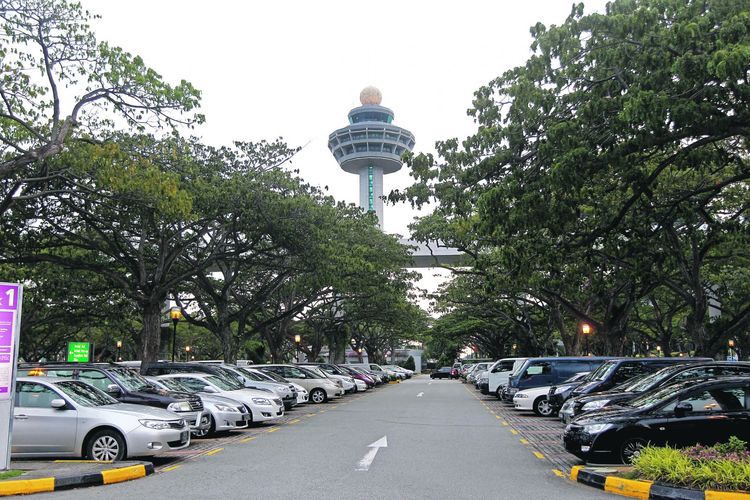 (Photo Credit: TODAY Online)
Parking can be a real pain in Singapore. It's complicated, it's tiresome, and worst of all, it's just parking!
Picking on those coupon tabs one by one or parking somewhere unfamiliar without knowing the rules can really prove to be your enemy, especially when you're against the clock.
As Sun Tze once said, "If you know the enemy and know yourself, you need not fear the result of a hundred battles."
Put your mind at ease, here are some coupon and parking tips to help you on the streets! Starting off with the basics, these are the types of parking lots.

Types of Parking Lots
White Parking Lot
(Photo Credit: HDB)
The standard white parking lot, the safest of the safe. Visitors can park here during the car park's operating hours.
Yellow parking Lot
(Photo Credit: HDB)
Yellow parking lots are found within Restricted Zone car parks. They'll cost you $1.20 per half hour if you park in them between 7am to 5pm on Mondays to Saturdays. After 5pm, they'll cost you $0.60 per half hour, even on Sundays and public holidays.
Red and White Parking Lot
(Photo Credit: HDB)
Bi-coloured lots are reserved for Season Parking Ticket holders from 7pm to 7am on Mondays to Saturdays, and reserved all day on Sundays and Public Holidays. However, some car parks may differ in terms of reserved days and timing, with some reserving the lots for Season Parking Ticket holders from 7am to 7pm instead. Check the car park signboards near the parking lots whenever you find yourself parking in one of these!
Red Parking Lot
(Photo Credit: HDB)
Red parking lots are reserved for those that hold the Season Parking Ticket (SPT) all day, including Sundays and Public Holidays.


Visitor Parking
These parking lots come with different costs and requirements. For the drivers annoyed with plucking away at three or four coupons at one go, there are other ways to save you from that hassle.
(Photo Credit: HDB)
These magnificent time-savers can be bought at just about any HDB branch offices or at the service counter in the URA center. These coupons come in really handy in situations such as using Park and Ride car parks on an Ad-Hoc basis!

| | | |
| --- | --- | --- |
| Coupon Value | Number of Coupons in One Booklet | Price |
| $0.60 | 20 | $12 |
| $1.20 | 10 | $12 |
| $2.40 | 5 | $12 |

Full-Day Parking
If you have to park somewhere and stay there till late, for example, until the next morning, don't waste your precious minutes calculating and plucking at your coupons!
Did you know that white lots are capped at $12? If you're within the restricted zone, those fares are capped at $20!
Now, that's where these come in handy.
(Photo Credits: HDB)
Just slap one of these on your dashboard and you're good to go. If the coupon operational hours are from 7am to 7pm, then the coupon will last you from 7am to 7pm. However, if the coupon operational hours are from 7am to 10.30pm with night parking, the coupon is valid from 7am all the way to 7am the next morning.
| | | |
| --- | --- | --- |
| Coupon Value | Number of Coupons in One Booklet | Price |
| $12 | 5 | $60 |
| $20 | 5 | $100 |

Night Parking
If you're looking to park at night, car parks that have the Night Parking Scheme charge a half hourly rate of $0.60 between 10.30pm and 7am. However, they cap the charges at just $5! Remember to look at the nearby car park signboards to see if they allow night parking!
(Photo Credits: HDB)
Remember to get these the next time you park overnight! You can check the location of car parks with the Night Parking Scheme here.

Temporary Parking Ticket for Bereaved Family Members
For those that are mourning the death of a loved one, attending funerals can be a lengthy affair. If the wake is held at a HDB estate, immediate family members of the deceased can get a Temporary Parking Ticket (TPT) to park their vehicles at a car park nearby.
| | | |
| --- | --- | --- |
| Temporary Parking Ticket | Timing | Charge |
| Whole Day Parking | 7am to 7am the next day | $12 per day |
| Overnight Parking | 10.30pm to 7am the next day | $5 per night |
Application for the TPT can be done at any HDB Branch or Service Centre during office hours, from 8am to 5pm, and requires the Death Certificate of the deceased and documents to prove the relationship between the applicant and deceased.

Expired and Wrongly Torn Coupons
In addition to saving time, you can save a little bit of money from coupon parking too!
Let's say you're a really dedicated coupon hoarder, and you have a stash that expired years ago. Instead of wasting your bucks, you can exchange them for new coupons as long as at least 1 segment of the tabs are intact and there are no irregularities.
These include old tickets that have expired validity dates and wrongly torn coupons. You can head down to any HDB branch or the service counter at the URA Center and get those old coupons for new ones!
Stay safe and drive smart!
Download the Motorist App
The easiest and smartest way to manage your vehicle in Singapore.
Download Now
Read more: Car Parks in Singapore with Free Parking (2018 Edition)

---
Download the new Motorist app now. Designed by drivers for drivers, this all-in-one app lets you receive the latest traffic updates, gives you access to live traffic cameras, and helps you manage LTA and vehicle matters. Download it now and stand a chance to win $450 worth of petrol vouchers weekly.