mReview: Land Rover Defender 110 75th Anniversary Limited Edition – High-Def High-Rider
Published by
Mutasim
on
13 Nov 2023
. Updated on
17 Nov 2023

Very few vehicles achieve popularity that spans across generations and continents. The humble Toyota Corolla is one. The original people's car, the VW Beetle, is another. And then there's this, the Land Rover Defender.
Born out of the ashes of the Second World War, the original "Landie" was the British alternative to the Willys Jeep. It was designed to conquer every terrain known to man, and meet all varieties of requirements – from military to humanitarian, to even commercial purposes.
Sometime in the 1980s, the Defender was born, adding some modern engineering touches and amenities, but otherwise retaining all the off-road capabilities that made its ancestor so wildly popular. Here in Singapore, the Defender is still in use within the civil service, with the army and police force fleets utilising both hard-top and open-top variants.
It has been 75 years since the original Land Rover first rolled out of Solihull, and the brand has decided to pay tribute to its rich history with this 75th Anniversary Limited Edition model, incorporating tasteful nostalgic touches to the modern Defender 110.
Class act
It's a smart-looking SUV, this. Land Rover has wisely chosen to bring the "Defender" nameplate well into the 21st century with sharp and contemporary looks. Whereas the Range Rover lineup has adopted a very stylish, opulent visual concept, the Defender has taken a more rugged, go-everywhere aesthetic that perfectly fits its character.
Interesting design elements can be found throughout the vehicle. Chequer plates on portions of the bonnet, for example, allow easy access to the roof should there be cargo boxes and such mounted on top. The tail-light configuration is faintly reminiscent of the ones seen on the original "Landie", albeit now in rounded square LED forms.
More obvious design parallels with the classic model include the slab-like rear fascia and so-called Alpine glass windows above the main ones along the C-pillars. And just like its ancestor, the new Defender features a tailgate-mounted full-size spare tyre.
This being the 75th Anniversary Limited Edition model, it's finished in a vintage shade of Grasmere Green, encapsulating the soul of the Defender in a charming way. The paintwork extends to the alloy wheels, and even parts of the cabin which I found to be elegantly executed. A "75 years" emblem sits discreetly on the tailgate, with a few more stamped on the sides of the dashboard.
While some segments of the community have lamented about this design direction and accused Land Rover of going soft, I think it's the right step forward in evolving - and modernising - an iconic nameplate without referring too much into the past.
Form and function
Don't expect to be transported back in time when you step inside the Defender, as it does away with retro gimmicks and prioritises full functionality.
A crisp and lightning quick 11.4-inch Pivi Pro infotainment system display sits front and centre on the dashboard, with a comprehensive switchgear panel located just below it; the latter slanted for easy operation.
Displaying a variety of driving information in high definition is a fully digital 12.3-inch instrument cluster, positioned right behind the chunky steering wheel. Speaking of chunky, there's a grab handle incorporated into the dashboard on the passenger's side for when things get properly off-roady, along with a sizeable tray to place small items.
Its quick-cleaning Resist seats are plush (as expected from a Jaguar Land Rover product), but also rugged enough to withstand extreme conditions. Not that you'd find yourself traversing the searing heat of the Sahara or the snowy ice caps of the Alps anytime soon, but it's nice to know that your Defender's upholstery can take on the elements just fine.
The Defender is equipped with four-zone climate control, which means rear occupants can set their own temperatures and fan speeds – essential in our part of the globe. Speaking of rear occupants, they will find it extremely spacious at the back, a testimonial to the vehicle's excellent spatial design.
Contrasting against the black upholstery is the aforementioned Grasmere Green trim, which is most prominent on the front dash and door panels. For an added sense of airiness, the 75th Anniversary model comes with a sliding panoramic glass roof and iconic Alpine windows.
There's a lot to like at the back, too. You get 857 litres of cargo space with all the seats up, which should be more than plenty for your usual grocery run. The flooring is made of a hard and durable material that's easy to clean, once again catering to the Defender's rough-and-tumble demographic.
With the rear seats down, about 1,000 litres' worth of additional space is now available. And just like the flooring, the backrests of the rear seats are also covered with a hardy material that can easily endure all sorts of abuse (such as tools and other hard objects, spare tyres, et cetera) on the move. The tailgate itself features a hidden compartment for the emergency triangle, as well as embossed "Defender" letterings. Neat!
Land glider
On smooth tarmac, the Defender performs like any premium vehicle worth its salt, with gobs of torque available on demand (550 Nm), and a decent horsepower output figure (394 hp) that allows it to effortlessly glide on the motorway like a seasoned marathon runner.
And when it enters hilly batches of road with frequent elevation changes, the Defender's air suspension system keeps the chassis frighteningly stable and composed. Mind you, this is a 2.3-tonne vehicle we're talking about. In most other scenarios, a vehicle of similar dimensions and kerb weight would have been nowhere near as planted as this.
Taking a turn off the perfectly laid out roads of civilisation and into the great unknown, the Defender displays handling capabilities that are just as impressive (read our Land Rover Defender Desaru off-roading experience here). 
Getting bogged down in mud is a near-impossibility, with the Goodyear Wrangler tyres paving the way with supreme ease, and the 3D surround cameras giving you a crystal-clear view of the surface around you, including a ground perspective.
Severe inclines on sketchy surfaces are no match for the Defender, either. It's able to climb up and maintain its uphill momentum without losing traction, which is where Terrain Response comes into play. With the appropriate surface type selected (there are six presets in total), the Defender adapts its throttle response, differentials, and other mechanical settings accordingly to tackle the environment most effectively.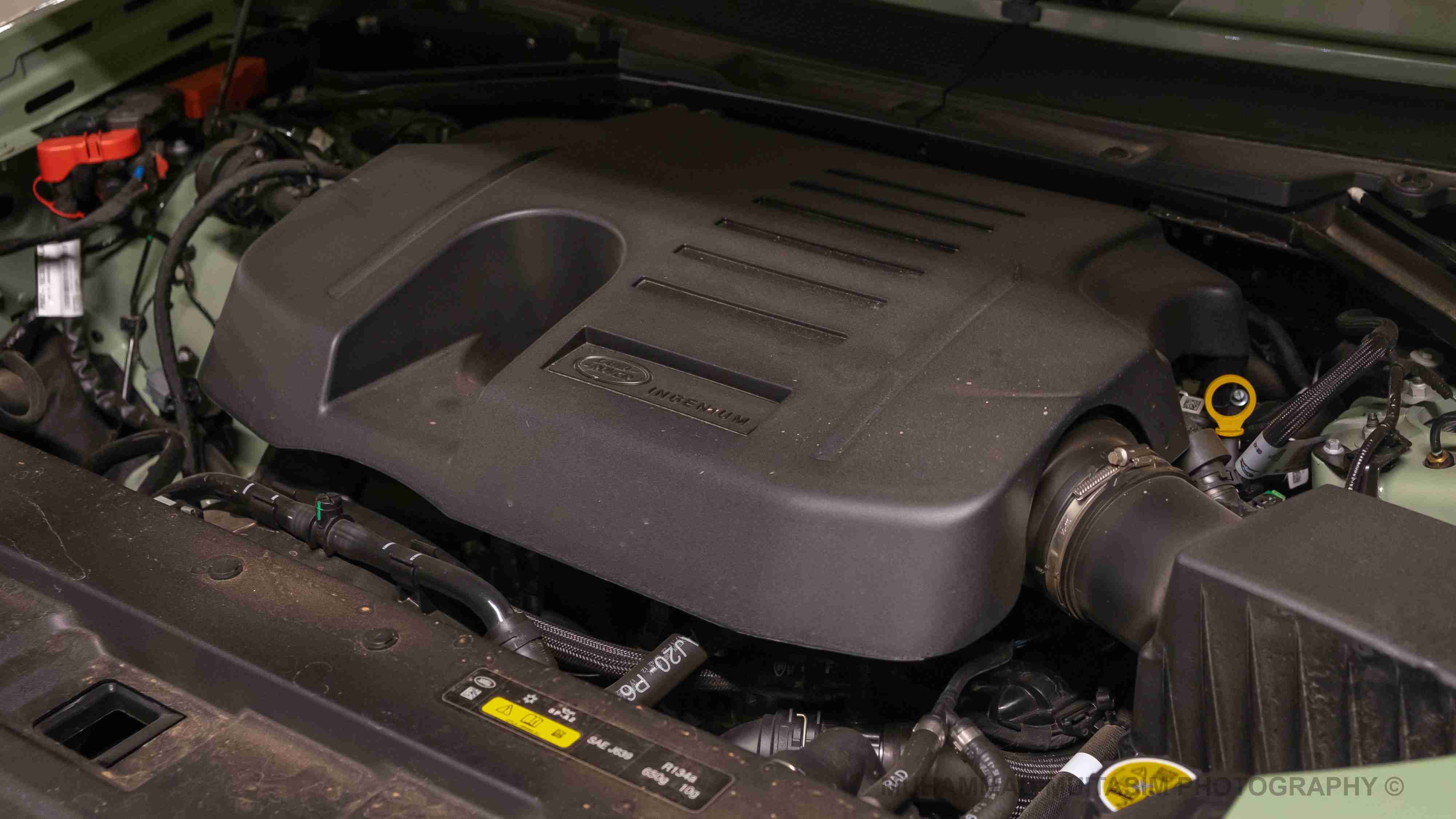 After traversing through deep mud, tall grassland, and slippery slopes, I had no problem getting myself out of them. In fact, it was jolly good fun off-roading with some 1980s J-pop playing through the Meridian 400-watt 11-speaker sound system.
Perhaps the only main niggle I had with the Brit is the positioning of the central locking buttons. It's located well below the driver's side door card, close to where my right knee is. This means that when the Defender is shifting from side to side on uneven surfaces, my knee will inadvertently hit the lock/unlock buttons, which is an annoyance and a potential safety hazard if there are restless young kids in the cabin.
On the upside, you get plenty of safety features as standard, with six airbags inside, and an active safety suite that includes a rear collision monitor and dynamic cruise control.
High-def high-rider
As far as SUVs are concerned, the Land Rover Defender remains one of the ultimate benchmarks, and this modern-day interpretation does an excellent job in defending its title. It's not the most fuel-efficient one out there, nor is it the easiest to drive around tight carparks.
But if you're looking for a true-blue off-roader that can perform extremely well and still offer class-leading luxuries, there is nothing quite like the Defender. Here's to 75 more years of excellence.
Land Rover Defender 110 75th Anniversary Limited Edition
Price (at time of publishing): $387,888 excluding COE
 VES Band: C2

Engine:
Turbocharged inline-6, 
mild hybrid

Capacity:
2,996 cc

Power & Torque:
394 hp @ 5,500-6,500 rpm &
550 Nm @2,000-5,000 rpm


 Transmission:
8-speed automatic

Driven Wheels:
All

Consumption:
8.2 km/L

0-100 km/h:
6.1 seconds

Top Speed:
191 km/h

Fuel Tank Capacity:
90 litres


Dimensions (L x W x H):

5,018 mm x 2,008 mm x 1,967 mm

Cargo Capacity:
857 - 1,875 litres
Read More: Defending Its Title: The New Land Rover Defender Shows Us How It's Done on Desaru's Dirt Trails
---
Download the Motorist App
The easiest and smartest way to manage your vehicle in Singapore.
Download Now
---
Download the Motorist App now. Designed by drivers for drivers, this all-in-one app lets you receive the latest traffic updates, gives you access to live traffic cameras, and helps you manage LTA and vehicle matters.
Did you know we have a Motorist Telegram Channel? Created exclusively for drivers and car owners in Singapore, you can get instant info about our latest promotions, articles, tips & hacks, or simply chat with the Motorist Team and fellow drivers.