All-New Toyota Vellfire Hybrid Arrives in Singapore: The Ultimate Towkay Chariot Awaits You
Published by
Mutasim
on
25 Sep 2023
The Toyota Vellfire, long seen as the preferred chariot for towkays in Singapore and beyond, has entered its fourth generation and is now officially on sale in Toyota showrooms nationwide.
Now sporting more dramatic design elements, a new hybrid powertrain, and an entire suite of other mechanical changes underneath, the Vellfire Hybrid is seeking to perfect an already effective recipe and widen the gap against its ever-growing list of rivals.
The most obvious visual change is the belt line, which now resembles a swooshing "Z" stroke, accentuated by the Vellfire emblem and massive chrome panels on the B-pillars. Its front fascia has also been resculpted, now sharper off the ends and featuring headlights that blend with the rest of the chrome-accented grille seamlessly.
According to Toyota, their design team wanted to give the new-generation Vellfire a "a sense of solidity for the vehicles, akin to a fighting bull in full charge".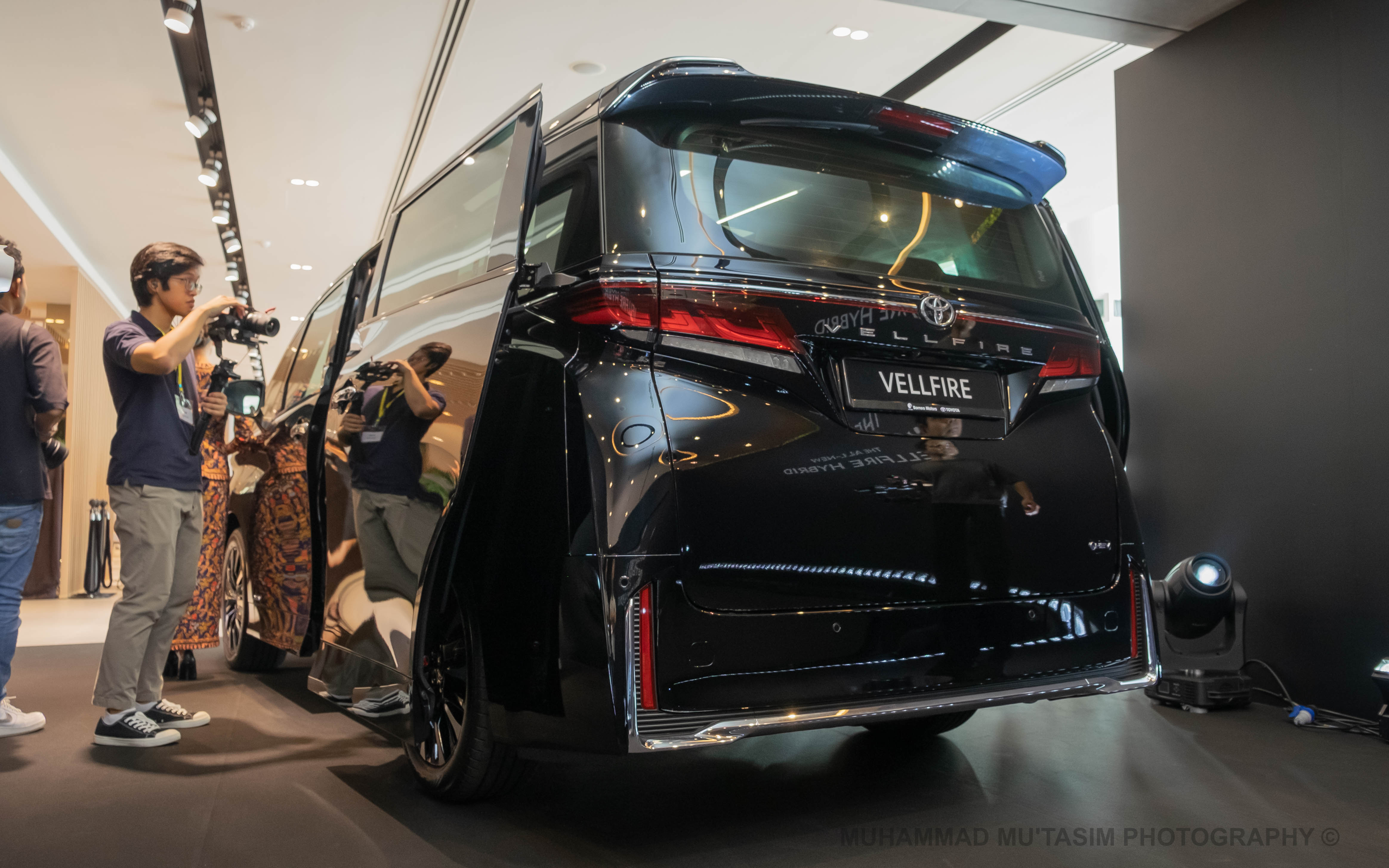 In order to differentiate the model with its Alphard twin, the Vellfire features exclusive chrome-plated lips on the front and rear bumpers, taller faux intakes on the front apron, and different lighting elements for the tail lights.
While the Vellfire Hybrid features the exact same 3.0 metre-long wheelbase as the third generation Vellfire, its overall length has been extended to 5.0 metres. 
Stepping inside, the Vellfire Hybrid resembles a high-end mobile office, with a 2+2+3 seating configuration, with the centre row being Captain's chairs. According to Toyota, its engineers have managed to increase space between first and second row seats, and second to third row seats, by 5.0 mm and 10.0 mm respectively. 
Not only is there voluminous amounts of space for the passengers, there are plenty of switches and controls to play around with, too. 
The arm rests feature removable control panels that allow the rear occupants to adjust various amenity settings in the luxury minivan. These include adjusting the HVAC climate settings, music, and even the opening/closing of the window sunshades.
And to consolidate the physical switches that control lighting, HVAC, and other accessories, Toyota has introduced the Super-Long Overhead Console, which centralises most of the switchgear to the roof and frees up more space around the cabin.
Other features that make the Vellfire Hybrid the perfect office on four wheels include a three-pin power socket found on the rear centre console – which can be used to charge laptops or other devices – and a HDMI connector that mirrors media content to the 14-inch infotainment display at the front.
Accessing the third row can be done easily thanks to the "walkway" between the centre-row seats, and three full size adults can sit without much issue. Interestingly enough, the rear-most seats are 50:50 split, and can be folded and mounted to the inner walls of the Vellfire, should more space be required.
As expected from a premium minivan of this class, the Vellfire Hybrid's tailgate is electrically powered.
Even though the Vellfire Hybrid is designed to be driven around in, the front row is extremely plus too. Door and dashboard panels that surround the front occupants are wrapped in supple leather with contrast stitching. Front and side visibility is excellent as well, thanks to thin A-pillars and wide windows. 
There's a host of connectivity options to be found on the centre console, including wireless charging and USB Type C ports. Dials with crisp digital HVAC temperature readings sit below the massive infotainment screen, reminiscent of the ones found on the Lexus RZ 450e. Plus, the driver is treated to a 12.3-inch digital instrument cluster up front and a head-up display.
Powering this mobile suite is a 2.5-litre A25A-FXS Dynamic Force inline-four engine with hybrid technology, with a combined horsepower figure of just under 250 hp. Significant changes have also been done to its drivetrain, such as the new optimised TNGA-K platform on which it sits.
Toyota claims that as a result, the Vellfire Hybrid's rigidity is now up by 50% over its predecessor. Furthermore, the adoption of TNGA-specific MacPherson strut front suspension, an updated double wishbone rear suspension, and other improvements made to the seats inside have reduced in-cabin vibrations by up to 30%.
Prices for the new Toyota Vellfire Hybrid begin at $399,888, inclusive of COE. 
But if you're looking for something just a bit more special or bougie, it might pay off to wait for the Alphard/Vellfire-based Lexus LM which will be announced later in October, promising to offer even more luxury and privacy. 
Photo Credits: Muhammad Mu'tasim (@mutasimdrives)
Download the Motorist App
The easiest and smartest way to manage your vehicle in Singapore.
Download Now
Read More: Toyota Adds New SUV Variant to Century Lineup
---
Download the Motorist App now. Designed by drivers for drivers, this all-in-one app lets you receive the latest traffic updates, gives you access to live traffic cameras, and helps you manage LTA and vehicle matters.
Did you know we have a Motorist Telegram Channel? Created exclusively for drivers and car owners in Singapore, you can get instant info about our latest promotions, articles, tips & hacks, or simply chat with the Motorist Team and fellow drivers.